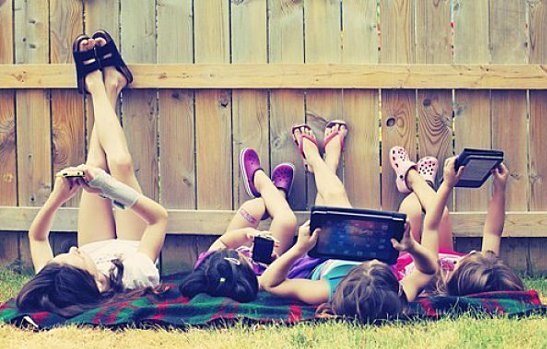 Kids are notorious for coloring on the curtains, smashing valuable antiques and cracking our most precious items. When it comes to gadgets for kids, it's a wonder we haven't found a solution to this conundrum.
Gazelle recently surveyed more than 600 Americans with children under the age of 25 and found some eyeopening information about gadgets for kids and broken devices.
When it comes to their wallets, parents are just as destructive as their kids. With mobile carriers eliminating subsidies and consumers becoming aware of the true cost (an average of more than $450, according to Citibank) for a new smartphone, people are virtually throwing away billions of dollars by buying their children a brand new device.
Kids Will Break, Parents Will Buy, Then Repeat
Babies will learn an incredible amount of new skills, information and lessons as they grow into kids and teenagers. However, according to our survey, it is clear that kids are clumsy and careless when it comes to phones. The majority of households with children reported their child had broken or lost at least one smartphone. This may come as no surprise to anyone who has kids or has observed kids with a phone. Amazingly, almost one out of four respondents reported a child had lost or broken three phones! Check out the data below:
Nearly 70% of parents reported that a child in their household has broken or lost at least one smartphone
23% reported that a child had lost or broken three or more phones
Our survey also found that kids are equal opportunity breakers when it comes to iOS vs. Android and that a high number of both have seen their fate ended by the hands of a child:
65% of iOS phone/tablet owners had at least one device broken by a child
78% of Android phone/tablet owners had at least one device broken by a child
Newest is Costliest
Remarkably, while so many parents reported that a child broke at least one phone, we found that a vast majority of parents are still buying brand new gadgets for kids to replace the broken ones. This is akin to replacing your child's wrecked car with a brand new car, and this is likely to happen fairly often.
74% typically purchase or plan to purchase a brand new smartphone or tablet for their children from either a carrier or retailer (56% from their carrier, 18% from a retailer)
Buying a brand new device is the most expensive option available to parents looking to replace something broken or lost, but we did see that not all parents were opting for this costly route. Some took a more budget-conscious path:
12% of parents noted that they are going to give their child a hand-me-down

10% have opted to buy something used or refurbished from eBay, Craigslist, their carrier or a retailer
Used is the New "New"
It's almost inevitable for a household to fall victim to a minor's mobile mishap. Parents should expect that they're going to need to spend money to replace a broken or lost device. However, there are ways for parents to shell out significantly less cash in the process by considering a pre-owned device:
80% are considering pre-owned for themselves or children, primarily to save money
In addition, more than half of parents are getting ahead of this trend and are game to spend less money upfront for a pre-owned gift for a child:
53% would consider purchasing pre-owned as a gift for their children
According to the survey, 21% of parents preferred to spend the maximum amount of money on a brand new device (that is likely to be broken!) and stated that they would not consider buying a pre-owned device.
We saw an interesting split among this small percentage and one conclusion is that the operating system plays a role in this decision. Out of the parents who would not consider a pre-owned device, we saw almost all of the iOS parents primarily concerned with quality and the Android parents mostly concerned with security. Considering Apple/iOS is known for high quality products and the open-source Android's security is often questioned, these sentiments are right in line with both party lines.
82% of iOS tablet/phone owners cited quality as a concern

63% of Android tablet/phone owners cited quality
36% of iOS cited privacy/security

59% of Android cited privacy/security
An Age-Old Question
It's an age-old question (pun intended), what is the right age to get gadgets for kids? Unfortunately, the answer is that there is no right answer. Families will have to make this decision based on their individual needs and circumstances. Based on the survey, there is an overarching consensus among parents that younger kids should have a tablet before a smartphone:
Youngest appropriate age to purchase a smartphone for a child
2% – under 7

6.5% – 8-10

35% – 11-13

44% – 14-16

11% – 17-22
Youngest appropriate age to purchase an iPad or tablet for a child
20% – under 7

24% – 8-10

28% – 11-13

20% – 14-16

7% – 17-22
Brian Kramer is the director of communications for Gazelle. Reach him at bkramer@gazelle.com.
Image courtesy of We Heart It
[cf]skyword_tracking_tag[/cf]
Comments
comments