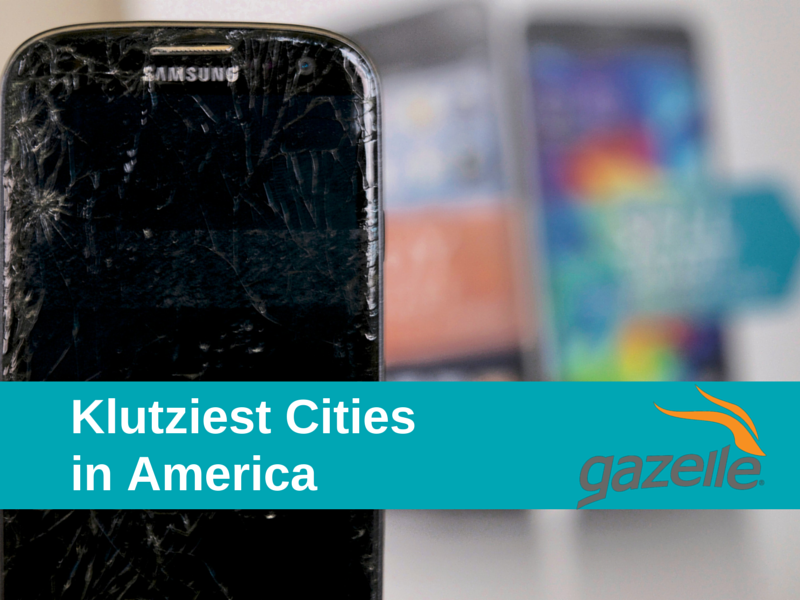 It's no surprise that college students can be a little bit irresponsible – and not just in their study habits. We're taking a look at how careless they are when it comes to keeping their iPhones and smart devices safe.
Each year, Gazelle receives tens of thousands of broken smartphones and tablets, and oddly enough, most broken devices we see show up in the summertime. Today, we're releasing our Top 10 Klutziest Cities in America, based on the percentage of broken devices received throughout the U.S. Each city on this year's list is either a major college town or hosts a large university within its city limits.
College Students are Klutzy and Costly
Gainesville, FL tops the 2015 Klutziest Cities list, which houses party powerhouse University of Florida. Home to one of the country's largest universities, Gainesville residents traded in a significant amount of broken devices to Gazelle – 31% of devices received had cracked screens or significant damage. The college town jumped from #6 on last year's list to the top spot in 2015.
Take a look at this year's list:
2015 Top Klutziest Cities in America (Rank, City, % Broken)

West Coasters are More Careful 
Want to save your smartphone from breaking? Live in the west. The West Coast accounted for the least amount of broken smartphones and tablets – 80% of the least Klutzy Cities resided in the west, while 70% of the top Klutziest Cities resided on the East Coast.
A look at the least Klutzy Cities:
2015 Least Klutzy Cities in America

Broken Devices Don't Mean a Broken Bank
While we can be sure there's a great story behind each of these devices, college students should know they have options when their smartphone or tablet breaks. Trading in a used or broken device can earn you $100 or more, which goes a long way toward buying your replacement device, especially if you buy certified pre-owned from Gazelle.
Check to see what your broken device can get you at www.gazelle.com.
For more information about Gazelle's 2015 Klutziest Cities in America, reach out to Kevin Walther at kwalther@gazelle.com.
Comments
comments