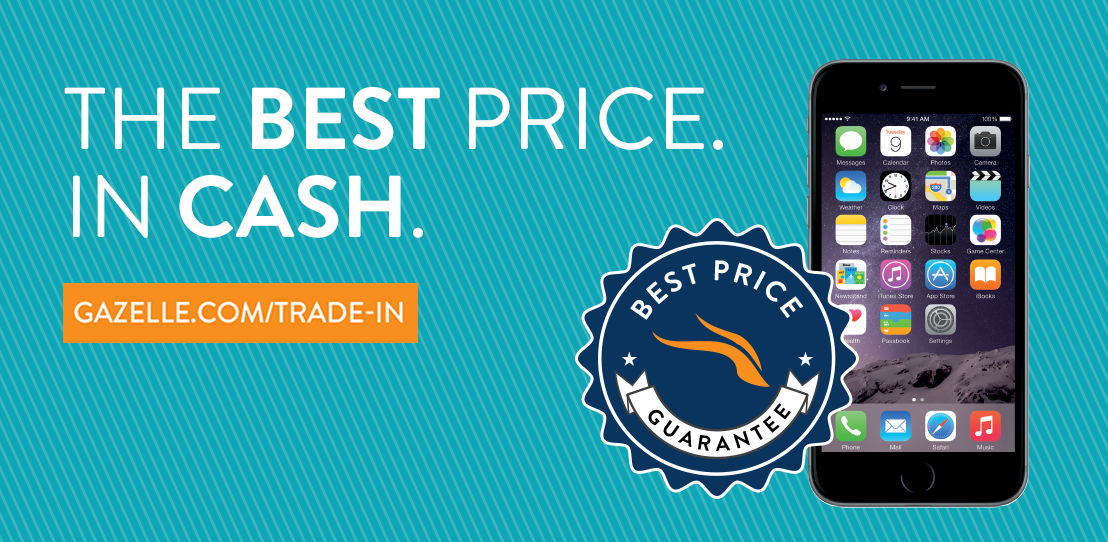 Gazelle's Best Price Guarantee: Get Top Dollar for a Limited Time
Apple will hit the stage on Wednesday, September 9 to unveil its new signature iPhone. With rumors swirling of new features and colors, only one thing will stand in the way of your next device – the price.
For the first time ever, the iPhone will cost you significantly more because mobile carriers are no longer subsidizing the price. With consumers frustrated by confusing carrier offers that often require lengthy commitments and other conditions, Gazelle is offering a limited time deal to make trade-ins easier and better for your wallet.
Introducing Gazelle's Best Price Guarantee
Gazelle's Best Price Guarantee offers the best trade-in price on your old iPhone – paid out in cash, not credit. This special promotion, valid until Wednesday, September 9, guarantees that Gazelle's cash offer for the iPhone 5s, 6 and 6 Plus will beat the trade-in credit offered by your wireless carrier (AT&T, Verizon, T-Mobile or Sprint) or Apple. Terms and conditions apply.
Don't Believe Us? Try It Out
Head to gazelle.com/trade-in to get your free quote today. We'll even ship you a box and postage for no cost. If you find a better price advertised by your carrier, please submit proof to customercare@gazelle.com and we'll beat it.
Cash is Pretty Awesome
The best part: Gazelle will give you cash in-hand (via check, Amazon gift card or PayPal) to help you buy the brand new iPhone 6s, unlike your carrier, which offers store and billing credit. Learn more at gazelle.com/trade-in.
*Details of the promotion and terms and conditions can be found here.
*Media and analysts: please contact pr@gazelle.com.
Connect with us on Twitter: @Gazelle
Like us on Facebook: fb.com/gazelle.com
Comments
comments