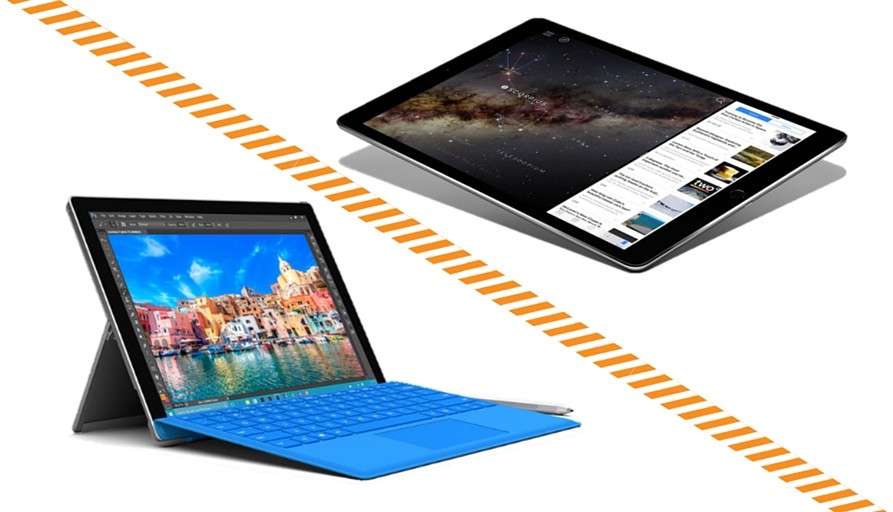 Microsoft unveiled its Surface Pro 4 this week, adding a larger product to the company's lineup of new devices running on Windows 10. The Surface Pro 4 is 30 percent faster than the Pro 3 and 50 percent faster than an Apple MacBook Air, Microsoft claims.
The Surface Pro 4 bears a striking resemblance to its strongest competitor, Apple's iPad Pro, which received a lot of attention for its impressively large display, accompanying stylus (aka Apple Pencil) and Smart Keyboard.
Thinking of upgrading your iPad? We took a look at these two products side-by-side. Here's what we think.
What's the Difference? Primarily, Nothing
Specs and features do vary a bit, but many of the so-called "innovative" attributes are very similar between both tablets, most noticeably the stylus. Both the Apple Pencil and Surface Pen are designed for a natural writing experience, sensitive to pressure and tilt, a plus for anyone seeking precision and accuracy. Other similarities include the fingerprint reader, personal assistant (iPad's Siri and Surface's Cortana) and redesigned keyboards.
Both devices are also focused on bridging the gap between tablets and laptops, merging portability with performance. In a recent poll, 40% of people believed the iPad Pro, Apple Pencil and Smart Keyboard could do all the functions of a computer. You'll have to answer for yourself whether a tablet is suitable for your computing needs.
Let's Talk About the Price
Aside from your loyalty to either Apple or Microsoft products, the main difference here is price, but not by much. Both devices are competing at the high-end of the tablet market with starting prices of $799 and $899 for the iPad and Surface, respectively.
Plus, if you want the Apple Pencil (and you will), you'll pay an additional $99, while the Surface Pen is included with a Microsoft purchase.
Which One Should You Buy?
The Surface Pro 4 will be available on October 26, with the iPad Pro coming sometime in November, so we can't be sure about performance until we put them to the test.
Our gut tells us the iPad Pro will be better suited for designers, business owners and artists, while the Surface Pro 4 will be the choice of students and the every-day computer user. This has largely to do with Windows 10, designed to be a fluid operating system responsive to different types of hardware. This means a Windows user can easily upgrade to the Surface Pro 4 and replace their existing tablet and computer, only needing one device.
Current iPad users, however, are less inclined to upgrade to the iPad Pro (or replace their MacBooks). Apple is targeting professionals who could benefit from the large surface and precise motions.
Do you plan on buying a new tablet? Let us know which one and why in the comments.
Comments
comments