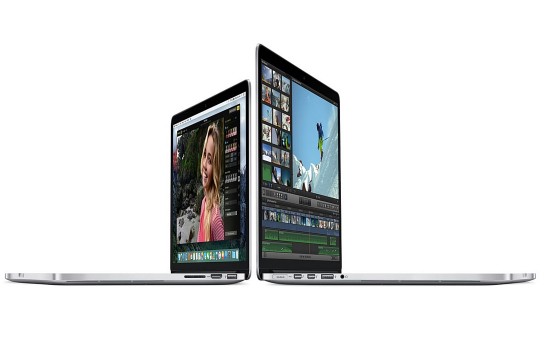 There's no question that Apple has the best lineup of laptops in the industry. First introduced in 2006, the future of computing changed forever – for creatives, students and everyone in-between.
Apple continuously makes updates to its signature laptop, enhancing our experience like no other device of its kind. Two of Apple's bestsellers, the MacBook Air and MacBook Pro, feature unibody designs with anodized aluminum finishes – a beautiful, yet extremely durable construction.
But when it comes to choosing between the MacBook Pro and the MacBook Air, it's difficult to identify the differences that matter to you most. Luckily, we've identified each MacBook's strengths and weaknesses.
MacBook Air
[rev_slider alias="macbookair"]
The MacBook Air, designed for the everyday user, is perfect for web browsing, email and general productivity tasks like writing papers and working in Excel. Its stunning frame is light yet durable. And despite the extremely thin design, the MacBook Air has an impressive amount of battery life. It's also the only MacBook under $1,000, making it the most affordable option in Apple's lineup.
The MacBook Air can handle applications like Adobe Photoshop and InDesign, but it won't perform as well as the Pro. If you know you'll be using heftier apps like these on a regular basis, it may be worth upgrading to the Pro.
[rev_slider alias="macbookairspecs"]
[rev_slider alias="macbookairpros"]
Our Takeaway: We recommend the MacBook Air for students and anyone on the go. With its ultimate portability and long-lasting battery, you'll never feel burdened to stay in one place.
MacBook Pro
[rev_slider alias="macbookpro"]
The MacBook Pro is Apple's most powerful laptop with a lightning-fast processor, stunning graphics and, most importantly, the largest amount of storage. A variety of upgrades also give the MacBook Pro customizability, allowing you to increase things like memory and storage to meet your workload demands.
You'll want to spring for the MacBook Pro if you plan on producing multimedia, like video, photo or audio editing, or if you're auditing a large amount of data in Excel. If you're a gamer, you'll also want the Pro to avoid compromising the experience with poor graphics or slow speed.
New models of MacBook Pro (May 2015) include a Force Touch trackpad, which allows more navigation by measuring the pressure of your touch.
[rev_slider alias="macbookprospecs"]
[rev_slider alias="macBookproproscons"]
Our Takeaway: We recommend the MacBook Pro for artistic design professionals such as those that use Adobe Suite, Final Cut Pro and other creative applications. It's also best for people who need to crunch large sheets of data or do a lot of multitasking between applications frequently.
Ultimately, your decision will be determined by what you value most in your future laptop.
*MacBook specs based on 2015 models.
Images courtesy of Apple.
Comments
comments