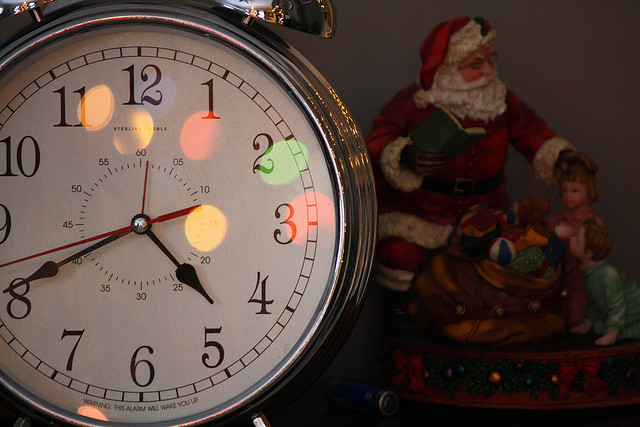 The holiday shopping season is hectic, with traveling, holiday cards, baking cookies and, of course, the gifts. But even the most organized gift givers can forget to leave a little something under the tree.
Gadgets are always a hot ticket item, and rarely seem like a last minute decision– even if you've spent all this time waiting for a better deal or another paycheck. We've got three great places to spend your dollars wisely.
1.  The Gift of an App
One of my favorite Christmas presents ever was actually an app from the Culinary Institute of America. It was their entire textbook delivered straight to my iPad! I still use it often when I'm trying to remember what exactly mise en place means.
With thousands of apps now available for the iPhone, iPad and MacBook, gifting an app or a video game through a virtual store or streaming service doesn't make it any less thoughtful. As Christmas approaches, check out the Apple App Store or services like Steam, which allow for instant arrival of perfect products. Or, opt for a gift card if you don't really know your recipient that well.
2.  Last Minute Deals from Major Retailers
CNET has a great run-down of the best deals still remaining, including a $299 Star Wars Battlefront Playstation 4 package to awaken the force within your mega fan. This popular action game is more accessible than the regular shooter franchises like Call of Duty. It's free of blood and gore and is teen-friendly.
You'll find most of these deals by shopping online or in-store at Walmart, Target or Best Buy. I'm just wishing I had someone in my life who might enjoy a remote-controlled Millenium Falcon as much as me. You know, a younger version of me.
For Millennials looking to save money on the cable bill, the Google Chromecast may be the ideal gift. It will stream the Internet directly to your television and save a bundle by allowing you to unbundle from your overpriced provider. Added bonus: It takes minutes to set up.
3.  Shop Used and Save
Since the release of the iPhone 6s, Gazelle is offering some serious deals on the iPhone 5s Expect more as Christmas creeps closer and inventories need to be cleared. But hurry – Christmas is creeping up!
Buying used means you never have to pay the full retail price, even if you waited until the last possible minute.
Image courtesy of Flickr.
Comments
comments