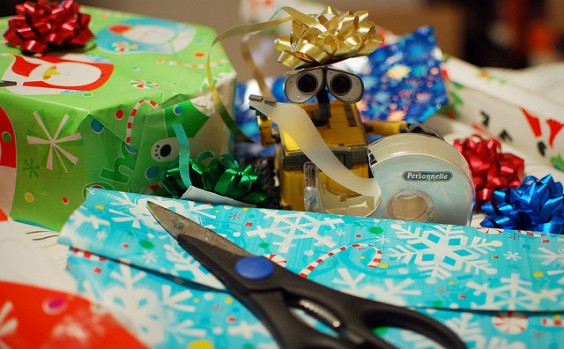 There's nothing worse than unwrapping something you never, ever wanted. So wipe that fake smile off your face – it's time to politely relieve yourself of that unwanted gift.
Unless it's fruitcake, here are four ideas to turn that frown upside down and get rid of those unwanted gifts.
1. Re-Gift It
Participating in a White Elephant or Yankee Swap – all staples of the office party – is bound to earn you a new dust collector for your home or office. The easy cure? Re-gift it. As long as it's in the original packaging, who will ever know?
 2. Donate It
The Huffington Post showed me four great ways to turn trash into treasure. Soldiers, seniors and students are those most in need of electronics. No matter how outdated that device may seem to you, it could be a godsend to someone in need of phoning home. A tablet could be the perfect companion for so many of our military men and women who are serving overseas.
The United Nations, through the University for Peace, is engaged in providing cellphones to low-income communities and more local organizations like Toys for Tots are reputable ways to get rid of those pesky but trendy drone devices.
3. Exchange or Return It
Stores like Nordstrom or LL Bean don't require a receipt of any kind. Take those legendary Bean boots back for ones in the right size or something more useful altogether. And Nordstrom doesn't even have a return policy posted – they stand by the merchandise, 100%. If you're lucky enough to receive something that's exclusive to Nordstrom, you'll be in the perfect position for that return without anyone ever knowing.
4. Sell It!
Of course, not all of us are so benevolent and selfless – sometimes we just need cold, hard cash after a rough 2015. Did Santa bring you a new iPhone, iPad or MacBook? Trade-in your old one for cash. Select the make and model, and send it off to Gazelle for a guaranteed amount. Gazelle even provides free shipping, so your sale is pure profit.
Photo courtesy of Flickr.
Comments
comments