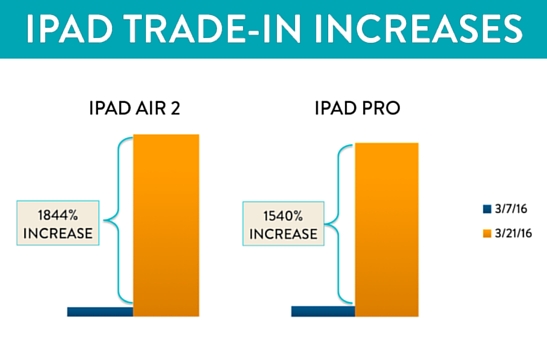 Apple announced on Monday the release of a new 9.7-inch iPad Pro, which will join the existing 12.9-inch Pro in Apple's family of super tablets. The new addition is intended to attract customers with the same powerful features that iPad Pro pioneered last September, but in a more compact, travel-friendly size.
Interestingly, the 9.7-inch iPad Pro looks identical to the aging iPad Air 2, which is now 18 months old. In fact, the two devices have the exact same size dimensions (9.4 x 6.6 x 0.24 inches) and weight (0.98 / 0.96lbs for cellular/non-cellular), according to a comparison by Forbes.
The new iPad Pro boasts so many advanced features that Apple couldn't consider it a new version of the Air. But that hasn't stopped current iPad Air 2 users from planning to make the upgrade.
Gazelle data analysts dug up some compelling stats to prove that point. On March 21, the day of Apple's Media Event, Gazelle saw a 1,844% increase in iPad Air 2 trade-ins when compared to the same period two weeks prior. The iPad Air 2 was the model with the highest spike in trade-ins, proving that Air customers are ready for a more powerful, yet equally sized device.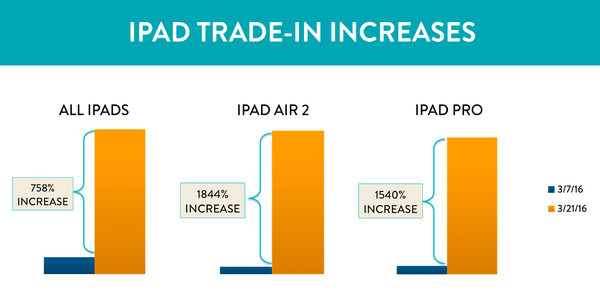 The second strongest model is, not surprisingly, the iPad Pro with a 1,540% bump in trade-ins when compared to the same period two weeks prior. When examined collectively, all iPad models increased by 758%.
Clearly, there is strong demand for the new, more affordable iPad Pro.
Comments
comments