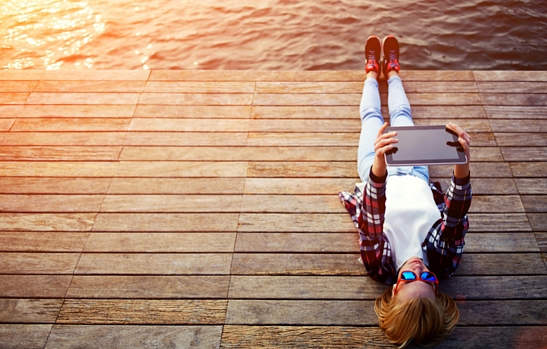 Even for those who already own an iPhone, the iPad is an entirely new proposition. Read this iPad guide to get started with your new device.
1.  Restoring Data from iCloud
If you already own a MacBook or an iPhone, connecting your iPad to either device will initiate a sync of your personal files. It's an effortless and easy way to bring your photos, files and music from one device to another. Make sure to have iTunes installed on your computer to make this process easier, especially if you're connecting to a PC. Also, check that your iPad has enough memory compared to your computer or phone – you may have to selectively move the files that you want.
2.  The App Store
Before you begin installing any apps, you'll need to make sure you have created an Apple ID. You will be prompted to sign in with your existing ID or create one after activating the device. If you don't have one or aren't prompted, follow these steps:
From the Home screen, Tap Settings > iTunes and App Stores
Tap "Create Apple ID"
You'll have to agree to the terms and conditions when prompted. Having an Apple ID is essential. Even if you're downloading free apps, you'll have to re-enter your password or Touch ID for each installation. This failsafe is to prevent your little ones from downloading a "free" app and racking up dozens of in-app purchases.
Once you're signed in, click on the App Store from the Home Screen to install a few essential programs.
3.  A Reading Rainbow
Most people use their iPads to read books that are too wide to view on a phone or too big to stow in carry-on luggage. iBooks is pre-installed on your home screen, so you can start reading Apple's offerings right away.
However, the Amazon Kindle store has many more options, and you don't have to own an Amazon device. Simply install the Kindle app and download books from Amazon's immense digital catalog.
4.  A Musical Interlude
If you want to keep your phone in your pocket when hosting a party, the iPad is perfect to keep tunes going during game night. The Music option is located at the bottom right of the Dock. The Dock, which holds apps that are always anchored at the bottom of the screen, doesn't change even as you download more apps.
You can purchase a $9.99/month Apple Music subscription, or you can download any number of free apps with paid options, such as Pandora and Spotify. However, Apple Music is better integrated with Siri, so you can tell Siri, "Play jazz music" right before your date walks through the door.
These tips should get you off to a good start with your new iPad. Want to dive deeper? Take a look at these 10 iPad tricks you didn't know existed.
Comments
comments