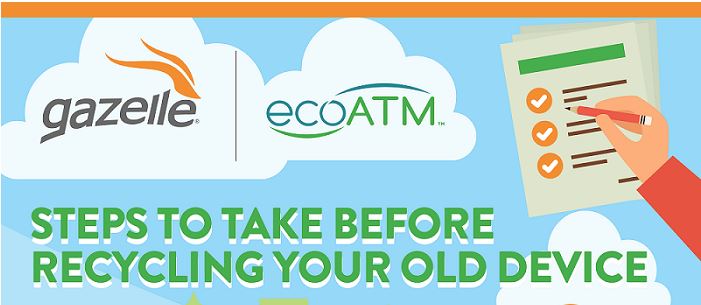 Share this Image On Your Site
So, you're ready to upgrade your device. And, because you care about the environment and want some fast cash, you've decided to recycle your old device. Good call! You're not alone.
Why You Should Recycle Your Old Device
177 Million # of devices that will be recycled in 2019 (Compass Intelligence)
70% of cellphones could be reused, only about 14-17% of cell phones are recycled each year (EPA)
For every 42 recycled cell phones, enough energy is saved to power the average household for an entire year.
With more than one billion cell phones being produced each year, global e-waste is expected to grow 8% every year, indefinitely.
Americans throw out phones containing over $60 million in gold and/or silver every year.
Recycling your phone is easy. But, since your personal life is stored on your phone, you'll want to take steps to protect your sensitive data, photos, and music. By following these simple steps, you will also ensure you receive maximum payout for your used device.
1. Assess Your Phone's Condition
Check your power button and volume, and other controls.
Look for water damage.

Most phones use stickers to indicate water damage.

Clean Your Phone

Rubbing alcohol
Microfiber cloth
Cotton swabs
2. Remove Your Data
RemoveSIMor SD Cards
Backing up your phone makes it possible to transfer your old data to your new phone.
3. Disable Your Kill Switch
For an iPhone, go to the Settings menu, tap General, select Reset, then Erase All Content.
For Androids, factory reset is their version of a kill switch
A factory reset gives your phone a clean slate by wiping it of all data.
4. Disconnect your old phone from your contract and ownership
Simply, call your phone carrier to advise them of your decision.
First, make sure you've paid your phone bill in its entirety.
Once we receive your phone, the ball's in our court. We'll verify its condition and, if everything looks good, we'll send your money via check, PayPal, or an Amazon gift card.
Fast and easy cash, the way you like it.
Comments
comments