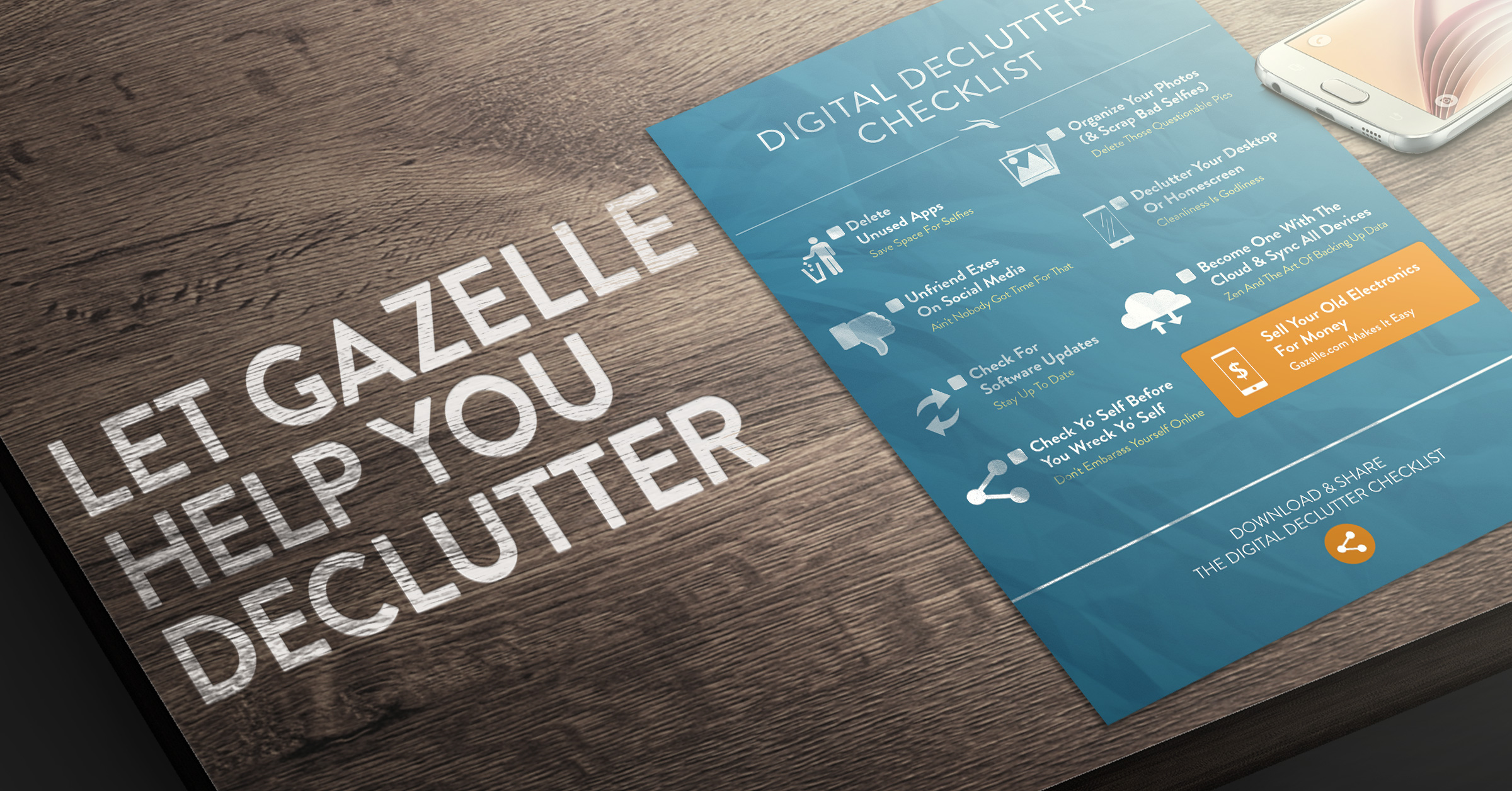 It's that time of year again to break out the cleaners and bins for some good old fashioned spring cleaning. Before you attempt to manage that black hole you call a closet, it helps to tidy up your digital life for well-rounded cleanliness. We've even supplied a printable checklist below with our top reasons to declutter your devices.
In other words – no excuses!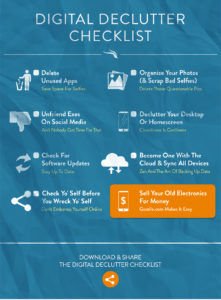 Delete Unused Apps
Sometimes it's hard letting go of that photo app you used on one photo over a year ago, or the audience app you play when no one's there to laugh are your hilarious one-liners. The novelty of these one-time apps doesn't seem to shine next to the amount of space and data they use while staying idle on your device. Kindly show these space suckers to the door and enjoy a faster device almost instantly.
Unfriend the Unwanted
We know, it's rough. It's not that you still like that person, you just want to be able to check up on their life and reassure yourself your better without them. Push yourself in a new positive direction by simply clearing up your friends list!
Check for Software Updates
Our devices are a lot like our own bodies and need a check-up every now and then. Take advantage of the cleaning season and run those tests that your electronics sorely need. Worried about time? Perform updates while you clean out your drawers or closet and time will fly by.
Check Social Feeds for Questionable Content
Sure, we have photos set to private and privacy settings enabled, but those party pics from your weekend in Cabo aren't invisible to everyone on the web. Set aside some time to dive into your social feeds this spring, including your lesser-used accounts. Trust us, your future employers will thank you.
Organize Your Photos
There's no such thing as taking too many photos – that is, until you're constantly deleting a few just to open up storage on your device. Save the good selfies, scrap any duplicates and even organize your pics to make the most out of your electronics.
Declutter Your Desktop
Whip your desktop or home screen back into shape by tidying up messy documents and loose-floating apps. Folders are your new best friend, especially when you realize what a difference unlocking a device to an organized screen can do.
Sync Devices
Bring some much needed Zen to your life by taking a few minutes to ensure your devices are in sync. Not many mobile users are aware of the convenience that comes with using cloud technology, and you'd be amazed at how easy it is incorporate into your daily life.
Trade in Your Old Electronics
Have you come across your graveyard of old phones while cleaning? Get those old devices traded in! Not only can turning your gadgets into Gazelle put added funds back into your wallet, it can also protect you and your family from the lurking chemicals inside that can cause harm to anyone around them.
With the help of these steps, you're certain to have a breezy cleaning season. Comment below with your own personal tips that you've found helpful for staying organized.
Comments
comments