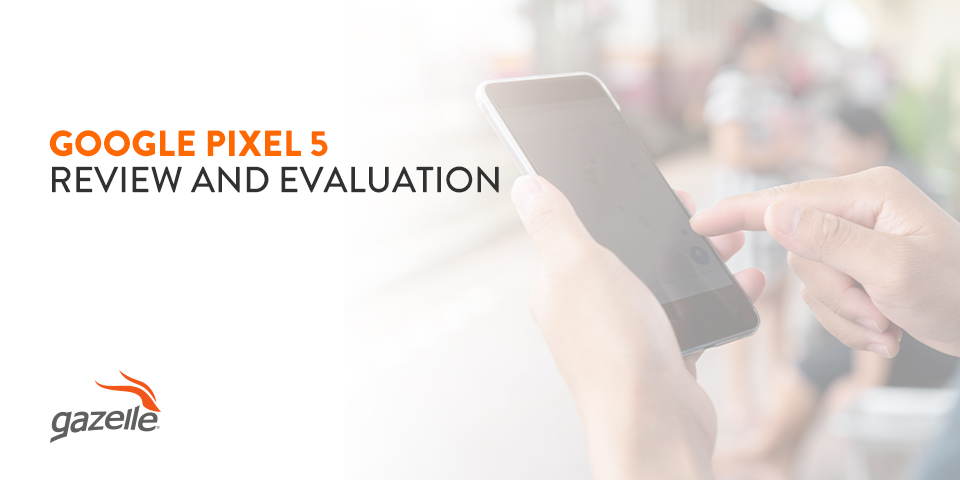 After 2018 saw Google securing a spot as the third top smartphone manufacturer in the United States, they released their 13th phone — the Pixel 5 — in October 2020. But at $699, is it worth the price tag? It all comes down to what you value in a smartphone. The Pixel 5 is a long-lasting device that excels at photography, and it's available in a sleek, matte finish with a fun new color option. Its display is as vibrant as you've come to expect with Google Pixels, but with the addition of Smooth Display up to 90Hz for a truly memorable viewing experience.
Though the Pixel 5 does have its drawbacks — and may not be for everyone, like mobile gamers or dedicated iPhone users — it has a lot to offer. Read on to learn if the Pixel 5 is the right device for you.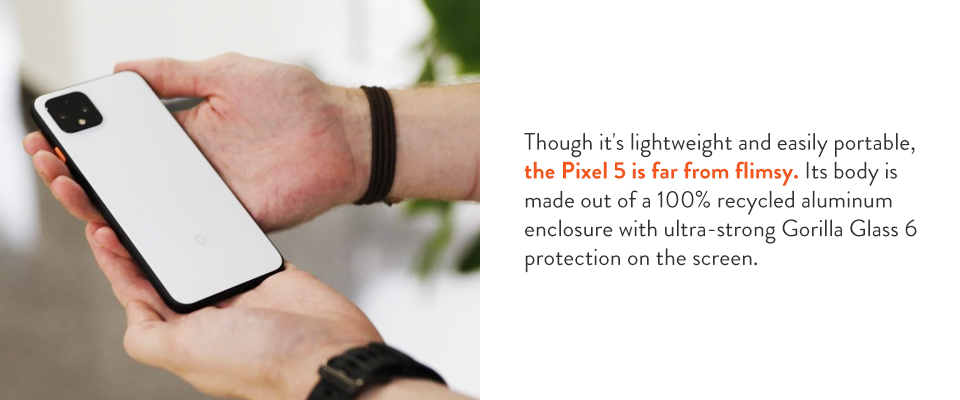 Google Pixel 5 — The Breakdown
Before we begin exploring industry experts' Google Pixel 5 reviews, let's breakdown what we're working with. One of the most applauded features of the Pixel 5 is the compact size.
Pixel 5 specs are:
5.7 inches tall.
2.8 inches wide.
6-inch diagonal display.
5.33-ounce weight.
Though it's lightweight and easily portable, the Pixel 5 is far from flimsy. Its body is made out of a 100% recycled aluminum enclosure with ultra-strong Gorilla Glass 6 protection on the screen. If you like your smartphone with a side of style, you'll love the new Sorta Sage color option. Otherwise, Just Black is the perfect neutral. Both colors have a matte-like finish for an added point of interest and a textured feeling. There's a fingerprint sensor on the rear with supplemental PIN-entry. Additional features include IP68 dust and water resistance, HDR support and a built-in Titan M Security system.
For performance, the Pixel 5 relies on 8GB of RAM and a Qualcomm Snapdragon 765G octa-core processor. Though it's a slight step back from previous phones, the 4,080Ah battery offers superior longevity. Pair it with an 18W fast charger for a quick refuel or choose from wireless and reverse wireless charging.
One of the new releases' biggest drawbacks is you only get 128GB of storage and no option for a larger or smaller variation. This could be a problem for those who rely on their phone for bulk storage or need a device that can handle both business and pleasure. What you do get is 5G sub-6 and 5G mmWave capabilities, in addition to standard LTE, which will deliver increased speeds as 5G connectivity becomes accessible across more parts of the country.
About Android 11
The Pixel 5 ships with Android 11 and a minimum of three years of operating system and security updates. For new and returning Android OS users, Android 11 features improved security and privacy features, as well as:
Conversations: Android's new conversations feature lets you read all your conversations from multiple messaging apps in a single, easy-to-access location. You can even highlight specific users and message threads as top-priority. The bubbles feature lets you communicate via chat bubbles that appear over your screen, ideal for multi-tasking.
Screen recording: Screen recording lets you record what's on your screen, including sounds, for easy reference and sharing.
Voice access: Better and faster voice access gives you all the convenience you need for hands-free control, with both online and offline support.
Connected devices: Manage your other connected smart devices from a single location in your pocket, like smart locks, lamps and thermostats. You can also establish pre-set routines to set your smart home into motion on your way back from work or school.
Android Auto: Wirelessly connect your smartphone to your vehicle for music, podcasts, navigation and hands-free communication.
What About Camera Performance?
Let's get down to the real selling point for smartphones in 2021 — camera quality. The Pixel 5 has the standard dual rear lenses with a selfie cam in the front:
Rear lenses: The first rear lens is a 12.2MP dual-pixel, while the other is a 16MP Ultrawide that delivers a whopping 107-degree field of view. But don't discount the dual pixel lens as less impressive — the autofocus and phase detection gives your shot better focus faster than before.
Front lens: The fixed-focus 8MP in the front of the Pixel 5 delivers 83 degrees of vision for the perfect selfie or video chat.
If vlogging and video recording are at the top of your must-haves, you won't be disappointed. The rear dual lenses in the Pixel 5 cameras shoot in 4K at 30 and 60 fps; 1080p at 30, 60 and 120 fps; and 720p at 240 fps. You can even get decent 1080p video at 30 fps in the front. Google users also get unlimited photo storage with Google Photos.

Pixel 5 vs. Previous Pixel Releases
The Pixel 5 gave a little processing power in exchange for a far superior battery, though some users are still unhappy with the bulky side bezels and lack of options. What other changes did Google make compared to their former fan-favorite releases?
Pixel 5 vs. Pixel 3
Google released the Pixel 3 in 2018 and, despite the large bezels and poor battery that stopped some from committing, reviewers praised its camera quality and vibrant display. It came equipped with the Snapdragon 845 processor, making the Pixel 5's 765G a slight step backward, though their CPUs are similar.
One thing many users may appreciate in hindsight is that the Pixel 3 came with a 64GB storage option, something the Pixel 5 is lacking. It also weighed less in-hand and will be far more affordable now compared to a newer release. Because of its age, the most significant drawback of investing in a Pixel 3 now is that you will soon be out of range of Google's three years of promised software and operating system updates. That's not to say you can no longer update a Pixel 3 — you likely can through the end of the year, if not longer — but the Pixel 5 will receive guaranteed updates through at least 2023. With an outdated operating system, you risk having less protection, slower speeds, and some apps may not be compatible with your phone the more it ages.
Pixel 5 vs. Pixel 4a
Google's most recent releases were the Pixel 4a and the Pixel 4a with 5G in late 2020. Both were more expensive debuts than the Pixel 5, but was the cost justified? The most significant upgrade has been to the battery life, with the 5's lifespan nearly double that of its predecessors. The latest release has seen Google strip away many unnecessary, battery-draining features and focus more on usability.
Other changes you'll see in the Pixel 5 compared to the more recent phones include:
Design: The matte finish was not present in the 4a and 4a with 5G, and the device is sized somewhere between its two predecessors, being larger and sturdier than the 5G and smaller than the standard Pixel 4a. The other models also have multiple storage options and audio jacks for headphones. Those factors aside, the design still feels familiar and distinct.
Photography: The Pixel 5 has improved dark shots with Night Sight and low-light portrait mode capabilities for better images than the 4a. It also has an extra rear camera and cinematic pan.
Smooth Display: Unlike the 4a and 4a with 5G, the Pixel 5 has a Smooth Display of up to 90 Hz for better fluidity.
Protection: In addition to its aluminum casing, the Pixel 5 packs more of a protective punch with Gorilla Glass 6 — an upgrade from the 4a's Gorilla Glass 3 — and IP68 protection against dust and moisture.
Battery share: The battery is faster in the Pixel 5, and it's compatible with fast wireless charging and battery share, so you can charge other devices using your phone — no cords needed.
How It Stacks Up to Other Top Performers
If your phone budget tops out at $700, the Pixel 5 wasn't the only mid-range released in 2020. See how it compares to Apple and Samsung's similarly priced phones — the iPhone 12 Mini and Samsung Galaxy S20 FE 5G.
Pixel 5 vs. iPhone 12 Mini
The iPhone 12 Mini is a similar price to the Pixel 5 at $699, and both have excellent displays and camera quality. Operating systems are obviously different — Apple is currently on iOS 14 — and Apple uses Bionic chip processing instead of Snapdragon.
Other key differences include:
The Google Pixel 5 has 8GB of RAM, while the iPhone 12 Mini only has 4GB.
The iPhone 12 Mini has several storage options available, including a 256GB option.
The Pixel 5 uses a fingerprint sensor, while the iPhone uses FaceID.
The two devices even come in similar green colors, with the iPhone 12 Mini also having a blue and red option in addition to neutral black and white. Your decision between these two devices comes down to brand loyalty or OS preferences. Some heavy-duty phone users, especially those who play many mobile games, might gravitate toward the slightly more powerful iPhone.
Pixel 5 vs. Galaxy S20 FE 5G
It's a fair assessment to say that the Samsung Galaxy lineup is Pixel's top competitor since both utilize the same Android operating system that sets users apart from Apple enthusiasts. Interestingly enough, Samsung owners account for the majority of people giving Pixel products a try, proving there's room for improvement and innovation where Android users are concerned.
The Samsung Galaxy S20 FE 5G is available now at $699 brand new, putting it on the same playing field as the Pixel 5.
Color options: The Galaxy S20 FE 5G comes in several colors, including lilac and light orange hues that differentiate it from the Pixel lineup.
Front camera: Though the rear cameras shoot in equally excellent quality, the Galaxy S20 FE 5G's front camera is 32MP instead of the Pixel's 8MP.
Body design: The FE 5G lacks the same sturdy aluminum body that the Pixel 5 boasts, making it a less premium feel in-hand. Plastic is not as durable as metal construction, and the Galaxy is only available with a Gorilla Glass 3 screen, two factors worth considering if you can't invest in a heavy-duty protective case.
Battery life: Battery life is comparable, with the S20 FE 5G having a 4,500mAh battery compared to the Pixel 5's 4,080mAh. Both support wireless charging, but Samsung's comes with multiple fast charging options instead of the single option you get with the Pixel.
Both phones have fingerprint sensor systems for security and privacy and are protected by IP68 dust and water protection.

Google Pixel 5 — The Verdict
The Google Pixel 5 gets solid performance despite its processor cutback and delivers on a much-needed battery improvement. The matte finish and Sorta Sage color option are ideal for those who value appearance as much as functionality, and the cameras are on par with others in its category. Compared to former Pixel phones, the Pixel 5 is not as powerful but does offer a vast improvement in battery life. The Smooth Display improves visual performance, while the aluminum construction and compact design feel like an expensive cell phone for less money than others with similar makeups.
It falls a bit short when you compare it to what its top competitors are offering for the same price. Unlike the Samsung Galaxy S20 FE 5G and iPhone 12 Mini, it's only available in a single storage option. Its mid-range processing chip is enough to get the job done, but for the price point, you could get a slightly more powerful device from Apple or Samsung, or even an older Pixel phone.
Of course, buying a full-priced Pixel 5 is a great choice for you if you're a loyal fan of the Google lineup or are excited to try out the new battery power and unique design firsthand. Another option is to shop used and refurbished Pixel 5 devices. That way, you get all the same perks for less. Buying used and refurbished is an easy way to shop at discounted prices while keeping unwanted devices out of landfills.

Shop Google Pixel Devices at Gazelle
Today's smartphones are packed with features that improve productivity, enhance our social lives and help us capture all of life's moments with the click of a button — but those amenities often come at a steep price. When you shop for certified-used and refurbished devices from Gazelle, you get guaranteed quality backed by a 30-day return policy. Shop our extensive inventory of used and old smartphones from top manufacturers, including Google Pixels, and enjoy contract-free freedom at an affordable cost.
Learn more about shopping with Gazelle and find your next upgrade today!
Comments
comments