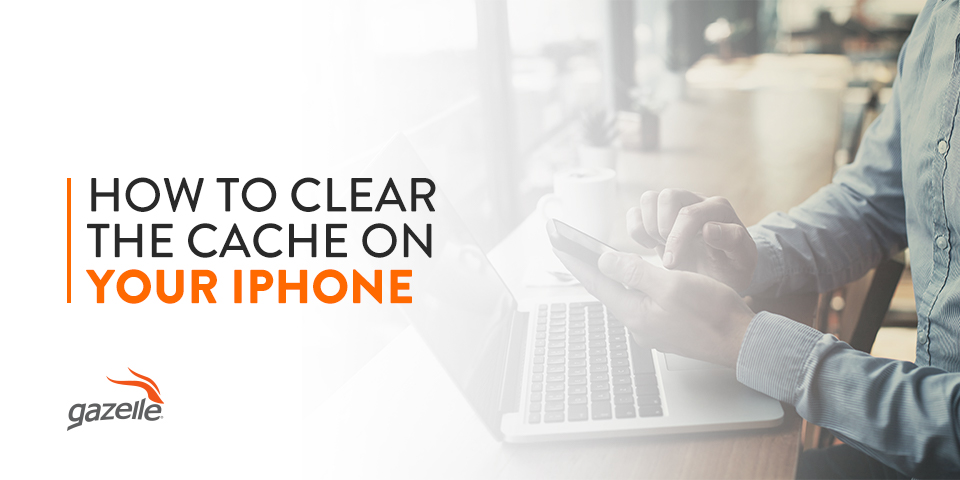 The cache — pronounced "cash" — is the part of your smartphone or computer that collects data from websites and apps, stores critical information and makes it easier and faster to load those same websites and apps in the future. At any given moment, your phone's cache is full of data to boost your phone's performance and increase speeds across the system — but sometimes that cache can get too crowded and start causing problems.
Why You Need to Clear Your iPhone's Cache
The cache helps your phone work faster and more efficiently, but if left unchecked, it can become too crowded and start slowing your phone down. Too much data in your web browser or app cache can lead to glitches and make it more likely to corrupt a cache file, leading to crashes.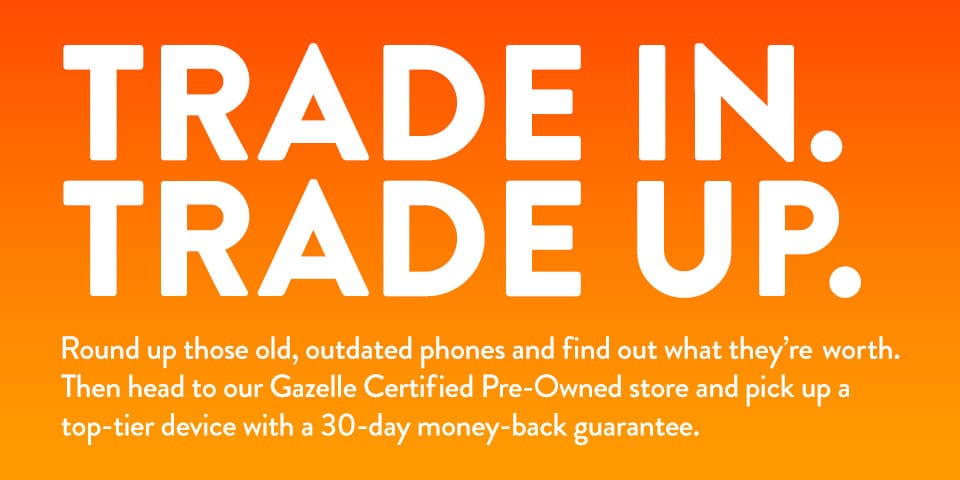 Some signs you might need to clear the cache on your iPhone include:
Slow loading times: We've all been there — you're trying to search the web for the answer to a question or find the address for that new restaurant in town, but the page is loading too slowly or not at all. If your web pages or apps are taking longer to load, it's probably time to clear your Safari and app cache.
Lagging performance: Lagging performance interrupts messaging, video streaming, photo-taking, web browsing, mobile gaming and GPS navigation, and sluggish performance across your entire device is a tell-tale sign you need to clear the cache.
Unexplained glitches: Unexplained glitches — like a browser or app crashing, screen jumps or lack of a touchscreen response — could indicate overcrowded cache. Over time, these glitches can damage your phone's health and could trigger a chain reaction that leads to corrupted cache files.
Space alerts: Sometimes, your device will let you know if you're running low on space with a "low storage space" notification. Since unnecessary cache data takes up some of this space, clearing it should be your first step when making room on your device. You should also clear your browsing history and delete any unused apps, unwanted photos or old message threads.
The more you use your device daily, the more frequently you should clear your cache to prevent performance issues and keep it running smoothly.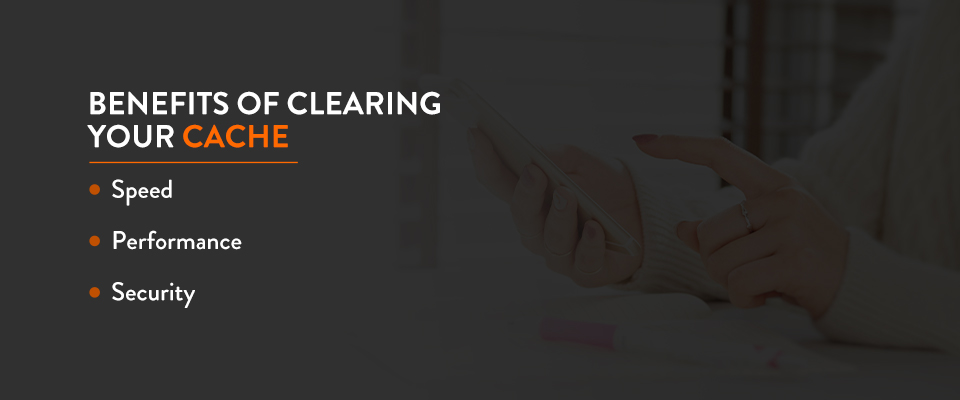 Benefits of Clearing Your Cache
Set a reminder on your iPhone to clear your cache regularly, like on a weekly or monthly schedule, and enjoy benefits like:
Speed: While the cache is supposed to help browsers, web pages and apps load faster while using them, too much data in the cache can have the opposite effect. Clearing the cache will help your system work faster overall and could solve any lagging issues you might be having.
Performance: Corrupted cache files and overcrowded cache storage can lead to glitches, like frozen apps, web pages that force close on their own and other performance concerns. Clearing your cache helps keep your device storage operating efficiently.
Security: Since the purpose of the cache is to make it easier and faster to load apps and web pages, it means some of your private information — like passwords, usernames and other sensitive data — is stored in your device until you clear it. Regularly clearing your iPhone cache protects these files from others and will keep temporary files safe from malicious malware or virus attacks.
How to Clear the Cache on an iPhone
Clear the cache on your iPhone with these simple steps:
Navigate to the "Settings" menu.
Select the "Safari" section.
Scroll down until you see "Clear History and Website Data."
Tap to select and wait for the cache to finish clearing before closing the menu.
This method will also delete your web browsing history. If there is no history or cache to clear, the buttons will be grayed out and not selectable. Remember that you will have to reenter your login information to most apps and websites once you clear your cache, except for your AutoFill information, if applicable.
About Cleaner Apps
You can download a cleaner app from the App Store that makes it simple and convenient to clear your phone's cache, history and other data that slows performance. With a cleaner app, you can often clear data with the touch of a button, including:
Blurry or unwanted photos
Contacts in your address book
Email and messaging spam
Browsing history
Temporary files
All of these things add up over time, eventually causing cache-related performance issues. Cleaner apps help you locate and clear unnecessary files and information for a faster, more secure device.
How to Delete App Cache Data
Individual apps have, store and maintain their own cache storage, just like Safari. App caches usually include login information, pictures, thumbnails, user history and more. This storage helps your app load faster, keeps you logged in and remembers your user preferences for an easier, more adaptive experience. Each third-party app developer manages cache differently, so the process for clearing the files also varies.
Try the following method first:
Navigate to "Settings."
Tap "General" to select.
Scroll to "iPhone Storage," where you will find a list of all of your iPhone's apps arranged by how much space they take up, including cache storage.
Select the app you wish to clear by tapping on it, then note the information in the "Documents & Data" section, which lists the type of information being stored.
Work your way through the app list and clear cache data as needed.
If you've followed these steps and still can't find a way to clear an app's cache, delete the app from your iPhone, uninstall it entirely, then reinstall it to reset the files.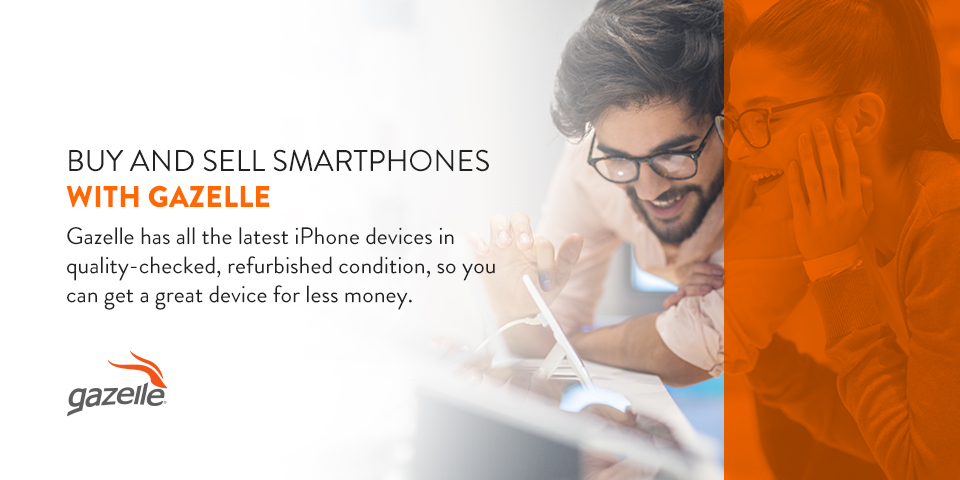 Buy and Sell Smartphones With Gazelle
As you use your device, Safari and third-party apps collect information about your login credentials, browsing habits, user preferences and more, so you can use your phone without reentering login information each time and enjoy a smooth performance. Over time, this cache can become clogged or corrupted, causing app crashes, slow web pages and other glitches that negatively impact your device. Clearing your cache is a quick, easy way to manage your phone's health. Download a cleaner app or set a calendar reminder to clear your browsing and third-party app caches at a set interval each week or month.
If you're having persistent performance problems, it might be time to invest in a new smartphone. Gazelle has all the latest iPhone devices in quality-checked, refurbished condition, so you can get a great device for less money. When you shop with Gazelle, you never have to enter into a binding contract, and there are no hidden costs — what you see is what you get. You can even sell us your old device and put the money toward your next purchase. Learn more about the Gazelle advantage and browse our available iPhones today!
Comments
comments