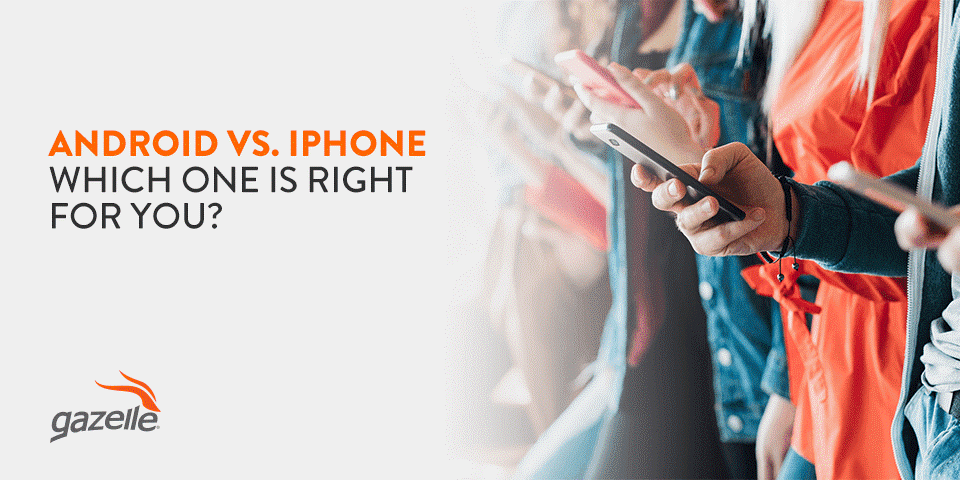 With Google Android and Apple iOS making up more than 99% of global smartphone shares, the question isn't which operating system (OS) is better, but which one is better for you. Each OS boasts similar features, and the characteristics that set them apart make them an equally valuable option. Whether you want a device with top-of-the-line security, premium design, affordability or a combination of qualities, there is a smartphone for you somewhere in Android's and Apple's vast market of products.
iPhone vs. Android — Factors to Consider
Android vs. iPhone — how do you choose? Both operating systems are continually evolving with each new update, and either will likely meet any casual phone user's needs. Consider the following characteristics to understand better what you value in a device and which OS you should be shopping for.
Ease of Use
Android's customizable interface and iOS's simplicity are both easy to use and adapt to when switching brands, but they do have some key differences:
Digital assistants: Apple's Siri and Google's Google Assistant are both helpful for answering basic questions and helping you start your day with an overview of the weather and to-do lists, but they aren't entirely equal. Siri was the first to hit the smartphone market and is well-loved as a result, but Google Assistant is currently more integrated with other Google apps, like the Google Calendar.
Apps and services: Every phone comes equipped with certain productivity and usability services, like a GPS navigation app, email, cameras and storage. Consider what you value in these core services. For example, if you store a lot of data or critical files on your phone, storage options may be a top priority, while those who travel often may want specific features in their navigational apps.
Frame type and size: Ease of use also includes how well you can physically handle the phone, factoring in the frame material, the device's weight and if the height and width fit into your hand for easy one-handed use. Frame material and screen protection will also tell you how durable a device will be against splashes, dust and falls.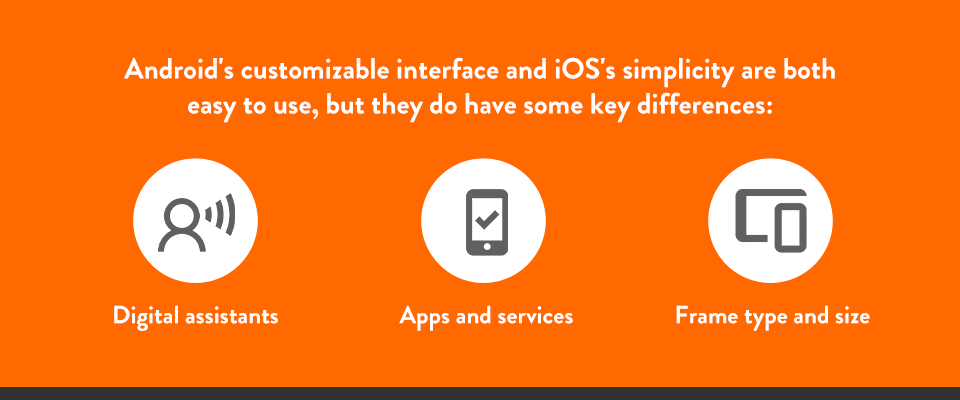 Aesthetics
For many, the perfect smartphone must balance durability and ease of use with a sleek, attractive aesthetic. Designs have changed over the years — while shoppers once flocked to stores over compact devices in neutral colors, today's phones offer larger, flat or curved edge designs in multiple colors, finishes and materials.
iPhone's devices tend to look more premium across the board and are usually the most expensive as a result. Android offers a wider variety of appearances and sizes. Accessories also play an important part in aesthetics. While they're readily available for most modern-day devices, it's typically easier to find Apple cases and accessories than it is with Android since Android covers such a wide berth of manufacturers.
Open vs. Closed System
One of the most notable differences between the two operating systems is Android's open system and iOS's closed system. Android's operations are based on the Android Open Source Project, or AOSP, which lets users use source code to create or mod operating systems. Apple doesn't have an open-source code, though some elements are less closed than others. So, what does this look like for the average cell phone user?
iOS phones don't have bloatware like Android and nearly everything is written in the same coding language with advanced chipsets. This allows for a more fluid user experience and control over third-party resources. It also adds to Apple's clean user aesthetic, minimizing a lot of home page and app clutter.
Android platforms may allow more third-party apps and multiple programming languages, but this makes it far more flexible and customizable than an iOS device. For example, unlike Apple devices, you can permanently change an Android phone's defaults, like an email client or web browser.
Updates
Operating systems need regular updates to stay current with changing technology, retain app compatibility and patch security concerns. Keeping your devices up to date is also the easiest and most affordable way to stay current on tech evolution without buying a new phone every time a new feature is available.
Apple tends to offer more iOS updates than Google does for Android devices, and they offer updates and security support for devices for longer after launch than Android does.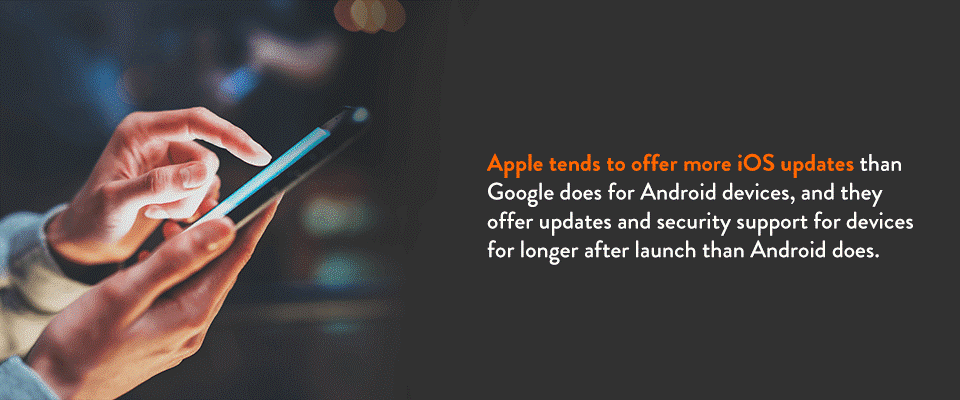 Security
According to one survey, more than half of today's cell phone users are worried about identity theft, fraud, stolen passwords, confusion and misinformation over data use, data sales, location tracking and undisclosed data collection online. A phone's security depends on the apps it allows on its app store, how it handles your online browsing data, what protections are in place against malware and viruses and what third-party security apps are available for download.
Cost
While iOS is available only on Apple devices, you can find Android on a range of manufacturer devices, which gives Android users a larger selection of affordable options to choose from. While it's often true that you get what you pay for — iPhone's cameras and premium design set it apart from its competitors — their most affordable option is currently the $399 iPhone SE 2020, while Android has several mid-range models available for far less.
If keeping costs low is your number one priority in a device, consider shopping the certified refurbished smartphone market. At Gazelle, we have some of the most popular releases, including iOS and Android devices, available at lower prices. Each phone has undergone extensive quality checks for appearance and performance, and you never have to sign contracts or pay hidden fees.
Support
Ongoing support is an important part of smartphone ownership, especially if you're investing a lot of money into a new device. With more than 270 Apple stores across the United States, Apple is a leader in brand-to-consumer support. They also offer AppleCare, a comprehensive service plan, for an additional fee.
AppleCare includes features like:
Extended coverage warranties
Support by phone, chat or app
Repair services
Business and professional support
While many Android manufacturers offer programs similar to AppleCare, you won't find quite as many retailers nearby, and some devices may not be eligible for a care plan.
An iPhone Might Be Right for You If…
Are iPhones better than Android phones? Many people seem to think so. In addition to the various design options and premium feel that come with Apple smartphones, iOS users praise the vastness of Apple's device ecosystem, the App Store's strict security standards and lack of problematic bloatware.
You Already Have Apple Products
Apple users are famously loyal to the brand — they may just be the most loyal consumer base on today's market. Many believe iPhones are better than Androids because the sheer number of Apple items users can sync activity across. Taking a picture with your iPhone 12? You can easily move it to your Mac for editing. Copying an important address from your Safari browser? You can use Universal Clipboard to paste it to your phone's GPS.
While many Android devices have similar integration features, it's not nearly as vast as Apple's family of iOS-enabled devices.
You Value Security and Privacy
Both operating systems have increasingly innovative and effective security features, but Apple's closed-source system gives them more control over what's available on their platform and adds a layer of security against potentially invasive third parties. Much of Google's business model rests on collecting user data to create more customized browsing experiences, while Apple has little need for the same level of browsing data. Their frequent OS updates mean they can also address any developing concerns more quickly than Android's slower OS update releases.
Regardless of which operating system you're using, you should take proactive steps to protect your information, such as:
Being cautious if downloading a third-party app or software to your device.
Downloading malware and antivirus apps.
Clearing data from your device before selling or recycling it.
Enabling features that help you locate misplaced devices.
Regularly clearing unwanted cache, cookies, apps and files from your phone and browser.
You Want All the Apps Without the Bloatware
Apple's App Store has 4.3 million apps, while Android's Google Play falls behind with 2.9 million. Of Apple's 4.3 million apps, many are exclusive to iOS, including user-favorites like Tweetbot, Enlight and Hyperlapse. Apple delivers all of this app value without extensive bloatware — preinstalled apps and software that may slow performance, take up valuable storage space or be unable to be deleted from your device — while Android's bloatware remains a top complaint among shoppers.
An Android Might Be Right for You If…
Many smartphone users believe Android is better than iPhone because the OS is available on so many different types of phones, including Samsung, OnePlus, Google Pixel, Nokia and ZTE. They also rely on the highly versatile and adaptive USB-C universal charging and data transfer cord instead of Apple's lightning charger, which is only compatible with other iPhones. This extensive inventory of product manufacturers has helped Android become the top operating system in the world, accounting for nearly 73% of the market.
You Want a Variety of Price Points
As we've covered, Android's biggest asset is the variety of products it powers. Whether you're shopping on a budget, hoping for a balance between design and performance or want to invest in a top-of-the-line smartphone with all the latest bells and whistles, you'll have no trouble finding an Android device to fit your lifestyle.
Consider the range of prices for some of 2020's top sellers, all unused and straight from the box:
Motorola Moto E: $149.99
OnePlus Nord N200 5G: $239.99
Google Pixel 4a: $349.00
Motorola Edge: $699.99
OnePlus 9 5G: $729.00
ASUS ROG Phone 5: $999.99
Samsung Galaxy S21 Ultra 5G: $799.99 to $1,199.99
Samsung Galaxy Z Fold: $1,799.99
You Want More Customization
Android's open-source system gives users more options to organize and move apps, create shortcuts and adjust the interface launcher. They can also download third-party replacements, set new defaults for some core services and add fun themes across the system.
The latest example is Google's Material You, a new custom approach to design that adapts to Android users' preferences, screen sizes and more. The company plans to launch it with the Android 12 update on Google Pixel devices in late 2021 before expanding to other devices.
You Want More Storage
Google's cloud storage, including Google Drive, offers a place to create and store documents, spreadsheets, and presentations, which you can easily access from any device linked with the same Google account. Apple's iCloud is extensive but doesn't offer as much cross-platform support. For example, you can access your Google Drive on an iPhone, but you can only connect to your iCloud from an iOS device.
Many Android devices — including the Samsung Galaxy Note 20 Ultra, Sony Xperia 1 II and Nokia 7.2 — also have expandable storage options with their smartphones, like microSD slots.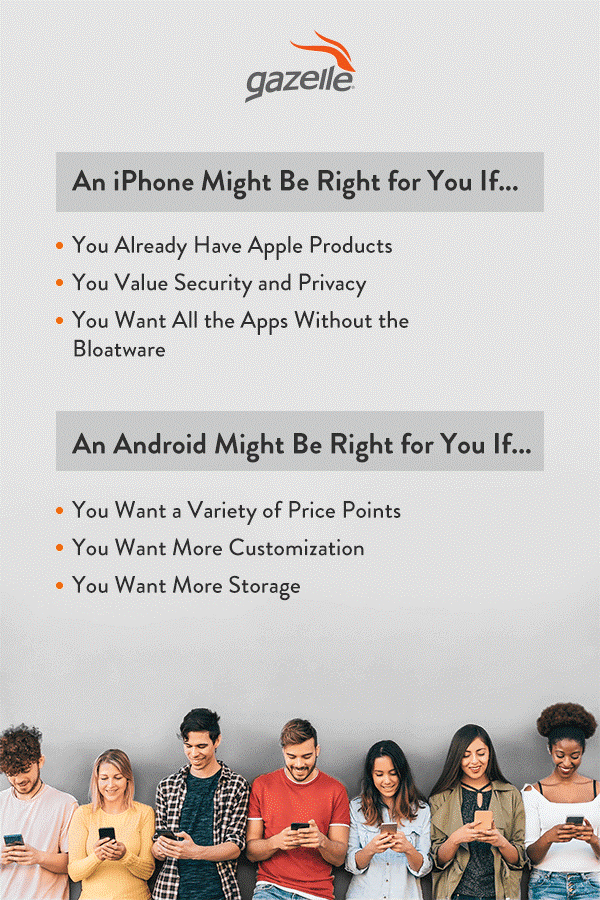 Shop Affordable iOS and Android Smartphones at Gazelle
Both iOS and Android-enabled devices offer plenty of exciting features that enhance the user experience, protect sensitive information and transform your cell phone into a multi-tasking tool for everyday life.
Android cell phones are the ideal fit for the tech-savvy consumer who wants room to play with source codes or the average consumer looking for more versatility, flexibility and design options. All tastes are welcome — find an Android phone in just about every type, size, color and price point, including niche-specific devices, like gaming smartphones and note-taking phones.
Apple iPhones are a staple in smartphone culture, leading the way in security, privacy and a streamlined user experience. The brand has earned strong loyalty among its shoppers because of its sleek, premium design offerings and vast ecosystem of connectable iOS devices.
No matter which operating system fits your lifestyle, Gazelle has you covered. When you shop with us, you enjoy:
No contracts: Our phones are carrier compatible with top mobile service providers and never come with hidden fees, contracts or any binding agreement. If your phone isn't the perfect fit, you can easily send it back within our 30-day return window.
A safe, secure experience: No more buying used phones with questionable quality from even more questionable online markets — you can shop all of our inventory on our secure, easy-to-use website, and every device is closely inspected for performance and appearance before we list it.
Competitive pricing: Our smartphones are always available for less money than the current MSRP, but never at the expense of performance. Plus, by choosing a used device, you're giving it a second life and keeping it out of landfills, where it becomes hazardous e-waste.
Shop our iOS and Android smartphones today, or browse our blog for more insider tips and how-to guides for your device.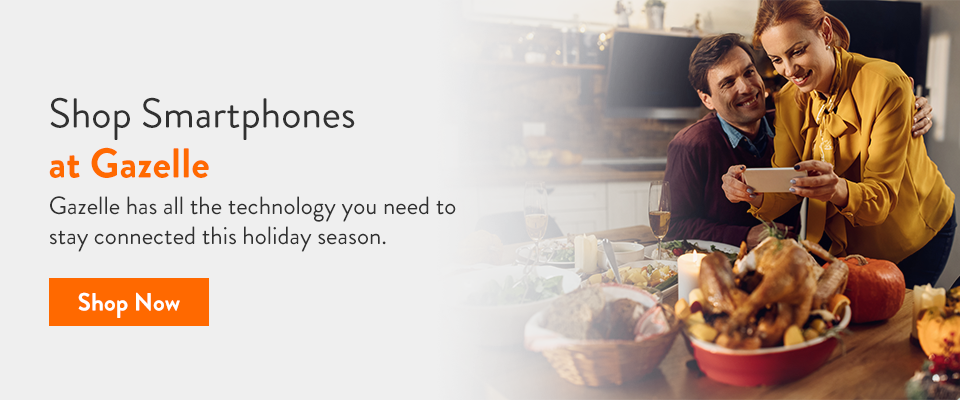 Comments
comments