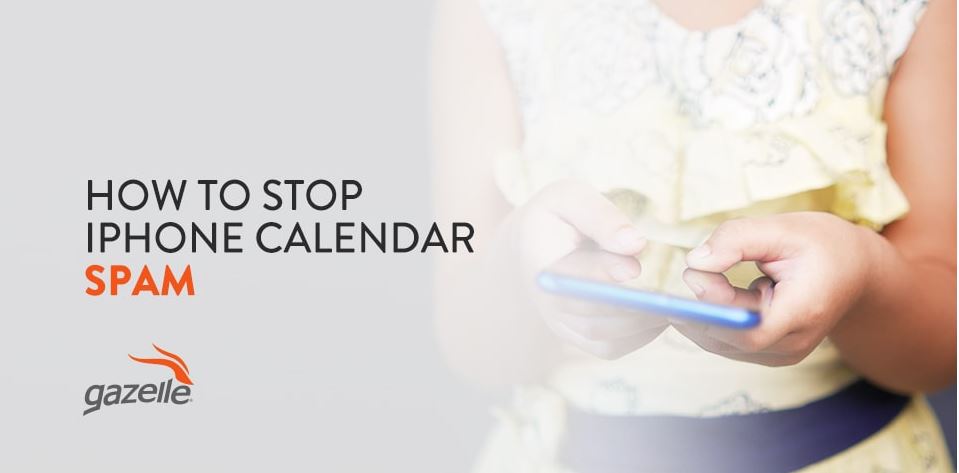 If you've opened your calendar app recently and noticed an event you don't remember scheduling, you've likely received iPhone calendar spam.
Scammers target iPhone calendars in ways similar to phishing by trying to trick you into clicking on an included link, attachment or notification to steal your information. The best way to keep yourself safe from these scams is to remove them from your device or ignore them. Read on to find out how.
How Did the Spam Get on My Calendar?
Anyone can send you calendar invites if they know your email address, which gets tricky when Apple's default programming sends you automatic notifications prompting you to accept or decline invites. Whatever you do, don't click either of these options — pressing Decline or Accept lets the sender know you have an active account, which makes you a prime target for more spam invites.
You might also get tricked into subscribing to malicious calendars. Shady websites often contain code that redirects users to malicious webpages. For example, someone trying to download music could receive a dialog box asking them to subscribe to a calendar. While this prompt may appear harmless, it can result in a hacked iPhone calendar.
Generally, it's easy to tell a fake invite from a real one. Calendar spam invites often contain urgent or graphic messages to get you to pay attention to them. Here are a few particularly shocking examples:
"You won a new iPhone!"
"Your iCloud has been HACKED."
"Click NOW To Receive Your Free Gift!"
"Apple Support: You Must Download Protection"
"DATA OVERLOADING!!!!!"
Thankfully, it's possible to remove this spam from your device. There are also steps you can take to prevent spam in the future.
How to Remove Calendar Spam
If you're only receiving a few invites here and there, you can get rid of them as they come in. Or, if your calendar is overrun, you can get rid of all future events from that sender by unsubscribing from the spam calendar.
Again, don't decline or accept these invites. Get rid of these events by following these steps instead.
Removing Calendar Spam in iOS 14.6 or Later
Open the spam event in the calendar app and click Delete Event. The delete option may be unavailable in some cases, so if this happens to you, it's best to leave the event alone. Ignoring the event will tell the scammers that your account is inactive.
If you're accidentally subscribed to a spam calendar, open the calendar app and tap one of the unwanted events. Scroll to the bottom of the screen and tap Unsubscribe from this Calendar. Confirm your choice by tapping Unsubscribe. All the events from that sender should disappear from your calendar.
Removing Calendar Spam in Earlier iOS Versions
Launch your calendar app and tap Calendars. Scroll through the list and press the More Info icon for any calendar you don't recognize. Then scroll down and tap Delete Calendar.
If you're still experiencing the problem, you can delete the subscription in Settings:
Launch the settings app.
Tap Calendar, then Accounts. iOS 13 users will tap Passwords & Accounts and then tap Accounts.
Select Subscribed Calendars and look for calendars you don't recognize.
Tap the suspicious calendar and then Delete Account.
How to Prevent Spam
Ignoring the messages and unsubscribing from spam calendars will eliminate spam, but you can also take steps to keep spam off your device for good.
1. Block the Spam
You can block future spam calendar invites by disabling the auto-scan feature in iCloud — this feature is what scans your emails and sends you automatic notifications. Here's how:
Log on to iCloud.com on a computer.
Open your calendar.
Click on the Settings icon in the bottom left.
Click Preferences and choose Advanced.
Under the heading Receive Event Invitations As, select Email.
Now, scammers will be unable to automatically send you calendar invites — if they really want to get you, they'll have to go out of their way to do so.
2. Report Spam in iCloud
You can report spam events to Apple through your iCloud account. It's a bit of a process, but it will remove that event from calendars on all your synced devices:
Log on to iCloud.com and open your calendar.
Click the unwanted event.
You should see an option to report Junk. Select it and then click OK. The event will disappear from your calendar on all your Apple ID-connected devices.
3. Create a Spam Calendar
With this method, you can address two problems at once — separate the spam from your regular events and put an end to it. You can do this through your iPhone or the calendar app on your Mac.
Here's how to do it on a Mac:
Open the calendar app.
Go to File in your taskbar.
Select New Calendar from the drop-down menu.
Your new calendar will appear in the calendar app sidebar. Click on it to rename it.
Move all spam events to this calendar by right-clicking on each one, mousing over Calendar and selecting the new one from the drop-down list.
Once you've moved everything you needed to, right-click on the spam calendar in the left sidebar and select Delete.
Here's how to do the same thing on your iPhone. The process is the same for all functioning versions of iOS:
Open your calendar app.
Tap Calendars.
Tap Add Calendar in the bottom left corner, enter a name and tap Done.
Move all your spam events to this calendar by tapping on each one, selecting Calendar and choosing your spam calendar.
To delete this new calendar, tap Calendars at the bottom of the screen and tap the More Info button on the side of your spam calendar. Tap Delete Calendar at the bottom of the page.
4. Try a New Calendar App
Removing Apple's calendar app entirely and downloading one from a third party is also a potential solution — there are many calendar apps to choose from, so you can play around a bit to find the best one for you.
Here are some of the best-rated calendar apps in the App Store:
Google Calendar
Tiny Calendar
Informant 5 Calendar
Calendar Z
Fantastical Calendar
All of the apps on this list are free to download, but some offer premium features or paid subscriptions.
Keep Your iPhone and Your Information Safe
While iPhone calendar spam is annoying, interacting with it can be dangerous. To stay safe, always block, ignore or delete unwanted events. If the scammers think your email address is inactive, they'll stop bothering you.
You can browse our blog for more insider tips on keeping your iPhone safe. Or, if you're thinking of upgrading, check out our selection of refurbished iPhones. We resell used iPhones in good functioning condition so you'll always get a quality product. We also offer a 30-day return policy, free standard shipping and financing options to help you stay within budget.
Comments
comments