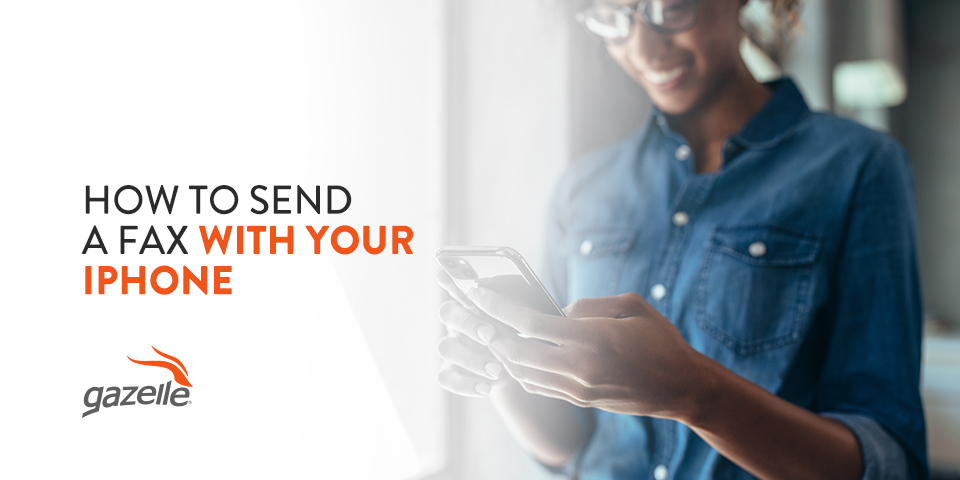 Sending documents through a fax machine seems like a thing of the past. Or is it? Although many companies have moved away from this method of sending paperwork, many health care, financial and government organizations continue to fax. What happens when you don't have access to a fax machine but still need to send a document?
Fortunately, now you can send and receive faxes from your iPhone. Faxing apps allow users to import, send, receive and archive their documents without printing. Prepare for whenever you need to fax by learning how to send a fax with your iPhone.
5 Apps to Send and Receive a Fax With Your iPhone
You'll need to download a third-party mobile app to your iPhone to send a fax. Luckily, you have several great options when it comes to sending faxes from your iPhone:
1. iFax
iFax is the original iPhone mobile app for faxing, launching the same year as the Apple® App Store. Since then, the developers have updated the software considerably, adding new features and updates that have now made it the top fax app for iPhones.
iFax has several packages for different needs, ranging from Basic to Professional. iFax Basic is for personal use and starts as low as $8.33 per month. iFax Plus and iFax Professional are designed for businesses and have greater storage and other features. iFax is an affordable faxing mobile app, especially if you know you'll need to send many documents.
iFax users get benefits like:
Real-time tracking: Receive live updates about your fax's status.
Customer support: iFax customer support is available year-round, 24/7/365.
High-quality encryption: Military-grade end-to-end encryption gives you peace of mind about your document's security.
Unlimited cloud storage: An iFax account comes with endless cloud storage to archive your documents.
Free fax number: Users get a free fax number local to the United States, Canada or the United Kingdom.
Compliance: iFax is compliant with the Health Insurance Portability and Accountability Act (HIPAA), so you can be sure your sensitive medical records are protected.
Easy faxing: Scan or import a document through your cloud storage software app, attach a fax cover sheet to your documents and press send.
2. Fax Burner
Fax Burner is one of the only apps where you can get started completely free. It's a good alternative if you don't need to fax many documents a year and want to save money by not signing up for a premium service. This mobile app allows you to send up to five pages for free. You can make in-app purchases to continue faxing past the free limit.
Within the app, you can sign a document, fill out forms and send faxes back to the sender. Fax Burner has several helpful features that simplify sending the occasional fax:
Saved faxes: When you send a fax, Fax Burner stores it on your iPhone and sends you a PDF copy through email for your records.
Free fax number: Each time you send a document, Fax Burner gives you a free fax number you can use for the next 24 hours.
Email and Dropbox integration: Fax Burner integrates completely with Dropbox and your email inbox, so you can send and receive faxes quickly.
Fax alerts: If you enable notifications for Fax Burner, you'll get alerts when you receive a document.
3. Fax from iPhone
If you need to fax a document at irregular times, Fax from iPhone may be a good fit for you. Fax from iPhone has highly flexible subscription options to fit various faxing needs. Users can purchase a subscription for one week, one month or one year. These flexible payment options allow you to pay only for the time you need.
Fax from iPhone includes features like:
Multiple fax options: With Fax from iPhone, users can follow different steps to send a single page or a batch to fax numbers in over 90 countries worldwide.
Simple upload: Users can upload a document to Google Drive, Dropbox, Box and iCloud Drive.
Fax notifications: The app displays the sending status of each fax you've sent. You can also enable notifications that alert you when your fax sends successfully or fails to transfer.
Organized archiving: Fax from iPhone stores your faxed documents and allows you to manage or sort them into groups for easy access later.
Fax.Plus is an online fax service with millions of customers worldwide. International users will benefit from Fax.Plus's worldwide coverage. Small, medium and enterprise-scale businesses use Fax.Plus to safely send faxes around the globe.
Fax.Plus provides 10 faxed pages in its free plan. Users will need to upgrade to a subscription to receive any documents. This mobile app really shines in situations demanding large volumes of faxes. Fax.Plus offers unique benefits like:
Extensive compliance: Fax.Plus's security meets or exceeds several global standards, including HIPAA.
Scalability: Fax.Plus can send one page at a time and handle large enterprises' faxing needs.
Robust integrations: This app integrates with several software solutions like Google Workspace and Slack, helping corporate teams fax more efficiently.
5. Scannable
This free mobile app is a faxing tool provided by Evernote. Scannable captures information in paper documents by scanning it with your iPhone's camera. Scannable automatically repositions, rotates and crops your documents to present a clean image. The app is free to download and use.
With Scannable, you can send and receive documents via text or email. You might also choose to export images into a PDF or JPG or send them to Evernote.
Fax From iPhone FAQs
These apps are helpful for faxing from your iPhone. But you might have a few other questions about how the process works or your iPhone's faxing capabilities.
Can You Fax From iPhone for Free?
Yes, although not from every app. Some apps require a subscription for any use, while others allow you to fax a few pages for free. You'll have to weigh the price with the capabilities of each app to determine the one that best fits your needs. Always read user reviews before purchasing and ensure an app is from a legitimate third party.
Can You Fax From iPhone Notes?
You can send faxes from items in your iPhone Notes. However, iPhones have no built-in capability to send faxes without an app. Follow these steps for how to fax from iPhone using Notes:
Open the note you want to fax.
Export or copy the note into your cloud storage software. This creates a file you can then fax with a third-party app.
Import the file into your third-party app and follow the instructions to fax.
Are iPhone Fax Apps Safe?
Look for features like HIPAA compliance and encryption to find safe fax apps for iPhones. You can also read reviews to see if the app is trustworthy.
Find More iPhone Tips and Shop Used Devices at Gazelle
Even though you might not have realized it at first, sending and receiving faxes from your iPhone can come in handy in many situations, whether you need to share medical records one time or transfer business documents while traveling. You can find different faxing apps for free and others with flexible payment options for any faxing need.
Browse iPhone tips on Gazelle's blog to learn even more tips and tricks you can do with your iPhone. If you're looking for an iPhone upgrade, Gazelle has refurbished iPhones with honest pricing, no hidden fees and no contracts. Our quality used iPhones are carrier compatible and backed by the Gazelle guarantee. Shop iPhones from Gazelle today!
Comments
comments