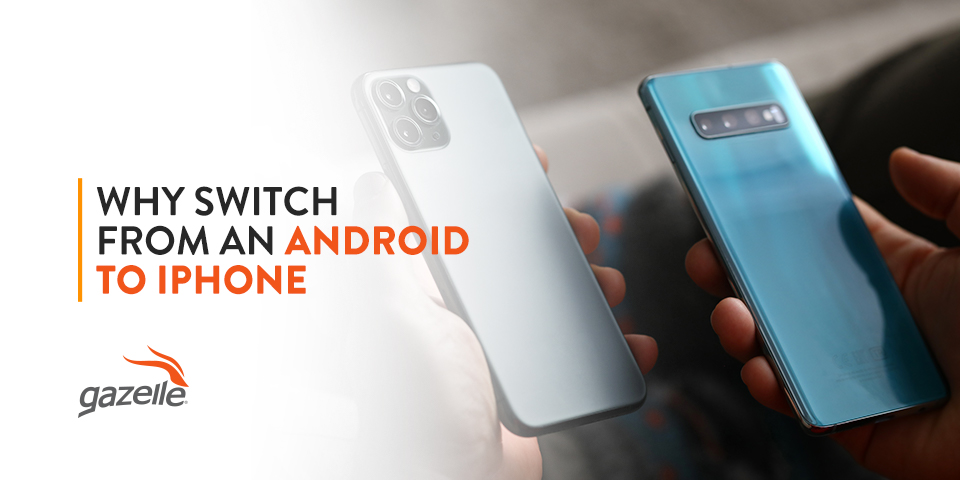 Many iPhone users have a strong bond with their phones — Apple loyalty is a force to be reckoned with. And there's good reason for that! iPhones have a lot to offer, like better security, a streamlined experience and top-of-the-line photography systems. In the United States, they make up nearly 60% of the market share.
If you've been an Android user for some time, it can be daunting to make the switch. After all, you know how to use your trusty Android, and the thought of transferring all of your information might sound exhausting. Thankfully, Apple has simplified both and made an Android transfer to iPhone very easy.
Let's explore some of the top reasons to trade in your Android for an iPhone.
10 Reasons to Switch From Android to iPhone
From ease of use to stellar camera systems, changing from Android to iPhone can come with a lot of perks. Below are our top 10.
1. Top-Tier Security
One of Apple's claims to fame is its unparalleled approach to security. That's primarily because Apple devices are locked down in what's called a closed system. Essentially, users can't access the source code for their phone's software. They can't make changes that would expose them to security risks or download unapproved applications that bypass Apple's security standards. Android phones, on the other hand, can do these things. Users can make alterations — intentionally or not — that put them at greater risk for hacks and malware.
Another key part of this equation is the popularity of iPhones and Androids. While iPhones might be more popular in the US, Androids dominate worldwide, likely due to their affordability in lower-income countries. You can buy basic Androids for under $50, but iPhones are more expensive. That means that hackers have a two-fold incentive to target Androids — they're more common, and they're easier to get into. Going with an iPhone can help you avoid many mobile threats.
2. The Apple Ecosystem
A significant draw for many people is access to the Apple ecosystem, which offers smooth, convenient connections between all of the products that Apple makes. These include laptops, desktops, smart watches, headphones, tablets, tracking tags and smart speakers. There is also a range of programs that Apple devices grant access to, like Apple CarPlay or Apple Pay. If you already have an Apple product or two, an iPhone can make the experience even more enjoyable. You can access your files with a simple login to your iCloud account and start using a variety of new tools, such as:
AirDrop: Share local files with AirDrop, which wirelessly sends files, like photos and documents, to nearby Apple devices.
iMessage: Send and receive messages seamlessly from any of your devices. You can send a message on your laptop and pick up the conversation from your iPhone.
Handoff: Handoff allows you to continue your calls or web browsing on another device. Say you have your laptop open while you're scrolling social media on your phone. You come across a long article you'd rather read on a big screen. Your browser icon will appear on the laptop and you can click it to pick up where you left off.
Universal Clipboard: Copy text from one device and paste it into another.
These tools work beautifully. While you can find some third-party alternatives for Androids and Windows devices, they're usually clunky and harder to use. Plus, you're depending on a third-party service, so security might be a concern. The Apple ecosystem keeps everything contained, so you can use these impressive tools without sacrificing security or speed. Since they're built on similar hardware and tools, Apple devices are designed to communicate well with each other.
Take Apple AirPods, for instance. These headphones, as well as some Beats products, now come with an H1 chip which offers a big advantage to iPhone users — they pair almost immediately and connect automatically.
Whether you already have some Apple devices or are considering some in the future, an iPhone is a great way to ensure you can join in on the Apple ecosystem.
3. Ease of Use
Apple's attention to the user experience has paid off — iPhone users are the most loyal customers, overtaking Android giants like Samsung and Google. Something you'll often hear from Apple fanatics is that iPhones "just work." They're meant to offer a smooth, easy experience for both power users and the tech-illiterate.
Apple builds phones with the user experience front and center. That's why the software, iOS, is known for sleek simplicity. Androids offer a lot of customization options and third-party components that can make them feel complicated, clunky and hard to use.
If you're worried about how to switch from Android to iPhone when your data is stored on your old Android phone, don't be. Apple makes it super simple to transfer data from Android to iPhone. It's even created an app to make the process smoother. Just download Move to iOS on your Android phone and follow the prompts. It uses your Wi-Fi connection to move a wide range of content, like photos, contacts, files, display settings, web bookmarks and more.
4. Accessibility Options
For people with disabilities — and those without them — Apple's accessibility options are second to none. Accessibility features are vital for people with vision, hearing or mobility restrictions. Without these options, some people may not be able to use their phones at all. Even if you don't think you need these features, you might be surprised to learn how they can help optimize your experience.
Some things you can do with iOS accessibility features include:
Increasing text size and contrast: Bumping up the text size is great for people who have trouble reading on their phones, such as those with farsightedness or low vision. Bringing up the contrast can also help.
VoiceOver: VoiceOver is a sophisticated tool that reads aloud whatever content is on the screen. By tapping on different parts of the screen, a voice narrates it.
Zoom: Zoom lets you increase the size of the entire screen as needed.
Differentiate without color and color filters: Users with colorblindness can use these settings to adjust color-based elements to shape-based ones. For instance, if a circle changes from green to red to show that a recording is taking place, this setting could change it to a red square instead. You can also adjust color filters according to specific types of colorblindness.
AssistiveTouch: AssistiveTouch adds a floating menu to your phone to make certain actions easier, like accessing menus or shortcuts.
Voice Control: Although Apple's voice assistant Siri offers some level of voice functionality, this setting is much more robust. You can completely navigate your phone with voice alone, making it an excellent option for people with mobility issues who can't use a touchscreen.
Sound recognition: For those with limited hearing, Sound Recognition offers alternative alerts when your phone detects certain sounds, like fire alarms, a doorbell, a barking dog or a crying baby.
Since iPhones are so popular, they're also compatible with a wide range of accessibility devices, such as hearing aids.
5. Family Controls
Apple offers a wide variety of tools to keep kids safe and make sharing easy for the whole family. You get granular control over what children can do, including:
Which apps they can download and use.
How long they can use certain apps, websites or types of activities, such as social media or games.
Blocking in-app or App Store purchases.
Who they can communicate with and when.
Whether they can access adult content or websites outside of a specific list.
iOS even offers a unique feature that blurs images containing nudity and presents an alert about staying safe. The Find My app is also helpful for keeping tabs on a child's location.
When it comes to content, Apple offers a program called Family Sharing. It grants up to six users access to shared photos, calendars and Apple services like Apple Music and Apple TV+.
6. Market Value
One of the great things about iPhones is that they maintain their value over time. While they might be pricier than some Androids, you typically get more of that money back when you eventually go to sell or trade in the device. With many people upgrading their smartphones every few years, this return on investment can go a long way.
There are a few potential reasons Apple devices retain their value so well. They use high-end materials and a well-developed platform, and they also have the reputation advantage of being a top-tier manufacturer. Plus, Apple only has itself to compete with. Dozens of Android phones could hit the market in a year, with many different manufacturers making their own phones. They can quickly become outdated, depreciating the value of older Androids. Apple phones only come out once a year, meaning it takes longer for one to become outdated.
7. Great Customer Service
Another reason people love Apple is its customer service. It's usually pretty easy to get ahold of their US-based customer service team online or over the phone. If you're near one, brick-and-mortar stores have their Genius Bar for tech support. If there's an issue with your device, they could get you out the door with a replacement that day. Whether you have a technical issue or questions about using your phone, Apple employees are quick to help.
8. Exceptional Camera Systems
Although some Android phones offer excellent photos, iPhones take all of the guesswork out of smartphone photography. Cell phone camera quality depends on a variety of factors, notably software and image processing technology. This is where Apple excels. Androids might boast high camera specifications, like 8K video recording or a 108-megapixel camera, but iPhones have excellent image processing technology. Even the entry-level iPhones will give you crystal-clear, vibrant photos and videos without much work on your end. Intelligent lighting tools and automatic focusing make it easy to get a great, natural-looking shot.
9. App Access
The App Store for iOS devices is a little stricter and more polished than Android alternatives. Apps that get published to the App Store must meet specific security standards and are well-vetted before you can download them. You'll certainly find some great Android apps, but you might have to sift through many that miss the mark. On iOS, high-quality apps are the norm. They run smoothly and generally offer great functionality. They also integrate well with Apple apps like Health or Wallet.
Many companies focus their resources on iOS apps, too. It's not uncommon to see an app initially released for iPhones and followed by an Android version months later, if at all. If you want the first pick of apps, an iPhone is your best bet.
10. Accessory Options
Do you like to make your phone stand out? You'll probably find more accessory options with an iPhone. If you walk into any major tech or department store, you should be able to find cases, car mounts, screen protectors and more for iPhones. Since there are so many different types of Android phones, it can be hard to find a very large selection for your specific device. Of course, the internet exists, but you'll likely still have fewer options.
When it comes to accessories, iPhones also get the added bonus of MagSafe. MagSafe is the strong magnetic ring that has come standard in iPhones since the iPhone 12. You'll find a range of accessories that use this ring to snap onto your phone easily and reliably. These include wallets, wireless chargers, mounts, grips, stands and battery packs. 
Should I Switch From Android to iPhone?
Everyone has their own preferences, but iPhones are certainly enticing. Many people find iPhones outpace Android in many areas, like security, build quality, photo quality and user experience. Android phones are known for customization and affordability, but those are precisely the traits that allow iPhones to gain an edge. For example, customizing your phone might appeal to some people who want to install certain programs, but Android's lax standards can cause security problems and add complexity to the user experience.
It all comes down to what you want out of your new phone. We find most people can't go wrong with an iPhone.
Make the Switch With Gazelle
Now that you've seen why so many people have made the switch from Android to iPhone, you might be ready to buy an Apple phone yourself. We think it's a great idea — but make sure you get your new iPhone from the right place. You could pay full price and buy brand new, or you could save significantly by buying used or refurbished. Here at Gazelle, we make it as easy and stress-free as possible to buy used iPhones, with functionality certifications and inspections, financing options and a 30-day return policy.
Ready to switch from Android to iPhone? Check out our large selection of iPhones today, available with a wide range of specifications and in various conditions to fit your needs and budget.
Comments
comments