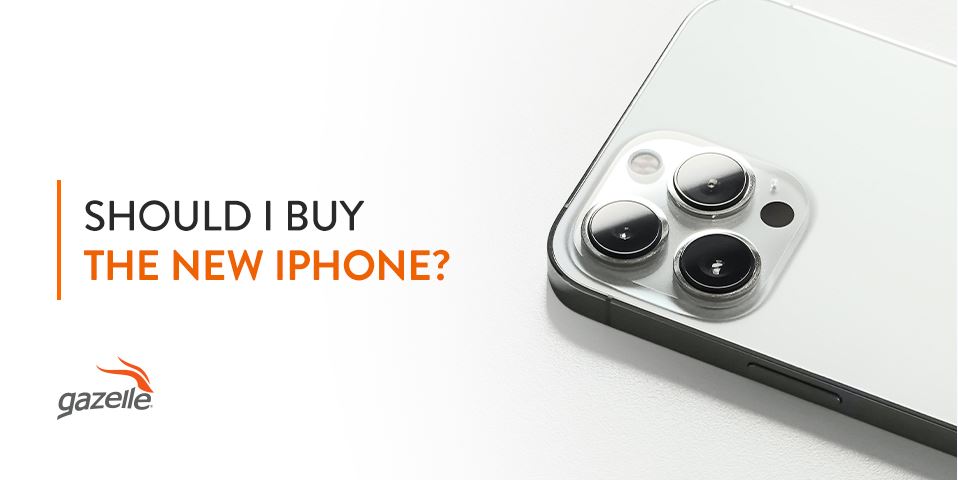 Today, it seems like a new device or smartphone launches every month. From tablets to cell phones and smartwatches, it's easy to become influenced by the latest marketing trends and consider buying the newest one on the market. Apple alone has released over 30 iPhones since its original launch, and many users have likely owned several iPhones in their lifetime. 
With recent rumors swirling about the release of Apple's latest smartphone, you may be wondering if you should buy the iPhone 13 now or wait for iPhone 14. In this article, we'll discuss some pros and cons of buying the newest iPhone and why buying a used phone may benefit your lifestyle and budget.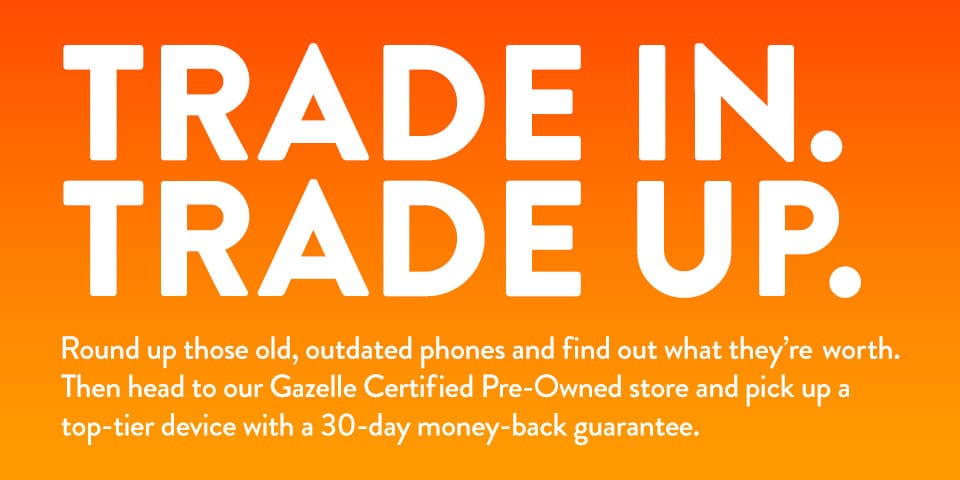 What to Consider When Choosing Whether or Not to Buy the Newest iPhone
While many consumers will excitedly rush out on the iPhone 14 release day and wait in long lines to get their hands on the newest features, there are some things you should consider before spending hundreds — or possibly thousands — on a brand new device. 
Current Phone 
The first thing you want to consider is your current phone's age and condition. If you've only had your device for a few months to a year, you probably won't need to buy a new iPhone. However, if your phone is several years old, there are plenty of reasons you might want to upgrade. 
Some smartphones, like Apple's iPhones, must be updated consistently to prevent any security issues, glitches or hardware bugs. An older phone might have difficulty downloading the latest software and cause your phone to crash often or load very slowly. 
After having your phone for so many years, you may constantly run out of storage after accumulating thousands of photos, apps, messages and other elements that take up space. Having an older phone also makes it difficult to get new chargers or accessories, as most tech stores try to keep merchandise for the most recent phones. 
If your current phone has external or internal issues, such as a broken camera lens or water damage, it may be more expensive to fix your damaged phone than to buy a new one, depending on its condition. 
Time of Year
Newer phones can be more or less expensive, depending on the time of year. For instance, Apple typically announces their new iPhones in September, but prices eventually drop around two to three months later after the initial buzz subsides. 
If you're looking for a new iPhone, it might be cheaper to wait until the market price comes down. If you can't wait, you might secure a special deal, offer or discount for smartphones during holiday sales, such as Black Friday or Christmas. 
Features You Want
Features are probably some of the top things you look for in a phone. For starters, many smartphone users love Apple and Samsung's consistent camera upgrades that let them take high-definition, crystal-clear photos. Smartphones with a good camera also make it easier to do flash photography in dimly light places or at night, which can be important if you love taking lots of photos for memories. 
Other features on newer smartphones that you might enjoy using include:
Wireless charging
Customizable lock screens
Touch or Face ID 
5G connectivity 
It all depends on how much you use your phone and what you use it for. For example, if you have 10 to 20 apps on your current phone that you use daily and constantly research the new Apple and Samsung updates to see what features they're putting out, a brand new phone may be worth it for you. If you only use your phone for text, calls and emails, you might not find newer features useful — or worth the price tag. 
Price
The price is probably the first factor you consider when thinking about getting a new phone. If you have a limited budget, it's important to consider how much you're willing to spend on a new phone and what you will actually use it for. 
While it can be tempting to blow an entire paycheck or two for all the latest gadgets, designs and accessories, the best iPhone is the one that meets your needs. Regardless of your price range, some devices are always going to be better than others based on personal preferences, usage and capabilities. 
Storage
If you're scoping out the next iPhone, storage is another factor to consider. Depending on how much you use your phone, you may need to upgrade to a larger storage capacity or downgrade to less. Everything on your smartphone takes up storage. iPhones even have preinstalled apps and features that account for storage space. You also need to consider:
Apps
Email
Text messages
Photos and videos 
Music 
Downloaded PDFs and files 
Streaming services
Podcasts and movies
If you're the type of person who uses all of these functions, you'll definitely need to rely on a larger internal memory, such as 128GB or 256GB. However, if you tend to keep your phone clear from heavy apps and overloaded storage, there's no reason to shell out the extra cash for a bigger memory bank. 
Keep in mind that Apple allows users to take advantage of their cloud services. This feature lets you save space on your device by storing photos and other files on a cloud-based system through an internet connection for a small monthly fee if you exceed the phone's internal storage. 
Design and Functionality 
When shopping or browsing for a new iPhone, your personal taste and preferences always play a role in your final decision. For example, you may care more about the phone's outward appearance than its software capabilities. While some people prefer a sleek, simple design, others prefer visible lines and sharp metal edges. 
Today, many smartphones on the market strongly influence and resemble each other, so it can be difficult to find one that stands out on its own without accessories. 
It's wise to remember that design is based on functionality. While the newest iPhone has plenty of fun features and a sleek appearance, it also prevents you from using some of the older functions you might be used to, such as a headphone jack and Touch ID. The newest iPhones are only compatible with AirPods or other Bluetooth headphones unless you buy a separate connector for your wired headphones. 
Operating System and Software 
A phone's operating system, software and processing power manage its many capabilities and functions. If you currently have an iPhone, you can go into your device's settings to explore the software and see what hidden features your phone has that you might not know about. 
Apple updates and improves the operating system on every iPhone — called iOS — to make functions work faster and easier than before. However, many users may not notice a difference if they aren't waiting for it. 
For example, if you currently own an iPhone 11 and want to upgrade to an iPhone 13, the different software may not be enough to notice. If your current phone is a few years old or you're thinking about switching to an iPhone for the first time, you may find the operating system quite impressive. 
The software on the iPhone also keeps your applications up to date and delivers security updates that notify users when they need to download the new software to improve any bugs. 
Ultimately, you may want to look past the phone's design and investigate the newest iPhone's overall performance before spending money for extra technical specifications you may not even use. 
Size and Display 
Size and display are other factors that play a considerable part in your decision. If you're not a fan of large, bulky devices you can barely hold in one hand, you might want to opt for a smaller iPhone, such as the iPhone 13 Mini, which is only 5.4 inches long diagonally. Though this is not the newest iPhone, it can fit snuggly in your pocket, and it's easy to carry. 
If you enjoy streaming movies and TV shows on your phone or playing games, you may want to upgrade to a device with a larger display screen for an optimized experience. 
If you primarily use your smartphones to scroll through social media and message loved ones, a smaller screen would be more than sufficient. 
Older iPhones and smartphones may have display screens with low light projection — meaning they're more difficult to see clearly in the direct sun. A newer iPhone will have improved technology that lets you view high-definition (HD) resolution images and enhance your viewing experience altogether. 
Keep in mind that a larger phone can also make it easier to drop out of your hands or difficult to reach across the screen for navigation and typing.
Battery Life
Battery life is one of the most important things you can have on a smartphone because it adds much more convenience if you're often away from electrical outputs for long periods. For instance, if you travel a lot and rely on portable chargers to keep your device running or use your phone for school or work, long battery life can benefit you. 
Most iPhones have battery life cycles that can last between 10 to 17 hours a day, so a serious upgrade is probably unnecessary unless your current phone loses juice fairly quickly. If you work from home or always remember to charge your phone at night, long battery life may not be one of the top priorities on your list.
Reasons Why You Should Buy a Used iPhone Instead
Though there are plenty of reasons you might want to buy the iPhone 14 when it launches, you can still find the features, design, speed and battery life upgrades you want in a used or pre-owned iPhone. Consider some of the benefits of buying a used iPhone — your wallet will thank you.
Lower Cost
A brand new iPhone 13 Pro Max starts at $1,099 and goes up to $1,599, depending on the size of the display screen you choose and how much storage you want. This means you'll spend over a grand for a new phone — not including any accessories like phone cases or screen protectors. However, you can find a certified pre-owned iPhone 13 Pro Max for as low as $780 in good condition and with plenty of storage. 
The overall out-of-pocket cost of a newer phone will be less expensive than the market price when you buy it used, making it easier to get the features or designs you want without paying the maximum price tag. Additionally, a used iPhone 13 Pro Max offers the same exact functions, performance and capabilities as a new one while saving you hundreds of dollars.
Change Brands
Buying a used iPhone makes it easier to switch over to the Apple brand if you currently own another smartphone, such as a Samsung Galaxy or Google Pixel. For instance, if you've been a fan of your Android phone for years but want to experience what Apple has to offer, buying a pre-owned device allows you to switch over without taking too much risk and paying the full market price.
Get Newer Features and More Storage for Less
If your current phone is in average working order, but you want to upgrade for a new feature or two, consider buying used instead. Because used cell phones are more affordable, you can upgrade to a newer iPhone with an improved operating system, camera and other capabilities without buying the most expensive one that has recently launched.
For example, you might just want to get a newer iPhone to be able to charge your phone wirelessly or use more storage. With a used iPhone, you can upgrade the storage capacity and benefit from many other new features that work just as well as brand new devices.
Benefit the Environment
Every year, users throw away millions of tons of devices and electronic equipment, leading to higher annual carbon emissions. Some iPhone buyers rush to buy the newest iPhone every time Apple announces the next launch, meaning one person could go through dozens of phones in their lifetime. Buying a secondhand phone is a small step toward keeping electronic waste out of landfills and preventing harsh chemicals from seeping into the soil, water and air.
Purchasing a pre-owned smartphone lets you extend the device's lifecycle and keep the demand for newer products down. Online marketplaces for pre-owned devices, like Gazelle, let customers recycle and trade in their old phones in good condition for money to put toward a newer device. This means you can easily get an upgraded phone and some extra money while doing your part to recycle responsibly.
Get Your Used iPhone Upgrade From Gazelle
Buying a new phone is a big step — and a costly one. With Gazelle, you can get all the new features you want for a more affordable price and contribute to a more sustainable environment in the process. We carry all different types of iPhones, from the iPhone 6s all the way to the latest iPhone 13 Pro Max. You can even search with filters for whatever budget, color, storage capacity and condition that meets your needs.
You can purchase a pre-owned device unlocked or carrier compatible so you can activate it on your network immediately. We also offer our customers a 30-day return policy to ensure you're satisfied with your device. Browse our collection of used iPhones or check out our blog for more tips and information about the latest Apple products. 
Comments
comments