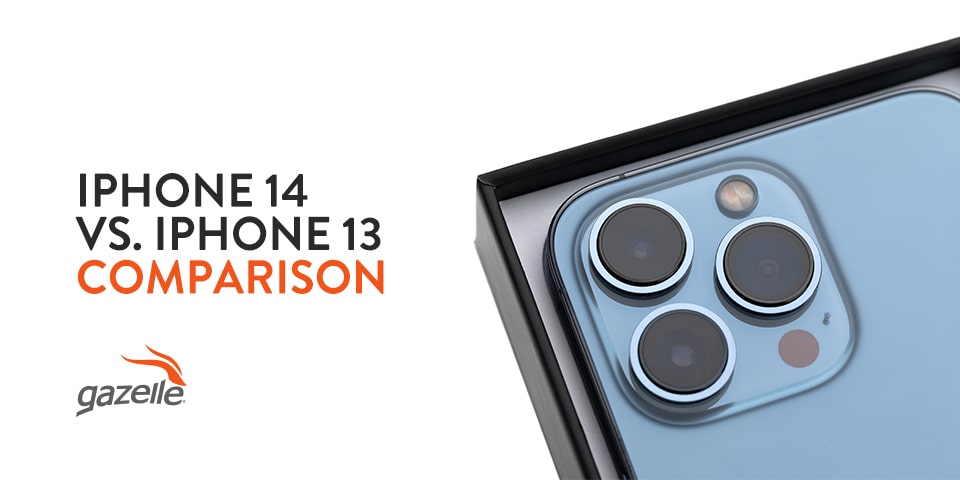 With the latest Apple® iPhone release, many users have a choice to make — the new iPhone 14 or the now-more-affordable iPhone 13. Both are excellent devices that offer top-of-the-line smartphone experiences. Apple didn't make many major changes to the latest iteration, but if you're ready for an upgrade or looking to switch to iPhone, either option might be right for you. From the pocket-sized iPhone 13 mini to the feature-packed iPhone 14 Pro Max, there's a lot to consider.
Let's take a closer look at the iPhone 14 vs. iPhone 13 and see how they compare.
iPhone 13 vs. iPhone 14
Both lineups come with standard and Pro models, with the Pro models getting some premium features like a better camera system and slick display technology. We'll start with the standard models.
The iPhone 13 comes in two sizes, so you can choose from the iPhone 13 mini or the iPhone 13. They offer very similar specs, but the mini packs it all into a smaller package. It has a smaller screen and less battery life, but the two models are otherwise virtually identical.
The iPhone 14 has a similar situation in the opposite direction. In 2022, Apple nixed the mini and replaced it with a Plus model. The iPhone 14 Plus has very similar specs to the iPhone 14 but with a larger screen and battery.
Here's what you can expect with the iPhone 13 vs. 14: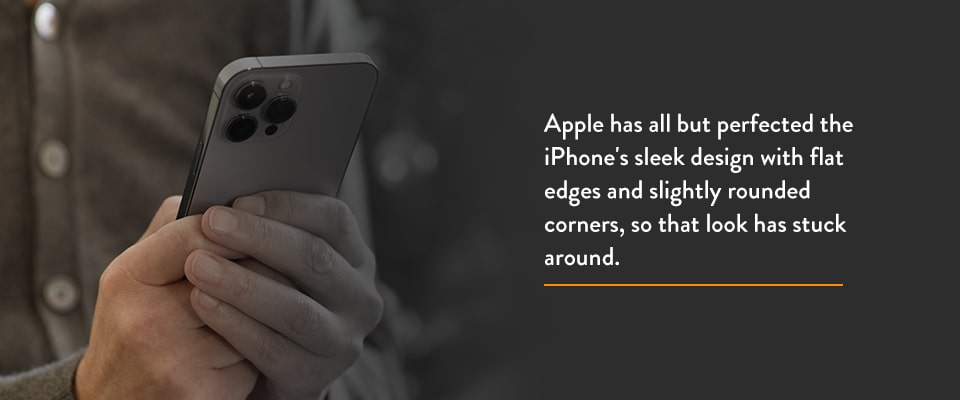 Design
If you pick them up, you probably won't notice a difference between the iPhone 13 and iPhone 14. Both have the same glass-and-aluminum build with a glossy back and durable Ceramic Shield on the front. Apple has all but perfected the iPhone's sleek design with flat edges and slightly rounded corners, so that look has stuck around.
Both the iPhone 14 and 13 share:
Diagonal dual-camera systems.
The same-sized notch for the front cameras.
Face ID with no physical home button.
IP68 water resistance.
MagSafe compatibility for chargers, cases and more.
The standard models even weigh the same, but the 13 mini is much lighter than the 14 Plus. The 13 mini and 13 weigh in at 4.97 and 6.14 grams, respectively, while the 14 and 14 Plus weigh 6.07 and 7.16 ounces.
As far as colors go, you can get midnight, starlight and (PRODUCT)RED on either the 13 or the 14. The 13 and 13 mini also come in pink, blue and green, while the 14 and 14 Plus come in light blue and purple options.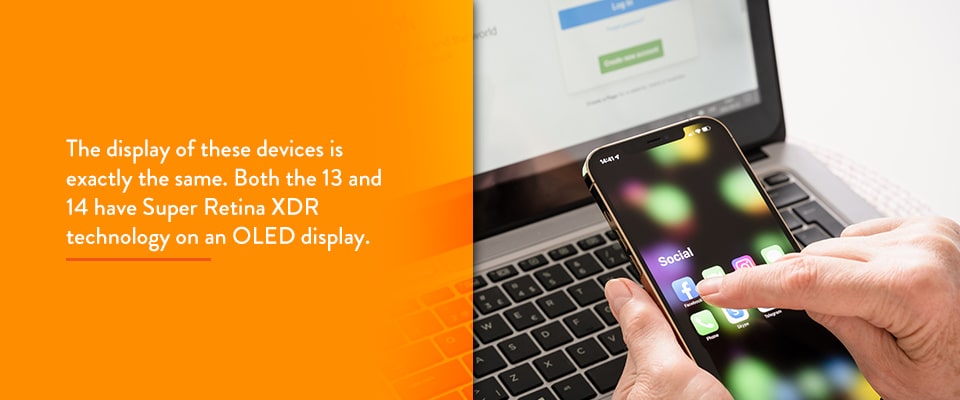 Display
The display of these devices is exactly the same. Both the 13 and 14 have Super Retina XDR technology on an OLED display. They also both have high definition range (HDR), True Tone display and Haptic Touch. HDR gives you a wider range of color, while the True Tone display adjusts the light on your screen to the surrounding environment for more accurate images. Haptic Touch refers to the iPhone feature in which you can pull up secondary information or shortcuts by holding down your finger in a "long press."
With 800 nits max brightness and 1,200 nits peak brightness on HDR, you should have a clear view of your screen even in harsh sunlight for either the iPhone 13 or 14.
Cameras
As expected, the 14 got a few camera upgrades. While both the 13 and 14 have 12MP rear cameras, the 14 got some extra perks, including:
A larger main sensor for better low-light photos.
A larger f/1.5 aperture on the Main camera vs. the 13's f/1.6.
A larger f/1.9 aperture on the front camera vs. the 13's f/2.2.
The Photonic Engine for more detail and texture in photo processing.
Autofocus on the front camera.
Action mode video recording for super-stable footage.
Support for 4K HDR in Cinematic mode.
Second-generation sensor-shift optical image stabilization for clearer, steady shots.
Every iPhone 13 and 14 has:
2x optical zoom out and up to 5x digital zoom for photos.
2x optical zoom out and up to 3x digital zoom for videos.
Portrait mode, Night mode and Cinematic mode.
Photographic Styles for specific effects.
First-generation sensor-shift optical image stabilization.
4K, 1080p and HDR recording with framerates from 24-60 frames per second.
Slo-mo, Time-lapse and Night mode Time-lapse recording.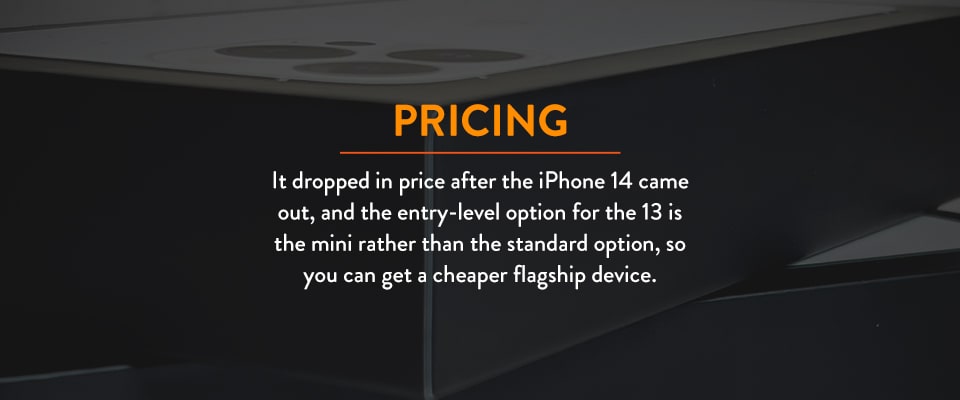 Pricing
If you're looking for an affordable phone, the 13 is your best bet. It dropped in price after the iPhone 14 came out, and the entry-level option for the 13 is the mini rather than the standard option, so you can get a cheaper flagship device. The current retail prices of the 13 mini and 13 start at $599 and $699, respectively. For a new 14, you'd start off at $799 for the standard model and $899 for the 14 Plus.
If you buy used, you can expect to save significantly. You can find an iPhone 13 mini for under $500 and an iPhone 13 for under $600.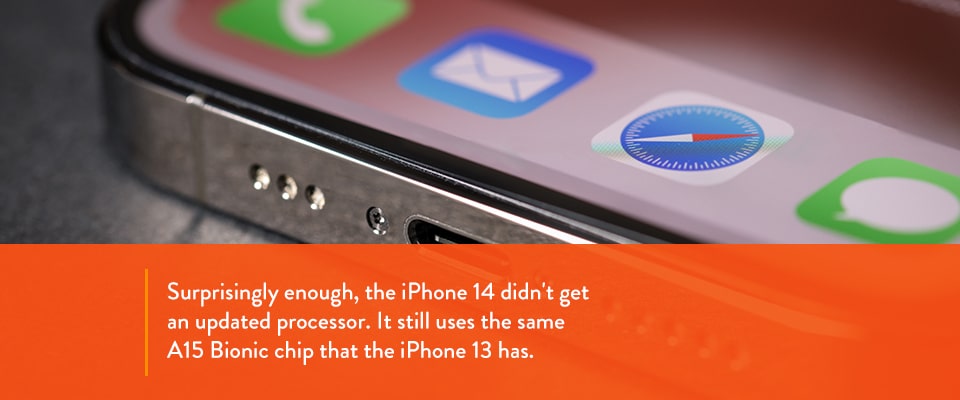 Performance and Features
Surprisingly enough, the iPhone 14 didn't get an updated processor. It still uses the same A15 Bionic chip that the iPhone 13 has. However, the 14 — as well as the 13 Pro models — have an extra 5-core graphics processing unit (GPU) that should give gamers a boost with super-responsive graphics.
Despite the older chip, the A15 Bionic should be more than enough for most users. Still, if you worry about your phone's longevity or getting the fastest performance possible, you can upgrade to the 2022 A16 Bionic chip with a 14 Pro model.
Of course, the processor isn't everything. Apple added some useful safety and accessibility features to the iPhone 14, including Crash Detection, which uses advanced sensors in the phone to detect if you've been in a car crash and automatically contact emergency services. The 14 also offers Emergency SOS via satellite. It can contact satellite-based services to help if you get into trouble without a cell signal. The 13 models still have an Emergency SOS function, but it uses cellular networks, not satellites.
The iPhone 14 also eliminates the physical SIM card tray, so you'll need to use eSIM. If you're not familiar, your SIM card is the tiny card in your phone that connects you to your wireless carrier and your phone plan. Traditionally, these are physical cards that fit into a slot, but Apple's moved to a fully virtual version. Many people who travel a lot or have separate plans for personal and work phones benefit from this feature and easy SIM transfers.
Both phones offer plenty of Apple-standard features like:
Apple Pay.
Face ID.
FaceTime video and audio.
5G support.
Siri.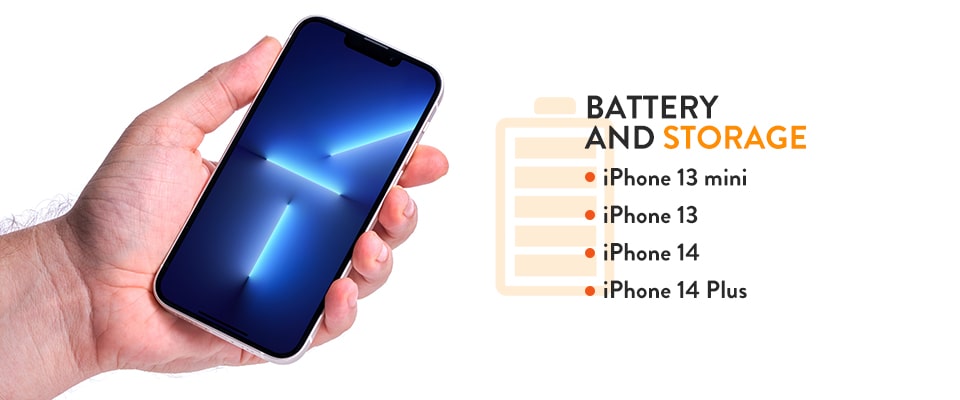 Battery and Storage
Apple usually gives its phones a modest bump in battery life with each iteration. Here's how battery life stacks up for the iPhone 14 vs. 13:
iPhone 13 mini: Up to 17 hours of video playback
iPhone 13: Up to 19 hours of video playback
iPhone 14: Up to 20 hours of video playback
iPhone 14 Plus: Up to 26 hours of video playback
All phones have the same charging capabilities, including wireless charging and fast charging. The 13 and 14 phones can reach up to a 50% charge in 30 minutes with a 20W adapter. Although some rumors might have suggested a switch to USB-C, Apple stuck with the Lightning charger.
Internal storage options for both models include 128GB, 256GB and 512GB.
iPhone 13 Pro vs. iPhone 14 Pro
If you want something more premium, consider one of the Pro models. Like the standard models, you have two different sizes to choose from, and those two sizes are the same for both the 13 and 14 lineups. In the iPhone 13 Pro Max and iPhone 14 Pro Max models, you can snag a phone with a 6.7-inch screen. The iPhone 14 Pro and 13 Pro models have 6.1-inch screens.
Again, there isn't a huge difference between the iPhone 14 vs 13 Pros, but you get some exciting new features compared to the standard models. The Pro phones have nicer display tech, a powered-up camera system, a stainless steel body and a 1TB storage option.
Design
The Pro models are remarkably similar, with the same flat edges, rounded corners and Ceramic Shield as the standard models. They are a bit heavier, though, and swap an aluminum body for rugged steel. The iPhone 13 Pro models still have a notch that dips into the screen to house the front camera, like the other models, but for the iPhone 14 Pros, Apple replaced the notch with a pill-shaped cutout.
In both the iPhone 14 and 13 Pro, you'll find:
The three-lens Pro camera system.
Face ID and no physical home button.
IP68 water resistance.
MagSafe compatibility for chargers, cases and more.
Both the iPhone 13 and 14 Pro models weigh about the same. When it comes to colors, you can grab either option in gold or silver. The 13 Pro and Pro Max also come in graphite, a light Sierra Blue and Alpine Green. The 14 Pro and Pro Max offer Space Black and Deep Purple.
Display
The display is where the 14 Pro shines. It adds two standout iPhone 14 features to the device:
The Dynamic Island: This feature is Apple's unique approach to the pill-shaped cutout on the front screen. It changes shape and size to accommodate whatever you're doing. If you're listening to music, it might show the play and pause button. If you're watching a ball game, it can show you the score.
An Always-On display: The iPhone 14 Pro now stays on in a darkened mode that saves battery but also lets you see what's going on without tapping or lifting your phone to "wake" it.
The 14 Pro and 13 Pro both benefit from the beloved ProMotion technology. This display tech lets your iPhone change its refresh rate up to 120Hz for a smoother experience. For comparison, standard models only offer a static 60Hz refresh rate.
All of the Pro models share Super Retina XDR and OLED screens. The 13 Pro can get a little brighter than the 13, and the 14 Pro has an especially bright display. It can reach 1,600 nits in HDR and 2,000 nits outdoors. For comparison, the iPhone 13 Pro only hits 1,200 nits in HDR.
Cameras
Photo fanatics will likely want to spring for a Pro. The iPhone 13 Pro and iPhone 14 Pro models have exceptional camera systems, with beefed-up hardware and the powerful photo processing software that Apple is known for. Depending on your photography needs, the iPhone 13 Pro vs. 14 Pro choice might be tricky.
The 13 Pro gets a 12MP Pro camera system, which includes Main, Ultra Wide and Telephoto lenses. They have apertures of f/1.5, f/1.8 and f/2.8, respectively.
With the 14 Pro, the Main camera got a bump to 48MP, alongside a smart photo processing solution that groups pixels together when it's needed, depending on your lighting situation. Oddly enough, the 14 Pro has narrower apertures of f/1.78 for the Main camera and f/2.2 for the Ultra Wide camera. The TrueDepth front camera has a wider f/1.9 aperture, as well as autofocus. 
The 14 also gets to take advantage of Action mode, which helps to stabilize bumpy video, and the new Photonic Engine, which helps deliver brighter, more accurate colors and better detail. Cinematic mode now works in 4K, too.
In both the iPhone 14 and 13 Pros, you get:
Sensor-shift optical image stabilization, with second-generation tech in the 14 Pros.
3x optical zoom in, 2x optical zoom out and up to 15x digital zoom for photos.
3x optical zoom in, 2x optical zoom out and up to 9x digital zoom for video.
Portrait mode, Night mode, Night mode portraits, Macro photography and Cinematic mode.
Photographic Styles.
Apple ProRAW and ProRes options.
4K, 1080p and HDR recording with framerates from 24-60 frames per second.
Slo-mo, Night mode and Time-lapse recording.
Both Pro models also get light detection and ranging (LiDAR) scanners, which help with various features like focusing in low light and scanning environments for augmented reality applications.
Pricing
Neither Pro model is the most affordable smartphone out there, but being the newest iPhone, the 14 Pro and Pro Max are more expensive. The 13 Pro and Pro Max are no longer sold by Apple but are available used. We offer the iPhone 13 Pro starting at around $700 and the iPhone 13 Pro Max in the mid-$600s.
The 14 Pro isn't yet on the used market, but its current retail price starts at $999 for the 14 Pro and $1,099 for the 14 Pro Max.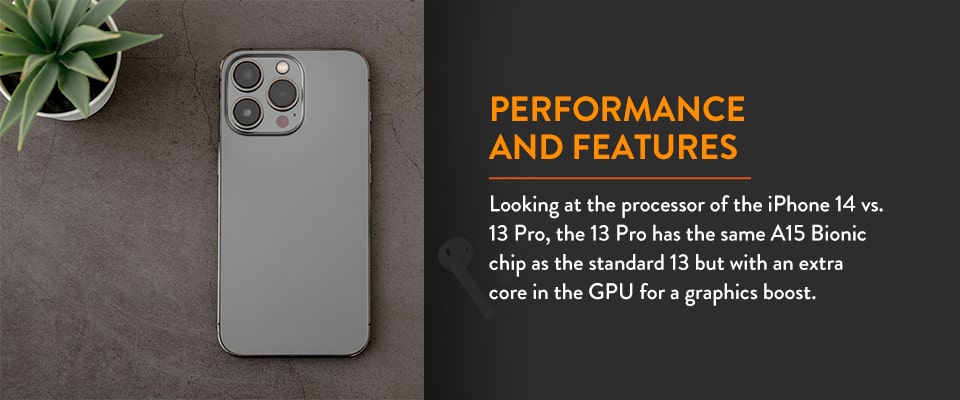 Performance and Features
The iPhone 14 Pro and 13 Pro offer outstanding speed and a slew of industry-leading features.
Looking at the processor of the iPhone 14 vs. 13 Pro, the 13 Pro has the same A15 Bionic chip as the standard 13 but with an extra core in the GPU for a graphics boost. The 14 Pro got an upgrade to the A16 Bionic chip with a five-core GPU as well. Like the standard iPhone 14, the 14 Pro models added Crash Detection and satellite-based Emergency SOS and swapped physical SIM cards for eSIM support.
Outside of those features, the 14 Pro and 13 Pro models are pretty similar to each other and their younger siblings. All of these phones offer:
Apple Pay.
Face ID.
FaceTime video and audio.
5G support.
Siri.
Battery and Storage
If battery life is a priority, a Pro Max is the way to go. They might be heavier and bigger, but that means there's more room for a hefty battery. The iPhone 14 and 13 Pro models offer the following battery life ratings:
iPhone 13 Pro: Up to 22 hours of video playback
iPhone 13 Pro Max: Up to 28 hours of video playback
iPhone 14 Pro: Up to 23 hours of video playback
iPhone 14 Pro Max: Up to 29 hours of video playback
Charging capabilities are the same across the board. The Pro models get wireless charging and fast charging and use Apple's Lightning adapter.
Storage options for the Pro models are the same as they are for the standard models, except you also have a 1TB option. With those fancier cameras, 1TB can be a great choice for photographers and videographers filling their camera roll with high-quality shots.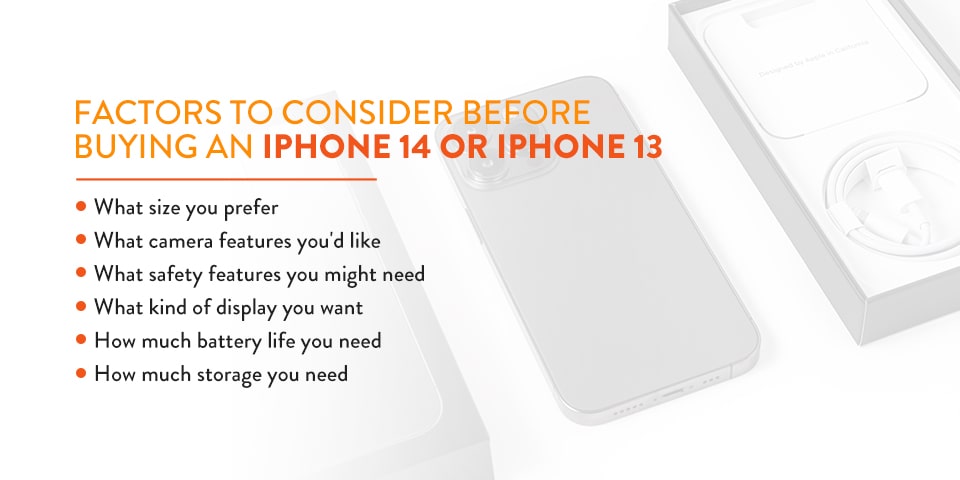 Factors to Consider Before Buying an iPhone 14 or iPhone 13
As you've seen, there are many different options and variations to consider when buying an iPhone 13 or 14. Think about what you want to see in the following areas:
What size you prefer: Do you want a small phone that's easy to hold, or would you rather have a huge screen to watch videos and play games on? If you like a small phone, the iPhone 13 mini is probably the last of its kind. Since Apple removed the mini from the 14 lineup, don't expect another flagship phone with a small size for a while. The third-generation iPhone SE is a little larger than the 13 mini, but it has a smaller display size due to having a home button. It also lacks some modern features.
What camera features you'd like: Are you a photo fanatic or do you just need to cover the basics? The Pro cameras are a big upgrade from the standard camera systems. A Pro might be worth it if you take a lot of macro or distance photos or often find yourself in low-light situations. The 14 models also have Action mode if you like to take fast-moving video and want to smooth out your footage. For casual users, the standard cameras are still excellent and perform well in most situations.
What safety features you might need: If you want some extra peace of mind or frequently go off-grid on camping or hiking excursions, you might want to grab a 14 due to its next-level safety features. Crash Detection offers extra security for potential car crashes, while Emergency SOS can use a satellite network to call for assistance instead of relying on your cellular network. Both are great features that the 13 models lack.
What kind of display you want: Since the iPhone 14 has some upgraded display tech, think about whether you're interested in the Always-On display, ProMotion technology or the new Dynamic Island. ProMotion is available in the 13 Pro, but the other two features will call for the iPhone 14 Pro.
How much battery life you need: Generally speaking, the smaller and lighter the phone, the lower the battery life. The range between the iPhone 13's 19 hours of video playback and the 14 Pro Max's 29 hours is pretty large. Consider what your phone habits look like and whether you need a massive battery or have time to top up your phone's charge throughout the day.
How much storage you need: Do you fill up phone storage pretty quickly? Remember to choose an appropriate level of internal storage. Apple devices do not have any expandable storage options, such as microSD cards. You can use cloud storage, like iCloud, but that requires an ongoing subscription and internet service. Consider your storage needs carefully before buying your next phone.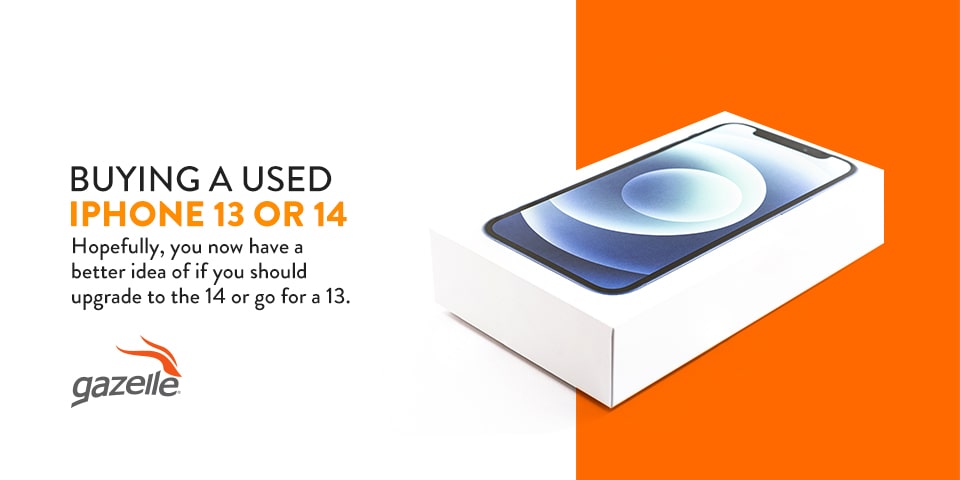 Buying a Used iPhone 13 or 14
Hopefully, you now have a better idea of if you should upgrade to the 14 or go for a 13. Coming from Apple, they can also be pricy. One of the best ways to save on new iPhones is to buy used. You can choose the condition that fits your budget and preferences and be free of contracts and hidden fees.
Here at Gazelle, we simplify the process of buying used devices with honest listings and easy returns. Many of our devices are even Gazelle Certified, meaning they've gone through a rigorous inspection process. We have a wide range of used iPhone 13 models currently available, and we'll have used iPhone 14 devices soon. Whichever option is right for you, Gazelle makes saving on a phone as stress-free as possible. Explore our used iPhones today!
Comments
comments