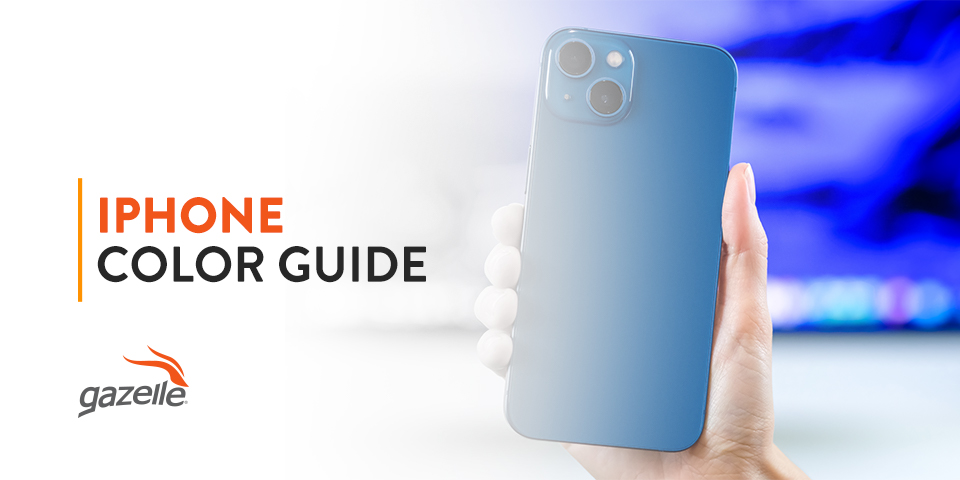 If you've compared Androids and iPhones and decided to go with an Apple product for your new cell phone, the next step is picking the right model for you. When deciding on an iPhone, consider style as well as functionality. Color is a major factor when choosing a phone. The Apple® iPhone offers a wide array of color options that regularly change with each generation and model, giving you lots of alternatives.
While cell phones are tools, they're also an extension of our style. Many people choose a cell phone that expresses their personality while giving them the features they need. From classic neutrals to bold and pastel hues, you have several color choices for your next iPhone.
iPhone Color Guide
With a range of iPhone colors to pick from, you can choose a new cell phone that reflects your unique style — or one that shakes things up and adds some variety. Check out the color options for each model in this iPhone color guide:
iPhone 14
The latest of the Apple iPhone models, the iPhone 14 arrived in style with a variety of different sizes and styles. This lineup includes the iPhone 14, 14 Pro, 14 Pro Max and 14 Plus. The new 2022 offerings also included the following colors:
Blue: This blue appears to lean more towards a powder or slate color.
Purple: The soft lilac color is a calming alternative for those who prefer the light and whimsical.
PRODUCT(RED): Apple carried this vibrant red over from the iPhone 12 and 13, and it's now one of the top color options. A portion of the proceeds goes to the Global Fund's HIV/AIDS treatment programs in Africa and the global COVID-19 response.
Midnight: Midnight is a black color tinted with navy, an addition to the neutral iPhone shades.
Starlight: Starlight offers a warmer twist on Apple's classic Whit with gold-tinged edges and a pearly back.
iPhone 13
Apple released the iPhone 13 in September 2021 in four models — the 13, 13 Mini, 13 Pro and 13 Pro Max. Each model has slightly different color options, so if you're set on a specific shade, you might be limited to only a few models. The iPhone 13 and 13 Mini are available in six different colors, with five of these shades new to the iPhone lineup:
PRODUCT(RED)
Midnight
Starlight
Green: The iPhone 13's forest-type Green is darker than previous green models.
Blue: This Blue is lighter than previous blues and contains a trace of turquoise.
Pink: A pale pink evocative of cotton candy replaces the iPhone 12's Purple.
The 13 Pro and 13 Pro Max come in five colors:
Graphite: Graphite is a matte dark gray that's been around since the iPhone 12.
Silver: The Silver of this iPhone model is on its edges, while the back is regular White.
Gold: This subtle Gold is a lighter color and less like Apple's previous rose gold shade.
Alpine Green: Alpine Green is an adventurous and classic choice.
Sierra Blue: Sierra Blue is a new shade that resembles baby blue.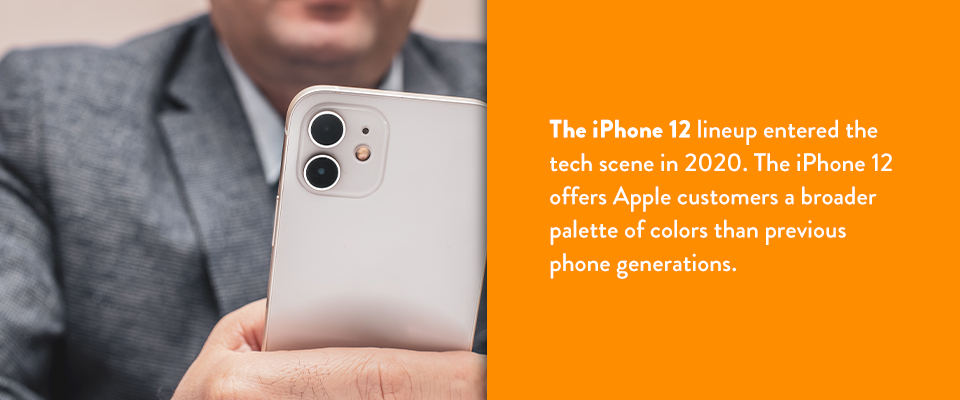 iPhone 12
The iPhone 12 lineup entered the tech scene in 2020. The iPhone 12 offers Apple customers a broader palette of colors than previous phone generations. As with the iPhone 13, different models have different color options. The iPhone 12 and 12 Mini come in these shades:
Black: Classic Black is a darker shade than Graphite or Space Gray.
White: With a classic white back and matte aluminum edges, this color is the definition of elegance.
Blue: The iPhone 12's Blue is a deep shade similar to navy. This Blue is darker than the iPhone 13's hue.
Green: Closely resembling a mint-type green, this pastel color is for showing off.
PRODUCT(RED): The iPhone 12's red is the same shade as the iPhone 11.
Purple: The lavender hue of Apple's brand-new Purple is a reminder of spring.
The 12 Pro and 12 Pro Max have a few different color options from the 12 and 12 Mini, though some are similar. Here are your options for these models:
Silver: This Silver is more like the iPhone 12's White, although the edges on this phone are a shinier aluminum.
Graphite: Graphite's subdued color is guaranteed to maintain its appeal.
Gold: The iPhone Pro's Gold finish is an elegant shade similar to rose gold.
Pacific Blue: The brand-new Pacific Blue is more muted than the iPhone 12's Blue.
iPhone 11
As with the next several generations, Apple offers different colors for the iPhone 11 versus the iPhone 11 Pro and 11 Pro Max. The iPhone 11 comes in a rainbow of six colors:
PRODUCT(RED): This confident red color remains a customer favorite.
Purple: Also brand-new in the iPhone lineup is Purple, a lilac shade that's perfectly whimsical.
Black: The true Black iPhone has been around for a while and gives a professional vibe.
White: White's clean look is classic and goes with anything.
Yellow: Yellow is a fun, bright choice for a phone. This buttery shade is more pastel than neon.
Green: The iPhone 11's Green is another pastel. Minty fresh, this color is original and understated.
You won't find any pastel colors in the iPhone 11 Pro and Pro Max — however, their subdued colors might be just what you're looking for. Here are your color options for these iPhone models:
Space Gray: The iconic dusky Space Gray is always a winner. You're likely to find several other people with this iPhone color.
Silver: Silver comes with a matte white back that's clean and polished.
Gold: Apple's Gold takes on a subtly glamorous yellow hue with this phone.
Midnight Green: Midnight Green looks more like dark gray with a twinge of green.
iPhone XR
When Apple launched the iPhone XR in 2018, it introduced several brand-new colors that changed Apple's color palette game. This iPhone comes in six colors:
PRODUCT(RED): Bold and powerful red is great for those who want to make a statement.
White: Always a favorite, the White iPhone XR is sleek and timeless.
Black: This shiny black works well for those who want to keep the same phone for a while.
Blue: This powdery Blue was a new choice for Apple, with its sky-blue pop of color.
Yellow: With a brighter neon look, this Yellow is flashier than the iPhone 11's Yellow.
Coral: This bright color is as bold as red but features an orange tint.
iPhone XS
The iPhone XS comes in three colors, so options are pretty slim:
Space Gray: Space Gray is popular for those looking for a sophisticated cell phone.
Silver: The Silver on the iPhone XS is similar to the silver colors of future generations, with a back that looks closer to white.
Gold: This Gold is between Rose Gold and yellow-tinted Gold, with a premium and flashy finish.
iPhone X
Apple's iPhone X made quite a splash in 2017 when it launched in only two colors, especially since customers had four options for the iPhone 8 and six for the iPhone 7. For the iPhone X, you can choose between:
Space Gray: Not quite black, this dark gray is a good choice for a neutral phone.
Silver: Apple's Silver features a classic white back.
iPhone 8
The iPhone 8 and 8 Plus are available in the same four color choices:
PRODUCT(RED): Apple continued its red color from the iPhone 7, where it first introduced the shade.
Gold: As opposed to some later Gold versions, this shade has a more rose gold hue.
Silver: This Silver has a shiny back, unlike the iPhone 11's matte finish.
Space Gray: This staple remains from one of Apple's earliest phones, the iPhone 5S.
iPhone 7
The iPhone 7 and 7 Plus were Apple's first phones to feature more than four color options. While these shades are relatively basic compared to later models, people interested in the iPhone 7 and 7 Plus have six color choices:
PRODUCT(RED): This early red iPhone features a silver Apple logo on the back.
Jet Black: The Jet Black iPhone 7 has a shiny finish and a black Apple logo.
Gold: The Gold for the iPhone 7 has a yellow tint.
Rose Gold: This pinkish shade might be the most glamorous of the iPhone 7s.
Silver: This year, Silver had a bit more of a silver look than future generations with a white back.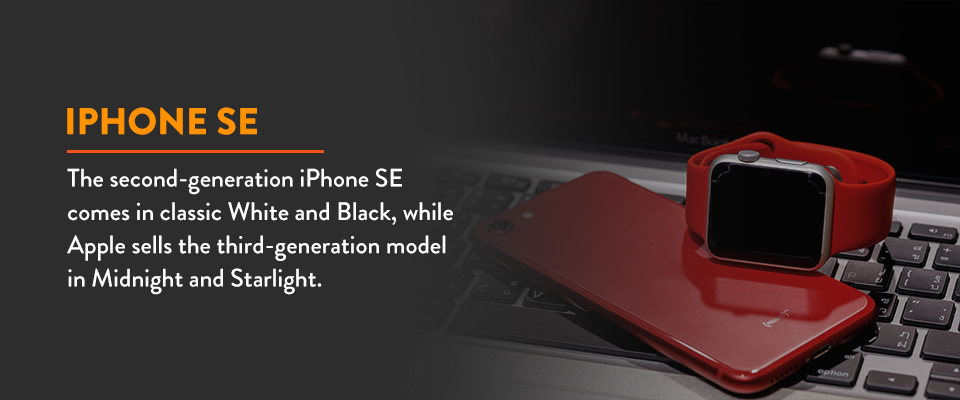 iPhone SE
You can buy the second and third-generation iPhone SE phones in PRODUCT(RED). The other two color options for these models are very similar — the second-generation iPhone SE comes in classic White and Black, while Apple sells the third-generation model in Midnight and Starlight.
iPhone 6S
The iPhone 6S is available in two shades of gold, a yellower gold hue and rose gold. If you're into a phone with a cooler tone, you can choose from Apple's classic Silver or the darker Space Gray.
iPhone 6
As you go back in the iPhone's history, color choices become more limited. The iPhone 6 only comes in three colors — Gold, Silver and Gray. Gray is a darker color, and Silver is closer to Apple's later Silver models.
iPhone 5
Apple made three models of the iPhone 5 — the 5, 5S and 5C. These phones have different-colored trim along the top and bottom of each device's back. The iPhone 5 comes only in Black with Slate trim and Silver with White trim. The iPhone 5S switched things up with three variations:
Space Gray with Black trim
Gold with White trim
Silver with White trim
The launch of the iPhone 5C was when Apple started experimenting with color. This device comes in five colors. Besides White, each of these colors was neon-bright — Blue, Pink, Green and Yellow. Although Apple abandoned these vibrant hues later, you can still find some of these colored phones at certain retailers.
iPhone 4 and 3G
As some of Apple's oldest phones, the iPhone 4 and iPhone 3G just come in White and Black. Despite all the design changes iPhones have been through, these two colors have been part of Apple's color palette since the very beginning. Although today's customers will probably choose an iPhone with more modern features and capabilities, you can still find used iPhone 4s and iPhone 3Gs from select retailers.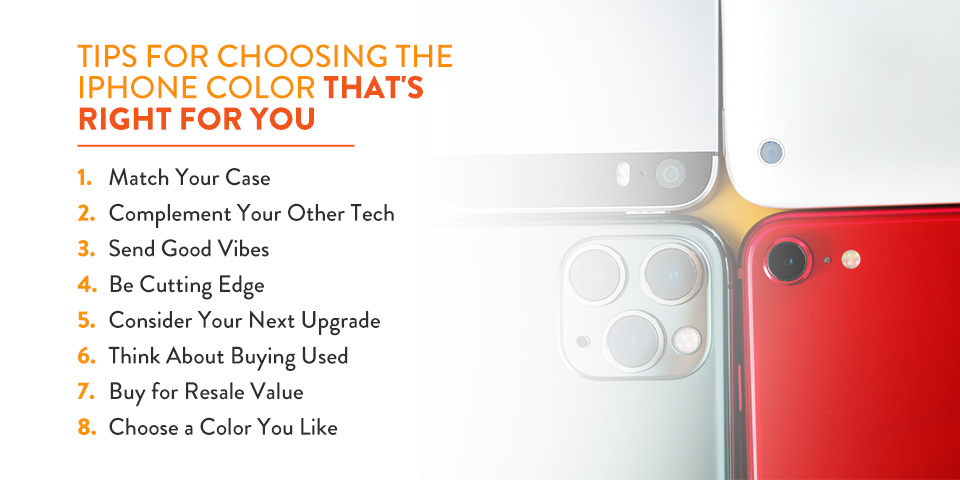 Tips for Choosing the iPhone Color That's Right for You
With such a wide range of color options, how do you decide which iPhone color is right for you? Even after comparing several newer iPhone models, picking a color can seem daunting. Here are a few tips to help you make the decision:
1. Match Your Case
If you're the kind of person who uses an iPhone case, it can be a good idea to pick a color that matches your case. If you get tired of your iPhone's color after a while, switching up your case is far cheaper than buying another phone. Any neutral phone color will complement your case. For those who want a colorful phone, go with Midnight, Space Gray or Starlight.
On the other hand, bolder colors are best displayed without a case or in a clear case. If you don't like using a case, a bold Sierra Blue or Yellow could be the pop of color you want.
2. Complement Your Other Tech
Apple has a lot of loyal customers who buy multiple tech products for their homes and offices. If you have other Apple devices, you might want to buy a phone color that matches your other devices, like your iMac or MacBook. For instance, if you already have a Space Gay MacBook Air, an iPhone in the same shade would complement it well. If you like bolder colors, the Pink iMac pairs great with the PRODUCT(RED) iPhone 13.
3. Send Good Vibes
The color iPhone you choose may reflect who you are in deeper ways than just personal preference. According to aura readers, colors represent different energies that reflect your true self. Some of the auras that coincide with Apple's iPhone colors include:
Red: You might choose a red iPhone if you are a risk-taker who thrives on competition and reaching your goals.
Yellow: Yellow iPhones can convey that you are clear on your purpose and working on self-improvement.
Green: Green seems to be an intellectual color, perfect for those looking for growth in their lives.
Purple: You may gravitate toward purple if you have a free-spirited, energetic personality.
4. Be Cutting Edge
You might want to pick a color that shows off your latest gadget. If you're often on the cutting edge, choosing the newer colors is a great way to display your tech-savvy style. The latest colors available for iPhone 13 are Green, Pink, Blue and Sierra Blue. Any of these colors indicate that your phone is the latest generation. Although Starlight and Midnight are technically new colors, they're similar to shades Apple has used in the past.
5. Consider Your Next Upgrade
Another factor you might consider when choosing your next iPhone color is how often you plan to upgrade. If you don't upgrade frequently, you might prefer reliable colors you'll like for a long time. On the other hand, if you're due for another upgrade next year, you might be more confident choosing the newest and trendiest color. Even if you get tired of Sierra Blue, you can always go back to a standby like Graphite or Gold.
6. Think About Buying Used
Before buying your next iPhone, you should be aware that Apple has stopped selling many of its older phone models directly from its official website. Instead, you can buy these devices in your preferred color from other retailers. You can also find used phones in circulation, which is an excellent option if you want a newer device without the higher price tag.
Here are the iPhone models you can buy in excellent condition from ecommerce retailers that sell used iPhones:
iPhone 13 Mini and 13 Pro Max
iPhone 12 Mini, Pro and Pro Max
iPhone 11 Pro and Pro Max
iPhone XR
iPhone XS and XS Max
iPhone X
iPhone 8 and 8 Plus
iPhone 7 and 7 Plus
iPhone SE second and third generation
iPhone 6S and 6S Plus
7. Buy for Resale Value
Whether you get a regular upgrade or your phone reaches the end of its useful life, you won't keep your iPhone forever. If you ever consider reselling, a more classic iPhone color will likely have a better chance of selling. Popular colors like Space Gray, Black and White will probably have a larger market than Purple and Yellow.
8. Choose a Color You Like
Ultimately, your choice of iPhone color for your next cell phone comes down to your personal preference. You might have considered resale value and how to match your other electronics, but if you're still drawn to the bright Yellow of the iPhone XR, that's fine! Pick an iPhone color that speaks to you.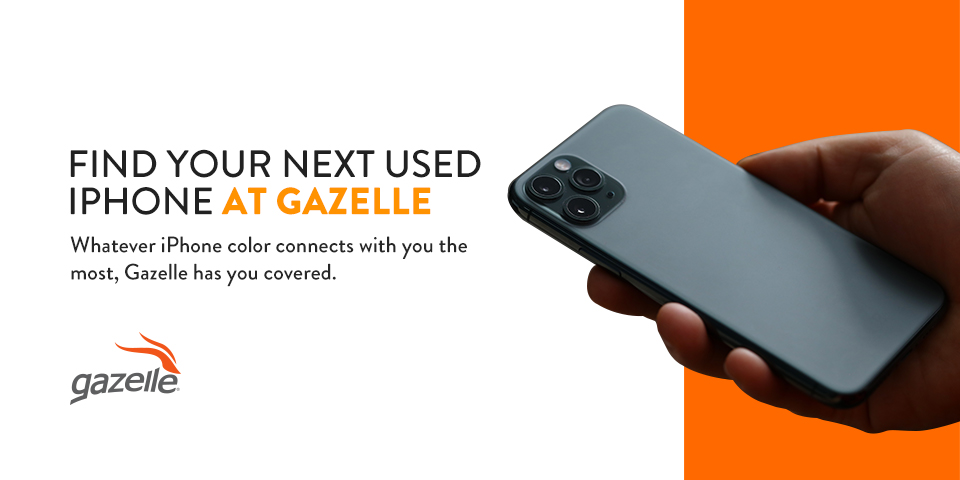 Find Your Next Used iPhone at Gazelle
If you're in the market for an iPhone, you have a rainbow of color options, from bright coral to pastel purple. You can always go with classic Black or White, but with Apple's fresh new hues, you can also pick a unique phone that reveals your true personality. By choosing an iPhone color representing your style, you can make a statement and stand out from the crowd.
Whatever iPhone color connects with you the most, Gazelle has you covered. At Gazelle, we inspect all our used devices and provide a certified quality guarantee. Our phones are carrier compatible with the top mobile service providers and never have hidden fees or contracts. With a 30-day return policy, you also get peace of mind in case your phone isn't the perfect fit. Shop our selection of used iPhones on our safe and secure website today!
Comments
comments