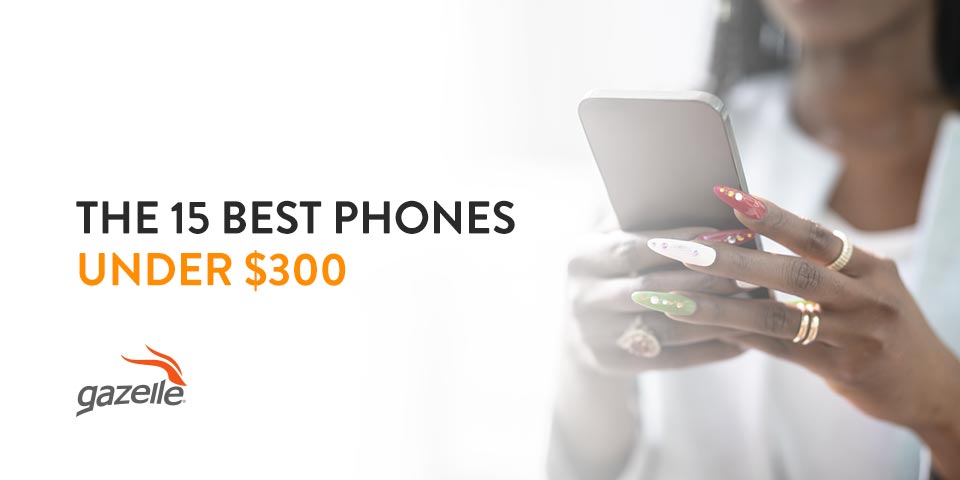 When you're in the market for a new phone, you might narrow your choices by determining whether an Android or Apple device is right for you and if you should buy the latest iPhone or an older model. You might also consider factors like which phone has the best camera quality and how much storage you need on your phone.
With all the details to consider, price is often at the top of many peoples' lists. The newest smartphones may have all the bells and whistles and more features than you could ever use, but they come at a high price. The average smartphone price has remained above $500 since 2018 and often goes much higher, making it challenging to buy a phone if your budget is on the lower end.
Fortunately, there are some excellent phones out there for under $300. We've compiled the best cheap phones under $300 that still offer bang for your buck, so you can compare them as you pick your next smartphone.
15 Best Phones Under $300
Comparing specs and details is essential when finding the best phone under $300. Knowing each phone's top features and comparing them with your top must-haves helps you choose the one best for your needs and your wallet.
Here are the 15 best cheap phones and why they're great buys:
1. iPhone 12 Mini
Apple iPhones are popular for a reason. The iPhone 12 Mini is one of the best cheap phones you can get on the market, with prices hovering around $270. The 5G support enables faster and better-quality downloading, making this phone ideal for streamers and gamers. The iPhone 12 Mini's performance is at the peak of devices in this price range, as it runs on the newer iOS 14 operating system and has Apple's A14 Bionic chip.
The iPhone 12 Mini is a sleek device with a 5.4-inch display, relatively small compared to newer phones. This phone has a 12-megapixel (MP) main rear camera in its three-camera setup. Users have the option of 64GB, 128GB and 512GB of internal storage to keep all the photos and videos they love.
2. iPhone 11
Even several years after its 2019 release, the iPhone 11 is still one of Apple's best budget phones. If you don't mind a slightly older model, this phone provides excellent value and only costs about $220 from some retailers. The larger 6.1-inch display and 5G support make it competitive with other recently-released devices.
The iPhone 11 has plenty of storage and memory, with 4GB of RAM and 64GB, 128GB and 256GB models available. The dual 12MP camera system enables wider shots and Portrait Mode photos, though the image quality isn't as great as what you can get from a newer iPhone. For the low price, this phone provides decent performance.
3. iPhone SE 2nd Gen
The iPhone SE 2nd Generation provides enhanced performance through its A13 Bionic chip and iOS 13 software. Although the newer iPhone SE 3rd Generation makes improvements, this device offers a lot for a lower price. With 3GB of RAM and a 12MP main camera, the iPhone SE 2nd Generation provides several features on par with other phones on this list.
If you expect long battery life, this phone doesn't live up. The 1821mAh battery is smaller than most newer phones, but it still delivers hours of video streaming or gaming. The 4.7-inch display is also smaller than Apple's recent releases, but that might suit some preferences better than a larger screen.
4. iPhone X
If you're looking for budget phones and don't mind sacrificing a few additional features to keep your wallet happy, an iPhone X might suit your needs. This device runs on iOS 11 and the A11 Bionic chip, which are suitable for most requirements but may not provide the advanced processing speed of newer phones.
The iPhone X's other specs are decent. The device has a mid-sized 5.8-inch screen with a higher resolution than older devices, so the colors are rich. It also has Apple's standard 12MP camera and 3GB of RAM. The iPhone X has a lot to offer if you're upgrading from Apple's previous phone models. And at less than $200, it's one of the most affordable options.
5. iPhone XR
When looking for cheap phones, you might find that the iPhone XR suits your needs while maintaining a low price tag. This phone lacks some of the upgrades on newer Apple devices, but it gets the job done and comes in at around $200, significantly under budget. This phone has a larger 6.1-inch display that mirrors the iPhone 11 and an A12 Bionic chip that enables fast processing. Users get 3GB of RAM and can pick a model with up to 256GB of storage.
You can find the iPhone XR for around the same price as the iPhone X, though this device lacks a few of the iPhone X's specs. For example, the iPhone XR only has a single rear 12MP camera, whereas most other phones have at least two. However, the iPhone XR includes Face ID and a 128GB model the iPhone X lacks.
6. iPhone XS Max
Apple's iPhone XS Max is at the top of the $300 limit. The display is a large 6.5 inches, giving this phone one of the biggest screens of the budget phones on this list. That feature, plus its high pixel resolution, gives it a modern feel. Other notable details of the iPhone XS Max include Face ID recognition and wireless charging. 
The iPhone XS Max has the same dual 12MP camera setup that's been common with Apple phones for a while, with a 7MP selfie camera. The device uses the older iOS 12 and the A12 Bionic chip, but functionality and processing speed are still excellent. Users get 4GB of RAM and three storage options up to 512GB.
7. Samsung Galaxy S21 5G
If you're looking for the best Android phones at a lower price point, Samsung Galaxy phones won't steer you wrong. Samsung released the Samsung Galaxy S21 5G in 2021, so this device is relatively new. The phone's outstanding camera features and operating system make it one of the best cheap phones you can get from Samsung.
The Galaxy S21 5G has 5G connectivity and a large 4,000mAh battery that lasts all day on a single charge. The most impressive detail about the Galaxy S21 5G is its four-camera setup with a 64MP primary camera and 10MP selfie camera. The Android 11 software and 8GB of RAM provide speedy processing abilities. With a 6.2-inch display, this device has a modern look to match its performance.
8. Samsung Galaxy S20 FE 5G
Another of the best cheap phones under $300 is the Galaxy S20 FE 5G. This device comes in at around $260 and provides top-quality features for phones in this price range. A large 6.5-inch display gives users a crisp image, while the fast processor offers excellent speed. Other features include the robust 4,500mAh battery that ensures you have the power you need to get through the day.
The Galaxy S20 FE 5G also lets you take fantastic-looking photos without breaking the bank. The three-camera setup offers detailed zooming and a 32MP selfie camera. The 6GB of RAM gives this phone good processing power, better than many other phones you can find for under $300.
9. Samsung Galaxy S10 5G
Samsung's Galaxy S10 5G was the first smartphone with 5G support, making this device a groundbreaker in tech history. And it's still a fantastic phone, with powerful processing speed to tackle your most demanding streaming needs. This device's 8GB of RAM and Snapdragon 855 processor enhance its performance. You can find the model with 512GB of internal storage for less than $300, making it quite the budget phone.
The Galaxy S10 5G has a high-performing 5,000mAh battery that can last through all-day use. The four-camera system is the same as the earlier Galaxy S10, except it has enhanced depth perception and time of flight sensors for better picture-taking. The 6.7-inch display may be too large for some peoples' taste, but the screen delivers an exceptional viewing experience.
10. Samsung Galaxy S10 Plus
The Galaxy S10 Plus doesn't deliver 5G support like the Galaxy S10 5G, but its cheaper price could make it a better option for your budget. The Galaxy S10 Plus also performs well with the Snapdragon 855 processor and 8GB of RAM. You'll have the power you need to stream videos, play games and more.
This device has a decent 4,000mAh battery, which won't provide the battery life of some of the other cheap phones under $300 but is still a good option for the average smartphone user. The triple back camera has a 16MP ultra-wide lens, while users get a dual selfie camera with 10MP. With a 6.4-inch screen falling squarely in the middle of the two other Galaxy S10 phones, this device provides pretty typical performance for a budget Samsung.
11. Samsung Galaxy S10
While the Galaxy S10's performance may not be as robust as Samsung's higher-end phones, it's a strong contender in the lower price bracket. You can find this phone for about $100 less than the Galaxy S10 5G, which makes sense because it doesn't have 5G connectivity. You'll save a bundle if you can do without the increased support. And this phone offers other functionality perks that make it a great device all around.
The Galaxy S10 has the same memory, storage and Android 9 operating system as the Galaxy S10 Plus. It also has a nearly identical camera setup, except it only has a single selfie camera rather than two. This phone also has a 6.1-inch display and a smaller 3,400mAh battery, giving it a little less staying power throughout the day.
12. Samsung Galaxy Note 10 Plus
Coming in at barely less than $300, the Samsung Galaxy Note 10 Plus is a bit harder on the wallet — but the features this phone provides make all the difference. This smartphone's top qualities are its 6.8-inch display and stylus pen, which makes note-taking easier. The Galaxy Note 10 Plus also has a respectable four-camera system, with the main camera boasting 16MP.
The 4,300mAh battery is smaller than most devices in this range and might require more than one charge to last a day of extensive use. A potentially significant trade-off for the Galaxy Note 10 Plus is the lack of 5G support. However, a powerful Octa Core processor and 12GB of RAM still provide seamless performance.
13. Samsung Galaxy Note 9
The Samsung Galaxy Note 9 is a bit older but still a good budget phone in this price range. This stylus phone is the precursor to the Galaxy Note 10, so it's missing a few features. However, you can get the Galaxy Note 9 for almost half the price of the Galaxy Note 10 Plus, so the trade-off may be worth it. Having a 4,000mAh battery isn't shabby either.
This phone has 6GB of RAM and 128GB of storage, so the processing speed is more than adequate. If you enjoy taking handwritten notes on your phone, the large 6.4-inch display is sufficient despite being smaller than the Galaxy Note 10 Plus. The Galaxy Note 9 also has a dual aperture camera, making it a cheaper option for people who still want quality photos.
14. Google Pixel 5A 5G
The last two phones on this list are Google Pixel devices, and they can hold their own in a comparison of the best phones for under $300. The Google Pixel 5A 5G comes with 5G support and a quality triple-camera system with the same 12MP main camera Google has used for a while. However, a few extra camera features like Portrait Light and 4K video shooting help you capture the shot.
This phone's 4,680mAh battery lasts more than a full day of use, so you can easily get the power you need on a single charge. Processing is speedy with the Android 11 and powerful Snapdragon 765 processor. The Google Pixel 5A 5G also has 6GB of RAM and 128GB of storage. You can get the Google Pixel 5A 5G for around $260.
15. Google Pixel 4A
The Google Pixel 4A provides slightly fewer features than the Google Pixel 5A 5G. Yet this phone allows users to try out a Google phone without spending more than $220, so it might be a good option for some budgets. This device runs on an older Android 10 operating system and processor than the Google Pixel 5A 5G, but the 6GB of RAM and 128GB of internal storage match up.
This device has a smaller battery than its successor, and its display size is only 5.81 inches. The dual camera system does the job, with a 12.2MP main camera and an 8MP selfie camera. This phone provides ample performance for being on the lower end of the price spectrum. Ultimately, this phone performs the daily functioning of smartphones without as many bells and whistles, and the lower price reflects those trade-offs.
Browse Refurbished Used Phones From Gazelle
Getting the design, battery life and speed you want in a phone can cost much less than you think. When you buy a certified pre-owned phone, you can find several options at any price point.
At Gazelle, we offer some of the best used smartphones on the market at competitive prices. We refurbish pre-owned Apple and Android devices to our high quality standards for a fraction of the cost of brand-new devices, so you can get the performance you want within your budget. There are no contracts to sign or strings attached, and our 30-day return policy provides peace of mind that you've found the right phone.
Get a better phone for less by browsing our used phones today!
Comments
comments