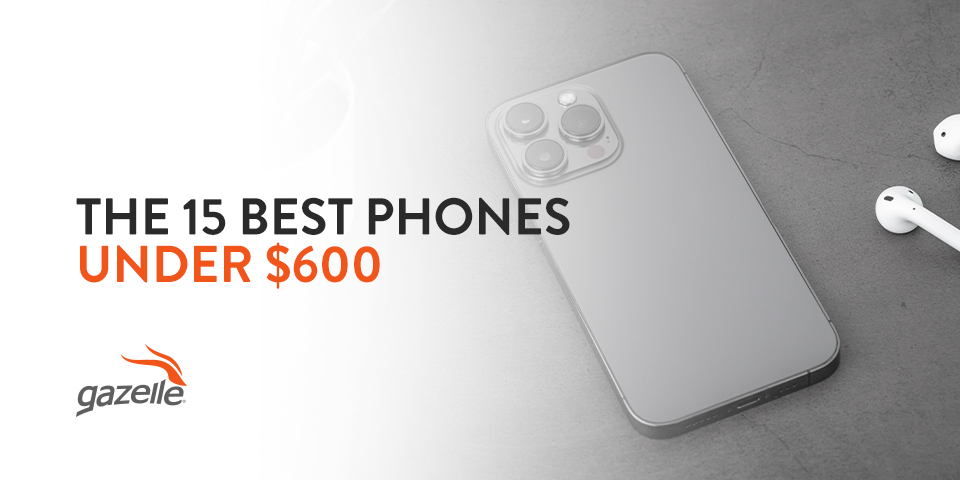 If you're in the market for a new smartphone, price is probably one of your top considerations. Finding a phone that fits your budget could be a challenge, as the worldwide average selling price of smartphones has climbed in recent years, and the new iPhone 13 Pro Max retails for upwards of $1,000. There's a benefit to having the newest Apple iPhone or Android device. The latest and greatest tech typically comes with camera and battery life upgrades, 5G connectivity and more exciting features.
Fortunately, you can also find mid-range phones with a lot to offer, like speedy processors, weatherproofing and top-of-the-line cameras. We've compiled the best phones for under $600, so you can compare specs and make an informed decision when it's time for your next upgrade. With some research and planning, you can find the phone you want at the price you can afford.
15 Best Phones Under $600
As global smartphone ownership skyrockets and phones become more high-tech, manufacturers are offering devices with more features at a lower price point. Check out the best cheap phones under $600 listed below:
1. iPhone SE 2022
Apple devices make up over half of the market share of smartphones for a reason. Fantastic features, a smooth user experience and exceptional cameras make iPhones some of the most well-loved devices. You can find the new iPhone SE 2022 for less than $450, depending on the retailer — and with all its features, this might be the best phone under $600 you can buy.
The iPhone SE 2022 has the top-performing A15 processor, wireless charging and is waterproof for 30 minutes up to 1 meter deep. This phone also has up to 256-gigabyte (GB) internal storage and 5G support. The iPhone SE 2022 is ideal for people considering switching from Android to Apple who don't want to pay the full price of another iPhone model.
Despite the 12-megapixel (MP) camera, the iPhone SE 2022 takes decent photos. One negative about this device is its small 4.7-inch screen, which might be challenging to use with apps designed for larger phone screens. However, the price might be worth the smaller screen.
2. iPhone 13
If you're looking for the best cheap phones with a larger screen than the iPhone SE 2022, the iPhone 13 might be the perfect option. This sleek device has 4GB of RAM and a high-performing A15 processor chip, making it incredibly fast. This phone also offers massive internal storage, with options ranging from 128GB to a gigantic 512GB model.
The iPhone 13's other impressive features are its ultra-wide 12MP camera that can capture videos in cinematic mode and the 6.1-inch display. The phone comes with a 3,240mAh battery, which provides less battery life than many of the phones on this list. However, the battery is fast-charging, and the robust processor makes this device ideal for gaming and streaming.
3. iPhone 11 Pro
Next in the lineup of the best cheap phones for less than $600 is the iPhone 11 Pro. This 2019 phone is small enough to wrap one hand around, standing in sharp contrast to the massive phones Apple and Android makers have recently released. The A13 processor enables advanced video-taking and hours of gaming. A few modifications drop this phone's price below other recent iPhones, but you can still do everything you need on the iPhone 11 Pro.
This phone has a triple-lens 12MP camera system that's certainly better than Apple's earlier phones, though it might not be the best setup you can get in this price range. With 4GB of RAM and up to 512GB of storage, this phone can house a lot of photos and videos.
4. iPhone 11
The iPhone 11 might be a couple of years old, but it still stands as one of the best cheap phones you can get. This lower-priced option has many features of its more contemporary cousins but costs significantly less. For example, the phone's 12MP main camera can take ultra-wide and high-resolution images day or night, setting it on par with the iPhone 12 and 13.
This phone has an A13 processor, making it slightly less powerful than the iPhone SE 2022. However, the robust battery life, 6.1-inch display and addition of Night Mode tip the scales in the iPhone 11's favor. This device is also waterproof for 30 minutes up to 2 meters and comes in a broader range of colors than the iPhone SE 2022.
5. Samsung Galaxy S22
When comparing mid-range Samsung devices, the Samsung Galaxy S22 is sure to please. The Galaxy S22 is one of the best phones under $600 because of features like its Snapdragon 8 Gen 1 chipset, a speedy and powerful processor. This processor makes the Galaxy S22 one of the best Android phones around in terms of processing speed. There are great cameras in the Galaxy S22's setup, with a 50MP main camera and an ultra-wide lens.
This phone has 8GB of RAM, and you can choose between 128GB and 256GB of internal storage. With a 3,700mAh battery, the Galaxy S22 has enough charge to get you through a day of moderate use. The processing speed and camera quality put this device near the front of the pack, making it one of the most powerful Android phones.
6. Samsung Galaxy S21 FE 5G
The Samsung Galaxy S21 FE 5G is one of the best Android phones you can get in this price range. This phone adopts many of the Galaxy S21's features but leaves out a few details to keep the price at the lower end of the spectrum. This phone has modern, high-tech features like 5G connectivity and operates on Android 12. One of the most noticeable features of this phone is its vertical three-camera setup, although the camera quality is pretty average.
With 6GB of RAM and 128GB of storage, you'll have all the space you need on the Galaxy S21 FE 5G. The 6.4-inch display has a fast refresh rate that allows for smooth scrolling. The 4,500mAh battery will also last longer than a day.
7. Samsung Galaxy S21 Ultra 5G
Samsung's Galaxy S21 Ultra 5G has several downgrades from the Galaxy S21 FE 5G, but you can find it for a bit cheaper, and it's a decent handset in its own right. This phone makes the list of best Android phones under $600 because of its connectivity and great cameras.
The Galaxy S21 Ultra 5G runs on Android 11 software and has 12GB of RAM, so it runs respectably fast. You can get 128GB, 256GB and 512GB internal storage. The Galaxy S21 Ultra 5G really shines in its camera setup. The camera specs are better than the Galaxy S21 FE 5G across the board, from the 40MP selfie camera to the 108MP main camera. With a bigger battery and 5G connectivity topping it off, this phone makes a great cheaper option than newer devices.
8. Samsung Galaxy S20 FE 5G
The Samsung Galaxy S series has a long line of great devices. If you're looking for the best Android phone under $600, the Samsung Galaxy S20 FE 5G is a top contender. The Galaxy S20 FE 5G has 5G connectivity and a decent 4,500mAh battery. This device also has great cameras, with a 12MP main camera and a 32MP selfie camera in this four-camera setup.
The user experience is one of the best features of this phone. The Galaxy S20 FE 5G's large 6.5-inch screen is fast-refreshing, providing a smooth scrolling experience. And with up to 8GB of Random Access Memory (RAM) and Android 11 software, the performance is excellent. You can also get it with up to 256GB of internal storage.
9. Samsung Galaxy S20 Ultra
Although it has fewer features than the Samsung Galaxy S20 FE 5G and operates on the older Android 10 software, the Galaxy S20 Ultra still makes its way onto the list of best phones for under $600. You can find this phone for less than $500 at certain retailers. For the price, this phone will meet the needs of the average smartphone user.
The Galaxy S20 Ultra offers the standard 128GB and 512GB of storage and 12GB of RAM. The Galaxy S20 Ultra goes big with its 6.9-inch display and fast refresh rate. Users will also be surprised with the photo quality from the five-camera setup and 108MP main camera.
10. Google Pixel 6
We can't overlook Google's phones, some of the most high-performing Android phones in the mid-range. The Google Pixel 6 comes in between $500 and $600, depending on where you look. This phone runs on the Android 12 operating system and gives users a smooth experience. Storage and memory for this phone are also excellent, with 8GB of RAM and either 128GB or 256GB of internal storage.
The Pixel 6's large 6.4-inch display may feel unwieldy, but flat edges make the device more manageable. A three-camera system may seem underwhelming compared to other Android phones, but the 50MP main camera offers sharp image quality even in dim lighting. The Pixel 6's Google Tensor processing chip may not be as good as Samsung phones, but it'll get the job done and is still an improvement on other Google phones.
11. Google Pixel 6 Pro
You get a lot of bang for your buck when you buy a Google Pixel 6 Pro. This device outperforms other Google phones and might prove that bigger is better. The Google Pixel 6 Pro has one of the best phone cameras available in this price range. The impressive four-camera setup includes a 50MP main camera, and the three rear cameras take smartphone photo quality to a new level. This phone also features Google's new Magic Eraser, which lets users completely erase objects in photos.
If you're looking for a unique design, the Pixel 6 Pro provides. These phones have a unique two-tone design and a camera bar that juts out a little from the back. The phone also sports a large 5,000mAh battery, 12GB of RAM and the Android 12 operating system.
12. Google Pixel 5
Google released the Google Pixel 5 in 2020, and this phone still holds its own among other Android phones. This phone offers 5G support and runs on Android 11, so it's high-tech enough to provide improved functionality for a lower price. The Pixel 5's design is a bit old-school, but the 6-inch display and rounded edges might make this phone the perfect handset for some.
The Pixel 5 has 128GB of storage and 8GB of RAM to deliver the storage and memory for gaming and streaming. A three-camera setup offers sufficient photo quality. The phone does come with the Night Sight feature for capturing images in low light, which is a welcome surprise for a device in this price range.
13. Samsung Galaxy Note 20 Ultra 5G
The Samsung Galaxy Note 20 Ultra 5G is the first stylus phone to make the list. Those who love to take notes on their phone will enjoy the Bluetooth-enabled stylus and large 6.9-inch display. These features make the Galaxy Note 20 Ultra 5G ideal for easy handwriting on the go — but the features don't stop there. This phone also offers 5G support, taking advanced connectivity to those in the market for a mid-range phone.
This device's 128GB storage and 12GB RAM are comparable with its more expensive counterparts. Users get a decent three-camera setup, each with 12MP. The 4,500mAh battery is also sufficient for everyday use and is fast-charging, so you can be sure you're ready for the day with plenty of battery life.
14. Samsung Galaxy Note 10 Plus 5G
Another stylus phone making the list, the Samsung Galaxy Note 10 Plus 5G was released in 2019. Its Android 9 operating software makes it a little dated compared to the other phones here. But for those who want a stylus phone for a lower price tag, the trade-offs might be worth it. This device's 5G support and high-resolution screen make it a good option for under $600.
The large 6.8-inch screen is easier to navigate with the included Bluetooth-enabled stylus, which sheaths back into place in the bottom right corner of the phone. Users will appreciate the handwriting recognition, easy note-taking and a slew of extra photo features for the five-camera setup.
15. Samsung Galaxy Z Flip3 5G
Foldable phones are having a moment, and the Galaxy Z Flip3 5G is one of the best and cheapest. This device's durable 6.7-inch display folds neatly in half, and at the price — less than $350 through some retailers — it might just convince some people to try out foldable phones. The Samsung Galaxy Z Flip3 5G's durability and 5G connectivity place it among the most cost-effective foldable phones in this price range.
Despite its good qualities, the Galaxy Z Flip3 5G also comes up short in a few areas. The 3,300mAh battery leaves much to be desired, and the three cameras are average.
Upgrade With a Used Phone From Gazelle
Buying a new phone is costly, even in the mid-range. When you buy a used phone, you get a device that fits your budget and offers the features you want without the hefty price tag.
Gazelle offers refurbished pre-owned Apple and Android smartphones at competitive prices. With our Gazelle certified guarantee, honest pricing and 30-day returns, you can have confidence that your new device is exactly what you want. You'll also enjoy our easy-to-use and safe website, where you can use filters to search for the brand, price, condition and storage you prefer.
Browse our used phones today!
Comments
comments