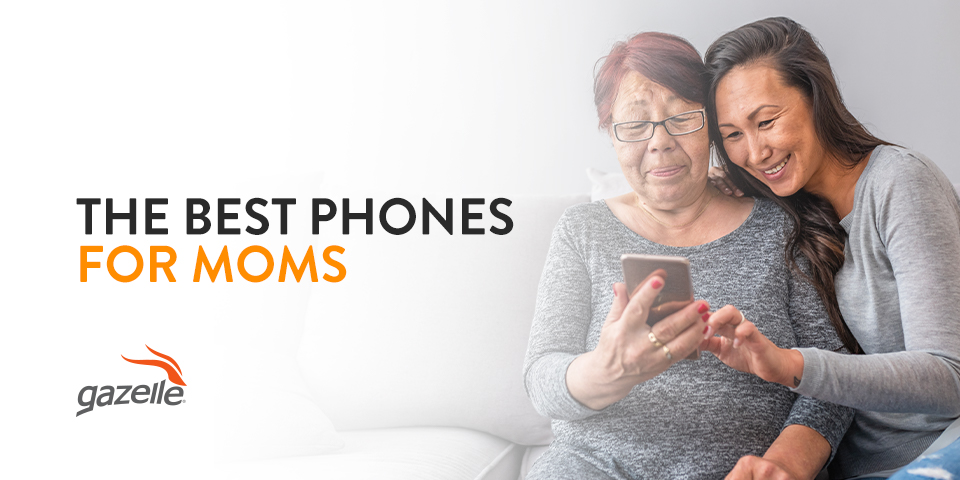 Many moms look for phones that can help them keep up with their kids' busy schedules or durable devices with a long-lasting battery that can withstand heavy use at work. Perhaps your mom prefers an easy-to-use device without all the bells and whistles. Whatever the case, finding the best smartphone for mom can help her enjoy her time with technology while improving her daily tasks and living style.
Whatever your mom's priorities, this guide can help you find the perfect phone for her.
What to Consider When Buying a Phone for Your Mom
There are a number of different factors to consider when buying a phone for your mom. For example, if she takes a lot of notes with pen and paper, a phone with a larger screen and stylus may be a good option. Moms that enjoy hobbies like photography or snapping family photos might prefer a device with a quality camera and reliable video space.
Whatever your mom is searching for, think about what phone would best suit her specific needs. Here are a few more factors to consider when buying your mom a new smartphone:
Hearing and vision: For busy moms that work from home, take care of little children or like to multitask, a phone with voice-to-text, HD voice features and a large screen can help her send messages when she's got her hands full or let her view larger displays from across the room.
Technical abilities: For the mom who is not quite as tech-savvy, find a phone with easier features like increased text size, high-quality audio and speakers or voice-to-text additions. Moms who love the latest tech features might like more premium devices with advanced customization options.
Phone usage: If your mom will use her phone for multiple tasks throughout the day, consider a durable model with a long-lasting battery. For moms who won't use the phone very much, consider buying a budget phone for emergencies, like a pay-as-you-go phone.
Safety and security: Your mom may appreciate a device with an SOS or 5Star service in case a child or a family member experiences a medical emergency. Many of these phones come with a clearly marked emergency button to send important medical information to those alerted. Other security features to note include operating systems with anti-virus protection, phones with water and dust resistance and biometric login.
Pictures: If your mom enjoys taking photos, consider investing in a phone with a high-quality camera and lots of storage space for all her videos and photos of family and friends.
Budget: For moms on a budget, there are many affordable phones that still include unlimited talk and text data packages and have similar features to premium models.
14 Best Phones For Moms
Whether your mom enjoys taking photos or wants a new phone with updated technology, there are a variety of different makes and models that may fit her needs. After deciding what features she may enjoy, take a look at the various Apple, Android and other smartphones to decide which phone she might like. Here are 14 of the best phones for moms.
1. iPhone X
The iPhone X is an excellent phone for the mom looking for newer updates with recent iPhone models. This phone has wireless charging, Face ID capabilities and is slimmer than its previous counterparts, like the iPhone 8 or 8 Plus. One of the best things users appreciate about the iPhone X is its durability and long-lasting battery life. The phone is built to run for several years, making it a significant investment.
The iPhone X also offers exciting camera and lighting modes for the mom who wants to snap some crisp pictures of her day-to-day adventures or outings with her family. Images will look highly detailed and polished. The smartphone also offers a portrait mode that blurs the background behind people and objects, creating a professional-looking shot.
2. Samsung Galaxy S9 Plus
The Samsung Galaxy S9 smartphones offer various unique features and reliable processing power. The Galaxy S9 Plus has a smaller battery than the S9, less storage space and lacks an S Pen. However, it still comes with a fast processor and dual cameras that allow for excellent low-light photography and an aperture lens that adjusts to the lighting. This means taking photos in the dark is no problem at all. If storage space is a concern, your mom can opt for a microSD card for that extra space she needs.
Moms looking for a Galaxy smartphone with updated features and a reasonable price range would do well with the Galaxy S9 Plus. The dual-aperture camera and processing capabilities make it a reliable piece of technology and an excellent choice for anyone who appreciates modern features.
3. Samsung Galaxy S9
The Galaxy S9 is the more affordable and smaller version of the Samsung Galaxy S9 Plus. With a smooth screen and curved glass, this phone fits well in smaller hands if your mom likes to let her children use her devices. It offers quality camera capabilities along with the dual-aperture lens found in the S9 Plus and the Galaxy Note.
The Samsung Galaxy S9 is a great option for moms who appreciate a high-quality Android with reliable technology.
4. Galaxy Note 9
For moms who want to stay within the Android space and enjoy jotting down notes or love drawing and writing with pen and paper, the Galaxy Note 9 is a great option. The built-in stylus lets the user quickly draw and take notes with precision, making it a powerhouse for career-focused moms who need organization and efficiency.
The phone is also water resistant and comes with a dual camera that takes crisp portrait shots whenever she wants, perfect for on-the-go use.
With wireless charging options and an expansive 6.4-inch screen, the device will also inspire artsy moms to draw, write, take screenshots, snap selfies and annotate photos, all with one pocket-sized device.
5. Google Pixel 2
One great feature of the Google Pixel 2 is its ability to integrate with other Google services. This device also offers a clean layout on the home screen and beyond, along with a promising camera lens and a fast processor. Some moms may also benefit from the helpful assistant features that walk them through the process of using the phone or help them with daily tasks.
The Google Pixel 2 is also water and dust resistant with accurate autofocus and fast subject tracking, making scanning and taking pictures easier. The detail and thought put into the Pixel 2 are well worth considering for the mom who wants a more modern cell phone with easy functions, especially if they have other Google devices they can integrate.
6. iPhone 8
The iPhone 8 is one of the best smartphones for moms that offers more functions and speed with some traditional elements of the Apple iPhone 7 or 6S, such as the home button and the touch ID fingerprint sensor. While just as powerful compared to the iPhone X, it comes at a lower price and a slightly smaller frame for easy handling.
Moms that like the traditional functions of the older iPhone models will appreciate that the iPhone 8 still comes with the same features as the iPhone 6 or 7, but they'll also love its exciting upgraded functions, such as wireless charging and a faster processor.
7. iPhone SE
The iPhone SE is a great option if your mom is looking for a more straightforward iPhone that is both comfortable to use with one hand and small enough to fit in her pocket. It is one of the most affordable new models out there, with speedy processing and performance and longer battery life. The iPhone SE can also support 5G from Verizon or T-Mobile if she lives in an area that supports it.
Though the iPhone SE doesn't have the optical camera lens or OLED display that the iPhone 13 line introduced, don't let that stop you from considering this device. The SE is speedy and smooth with an easy touch screen for moms who want a reliable phone to play games, launch apps or complete daily tasks.
8. iPhone 12 Pro Max
The iPhone 12 Pro Max has a great camera, a long-lasting battery and a smooth 6.7-inch touch screen. For those who want or need a larger screen with clear images to view web pages, stream videos or edit pictures, the 12 Pro Max is a perfect choice.
The iPhone 12 Pro Max may be a bit older than the iPhone 13 and 14 lineups, but it still offers excellent battery life and reliable and durable construction. If your mom wants a newer iPhone model for a lower price, the 12 Pro Max offers many unique features that could be the perfect fit.
9. Samsung Galaxy S22 Ultra
The Samsung Galaxy S22 Ultra comes with three specific functions that make it a great fit for moms who want a modern phone with sleek functions and a smooth design — the S pen, improved photography and longer-lasting battery life.
The S22 Ultra's S Pen makes writing and drawing easy and fast, perfect for taking notes at work, tracking appointments or writing grocery lists for easy access. For those who prioritize photography, this device also has a bigger sensor and great low-light capabilities for brighter pictures in the dark. Other key features include a bright screen, fast charging and a clear lens.
10. Motorola Moto G6
For moms who want a phone on a budget and aren't set on a Samsung or Apple device may like the Motorola Moto G6. This phone is a budget favorite and comes with a dual camera and a slim design. It's great for those looking for a recent Android model at a lower price.
The durable design and simpler features include a clear screen and bright display, making it easy to take pictures and play games without any added distractions.
11. iPhone XR
Apple released the iPhone XR in 2018, but its colorful display and all-screen design make it one of the best options for moms that love the iPhone interface but don't need all the latest upgrades. It's a fairly affordable option compared to other iPhones, and you can find it in red, coral, blue, black, white or yellow. Paired with Apple's latest iOS update, the XR is more than enough to withstand your mom's busy life.
The XR is fast, with backlighting, Face ID and a camera lens on the back and front. Enhanced portrait and auto-focus features will help her snap the perfect pictures of friends and family.
12. One Plus 3T
Looking for a reliable smartphone that is affordable and easy to hold and handle? Consider the OnePlus 3T smartphone. With over 120GB of storage, the OnePlus 3T has a large battery, a fast processor, and a better camera than its predecessor. It's not as known as its Apple and Samsung counterparts, which means it's often available for a lower price.
The 5.5-inch screen offers a streamlined viewing experience, with narrow bezels and an easy-to-handle curved frame, while the Dash Charge system lets your mom fully charge her phone in half an hour.
13. iPhone 14
If your mom wants all the latest and greatest Apple has to offer, the newly released iPhone 14 checks all the boxes. Apple's newest flagship has more screen real estate and revamped low-light photography settings to get better pictures in all settings. Fans of the iPhone 13 Pro will recognize the familiar ultra-fast processing power and love the bigger, better battery for more time between charges. Wireless charging is also available for more flexibility.
The phone has a slightly frosted backing and is available in blue, red, purple, midnight and starlight, so you're sure to find the perfect match for your mom's wants and style.
14. Google Pixel 6a
Google's Pixel 6a was released as an affordable smartphone for those who value security, durability and performance without the steep price tag. Your mom will love the adaptive battery that lets her stay connected all day long, while Night Sight photography means she can capture all of her favorite memories, no matter what time it is.
The safety-conscious mom will appreciate the phone's fingerprint unlock system, improved water resistance and Google's top-rated security features.
Browse Available Phones for Your Mom at Gazelle
At Gazelle, we sell pre-owned smartphones, so you can shop all the best cell phones without busting the bank. Whether shopping for mom or upgrading your own device, we offer simple buying options and ensure every phone is quality-approved. Shop smartphones from the industry's top brands today!
Comments
comments