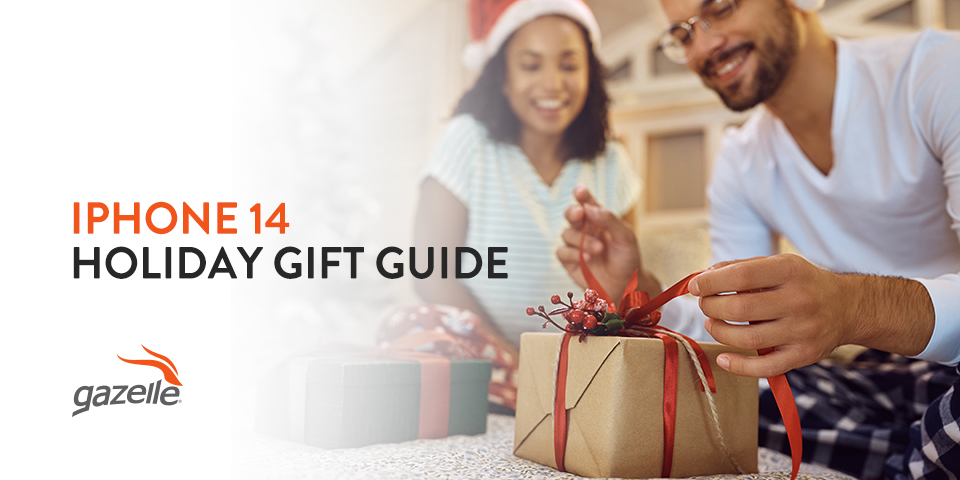 If you're thinking about giving someone an Apple® iPhone 14 as a holiday present, you've got great instincts. The iPhone 14 is Apple's latest smartphone, filled to the brim with the newest features and speedy hardware. Still, there's a lot to consider. You want to make sure it's a good gift, and iPhones come in a few different flavors.
To help you ace gift-giving this year, we've put together a holiday gift guide for the iPhone 14. Stick around and learn how to tell if it's a good fit and which model to buy for your recipient, whether they're a family member, significant other or lucky friend.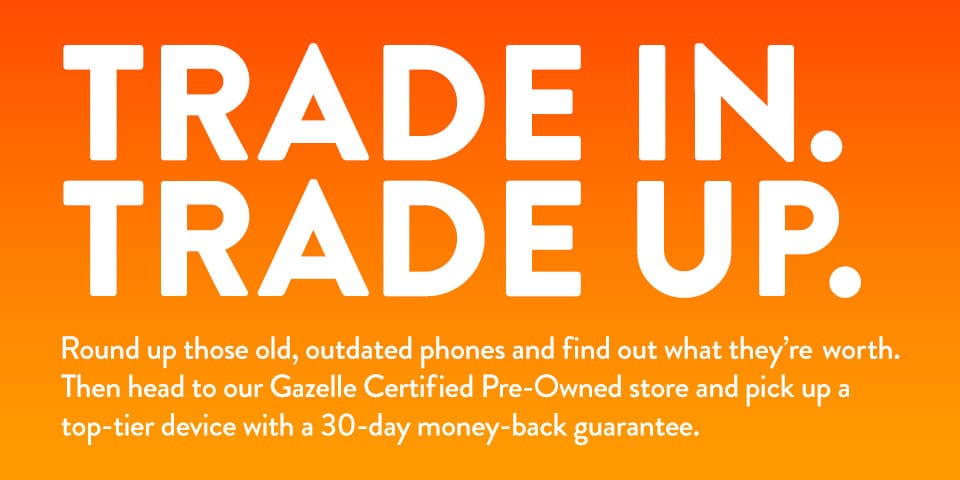 Why Buy an iPhone 14 As a Present
The iPhone 14 is an excellent pick for a holiday gift. As the 2022 model, it offers great specs and a wonderful experience for longtime Apple fans and newbies alike.
If your gift-getter has never had an iPhone before, they'll get to enjoy a user-friendly interface, top-tier data security and some of the best smartphone photography in the industry. Older adults and people with disabilities love the compatibility and accessibility options iPhones offer, too.
For Apple fanatics, the iPhone 14 is a great upgrade. There are two main parts of the iPhone lineup, which includes the standard iPhones — the iPhone 14 and iPhone 14 Plus — and the Pro models — the iPhone 14 Pro and iPhone 14 Pro Max. As you might expect, the Pro models offer some flashier features and more power. Within the standard models, your recipient will get:
Satellite-based Emergency SOS and Crash Detection
The new Photonic Engine for better color and detail in photos
Apple's A15 Bionic chip with a 5-core graphics processing unit (GPU) for super-fast performance
A durable, water-resistant device made with Ceramic Shield glass and aerospace-grade aluminum
MagSafe compatibility to use with a range of magnetic accessories
All-day battery life starting at 20 hours of video playback
A dual-lens camera system with 12-megapixel (MP) Main and Ultra Wide cameras
An ultra-stabilized Action mode for video recording
Industry-leading photo and video tools like Portrait mode, Night mode, Cinematic mode, time-lapse and slo-mo
Satellite Emergency SOS, Crash Detection, the Photonic Engine and Action mode are all new to the 14. Like all iPhones from the previous few years, they'll also get tools like Apple Pay, Face ID, 5G and wireless charging.
If you upgrade your loved one to one of the iPhone 14 Pro models, you'll also give them:
A slick always-on display that keeps the time and important information lit up even when the phone is asleep
The new Dynamic Island that changes how you can interact with your apps
ProMotion screen technology for super-smooth scrolling and video playback
A Pro camera system with a 48MP Main camera and an added Telephoto camera with up to 3x optical zoom
Apple's A16 Bionic chip to fuel power-hungry apps
The option for 1 terabyte (TB) of internal storage
Pro photography features, like Night mode portraits, Macro photography and Apple ProRAW and ProRes formatting options
Tips for Buying an iPhone During the Holidays
Buying an iPhone for Christmas or another holiday isn't as straightforward as buying one for yourself. Here are a few things to keep in mind while you shop.
1. Consider Who You're Buying for
Everyone's different, and finding the right phone depends on a lot of different factors. Consider how tech-savvy your recipient is and what kind of features they might want the most.
iPhones are pretty user-friendly, so even those who aren't great with electronics can use them well. But they might not get as much out of the higher-end features on the Pro models, like the advanced camera system or the ProMotion display. On the other hand, a power user or an Apple enthusiast would probably love those features. Think about what your loved one typically uses their phone for and how the right model can help them.
iPhones are great for:
Creatives: The iPhone 14 Pro or Pro Max is a no-brainer, with plenty of high-end photography tools, but the standard options are also exceptional thanks to Apple's software.
Daredevils and outdoorsy types: All of the 14 models offer a stabilizing Action mode and satellite-based Emergency SOS for off-grid exploring.
People worried about security: iPhones are well-known for extensive security tools and features. They're a lot harder to hack, so you can gift some peace of mind this holiday season.
Tech-averse people: Many older adults and people who aren't too confident in navigating a digital world love the ease of iPhones. They're designed to be user-friendly and intuitive.
Teens: In a content-heavy world, many teens love to have the latest phone and all the flashy features that come with it. All-day battery will keep them connected from the bus stop to getting picked up from practice after school. Parents love the family sharing and parental control options, too.
Gamers: Smartphone gamers tend to appreciate the ProMotion display tech and more powerful processors in the Pro and Pro Max models, so they can play lag-free on a gorgeous screen.
2. Watch for Holiday Deals
iPhone deals are abundant during the holidays. Keep your eyes peeled for deep discounts, and always read the fine print. Many retailers offer impressive deals, but they might require you to sign up for a two-year plan or an expensive data tier, and those requirements aren't very gift-friendly.
Instead, consider buying outright. It frees you from contracts and lets you buy on the used market, where phones are much more affordable and extra holiday savings are still plentiful. Used phones also let you choose the best condition. A slightly scuffed phone might be perfect for someone who keeps their phone in a case anyway.
3. Think About What Other Devices They Have
If you're buying for someone with an army of Apple products, like an iPad, MacBook or another iPhone, it's probably a safe bet they'll appreciate an iPhone 14. The Apple ecosystem is a beautiful thing. It links all these products to make their day easier. For example, your loved one can copy a link from their iPhone and paste it directly into their MacBook or wirelessly send a photo from their iPad to their iPhone.
4 iPhone 14 Options to Consider This Holiday Season
The iPhone 14 lineup is pretty straightforward. While Android phones come in a bunch of different styles, you'll just need to pick between these four models for an iPhone.
1. iPhone 14
The classic, standard iPhone is a great all-around pick. Appearance-wise, it's pretty much what you would expect from a modern smartphone. It has a comfortable 6.1-inch screen with Super Retina XDR technology, and it weighs just 6.07 ounces. You can choose from 128GB, 256GB and 512GB storage options and blue, purple, midnight, starlight and red colors.
Here's how some of the other specs stack up:
Camera: The iPhone 14 offers 12MP Main and Ultra Wide cameras that offer .5x and 1x optical zoom. They have first-generation technology for sensor-shift image stabilization and True Tone flash to keep colors accurate. Your recipient can record video up to 4K quality from 24 to 60 frames per second (fps).
Processor: This phone works on the A15 Bionic chip. That's the same chip that was in the high-powered 13 Pro models from the year before.
Battery and power: The iPhone 14 supports up to 20 hours of video playback and 80 hours of audio playback. You can charge it wirelessly or use fast charging to get up to a 50% charge in just 30 minutes.
Extra features: You won't get exciting new features like the Dynamic Island, ProMotion display or upgraded cameras, but the iPhone 14 still uses top-of-the-line Apple software, giving you excellent photo processing capabilities, satellite-based Emergency SOS and Crash Detection.
If you have a limited budget or are buying for someone who doesn't need the advanced features of the Pro, the iPhone 14 is a great pick. While the retail price of a 128GB iPhone 14 is $799, used models start at about $100 off, with more savings for higher-storage versions.
2. iPhone 14 Plus
The iPhone 14 Plus is a newcomer to the lineup. It replaced the iPhone 13 mini, swapping the smaller screen for a bigger one. While the standard iPhone 14 has a 6.1-inch screen, the iPhone 14 Plus has a hefty 6.7-inch screen. It's a good choice for people with larger hands or those who want a bigger screen, like gamers or movie fanatics.
Aside from the bigger screen, the iPhone 14 Plus is pretty similar to the iPhone 14. It has the same screen technology, processor, camera system and color and storage options. Its main differences are in weight and battery life, with the iPhone 14 Plus weighing 7.16 ounces and offering an extra six hours of video playback. It supports up to 100 hours of audio playback and can fast-charge to 50% in 35 minutes.
3. iPhone 14 Pro
The iPhone 14 Pro is essentially a higher-powered version of the iPhone 14. While it's a necessity for serious photographers and videographers, it's also great for anyone who wants a better camera, snappier performance and a slick new display.
These upgrades are thanks to a few specific hardware changes:
New display tech: The iPhone 14 Pro's display now offers the Dynamic Island, an always-on display, higher brightness and ProMotion technology with adaptive refresh rates. It offers a pretty noticeable difference that tech-savvy users appreciate.
Pro camera system: Pro phones always get a boost, but this year, Apple bumped the Main camera sensor to 48MP instead of the usual 12. The Ultra Wide and Telephoto lenses are still 12MP, but the Ultra Wide has a lower aperture than on the 14. The system also upgrades to a second generation of sensor-shift image stabilization technology and makes True Tone flash adaptive. You also get more zoom options up to 3x magnification. The Pro models add ProRAW and ProRES recording formats, the Photonic Engine and Macro photography.
A16 Bionic chip: Apple's new chip for 2022 is the A16 Bionic, a lightning-fast chip that should keep power-hungry apps going for years to come.
While the screen is the same 6.1 inches as the iPhone 14, the Pro model is a bit heavier at 7.27 ounces. It packs in a big battery, however, offering up to 23 hours of video playback and 75 hours of audio playback. A fast charge can get you to 50% battery in 30 minutes. Other changes include upgrading from aluminum to surgical-grade stainless steel and adding a 1 terabyte (TB) storage option.
The retail price of this powered-up model starts at $999, but you can snag a used iPhone 14 Pro for under $900.
4. iPhone 14 Pro Max
Last but certainly not least is the iPhone 14 Pro Max. This top-of-the-line iPhone has all the powerful capabilities of the Pro in a big-screened package. It has a 6.7-inch screen, like the 14 Plus, and weighs 8.47 ounces. With that hefty size comes long battery life, offering up to 29 hours of video playback and 95 hours of audio playback. A fast charge to 50% takes 35 minutes.
The Pro Max is ideal for someone who needs a long-lasting phone or wants to watch their media or play games on a big, bright, beautiful screen. The Pro Max is also fantastic for photographers, videographers and content creators. It gives them all of the powerful photo features of the Pro — like the improved lenses, shooting modes and format options — along with more room for editing and refining their creations.
While this is the most expensive of the lineup, you can expect to save $100 to $200 on used iPhone 14 Pro Max models, depending on the storage capacity.
Other iPhone Options
If the 14 lineup doesn't seem quite right for whoever you're buying for, consider one of these beloved smartphones:
An older iPhone: iPhones have offered great experiences for years. While they're not as new, an iPhone 12 or iPhone 13 can still provide fantastic features for an even lower price. If you're on a tight budget but still want some flagship features, older iPhones might be a good pick.
The iPhone SE: The iPhone SE is Apple's budget-friendly alternative to the typical iPhone models. It uses an older physical frame but modern hardware, like the A15 Bionic chip. Consider this option for someone who doesn't need all the fancy features — like a teen or an older adult — or simply a more affordable phone.
Give the Gift of Tech With a Used iPhone 14 From Gazelle
Whoever you're buying for, something from the iPhone 14 lineup is sure to be a hit this year. Thankfully, you can still stay under budget if you know where to go. Buying a used phone can be challenging, but here at Gazelle, we aim to offer a stress-free experience.
Shop with a reputable seller and say goodbye to meeting up with strangers or worrying about scams. We offer transparent listings, easy returns and fair pricing, so you can give the gift of an iPhone and peace of mind. Explore our used iPhones today, including refurbished and Gazelle Certified phones, and get a gift that your recipient and your wallet will love!
Comments
comments