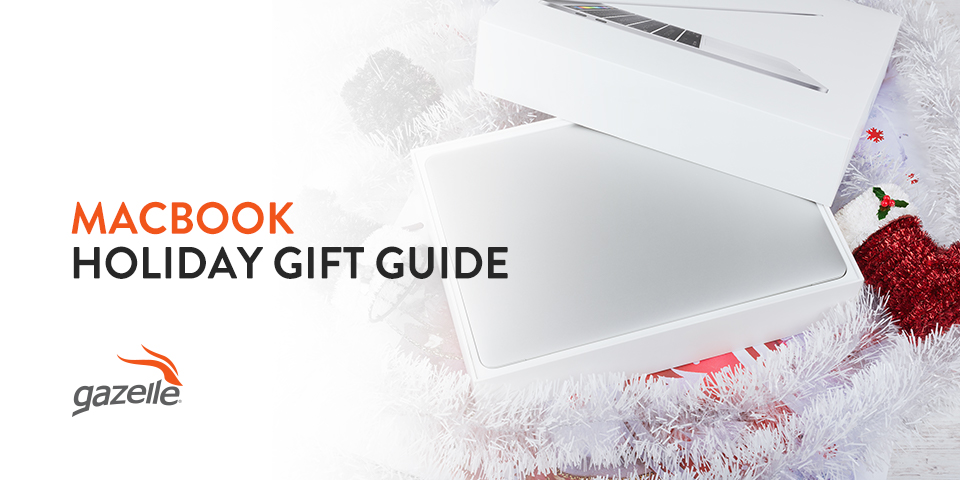 Whoever's on your list this holiday season, you can be sure there's a MacBook for them. MacBooks were revolutionary when they came out nearly two decades ago, and their success is still going strong. Plus, MacBooks hold their value beautifully, so a used model can offer a like-new experience without stretching your gift budget.
In this MacBook holiday gift guide, we'll go over what makes a MacBook a great present and how to pick the right one for the person you're buying for.
Why Buy a MacBook as a Present
Maybe you know you want to get them a laptop, but you're on the fence about which one. MacBooks come in a few different options, with new iterations every year. Apple customers love their MacBooks for a wide range of reasons:
Speed: There's a lot that goes into a laptop's speed, but MacBooks tend to offer snappy performance and continue to offer it for years to come. Where some PCs may start to lag or struggle to keep up, Apple cultivates the perfect blend of hardware and software for a fast, responsive laptop.
Power: MacBooks have a ton of power. Even if the hardware is similar to that of a PC, MacBooks are built to offer a streamlined experience that devotes resources toward the applications that need them. For especially power-hungry users, an upgraded MacBook Pro can handle almost anything and go toe-to-toe with desktop computers.
Graphics: The Mac operating system (OS) is the go-to platform for creative work. Whether the user is editing photos on the go or cutting together video clips, MacBooks have gorgeous, crisp displays and accurate colors. They're sleek and attractive — something many designers appreciate. Upgraded MacBooks can also handle power-hungry applications like video editing software.
Security: Apple uses a unique infrastructure for its software and limits how different applications can communicate with each other. While no computer is 100% protected from viruses or malware, MacBooks are commonly considered the kings of security. Hackers often focus their efforts on the more common and easier-to-hack Windows devices, and Apple has a slew of privacy features to keep the user in control of their data.
Longevity: Apple devices are also known for lasting a long time. Your gift should last for years to come, and many older models still perform well.
Types of MacBooks
While all MacBooks can offer stunning performance, some users prefer higher-powered or lightweight models. We can group MacBooks into one of three lineups, which typically get new versions every year or two. The MacBook Pro is a powerful option designed for performance and speed, while the MacBook Air offers a small, extra-portable laptop to support everyday use. Apple no longer makes the affordable MacBook, mostly replacing it with the Air.
1. MacBook
The classic MacBook had a bumpy run. It was discontinued in 2011, but a Retina version, referring to Apple's super-sharp screen technology, came back in 2015. This Retina version ran through 2019 before the MacBook Air, Apple's latest product in the laptop sphere, started supporting Retina display. The MacBook was a particularly affordable option.
2. MacBook Air
The MacBook Air might be marketed as the lower-powered version of the MacBook Pro, but it still comes out ahead of many PCs. A MacBook Air is a lightweight option that's good for someone on the go.
If you're buying for someone who needs to browse the web, stream TV shows and movies, send emails and type up documents or presentations, the Air is more than capable. If your recipient likes to have multiple apps going at once or uses intense apps like video editing software or games, the Pro might be a better pick.
The Pro and the Air have similar designs, although most Air models have a tapered body that slants downward while Pros have a flat profile. Airs tend to come in some slick colors that you won't find in Pros, like a shimmery gold or a deep midnight black. A MacBook Air also lacks the high number of ports you can get in a MacBook Pro. If your gift-getter wants to connect additional accessories like a monitor, keyboard or mouse, they may need an external hub or a Pro.
3. MacBook Pro
For the power-hungry user, there's the MacBook Pro. While it's the most expensive of the bunch, it packs in some important elements dedicated users will appreciate. For example, it has those extra ports the Air is missing, so professionals can hook up a lot more accessories. MacBook Pros tend to have better screens and speakers and higher memory and storage options.
One other perk that some MacBook Pros offer is the Touch Bar. This little strip replaces manual function keys at the top of your keyboard. It works as a mini touch screen that changes based on what you're doing. If you're editing photos, it might offer shortcuts for certain tools. If you're typing, it could offer spelling suggestions or one-button presses for copying and pasting text.
Tips for Buying a MacBook for the Holidays
If you're going to buy a MacBook this holiday season, you'll need to ask yourself a few questions to make sure you get the right one and a good deal. Think about:
Who you're buying for: While just about everyone can benefit from a MacBook, think about who you're buying for. The Air might be perfect for an economics student but not powerful enough for a graphics design student. A Pro could be ideal for a young professional who wants to take their work to a coffee shop, but too much for a grandmother who just wants something to access emails, check social media and shop online. Think about what they do and what features they may need.
Who you're buying from: We probably don't need to tell you there are a lot of untrustworthy sellers out there. Whether you buy a new or used item, make sure you buy from a reliable source. Look for warranties and return policies that protect you if the item isn't what you expect.
The condition of the item: Buying used is an excellent way to save, but you'll want to know what exactly you're buying. Look for notes about potential damage, like scuffs or a cracked screen, or any refurbishing. Try to buy MacBooks that have been tested for functionality.
When you're buying: The holidays are an amazing time to buy, with deep discounts all over the place. Keep your eyes peeled for sales. Remember, used MacBooks also go on sale, so you might be able to double dip on savings.
MacBooks to Consider This Holiday Season
Within the three MacBook lineups, there are tons of options. More recent MacBooks can easily exceed thousands of dollars, but you can save big by heading to the used market. MacBooks hold up extremely well, and a refurbished or used model lets you find a stellar laptop within any holiday budget.
1. 2020 MacBooks
Like cars, high-end laptops tend to lose their value the quickest right after being taken out of the box. By gifting a MacBook from 2020, you can get more bang for your buck and gift a highly capable laptop. Common hard drives offer 256GB, 512GB and 1 terabyte (TB) of storage. 8GB or 16GB onboard memory options help power more intense applications.
The 2020 MacBook Pros only come in 13-inch models, unlike other years where a larger 15- or 16-inch was offered. You do, however, get the slick Touch Bar and a huge Force Touch trackpad.
Some 2020 models to consider include:
13-inch MacBook Pro Core i5: The Core i5 MacBook Pro comes in a few different varieties. You can get it with a 1.4 gigahertz (GHz) or 2.0GHz processor and choose from a silver or space gray aluminum body. It has two Thunderbolt 3 ports, a type of USB-C.
13-inch MacBook Pro Core i7: With the upgraded Core i7 processor, this 2020 MacBook Pro has a boost in speed but is otherwise similar to the Core i5 models. It comes in 1.7GHz or 2.3GHz varieties.
These 2020 Pros range from the mid-$700s to just over $1,100, depending on what kind of specs you want.
2. 2019 MacBooks
Going back a year, you'll get some more options, like a larger 15-inch MacBook Pro and a 16-inch model. 2019 MacBook Pros also have the Touch Bar, 8GB and 16GB memory options and powerful processors. Here are some of the models you can choose from:
13-inch MacBook Pros: Apple released quite a few 13-inch models in 2019 with subtle differences like a change in keyboard design and fewer Thunderbolt 3 ports. You'll find Core i5 and Core i7 options with different processor speeds and storage configurations. The 13-inch MacBooks start at under $600 used.
15-inch MacBook Pros: Along with a slightly larger screen, the 15-inch laptops nix the Core i5 option for a Core i9 version. You can also find up to 32GB of memory and plenty of internal storage — great for someone who doesn't want to lug around an external hard drive or flash drive. These models start in the mid-$800s.
16-inch MacBook Pros: The biggest of the 2019 models all have upgraded keyboards, called scissor keyboards, that fix some problems users had with the older version. They come in Core i7 and Core i9 versions and support up to 32GB of internal memory. If your gift recipient appreciates a gorgeous screen, the 16-inch MacBook Pro is a good pick, starting at just under $1,000.
3. 2018 MacBooks
The 2018 models switch back to the usual 13- and 15-inch options, with two high-performing Pro varieties and one Core i5 Air.
The 13-inch Core i5 and Core i7 MacBook Pros were the first to feature the Touch Bar and sport 2.3GHz and 2.7GHz speeds. At this point, we start hitting particularly affordable prices, with some of these models dropping below $500. The 15-inch MacBook Pros come in Core i7 and Core i9 varieties that can accommodate up to 32GB of memory. Used prices start in the mid-$700 range.
4. 2017 MacBooks
2017 featured the last hurrah of the standard MacBook line, which is now incredibly affordable. The regular MacBook starts at under $400. It may only have a 12-inch screen, but it uses either a Core i7, Core i5 or Core m3 processor — not to be confused with Apple's newer M1 and M2 processors. Like other chips used in 2017, the Core m3 is an Intel product. These 2017 MacBooks also come in exciting colors, like a rose gold that's perfect for gifting.
Unlike many of the later models, you won't find any high-storage options. The 2017 MacBook model cannot exceed 512GB of onboard storage, but that's not usually a problem for people who use the cloud or external storage devices. This laptop also lacks many ports, with just one USB-C port and a 3.5mm headphone jack.
The MacBook Pro options were also plentiful in 2017, with a few different Core i5 and Core i7 options at varying speeds. The 15-inch is only available in a Core i7 option that goes as high as 3.1GHz.
5. 2016 MacBooks
Moving on to 2016, you'll find some cost-effective MacBooks that are ideal for straightforward use. They'd make great fits for teens or adults who don't use high-end accessories or demanding apps.
The standard MacBook models use Core m3 or m5 processors, which are a little behind the newer i-series but can still support everyday use. These laptops again cap out at 512GB of onboard storage and come in silver, space gray, gold and rose gold colors. The 12-inch MacBooks start in the mid-$200s.
The Pro models from 2016 still use the Core i5 and i7 of later MacBooks and have the Touch Bar. They have similar storage and memory options as the 2017 models and start at just over $400.
6. 2015 MacBooks and Earlier
The 2015 models are also ideal if you're looking for a budget-friendly laptop with the Apple experience. You can snag a standard MacBook in the low-$200s or get a Pro model for less than $400. Beyond 2015, the Pro models don't offer the Touch Bar.
A 2015 model will work well for many people, but you'll want to start being cautious about buying an older laptop. Apple products have an exceptional life span, but they don't last forever. At some point, Apple will stop offering software updates, and it might become hard to find any parts if you need something repaired. For example, Apple released macOS Monterey in 2021, but MacBook Airs and Pros from 2014 or earlier couldn't get it.
Older laptops can be a great pick for some users, such as the first computer for a teenager, who may not need or be careful with a more expensive model. But if you want to gift something that will work for more than a few years, consider a more recent version instead of a vintage model.
Find Used MacBooks for Your Holiday List From Gazelle
A used MacBook can help you gift the Apple experience without breaking the bank. From students to working parents to businesspeople to designers, you can't go wrong with these Apple laptops.
But buying used isn't always straightforward. At Gazelle, we make things easy. We offer refurbished and tested MacBooks through easy-to-understand listings and a worry-free buying process that doesn't require talking to strangers. Browse our used MacBooks online to find the perfect holiday gift!
Comments
comments