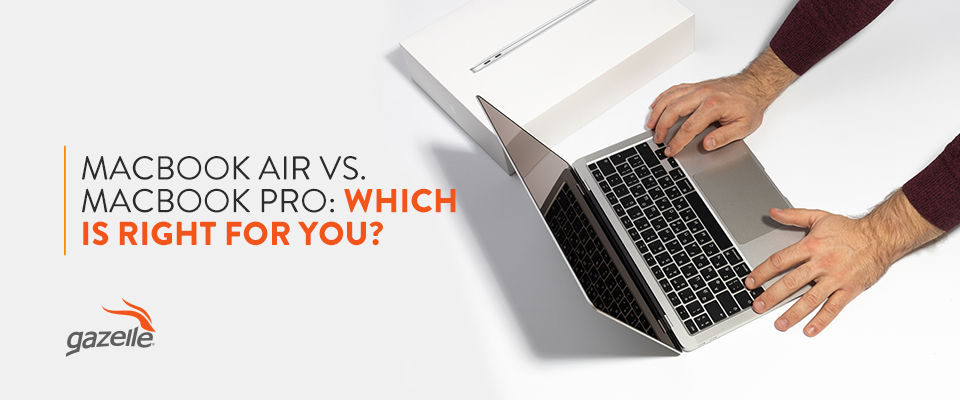 So you've decided to buy a MacBook. Great choice! They're powerful, lightweight and gorgeous — but your decision-making is far from finished. You still need to pick between the MacBook Air and MacBook Pro. Both are excellent laptops, but figuring out which of Apple's MacBooks is best for you depends on many different factors, like your budget and how you plan to use it.
We'll break down the difference between MacBook Airs and MacBook Pros so you can pick the right one and buy with confidence. Let's dive in!
Size and Weight
The biggest differentiator between MacBook Air and MacBook Pros used to be their size and weight. As the name implies, the Airs were the lightweight version, great for taking on the go. Nowadays, the differences are minimal, and the Air isn't much lighter than the Pro.
For example, the 2022 MacBook Air with a 13.6-inch display weighs in at 2.7 pounds. The 2022 MacBook Pro has a 13.3-inch screen and weighs 3 pounds exactly. Unless you're going for the biggest option, a 16-inch Pro, size and weight probably won't make a big difference.
It's worth noting that the MacBook Airs have a slightly different shape. Their classic tapered-wedge design gives them a shape that's more like a teardrop, with a large rear edge and a thinner front. The Pros, on the other hand, have a more traditional rectangular look. MacBook Airs also come in more colors. You can get them in rose gold, champagne and deep navy shades, while the Pros only come in Space Gray and Silver.
Display
Both laptops offer beautiful, colorful displays. For many older models, the MacBook Pro and MacBook Air had the same sharp Retina displays. Newer versions of the MacBook Pro upgraded to Liquid Retina XDR displays. These screens use mini-LED technology that offers higher resolution and brightness, which also helps improve contrast.
The newest Pro models have two important display updates. They sport ProMotion technology and a notch. ProMotion technology offers adaptive refresh rates up to 120 hertz for a smoother viewing experience. The notch looks a lot like the one on iPhones. It dips in from the top and houses the webcam. Since it only cuts into the menu bar on the screen, it isn't too distracting, and it allows for a larger screen with smaller bezels.
Performance
If you're looking to run demanding programs like games or editing software or working with high amounts of data, you may need a Pro. Otherwise, MacBook Airs are more than capable for many people. For example, an Air would have no problem with web browsers, email and word processors. More demanding applications might call for the upgraded specs of the Pro. Outside of basic performance, Pros can usually support higher-powered components, like more memory and more cores in the graphics processing unit (GPU).
One major difference you'll find in performance comes from Apple silicon chips. In 2020, Apple announced its own line of processor chips, called M1, M2, etc. Now, most MacBooks use these chips instead of chips manufactured by Intel. Since these new processors are designed by Apple, these computers, often called silicon MacBooks, have much better performance. In benchmark tests, they blow Intel out of the water with stellar scores.
While some Intel chips are certainly fast, the M-series of Apple chips help MacBooks run at lightning speeds. They also support more power-hungry usage. If you're on the fence about whether an Air can support your work, consider getting one with a silicon chip. It may help bridge the gap with performance closer to that of a Pro. MacBook Pros use the M1 Pro or M1 Pro Max chip, which have more cores for better performance.
Battery Life and Charging
You won't find huge differences in battery life between the Air and the Pro overall, but some models will last longer than others. For instance, Apple rates the 13-inch M2 Air at 18 hours and the 13-inch M2 Pro at 20 hours. The Apple Macbook Pro 16-inch gets an extra two hours. Of course, these numbers will vary with use. Silicon MacBooks tend to last longer than Intel-based ones. Unsurprisingly, newer models will usually give you longer battery life.
Many MacBooks support fast charging if you have the right power adapter. Some models use MagSafe charging, with Apple's special magnetic charger, while others use Thunderbolt, a special type of USB-C cable. Many even offer both for more flexibility.
Memory and Storage
MacBook Pros have an edge in the memory and storage department. You can order a MacBook Pro with a ton of extra memory. The 14-inch Macbook Pro with an M2 processor supports up to 96 gigabytes (GB)! Meanwhile, the M2 MacBook Air only supports up to 24GB.
While many users will be just fine with the entry-level 8GB or 16GB of memory, power users may need more. Again, these are folks that run resource-intensive applications like games and editing software. If that's you, you may appreciate the higher memory options of the Pro. Otherwise, you should be just fine with an Air. Keep in mind that most MacBooks have unified memory, which means the hardware is soldered in. You won't be able to add memory later, so choose wisely.
A MacBook Pro might give you more storage options, too. An M2 Air, for instance, only gets you 2 terabytes (TB) of storage, but a 14-inch Macbook Pro can reach 8TB. With the popularity of cloud storage, many users don't need a ton of onboard storage. It depends on your usage. If you don't keep a lot of videos or photos in on-device storage, the capacity of an Air should be plenty. You can also use external hard drives or cloud services if you need more later.
Keyboard and Touch Bar
For the most part, the MacBook Air and MacBook Pro laptops have the same keyboard. They use Apple's backlit Magic Keyboard and a massive Force Touch trackpad. You can adjust the brightness behind the keys and use gestures and pressure-sensitive clicks with the trackpad.
You may have seen Apple's flashy Touch Bar on some MacBooks. This bar is essentially a thin strip with an organic light-emitting diode (OLED) touch screen. It can show normal function keys like F1, F2, etc., but it also has dynamic buttons that change based on what you're doing. If you're editing a document, it might give you spell-check suggestions or let you select your text color from a large rainbow gradient. If you're just browsing the web, it might show you your bookmarks or shortcuts to other apps.
If you like the sound of the Touch Bar, you'll need to get a MacBook Pro. Although the Touch Bar was introduced in 2016, Apple did away with it for a while, then brought it back in 2022. The Touch Bar is a bit controversial and more of a personal preference than anything.
Not many app manufacturers accommodate it with special buttons, and a lot of Apple fans missed the regular keys. Simply put, it isn't the most important part of your laptop-buying decision. Most users can take it or leave it.
Laptops with the Touch Bar have Touch ID — a small fingerprint scanner — built into the bar. Other models might have Touch ID in a separate small square.
Ports
The MacBook Pro is king when it comes to ports — at least, the 14-inch and 16-inch versions. Pros typically have more ports than Airs, but it depends on the model. You'll typically get a minimum of two Thunderbolt ports, which are also USB-C ports. In modern models, you'll find these ports on the M1 and M2 Airs and the 13-inch Pro. Some older models will use standard USB-A ports instead and may add an SDXC slot or an HDMI port.
If you need a lot of ports, go for an older model or a 14-inch or 16-inch MacBook Pro. The 14-inch and 16-inch Pros get three Thunderbolt 4 ports, one HDMI port, an SDXC card slot and MagSafe charging. Still, if you don't plan to use your laptop with a lot of accessories, the two ports on the Air should be plenty. You may need an adapter or a USB hub to connect some things, like a mouse, keyboard or external displays.
Audio
Laptops aren't usually known for audio quality, but you can expect pretty good sound from either a Pro or an Air. Recent models support Dolby Atmos playback, which brings a surround sound-like quality to your laptop. If you have AirPods Pro, AirPods Max or Beats Fit Pro headphones, you can also use spatial audio for a more 3D experience.
Audio is another area where the 14-inch and 16-inch Pros got some upgrades. They got a new high-fidelity six-speaker system. The next-best speakers are in the M2 Air, which has four standard speakers. For audiophiles, one of these high-powered Pros would be great. For anyone who plans to use headphones or isn't too concerned with audio quality, a MacBook Air or another Pro will still give you a solid listening experience and stereo speakers.
Camera
MacBooks have had high-definition front cameras for a while. Most have 720p webcams built-in, but some recent models support 1080p quality. If you want something even better, Apple added a cool new feature to its operating system, macOS Ventura, which works on most modern MacBooks. It lets you use your iPhone camera as a replacement or an additional input.
Since iPhone cameras can offer extremely high quality, they can make your Zoom meetings crisp and clear. You can also use your phone as a second input with a feature called Desk View. You can record your face and, say, a drawing on your desk.
You'll find HD cameras on both Airs and Pros, so there's no clear winner here. If you do a lot of video calling, a more recent model will offer a slight edge. Still, the difference between 720p and 1080p isn't especially drastic. Both offer good HD quality.
Wireless Capabilities
For the most part, wireless connections are the same across MacBook Pros and Airs. More recent models have newer technologies, like Bluetooth 5.0 and Wi-Fi 6. The M2 14-inch Pro even offers Bluetooth 5.3 and Wi-Fi 6E. The average user doesn't need to worry about these upgrades. They're fairly minor, and you'll probably only notice the speed boosts if you use a lot of devices on one network or upgrade from much older tech.
Bluetooth 5.0 was a pretty big upgrade that improved things like data transfer rates and range, while Wi-Fi 6 is faster than Wi-Fi 5 and helps support more devices on one network. Both rely on other devices that have the same tech. In other words, Wi-Fi 6 won't do you any good if you don't have a router that supports it. And the benefits of Bluetooth 5.3 won't apply if you're using it with a device that only supports Bluetooth 5.0.
If you're after next-gen wireless technology, you can go for either a MacBook Air or a Pro. Still, don't worry about spending a lot of extra money for either of these features.
Price
Price is one of the biggest reasons to choose an Air over a Pro. Even the newest MacBook Airs start at under $1,000. A new 13-inch Pro runs a bit higher, at $1,299, while a 14-inch Pro starts at a much steeper price of $1,999. The 16-inch Pro has a starting point of $2,499, with upgrades like memory and storage driving it up even further. With such a big difference, you'll want to make sure you actually need all those extra features.
For regular users, the MacBook Air will probably offer the most bang for your buck. It's fast and more than capable of running everyday tasks, like web browsing, emails and word processing. The Air's price point helps make it especially popular among students and people looking for a personal-use laptop.
The price tag on the Pros might be pretty steep, but the 14-inch and 16-inch models give you a lot for the money. You'll get a Pro-grade chip, a better display and a lot more ports. While those features won't matter to everyone, those who have more demanding tasks will certainly appreciate them. The 13-inch MacBook Pros can offer you a few of those nicer features without as high of a price increase.
If you're on a budget but need more power, don't worry — a Pro is still within reach! Apple computers hold up especially well over time. Thanks to its premium components, a used MacBook can help you save big without sacrificing quality. Our used MacBook Pros and Airs can help you save hundreds off retail prices.
Buy or Trade In Your MacBook With Gazelle
Ultimately, the MacBook Air vs. MacBook Pro debate comes down to what you need it for. Casual users love the portability, price and performance of the Air. Anyone who needs to use power-hungry apps or do a lot of multitasking will likely need the beefier specs of the Pro.
Whichever one you choose, make your money count and consider buying used. At Gazelle, we make it easy with trustworthy listings, easy returns and great quality. If you're upgrading from an older MacBook, we also offer simple trade-ins. Sell your used laptop without meeting or haggling with strangers.
Make the most of your next MacBook with Gazelle. Explore our used MacBooks online, or get a quote for a MacBook trade-in!
Comments
comments