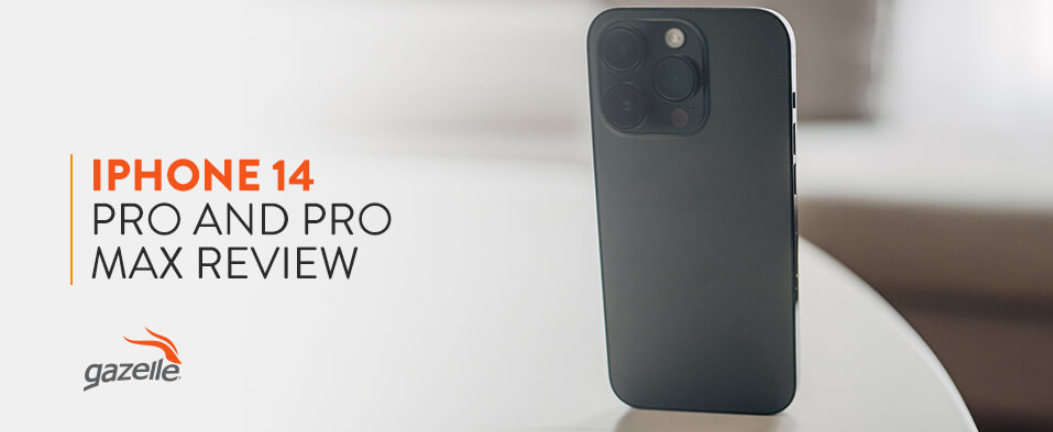 If you're looking for a lightning-fast phone with a top-of-the-line camera system and stellar battery life, the Apple® iPhone 14 Pro and Pro Max have you covered. These 2022 iPhones are some of the best devices Apple's ever made, with a few flashy new features and plenty of upgrades. Since they're the Pro models, they'll give you a more powerful experience than the standard models — the iPhone 14 and 14 Plus — which makes them especially good for photographers, gamers and anyone wanting a premiere phone.
Let's dive into our iPhone 14 Pro Max and iPhone 14 Pro review and explore all the details.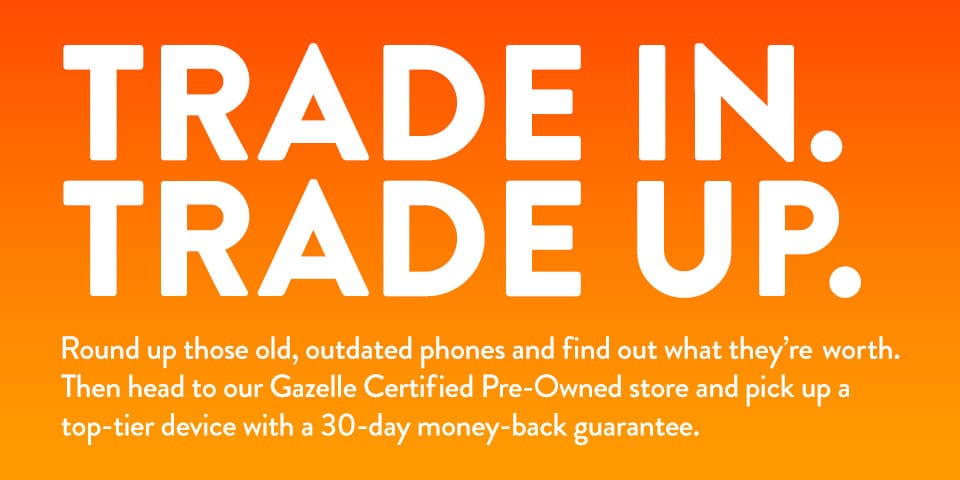 Design
Longtime Apple users won't have any surprises with the iPhone 14 Pro's physical design. It looks similar to the 13 Pro models, with squared-off edges and an edge-to-edge screen. You might notice it has a larger camera bump. All of the camera upgrades — which we'll discuss later — resulted in bigger lenses, so your phone won't lie flat on a surface if you set it down without a case.
Otherwise, the phone body is very similar to the older models with the following dimensions:
iPhone 14 Pro: The iPhone 14 Pro has a 6.1-inch screen and a weight of 7.27 ounces. It's 5.81 inches tall, 2.81 inches wide and 0.31 inches deep. It's easy to hold and fits solidly in your grip.
iPhone 14 Pro Max: The iPhone 14 Pro Max has a whopping 6.7-inch screen and weighs 8.47 ounces, which is about on par with the iPhone 13 Pro Max. It's 6.33 inches tall, 3.07 inches wide and 0.3 inches deep. The Pro Max offers a huge screen, perfect for watching movies, editing photos and videos or playing games, but it can be a little unwieldy if you have smaller hands.
Both phones have shiny stainless steel frames and matte finishes on the back glass. The backing is fairly fingerprint-resistant, but expect to see some smudges on the metal frame. They come in Deep Purple, gold, silver and Space Black. These colors are all muted, offering a more mature color palette than with the standard model.
The color lineup also means you don't get to choose from the 14's bold, bright colors like baby blue or yellow. Still, the Pro colors are easy to match and Deep Purple is all-new. If you want to show off that you have a 14, Deep Purple should do the trick.
Display
The front display is where the iPhone 14 Pro models really shine. If you pick one up, the first thing you'll probably notice is the new Dynamic Island. iPhones prior to the 14 have a small notch that dips in from the top of the screen. It detracts from your screen real estate, but it holds the ever-important Face ID module, so you can log in with a facial recognition scan.
The new Dynamic Island removes the notch and replaces it with a small pill-shaped cutout on your screen. The shape itself isn't especially unique, but the way Apple uses it is pretty clever. The Dynamic Island expands and changes based on what you're doing. If you play music, it can show the album art and offer fast controls that stay on-screen. If you have a timer running, it can show put the countdown front and center.
The island can also show animations for tasks like unlocking the phone or using Face ID for that extra bit of polish. You can even hold down on the space to get more options, like controlling your music.
The iPhone 14 Pro screens also got a big boost in brightness, which is measured in nits. The 14 Pros typically get about 1,000 maximum nits, but with high-dynamic range (HDR), you can get 1,600 nits. Going outdoors will get you a whopping 2,000 nits, so you can see the screen in nearly any condition, even in ultra-bright sunlight. These phones can handle beach days with no problem. For comparison, the 13 Pro maxed out at about 1,200 nits outdoors.
As usual, the phones get stellar contrast and gorgeous colors for unmatched viewing. Like the iPhone 13 Pro models, the 14 Pros have a 1-120 Hertz (Hz) refresh rate, which refers to how many times per second the screen updates. Since this number intelligently adapts and goes so high, it gives you an ultra-smooth scrolling experience without killing your battery. The phones will also stand up to dust and water, thanks to IP68 protection.
Camera
Apple's new Pro camera system involves some big changes under the hood. Perhaps the most noticeable update is the new quad-pixel sensor on the Main camera. The technology is a little complicated, but it basically works by optimizing your shot for the lighting conditions. For most people, the sensor will intelligently bin pixels together into groups of four for a high-quality 12-megapixel (MP) photo. More advanced photographers can shoot in the ProRAW format, which offers a full 48-MP picture that can better withstand heavy cropping and editing.
You'll also find some upgrades to the standard 12-MP cameras, including the Ultra Wide and Telephoto lenses. Your optical zoom options include .5x on the Ultra Wide, 1x and 2x on the Main lens and 3x on the telephoto. If you do a lot of low-light photography, you'll probably appreciate Apple's new Photonic Engine. It offers better performance in dim lighting and is available in the standard models, too. It uses a mix of hardware, software and machine learning to improve your nighttime and low-light photos drastically.
When it comes to new features, we'd be remiss if we didn't mention Action mode in our iPhone 14 Pro camera review. This new mode offers extreme stabilization for video recording. You can jostle the phone all you want and still get a nice, smooth video. It supports up to 2.8K quality at 60 frames per second (fps), perfect for high-resolution action shots. Cinematic mode got a boost, too, and can now support up to 4K quality at 30 fps instead of just 1080p.
As usual, you'll still get Night mode options, Portrait mode and Macro photography. On the screen side of the phone, Apple gave the selfie camera autofocus and a faster aperture, but it's otherwise pretty similar to the previous models. This camera supports features like 4K video, Cinematic mode and HDR recording with Dolby Vision.
Battery Life
One area that didn't get a huge upgrade was the iPhone 14 Pro models' battery life — but they really didn't need much more. The 13 Pro already got exceptional battery life, and the 2023 crop of iPhones stayed roughly the same. The iPhone 14 Pro's battery life should give you up to 23 and 75 hours of video and audio playback, respectively. For the iPhone 14 Pro Max, you can expect up to 29 hours of video and 95 hours of audio playback.
According to benchmark tests, the iPhone 14 Pro can browse the web for about 16 hours and 18 minutes, while the Pro Max can surf for just over 19 hours. They comfortably outperformed other popular phones, like the Pixel 7 Pro and the Galaxy S22 Ultra — despite having physically smaller batteries! The iPhone 14 Pro models had some significant internal upgrades that let it work much more efficiently.
Both phones support MagSafe and Qi wireless charging, so you can happily go cord-free. If you're up for finding a charging cable, Apple's fast charging can get you to about 50% battery in 30-35 minutes, but you'll need an adapter with 20 watts (W) or more.
Performance
Thanks to a slew of internal upgrades, the iPhone 14 Pro models blew away the competition. Most of its speed comes from the new A16 Bionic chip, which you won't find in the standard iPhone 14 and 14 Plus. This beefed-up processor powers many of the big developments we've talked about, like the display and camera, while greatly improving battery efficiency. Apple says its central processing unit (CPU) is 40% faster than the competition and the chip is the fastest ever in a smartphone.
Benchmark tests seem to agree. The iPhone 14 Pro Max's speed modestly surpassed the 13 Pro Max, but it blew top Androids out of the water. Here are some more details on the A16 Bionic's components:
CPU: This chip gets a 6-core CPU. It has two performance cores and four efficiency cores, which are similar to those from the iPhone 13 models and can handle multitasking beautifully.
GPU: The graphics processing unit (GPU) sticks to the same five cores from the previous year, but it offers more memory bandwidth, which supports apps with demanding graphics.
We can also thank the A16 chip's Display Engine for the new, high-powered screen tech. All in all, it supports a stellar experience, especially for power users who spend a lot of time gaming, editing photos or videos or doing other resource-intensive tasks. The iPhone 14 Pros can handle large 4K videos and graphics-heavy gameplay with ease.
When it comes to connectivity, you won't find any drastic changes. The iPhone 14 Pro models use Wi-Fi 6 and sub-6 gigahertz (GHz) and mmWave 5G, the same as the iPhone 13 Pros. Many modern phones already use 5G, so it isn't unique to the 14 Pros. Still, it could make a big difference if it's been a while since you've upgraded. The 14 Pros got a slight bump from Bluetooth 5.0 to Bluetooth 5.3. The differences between the two are minor, and most users won't notice a difference.
One notable iPhone 14 Pro feature is the use of satellite-based emergency services. Many phones have SOS systems that you can activate quickly if you need help, but they typically rely on your cellular signal. If you go off-grid, they don't offer much help. Apple allows all iPhone 14 devices to link up with satellites instead and contact emergency services even outside of cell networks. If you often head to places with spotty service, like campgrounds, hiking trails or rural road trips, this feature could be especially helpful.
Storage and Memory
Storage options are similar to those from the iPhone 13 models, ranging from 128 gigabytes (GB) to 1 terabyte (TB). If you use cloud storage, the 128GB version will likely be plenty. Still, many users will need much more storage to save those new 48-MP photos and 4K videos. All storage options will have the same functionality, with one expectation for recordings in ProRes formats. A 128GB phone will only be able to record ProRes in 1080p rather than 4K.
Apple doesn't officially release random access memory (RAM) specs, but all iPhone 14 models have 6GB, according to analysts. That should be plenty for most smartphone users, as 6GB is on the hefty side. In short, RAM helps your phone multitask and deal with different types of data you might be using at one time. Some phone makers brag about having more RAM, but as with battery capacities, Apple's highly-optimized system means it doesn't need all that much.
Price
While iPhones can cost a pretty penny, the 14 Pro is one of the best phones you can buy for under $1,000. If you're paying retail price, expect to spend $999 for a 128GB model or up to $1,499 for a 1TB model. The 256GB model costs $1,099, and the 512GB model costs $1,299. The iPhone 14 Pro Max adds about $100 to each model, with prices that start at $1,099 for the base model. A 256GB, 512GB or 1TB model will run you $1,199, $1,399 and $1,599, respectively.
For a better deal, head to the used market. Gazelle offers used iPhone 14 Pros starting in the low-$800 range and used iPhone 14 Pro Max models at around $900. You can pick from the same colors, storage options and carriers as new phones, and you can choose the condition that's best for you. If you plan to use a case, for example, a few minor scratches could offer big savings. We put every phone through a 30-point inspection to ensure everything works correctly.
The price point might be higher than other phones, but you'll get fantastic bang for your buck, as these phones are jam-packed with features.
If you want a lower-cost phone without missing out on much, consider the iPhone 13 Pro or Pro Max. They look almost exactly the same as the 14, and most of the differences come down to the display and camera. Of course, the 14 got some nice upgrades in those areas, including the Dynamic Island, an Always-On display, the 48MP Main camera and a newer chip. Both are great phones that should last you a long time.
Grab the iPhone 14 Pro or Pro Max for Less at Gazelle
The iPhone 14 Pro and Pro Max will appeal to just about anyone. Power users and gamers will especially appreciate the unmatched speed and performance of the A16 Bionic chip, while photographers can make the most of the Pro camera system. You can get one of the best phones on the market without spending a fortune, particularly if you head to Gazelle's catalog of used phones.
We make it easy to buy reliable used phones online — no contracts, no internet strangers and no hassles. We include transparent listings and offer a 30-day return policy if your phone isn't quite right.
Find an iPhone 14 Pro or Pro Max online to save big on this high-powered phone today!
Comments
comments