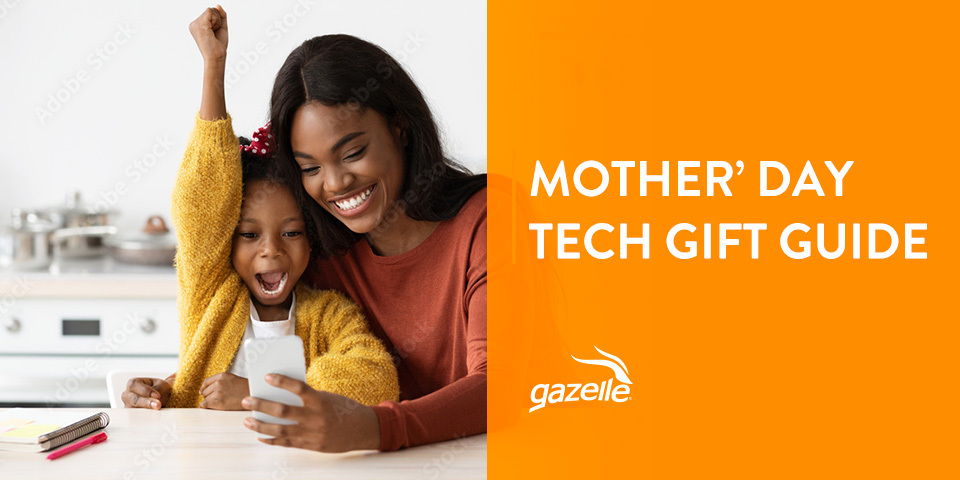 Are you struggling to find something for Mom that she'd actually use this Mother's Day? Finding her a great and useful gift doesn't need to be stressful or time-consuming. There are plenty of options that – if ordered soon – would arrive in time for Mother's Day and be an awesome surprise.
If you're looking for something techy, we've got your back. Here are our top 10 tech gifts for Mom that will rock her Mother's Day.
10 Great Tech Gifts for Mom
From cameras to smartphones and everything in between, here are the top 10 gifts that we think any techie Mom would dig!
Smart Home Devices
Smart home devices are becoming increasingly popular due to their convenience and ease of use. These devices can make a great Mother's Day gift for tech-savvy moms who love to streamline their daily routines. From smart thermostats that can control the temperature of the house with just your voice, to smart plugs that allow you to turn on/off appliances remotely, these gadgets will make mom's life easier and more connected than ever before.
Fitness Trackers
Fitness trackers are a great gift for moms who love to stay active. These devices come with various features that can help them keep track of their fitness progress, such as the number of steps taken, distance traveled, calories burned, and even heart rate monitoring. Some models also offer sleep tracking and personalized coaching programs.
When looking for the perfect fitness tracker for mom, consider her activity level and personal preferences. There are different styles available from sleek wristbands to clip-on trackers that can be attached to clothing or accessories. With so many options on the market today, you're sure to find one that fits your tech-savvy mom's needs and lifestyle perfectly!
E-Readers
E-readers are a perfect gift for the techie mom who enjoys reading but wants to minimize clutter and save space. With e-readers, books can be downloaded instantly, eliminating the need for physical copies. The latest models have advanced features such as glare-free screens that make reading easy on the eyes even in bright sunlight, waterproof designs that allow moms to read by the pool or at the beach worry-free, and long battery life so they can enjoy their favorite books without any interruptions.
For moms who love to read but also want access to newspapers and magazines, there are e-reader devices that offer subscriptions to popular publications. This is an excellent way for busy moms who don't have time to stop at a newsstand or bookstore regularly to keep up with current events and stay informed about their interests. E-readers provide convenience while still allowing readers to indulge in their passion for literature effortlessly.
Tablet Devices
Tablet devices are a popular choice for moms who want to stay connected while on-the-go. With their larger screens and portability, tablets offer the perfect balance between functionality and convenience. Whether it's catching up on emails or streaming movies during downtime, a tablet device is sure to make any techie mom's life easier.
For those looking to splurge, high-end tablet models like Apple iPad Pro or Microsoft Surface Pro are great choices that can handle everything from work tasks to entertainment needs. Alternatively, more budget-friendly options like the Amazon Fire HD 10 or Samsung Galaxy Tab A7 Lite provide solid performance without breaking the bank. No matter which option you choose, a tablet device will be appreciated by any tech-savvy mother on Mother's Day.
Portable Chargers
Running out of battery on the go can be a hassle. That's why portable chargers make for a great Mother's Day tech gift. Moms are always busy, so having a reliable way to charge their devices anytime and anywhere is essential. With various sizes and styles available, finding the perfect one that suits your techie mom's needs shouldn't be hard. Consider getting one with multiple ports or fast-charging capabilities for added convenience.
Wireless Headphones
Wireless headphones are a game-changer for music lovers who want to enjoy their favorite tunes without being tethered to their device. With the latest advancements in technology, wireless headphones offer crystal clear sound quality and noise-canceling features that make them a must-have for any techie mom. Whether she is working out or just enjoying some downtime, wireless headphones provide the perfect audio experience without any distractions.
One of the best things about wireless headphones is that they come in various styles and designs, making it easy to find one that suits your mom's preferences. From earbuds to over-ear models, there's something for everyone. Plus, many of these devices are compatible with voice assistants like Siri and Alexa, so moms can take control of their playlists hands-free!
Smartwatches
Smartwatches are becoming increasingly popular among tech-savvy moms who want to stay connected while on-the-go. With features such as fitness tracking, message notifications, and voice commands, smartwatches make great gifts for Mother's Day. Some of the latest models even offer cellular connectivity, allowing users to make calls and send texts without needing their phone nearby. If your mom is always on the move or enjoys staying active, a smartwatch could be the perfect gift for her this Mother's Day.
A Refurbished Smartphone
Has Mom's phone seen better days? Now may be the time to surprise her with an affordable upgrade to a like-new phone. Gazelle has a ton of different brands and models in a variety of price options to best fit your Mom's lifestyle. Plus – they're a fraction of the retail price tag so you'll be getting a killer deal that would make any Mom proud!
Virtual Assistants
Virtual Assistants are a perfect gift for tech-savvy moms who need help managing their busy schedules. These voice-activated assistants, such as Amazon Alexa or Google Home, can set reminders, make calls, and even order groceries with just a simple command.
By utilizing smart home integration capabilities, virtual assistants can also control other devices in the home like lights and thermostats. This hands-free technology is not only convenient but can also save time and energy for busy moms on-the-go.
Robotics
If your tech-savvy mom loves innovation, then a robotics gift might be the perfect fit for her. Robotics is an exciting field that offers many different options for those who love technology. From robot pets to cleaning robots, there are several choices to pick from when it comes to finding the right robot companion for your mom.
Some of our favorite picks include robot vacuums that can sweep and clean floors with ease, or even a fun little robotic toy like a smart dinosaur or unicorn pet that she can control with voice commands. The possibilities are endless, making robotics one of the most versatile categories in this year's Mother's Day Tech Gift Guide!
Upgrade Mom for Less with Gazelle
If you're ready to upgrade Mom's smartphone, tablet, or MacBook, you've come to the right place! Gazelle has a large inventory of refurbished devices to fit any budget and lifestyle. Treat Mom this Mother's Day and save big with Gazelle!
Comments
comments