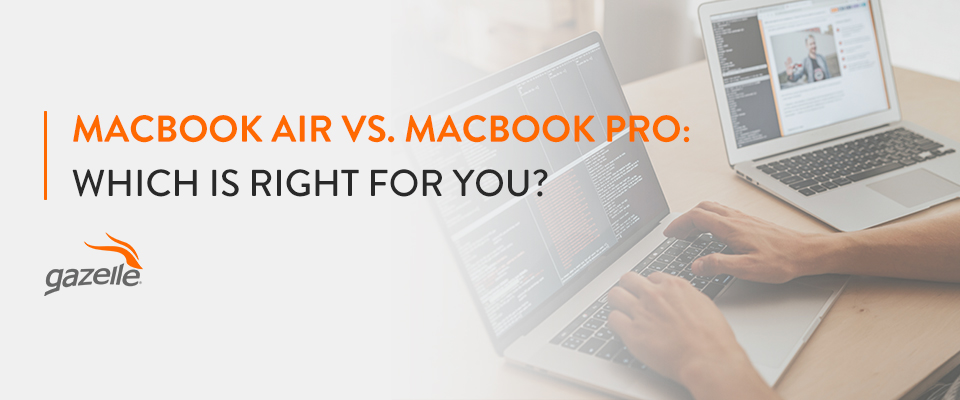 Whether you're looking for a laptop that can handle everyday browsing and streaming or you want something that's a bit more of a workhorse, you've probably considered a MacBook. With Apple's strong ecosystem, reliable product builds, and streamlined operating system (OS), students, employees, and streaming enthusiasts alike enjoy MacBooks. 
While the MacBook Air and MacBook Pro offer similar features, there's enough of a difference between their specs to make you take a second look before you click the "Buy" button.  Here, we'll take a look at the MacBook Air vs. MacBook Pro to help you make the most informed decision for your lifestyle and uses. 
MacBook Air vs. MacBook Pro
Both the MacBook Air and MacBook Pro received redesigns and updates within the last year, with the Pro receiving the most recent update in January 2023. Each model delivers a snappy browsing experience, the signature Apple OS, and enough power for everyday tasks. Let's compare the devices side-by-side so you can see which is best for your needs. 
Display & Design
One of the most noticeable differences between the MacBook Pro and the MacBook Air is the screen size. While some devices standardize screen size options across models, this isn't the case with the Pro and Air designs. The MacBook Air's only option is a 13.6-inch display. Meanwhile, the MacBook Pro offers both 14.2-inch and 16.2-inch display options. 
If you want the biggest screen size you can get from the MacBook line, you'll probably enjoy the Pro models the most. However, if you're looking for the perfect laptop to take to and from classes or to bring into the office, the Air design offers greater portability and convenience. 
The designs vary a bit, too, with the larger screen sizes of the Pro models translating to slightly higher weights. So, while the 16.2-inch model is a thicker, heavier design, the 14.2-inch Pro and 13.6-inch Air are close enough in weight and thickness that you may not notice a significant difference. 
While the MacBook Air's Retina Display is no slouch, especially compared to the older M1 MacBook Pro models, the M2 MacBook Pros boast Liquid Retina XDR displays and greater brightness ranges. The XDR can get up to 1,600 nits of brightness along with ProMotion technology, which unlocks up to a 120hz refresh rate. Naturally, you'll want a higher refresh rate if you favor performance mode when gaming. Unfortunately, the MacBook Air doesn't support variable refresh rates or VRR. 
Both of these screens improve the color richness and greatly enhance the browsing experience, though there's a caveat. While the MacBook Air still features a lovely screen, and some users may not notice a big difference, the MacBook Pro is ideal for users who need to edit HD content or want higher framerates for viewing or gaming. 
Connectivity Options
If you prioritize having the best connectivity, there's a clear-cut winner: the MacBook Pro series. While the MacBook Air is serviceable for standard charging and headphone connections and a couple of peripheral devices, it can't quite compete with the MacBook Pro's HDMI 2.1 port with audio output settings, three Thunderbolt 4 ports, and the SDXC card slot, which helps the Pro model live up to its name for professional use. 
There's also a difference in the number of external displays that each device can handle, with the MacBook Air limited to a single display compared to the Pro's M2-reliant four-display setup. The MacBook Pro also offers MagSafe Charging, a user-favorite design feature that provides magnet-based charging. 
Again, consider the device that's best for your use. Do you spring for the greater connectivity features so you can use your device professionally, such as for photo and video editing? Or do you need minimal support for charging and a couple of basic peripherals, like a mouse? Your choice between the MacBook Pro and MacBook Air could vary depending on your answer. However, if you need HD audio and video outputs, you'll have to choose one of the Pro models.
Keyboards
Both the MacBook Pro and MacBook Air devices feature Apple's Magic Keyboard, which offers solid key resistance and performance over time. While the MacBook Pro previously featured a touch bar in the M1 models, the M2 models replaced that option with a physical function key row.
Apple's patented, preferred keyboard means that neither device edges the other out in this area. However, based on the connectivity mentioned above, your mileage with peripheral keyboards, mice, and other devices may vary, so keep this in mind if you'd instead use a different keyboard. 
Speakers
Particularly if you're going to be spending a lot of time streaming on your device, you're going to want to choose an option with capable speakers to get the best audio experience possible. From music to YouTube to your favorite streaming sites, both the MacBook Air and Pro versions are no slouches regarding sound quality. 
Perhaps the MacBook line doesn't match studio speakers or high-end audio software, but for packaged audio, both the Air and Pro get the job done. For the MacBook Air, the design features a four-speaker sound system, which is better than many competitor laptops. The MacBook Pro, on the other hand, has a high-fidelity system that features six different speakers alongside woofers that have force-canceling capabilities. 
It's up to you to determine whether or not the added perks of the Pro model are worth it. If you don't consider yourself an audiophile and spend most of your streaming time with the subtitles on, you may not need to worry about springing for a six-speaker array on your laptop. However, if you work in content or you enjoy watching high-quality streams and videos, the extra two speakers may be worth it. 
Battery Life
There's a slight disparity in battery life between the MacBook Pro and Air models. You would be correct if you guessed that the Air line has a lower battery life on average. Typically, the MacBook Air provides up to 18 hours of battery time per full charge, though this can vary based on use and software intensity. 
By comparison, the base MacBook Pro models typically hit 18 hours, with higher-end Pro models hitting 22 hours on average. Both devices depend on USB power adapters, though the wattage varies significantly. While each requires a USB-C adapter, the Air accepts 30-, 35-, or 67-watt adapters, while the MacBook Pro allows for 67-, 96-, and 140-watt adapters. 
Battery performance boils down to the hardware under the hood. MacBook Air devices have 52.6-watt-hour lithium-polymer batteries integrated into the build. Depending on the model, the Pro line has either an integrated 70-watt-hour lithium-polymer battery or a 100-watt-hour option. While the four-hour battery life difference may not seem massive, it can mean the difference between a couple of movies or a few extra hours on the go. 
Overall Performance
Like a few of these categories, comparing performance specs between the MacBook Air and the MacBook Pro also means comparing two distinct price points and use cases. After all, why pay extra if you're only going to use your laptop for general browsing, Google Docs, and some light streaming? 
On the other hand, even if you don't need a workhorse but you want something suitable for moderate gaming, you may still want to choose the Pro. Dig into each device's specs a bit to see the differences and why it's sometimes worth it to consider value over performance, depending on your needs. 
For computing power, both devices use M2 Chips, but the Pro models use either M2 Pro Chips or M2 Max Chips compared to the Air's standard M2 Chip. Core-wise, the Air offers an eight-core CPU split between four performance cores and four efficiency cores. The Pro models support up to 12-core CPU configurations with eight performance cores and four efficiency cores. 
The Air touts a 10-core GPU in contrast to the Pro, which supports a 19-core GPU on the M2 Pro Chip and a 38-core GPU on the M2 Max Chip. Naturally, this denotes some stark performance differences, with the M2 Max Chip showing increased FPS on games (even some on very high graphics settings) and snappier response times. 
The MacBook Pro and Air show a few differences in both Wi-Fi and Bluetooth connectivity, with the Air offering Wi-Fi 6 and Bluetooth 5.0 and the Pro devices offering Wi-Fi 6E and Bluetooth 5.3. Though the average user might not spot an immediate difference between the two benchmarks, the different Wi-Fi and Bluetooth connections can impact peripheral selection and compatibility. Plus, the 6E/5.3 combo is generally a more robust experience. 
Gazelle can help you upgrade for less. 
Are you more interested in the portability and compact size of the MacBook Air, or do you need something with a little more power, such as the MacBook Pro? Both high-quality laptops offer Apple's winning OS, sleek design hallmarks, and bright displays. When you're ready to upgrade to a new device or switch up your laptop, we're here to help. Pro or Air — whichever model you choose, you can buy it for a fraction of the retail price tag at Gazelle.com.
Comments
comments