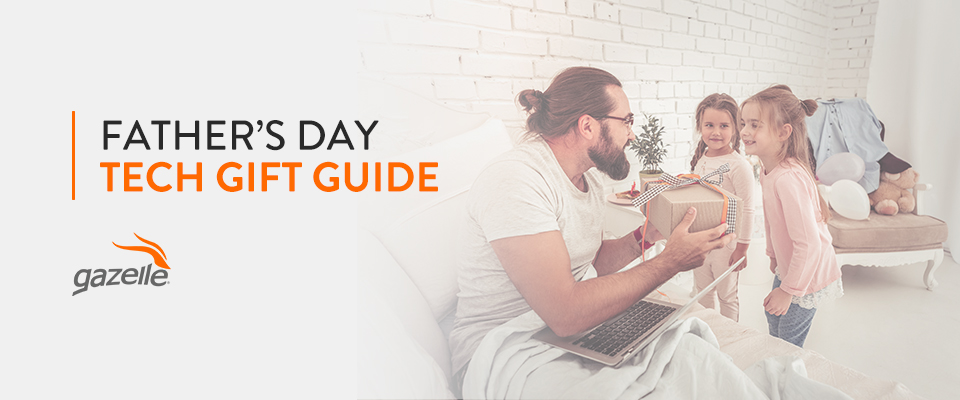 With Father's Day right around the corner, what do you get for the tech-savvy dad? Perhaps it's time to treat him to a phone upgrade, hook him up with the latest cooking gadgets, or surprise him with a new sound system that'll rock his floorboards. 
1. Give your dad the gift of sound on the go. 
Portable speakers may be nothing new, but the latest models sure do pack a punch. Whether your dad is the work-from-home type who wants to listen to the latest tunes between meetings or an outdoorsy sort who'd enjoy bringing his favorite songs into nature, a high-quality portable speaker or Bluetooth sound system is just what you need. 
From the crisp, clear sounds of the Sonos brand to the affordability and style of products like the JBL Link, a portable speaker is a great way to cater to the music-loving dad. 
2. Treat your father to a phone upgrade he will love. 
Is your dad still rocking an outdated device? Does he struggle to get through even a single day on his older phone battery? This Father's Day might be the ideal time to upgrade. Gazelle only offers top-selling clearance and refurbished phone models that pass our rigorous inspections and checks. 
Look at some of our favorite devices, from the iPhone 13 Pro Max to the iPhone 14 and the new Galaxy S23. You can explore blistering speeds and the latest features at a fraction of the price that retail stores and cell carriers charge. It's the best way to give your father something special without breaking the bank. 
3. Build healthy habits with a fitness tracker or smartwatch. 
Set up a fun competition between the family, invite your dad to be friends on your favorite fitness app, or help the father in your life manage his schedule and notifications with a handy smartwatch or tracker. Apple, Samsung, and Fitbit all make compelling, user-friendly devices that are easy to set up. 
You'll probably want to pick a smartwatch matching Dad's smartphone. Since even more fitness-oriented brands like Fitbit include features like text message replies, weather, music controls, and more, your choice will probably come down to brand preference. 
4. Give him peace of mind with a doorbell camera. 
Is the father in your life a security-conscious type of person? If so, he'll probably appreciate you when you give him a handy, intuitive doorbell camera. You can set it up together in a few minutes and walk through the accompanying app. Between the ever-popular Ring brand, Google's Nest alternative, and several third-party options, you will find a doorbell camera that meets your budget and helps your dad relax. 
5. Invest in room-filling sound for the true cinephile. 
If your dad likes his movies loud, why not help him upgrade his sound system to something with a bit of rumble? Brands like JBL and Klipsch specialize in surround sound systems that create positional audio, booming bass, and purer output so you can enjoy extra-immersive movie nights. 
Work to find something appropriate for his space. For instance, consider a soundbar and subwoofer combo if he has a smaller movie room. If it's a basement viewing space, go all out with surround speakers. 
6. Keep his coffee warm with a smart mug. 
If your husband constantly microwaves his coffee to keep it hot or your father lets his cool too much before drinking, a smart mug could be the simplest solution for Father's Day. These handy gadgets allow you to set the temperature so each cup of joe is always perfectly hot. 
Some smart mugs, like the one from Ember, have their own apps so Dad can quickly change the temperature from his phone. You can find a smart mug to meet any budget, especially if you don't need the extra bells or whistles or simply want a warming surface. 
7. Listen anywhere with wireless headphones or earbuds. 
Whether your dad loves music, podcasts, audiobooks, or white noise, treat him this year with a better listening experience that's simple and portable: wireless headphones. There are dozens of different options, so pick something that fits your budget and his style. 
If Dad is an iPhone purist, send him a set of AirPods so he can always listen at the gym or while working. If he has a Bluetooth turntable, get him a nice set of headphones to connect and hear his favorite vinyl at its highest quality. 
8. Snag a multitool for the handy dad. 
Though some argue that multitools are more tech-adjacent, modern models come bundled with enough feature richness that they make the cut. Brands like Dremel create multi-purpose handhelds that can switch from drilling to cutting to polishing in a few quick part swaps. 
Multitools are perfect for the hands-on DIY dad whose toolkit looks a little too full. Electric multitools take up far less space and are easy to keep charged. Some kits even come with engraving tools, metal-cutting attachments, and sanding components. 
9. Surprise him with a Switch and the latest games. 
Some dads don't know where to start when it comes to gaming. That's where you can help. Consoles like the Nintendo Switch are intuitive for all ages, and you can even pair their OLED model with a copy of The Legend of Zelda: Tears of the Kingdom for a complete gift bundle that will keep your father busy for countless hours. Plus, he can take the Switch on the go, making it the perfect companion for travel, long commutes, or downtime around the house. 
If your dad would prefer something that requires a bit more technical savvy, the Steam Deck offers a similar handheld experience while freeing up access to his entire Steam library. The Deck is a Linux-based system, though, so a bit of a learning curve may be involved. However, once you get a few plugins running, your dad will be able to play his favorite PC games on the go. 
10. Get the best viewing experience with an OLED TV. 
While the latest models, like the LG C2, are still reasonably pricey (unless you love your parents enough to spend silly amounts of money on them), earlier model-year OLEDs have much lower prices. Sony OLED TVs regularly drop below $1,000, which could make for a reasonable family gift for Dad split several ways. Other brands and some QLED models dip much further. QLED doesn't offer as sharp of a picture or the top refresh rates of OLED TVs, but it does provide a fair alternative to OLED prices. 
11. Play Xbox or PlayStation on your phone with a Backbone. 
One of the latest tech crazes is the Backbone controller, a handy attachment for iPhone and Android phones that enables users to play their consoles using remote play. Some models come bundled with a free month of Xbox Game Pass, so you can test Microsoft's streaming service without committing. 
Backbone controllers are also beneficial for mobile games that offer controller compatibility. After all, anything is better than trying to game using only touch controls. As an added bonus, the Backbone retails under $100, so it's a reasonable buy for Father's Day. 
12. Make charging easier with a wireless pad. 
Keeping track of charging cords, cables, and power bricks is a never-ending struggle. Make your dad's life more straightforward with a wireless charging pad that's fast-charging compatible. You can choose between different makes and models. Major phone brands tend to make their own versions, and you can also find third-party options at typically discounted prices. Choose between single-device chargers ideal for bedside tables and kitchen islands, or get a larger charging pad that's a perfect fit for any work desk and can handle several devices simultaneously. 
13. Add some color to your dad's house with smart bulbs. 
Smart bulbs are affordable, easy to set up, and a whole lot of fun. In a few minutes, you can install smart bulbs, connect them to your dad's WiFi network, and start changing the colors from a handy phone app. These bulbs are a great way to set the mood for any occasion, and your dad can even choose between user-made or pre-programmed routines that change colors and styles automatically. Brands like Phillips, Govee, and Wyze offer different shapes, sizes, and color-changing options for their bulbs, so you have plenty to choose from. 
14. Keep track of belongings with AirTags or Tiles. 
Sometimes, our dads get a bit forgetful. If your father regularly misplaces his keys, phone, or wallet, consider giving him AirTags or Tile devices. It's a snap to attach a tag to a keychain or tuck a credit-card-sized Tile into a wallet and start tracking it through an app. Each brand offers audible alerts making it easy to find something any time it goes missing. 
15. Show off photos with a smart hub or digital photo frame. 
The best tech gifts for dad this Father's Day can still be sentimental. Add all your favorite memories and family photos to a digital frame or smart hub and leave room to grow and add even more. Smart hubs and digital frames are perfect for office desks, kitchen counters, entryways, and plenty of other spaces in the house. 
Your dad can see his cherished photos and laugh-out-loud moments on his smart hub every day. From Amazon to Google and beyond, there are plenty of manufacturers to fit any price point. 
Explore Gazelle to find high-quality tech gifts for Dad this year. 
This Father's Day, make the dad in your life feel extra special with a surprise present that he's sure to adore. When it comes to top tech, phones, laptops, and more, Gazelle is the place to be. We offer dozens of different tech devices bundled with our backing. 
If you want to get your dad the latest phone for less than half the price, or you want to find him a new laptop so he can work remotely, check out Gazelle's inventory and see what you can find. To learn more about our products and refurbishing process, contact us today!
Comments
comments