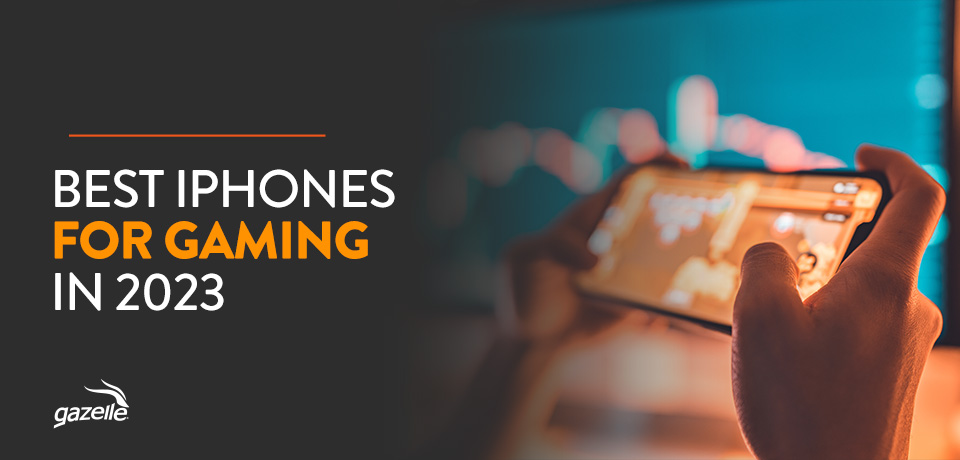 While console and PC purists might not like to admit it, the mobile games space continues to expand and innovate. Though staples like Candy Crush and Wordscapes still exist, players can now use their phones to tap into Xbox and PlayStation remote-play features, bringing a AAA gaming experience to a smartphone. 
In particular, iPhones are solid gaming devices, though the best iPhone for gaming may vary depending on your budget and needs. Devices like the 14 Pro Max are well-equipped to handle even more graphically demanding titles but come with a price point that not everyone will enjoy. On the other hand, a lightly used older model may be cheaper, but how long will Apple support it with updates? 
We'll compare a few standard iPhone features, from screen sizes and resolutions to processing speeds and refresh rates. You can also look at battery life, connectivity, online performance, and game catalogs, including Apple Arcade exclusives that console and PC players can't get. This way, you can choose the best gaming iPhone for your lifestyle. 
What's your preferred playstyle? 
Are you a more casual gamer who's at home with Match-3 and puzzle games, or do you like an intense, online battle royale challenge where you can become the ultimate victor? Depending on your answer, it could influence which iPhone is the best phone for mobile gaming. A more hardcore gamer will want a newer model with the most responsive screen possible and the snappiest feedback for multiplayer online battle arena (MOBA) games, frenzied shooters, and other advanced titles. 
On the other hand, you can save some money if you want a gaming iPhone that can still handle a few games like PUBG: BATTLEGROUNDS but is more suited to a laugh-out-loud match of Among Us or a similarly simple title. Whatever your answer, you can still find a device with the iPhone gaming performance you need. 
Now, let's dig a bit into device specifics and see whether or not a phone like the iPhone XR is good for gaming or if you should splurge a bit for something in the iPhone 13 or 14 family. 
Different screens yield different rewards. 
With each new device iteration, smartphone screens get better and better. Not only do they get more durable and scratch resistant, but they also get faster and snappier with new technology and updates. To ensure every tap or button press counts, you will want the best, most responsive screen out there. 
Luckily, the iPhone brand invests a lot into its screens, meaning that you're hard-pressed to find a truly bad one in the lot. Of course, models like the 14 Pro Max and the 13 Pro are bound to have higher-quality screens than their older counterparts. There are a few key differences, particularly in terms of screen brightness, resolution, and Always-On options. Still, all the newer models offer snappy haptic touch and True Tone technology to ensure colors come through. 
For starters, we'll look at the iPhone 14 Pro Max. If you're looking for one of the top phones for gaming, this one makes a strong case for itself. It has a 6.7-inch OLED screen with maximum viewing space, bold colors, and deep contrasts that make graphics pop off the screen. This phone also offers ProMotion, unlocking up to 120hz for buttery smooth scrolling and quick gameplay. When you want your games to look and perform their absolute best, the 14 Pro Max presents a compelling option. 
For those who get a bit of sticker shock from the 14 Pro Max's higher price point, the Plus line sacrifices a bit of processing power but maintains that 6.7-inch screen. It's an excellent compromise for those who want a quality gaming phone without paying the highest prices. However, another tradeoff is that the 14 Plus misses out on the ProMotion feature and 120hz gameplay. While 120hz isn't necessary, it's still a big win for competitive online gaming. 
Finally, the standard iPhone 13 is still a solid gaming phone, but its screen is outdated compared to its newer counterparts. The 13 has a 6.1-inch OLED display and HDR but no ProMotion, which the 13 Pro models do have. However, this could be a good money-saving option if you don't mind the smaller screen and lack of 120hz. 
Battery life is an essential factor for serious gamers. 
While it's easy to assume that the newest model will have the best battery life, it isn't always true. From the standard iPhone 13 to the iPhone 14, there's only a jump of one hour's worth of video playback. If you're budgeting for a base model, this may not be enough of a difference to splurge for the 14. 
In contrast, when you start to look at Pro, Plus, and Pro Max models, there's a much more noticeable difference. Compared to the base 14, the 14 Pro Max gets an estimated nine more hours of video playback time. That extended battery life could mean the difference between a few more matches or not, especially when you're traveling or commuting. This is all moot if you regularly play near a charging port or have a battery pack handy when gaming. 
More storage means more room for your favorite games. 
This may be a minor consideration since most phones follow standard size increments. However, compared to the iPhone 14 series, which goes up to 1TB of storage, the base iPhone 13 has a cap of 512GB. If you want to install a few graphically intense games or you don't want to swap content in and out of your library constantly, the best iPhone for gaming will likely be a 14 model at 1TB. 
Mobile games tend to be much smaller than console and PC games, but the more graphically intense ones can eat up a lot of storage space, especially if you have a smaller capacity iPhone like a 128 or 256GB model. For the serious gamer, opting for the most storage space you can afford is always a good idea. That way, your device has plenty of room for updates, new games, and old favorites. 
Connectivity impacts download speeds and online game connections.
If you're playing on WiFi most of the time, you may not need to worry about your iPhone's connectivity as your speeds will be more closely tied to your ISP plan. However, if you like to game on the go, enjoy online titles like COD Mobile, or don't have a robust WiFi plan, you can rest easy knowing that newer iPhone models come with high-speed 5G connections. With a solid cellular connection, you can access your favorite online games, dive into a Brawlhalla or Clash Royale match, and multitask between several games and apps. 
Processing power will impact your games. 
There are significant leaps in overall processing power between the 13, 14, and 14 Pro Max. For instance, the 13 starts with the A15 Bionic chip, while the 14 Pro and Pro Max have the A16 Bionic. The 13 offers a 6-core CPU and 4-core GPU against the Pro Max's 6-core GPU and 5-core CPU. Each of these models comes with a 16-core Neural Engine. While a more casual gamer may not notice the performance difference all the time, enthusiasts and hardcore players certainly will. 
Again, this is a smaller consideration for many, so don't be too concerned about getting a 4-core CPU over the 5-core model or opting for a more affordable device with the A15 chip instead of the spendier A16 variant. For the most part, you'll get solid, consistent performance from any iPhone, especially on less graphically demanding titles or simpler games. 
Do you need peripherals or extra controllers?
Since most iPhone models work well with third-party controllers and Bluetooth devices, many gamers play on their favorite controller instead of relying solely on the touchscreen. While controller clips and other peripherals aren't necessary for many mobile games, FPS games and some adventure games may benefit from having a complete controller instead of trying to navigate cramped touchscreen controls. 
This is especially true for the iPhone 13 and its 6.1-inch screen. With less screen real estate, it's easier to press the wrong input, which can cost you in fast-paced online games. If you're looking for the best gaming phone on a budget, you may want to pad in some extra money for a suitable controller or attachment to get the most from your gaming time on a smaller screen. 
Find the best phone for gaming with Gazelle. 
iPhones aren't solely for calls, texts, and videos anymore. With more storage than ever, gorgeous screens, and powerful processors, you can enjoy your favorite games, streaming titles, and Apple Arcade selections anywhere. Dive into a round of Fortnite, play your favorite Match-3 game, or relax with a classic game of Solitaire while gaming on your iPhone. 
Treat yourself to a high-quality gaming phone from Gazelle. We offer dozens of refurbished and lightly used models that can level up your phone gaming at affordable prices you'll love. When you're ready to start gaming on an iPhone, check out our deep product inventory.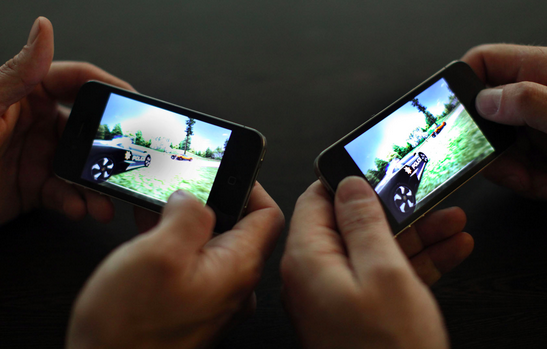 Comments
comments