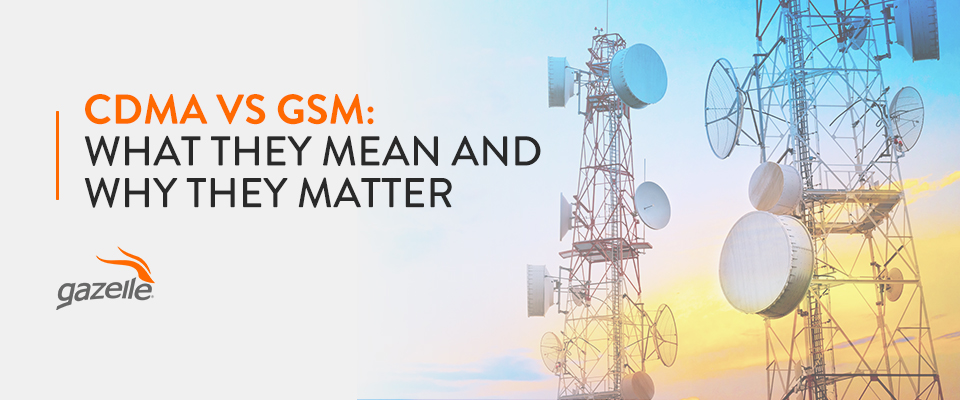 If you've tried to keep up with the latest smartphones and handheld devices, you probably know that there's quite a bit of industry jargon. Especially when it comes to connection strength, you've probably heard tons of acronyms and insider terms, from LTE to 5G. 
Two terms you've likely seen a few times, especially if you have an older phone, are CDMA (Code Division Multiple Access) and GSM (Global System for Mobile Communications). The first CDMA and GSM networks started a couple of decades ago. To this day, the technology still supports some phones. However, plenty of pundits and smartphone enthusiasts believe both have entered a legacy period, and it may be time to sunset them altogether. 
Whether you're looking to swap carriers and need an affordable device or you're considering an upgrade but don't want to pay retail prices, you may very well consider your prospective phone's connectivity and capabilities. That's why it's essential to take a look at CDMA technology, GSM architecture, and their respective advantages and disadvantages, particularly compared to emerging smartphone tech. 
What is GSM? 
GSM, or Global System for Mobile Communications, and CDMA came as part of the second generation of wireless technology, or the 2G era, which expanded greatly in the 1990s. At its apex, GSM promised a secure network connection, accessory and handset compatibility, and an extensive coverage area. Contrary to CDMA, GSM is a time division system, as opposed to a code division process. 
Though this technology is much older than most people guess, it's still in use to some degree worldwide. Even as global connectivity standards improve — including voice over 4G and impending 5G access improvements — plenty of users still spend time with their legacy devices, especially in developing nations. Unlike CDMA phones and newer options like LTE (Long Term Evolution) and 5G, GSM devices are straightforward to spot because they rely on SIM cards. 
After GSM replaced first-generation technology, including 1G NMT devices, it became an industry standard. GSM networks use a frequency band of 900, 1800, or 1900 MHz, and they are typically divided into cells, each of which is served by a base station. GSM phones can roam internationally, meaning they can be used in any country with a GSM network.
It's worth noting that although GSM came first, it also evolved faster. CDMA requires more processing power than GSM since it's a full-on code-division system. As code division proved flexible and capable, new systems emerged from base GSM technology, such as "3G GSM," wideband CDMA tech, or WCDMA. Sometimes, people also refer to 3G GSM as UMTS, a Universal Mobile Telephone System.
What is CDMA? 
CDMA, or Code Division Multiple Access, is another digital system that smartphones have relied on for many years. As the name might suggest, Multiple Access refers to the band's capacity to have multiple signals on one transmission channel. By doing this, it boosts a phone's available bandwidth. 
For the most part, CDMA phones found themselves stuck at 3.6mbps. Carriers prioritized expanding their 4G networks to work toward a global standard instead of adopting faster CDMA technology. 
Unlike GSM phones, CDMA phones don't utilize SIM cards and are typically locked into a carrier-specific plan. You can also buy "unlocked" phones that don't require you to use them on any particular carrier, so you can switch between providers whenever you'd like. Depending on your carrier, they may have offered incentives or installment plans so you could get the newest CDMA phones by breaking the retail price up over two years of statement fees. 
Most commonly, you'd associate CDMA with the 2G and 3G eras, though there was still plenty of overlap between CDMA use and the 4G era. Until most carriers reached a consensus concerning 4G data and voice calling, many of their customers were tied to 2G and 3G devices, even as 4G rolled out for other markets and users. 
Which digital system is better? 
You could ask this question on certain electronics and tech forums for a while and stir up a lively debate about CDMA vs. GSM. While CDMA led to more significant leaps forward, GSM set up the backbone for many of our current cellular services. Though each system still has its place in smartphone history, the truth is they're both outdated and have run out of time. Plus, CDMA and GSM also had several fundamental limitations. 
Since GSM's infancy, it struggled with multiple access lines on one channel, leading to lower call quality and an infamous buzzing noise whenever GSM devices came too close to speakers. Compared to that, while CDMA led to several breakthroughs that iterated on GSM connectivity, CDMA quickly ran into a 3.6mbps speed cap that limited its potential. This is a significant cap compared to what modern video streaming, calling, and MMS require out of everyday processes. 
CDMA and GSM also led to differing amounts of carrier control over the consumer. For example, networks like T-Mobile and AT&T made switching SIM cards back and forth between different devices much easier due to existing GSM standards. This is unlike Verizon, which made it especially difficult to switch SIMs and relied on CDMA tech to keep phones tethered to its network. 
Modern digital systems like 4G LTE and 5G networks make switching devices, transferring carriers, and trying new plans much easier. While phone plans might be more expensive with contemporary perks like unlimited high-speed data, they also offer customers more freedom and flexibility than older networks and radio signals. 
Should you invest in a GSM or CDMA phone? 
Even though both CDMA and GSM are on their way out for good, millions, if not billions, of individuals still use these legacy digital systems every day. Though more and more people continue to switch to modern bands and networks, people in countries with slower infrastructure development may not have consistent or reliable 4G or 5G connectivity. 
However, the truth of using legacy networks is a little more complicated. Major U.S. carriers have primarily turned off 3G networks, with a few leaving standard 2G service alone. This isn't a new problem for buyers, but it's one that pops up time and again, creating added pressure when it's time to upgrade devices. For years, customers on outdated handsets faced messaging like "Switch or lose service," which still holds true for individuals today. 
Beyond that, smartphones don't always have the most extended lifespans. If you're still working with a device from the CDMA and GSM days, you may find that the battery doesn't perform as capably as it once did and that you have general connectivity, messaging, and calling problems. You likely struggle to get basic internet access or use apps of most kinds since app developers will also stop supporting older devices. 
Currently, GSM, CDMA, 2G, and 3G are less and less efficient uses of mobile airwaves and networks. Since billions use their smartphones daily to scroll, chat, watch, and play, the tech inside each device had to keep up with increased consumer demands. The first iPhone that was released with 4G over voice capability was Apple's iPhone 6, and since then, 4G has been somewhat of a standard for global buyers. 
These days, if you want a smartphone that will perform capably for the next few years without significant tech shifts, service interruptions, or headaches, it's time to upgrade to a 4G or 5G device. So, which should you choose? Currently, 4G is still an incredibly safe bet in many parts of the world. Many carriers are still steadily approaching a greater transition to 5G, but LTE networking is the existing standard. 
Depending on your budget, you may consider a certified renewed device to save even more money. If you're skipping out on some of the newest smartphone features like 5G access, you're liable to find a pre-owned 4G-compatible phone for a fraction of the price of the latest retail models and flagship devices.
However, with that in mind, you could also choose to future-proof yourself by investing in 5G ahead of the curve. While it might take some time to see the full scope of what a globally standardized 5G network could look like, you can bet it'll hold its place for quite a while until consumers see something along the lines of 6G or 7G. 
Gazelle can help you find your next upgrade. 
Learnings the ins and outs of smartphone technology is no small feat. Many carriers have already shut off their CDMA and GSM networks, so the time to switch is now for many smartphone users. If you have an outdated smartphone or you're simply ready to treat yourself to an upgrade, Gazelle is here to help.  
Gazelle offers dozens of different refurbished and lightly used electronics, including the newest smartphones like the iPhone 14 Pro Max and the Galaxy S23 Ultra. Our certified pre-owned devices must pass a rigorous 30-point inspection, and we provide top-notch customer service to help you make the most of your new device. Plus, you get the satisfaction of knowing that buying renewed electronics helps to keep e-waste out of landfills. When you're ready to find your next smartphone, look to Gazelle.
Comments
comments