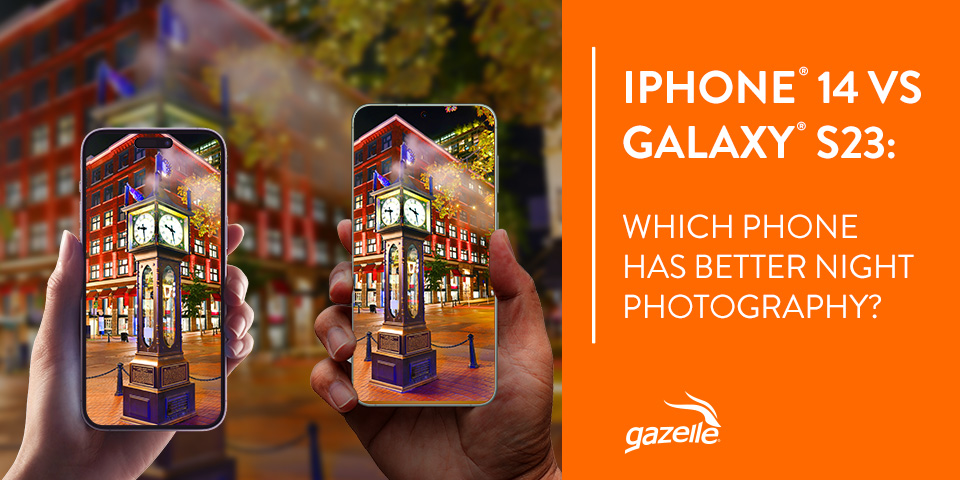 When looking for your next phone upgrade, you will likely weigh a few features carefully, such as battery life, screen size, and cost. Now that many phones come packed with standard feature sets, they don't vary too greatly in daily performance. It's in the added bells and whistles that carriers distinguish their flagship models. 
One such perk is night photography, an increasingly popular photo mode that allows you to capture stunning after-dark shots with multiple cameras. Whether you're using a Samsung Night Mode camera or an iPhone 14 camera, this mode also includes auto-retouching and light balancing.
If you often take photos at night, you probably want to know which smartphone has the best photography from Apple and Samsung's leading devices. Between the Samsung S23 camera and iPhone 14 camera, we'll look at options, low-light results, and device pricing so you can make the most informed decision when you're ready for a new smartphone.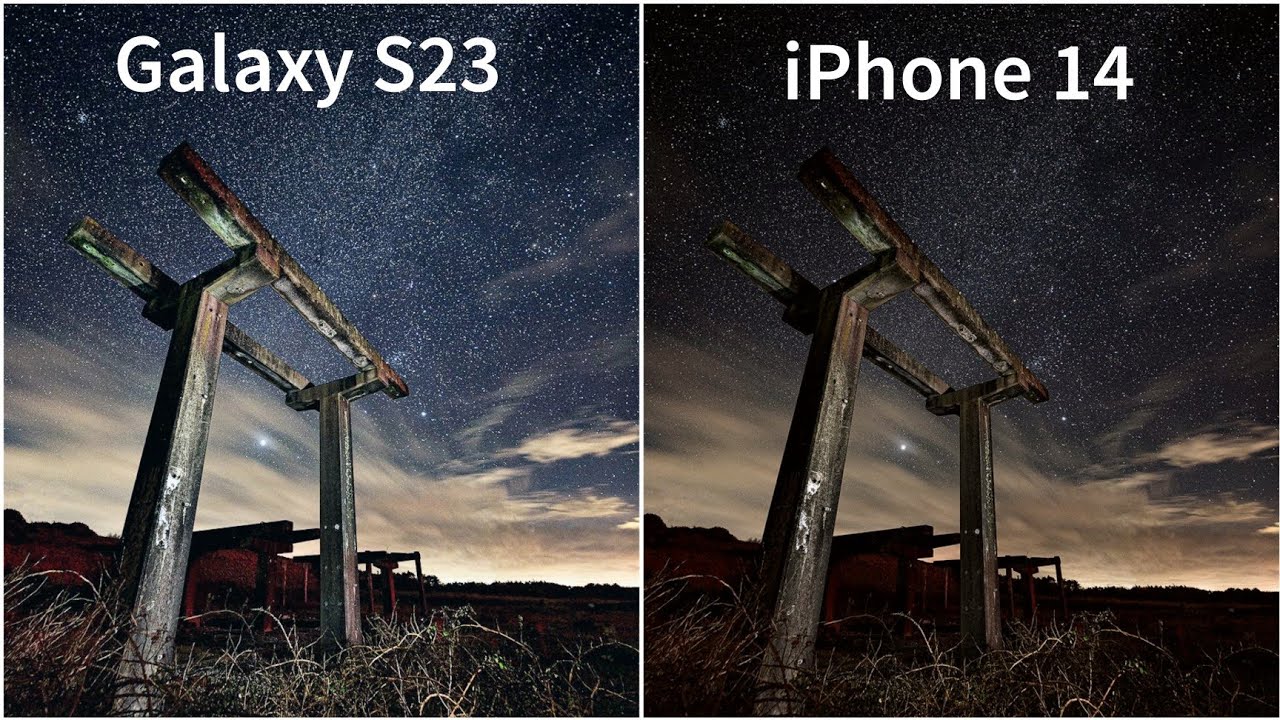 Night Mode works similarly on each device. 
iPhone and Samsung Galaxy have nighttime features allowing users to take better photos in low-light conditions. The iPhone Night Mode camera uses computational photography to combine multiple exposures into a single image that reduces noise and helps create a more stable image. The Samsung Galaxy Night Mode camera uses a similar technique. The Scene Optimizer tool can automatically detect the type of scene you photograph.
Both manufacturers created phone models that take most of the guesswork out of Night Mode operation. Each smartphone similarly turns on this mode automatically when the phone's sensors auto-detect lower light. Users can operate them manually, too, by turning Night Mode on and off in each device's additional photo settings. 
Typically, with Night Mode on the iPhone 14 camera or the Samsung Galaxy Night Mode camera option, your phone camera takes the photo over several seconds, operating similarly to how HDR displays balance imagery on monitors and television screens. Then, artificial intelligence analyzes your photograph, considering several factors, including the image's lighting and any subject movement captured in the frame.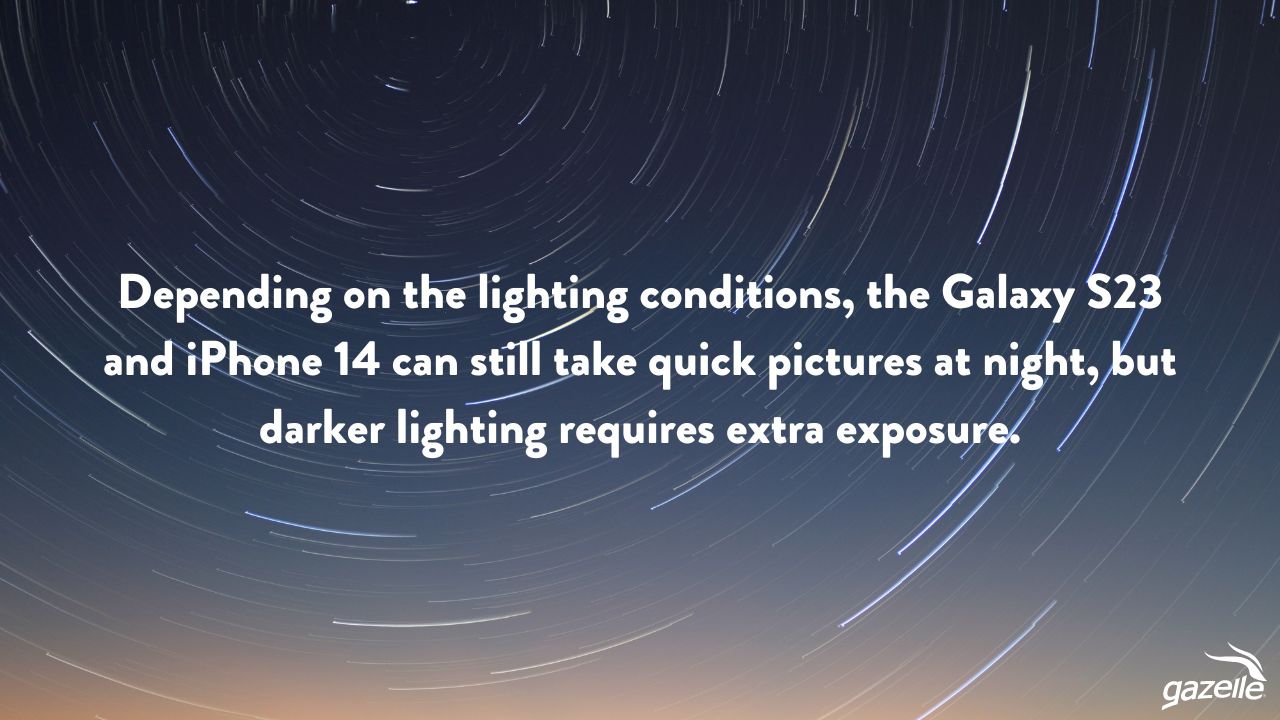 While holding the camera button in Night Mode, it may take the photo quickly, or you might have to continue pressing for several seconds. Depending on the lighting conditions, the S23 and iPhone 14 can still take quick pictures at night, but darker lighting requires extra exposure.  
One thing to keep in mind about any device's Night Mode capabilities is that many nighttime shots struggle with moving objects. Since Night Mode requires extended exposures and multiple images, movement often creates blurring and distorted pictures. Many long-exposure photographs like Night Mode pictures, panoramic shots, and other similar features don't work well for action photography, especially in low-light conditions.
Both device families feature high-quality camera specs. 
Depending on your chosen model, you'll likely see quite a bit of variance between overall camera specifications. For instance, the Galaxy S23 and S23 Plus have 50MP cameras compared to the S23 Ultra's 200MP primary camera mode. The Ultra also includes a 12MP Ultrawide camera for those expanded shots and two 10MP telephoto lenses. This means the S23 Ultra has both 3x and 10x Optical Zoom. Samsung's devices also tout digital 100x zoom capabilities.
Next, the base iPhone 14 camera has a primary lens that hits 48MP and an overall design reminiscent of the iPhone 13 models. The 14 boasts slightly larger lenses and the same image sensor as last year's 13 Pro. Regarding the Ultrawide camera, the iPhone 14 has the same 12MP setup as the 12 and 13 prior. When you dip into the Pro models, you get far more options, including LiDAR, telephoto lenses, and macro shots. 
The S23 Ultra and iPhone 14 Pro offer 12MP front-facing selfie cameras with Optical Image Stabilization and added photo benefits. On Samsung's devices, the Qualcomm Snapdragon 8 Gen 2 has an ISP tuned for use in the phone. On Apple's end, the 14 Pro uses an A16 Bionic Processor and accompanying Neural Engine.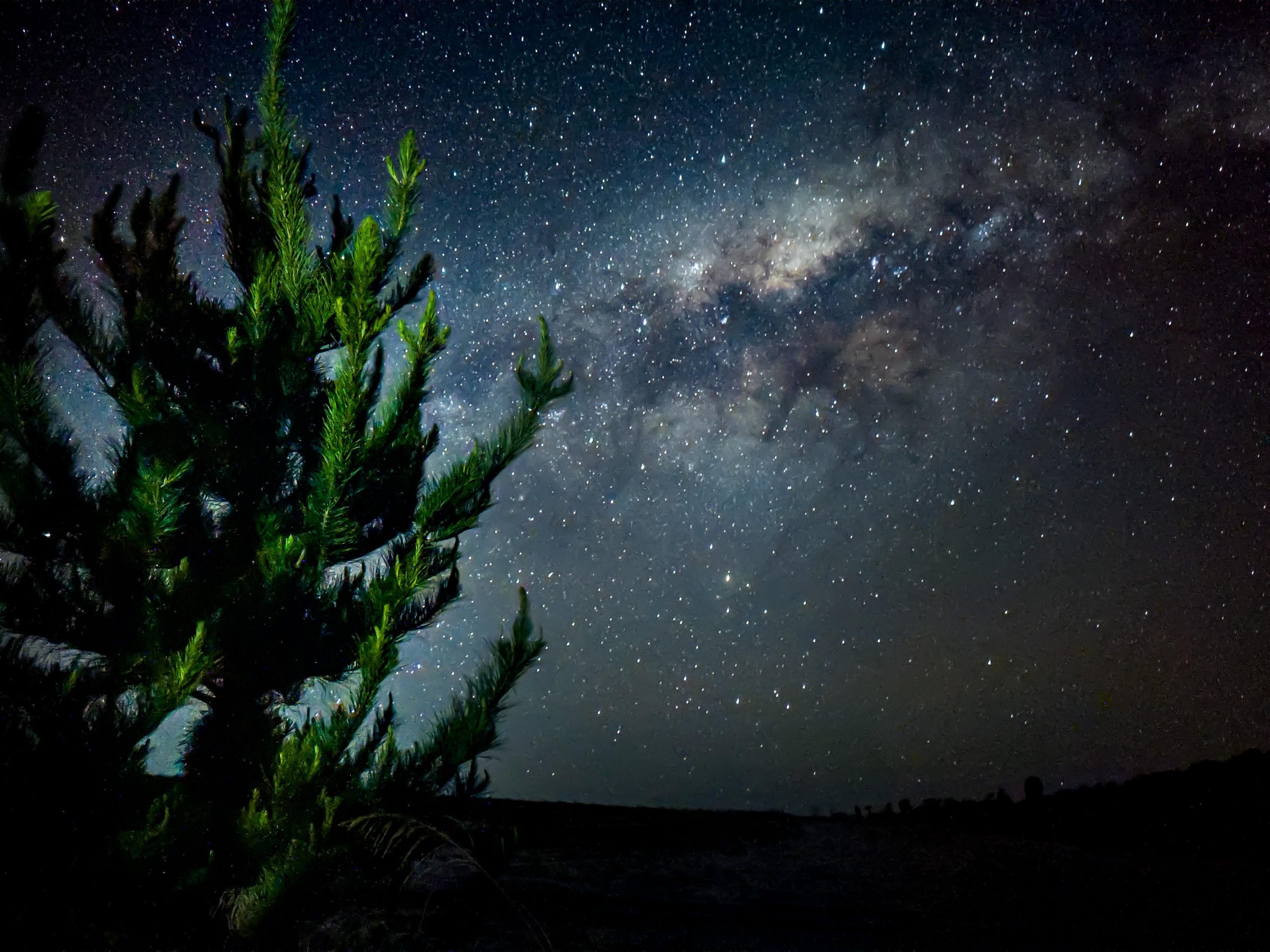 Different contrast and exposure options impact image quality. 
While both sets of devices come packed with quality camera specs, how they treat color and contrast greatly affects the final photograph. The Samsung S23 camera produces more true-to-life coloring in daytime photos, while Apple's devices often increase contrast and color saturation for richer-looking photos. 
The S23 can also overcorrect photos if you don't manually adjust the correction settings, causing you to lose some finer details in your shots. However, this doesn't mean that the iPhone 14 naturally has the better camera, as the contrast and saturation can sometimes work against it. 
Regarding Ultrawide photos, Samsung often treats its image coloring more effectively than Apple. The Samsung S23 camera can handle more challenging lighting conditions than the iPhone 14 camera, which also lends itself reasonably well to nighttime photography. 
Remember, though, that there's one significant difference between each brand's photo capabilities. Although both sets of devices can take 10x zoom photographs, the iPhone can only do so digitally. In contrast, the Galaxy S23 has 10x Optical Zoom for much sharper 10x images than what iPhones currently produce. If you like taking zoomed-in concert photos or long-distance shots, this could sway you in favor of an S23 smartphone camera. 
There are visual differences in each manufacturer's Night Mode. 
With this added insight into each manufacturer's overall camera performance, you're ready to look more closely at the Night Mode camera Samsung and Apple each offer. For the most part, both devices offer a high-quality nighttime shooting experience with rich colors and more accurate representation that older devices can't match. 
In nighttime videos, the Samsung Night Mode camera takes crisp, stable videos that add depth to the scene without losing too much detail in shadows. Comparatively, the iPhone 14 camera picks up more yellow tones in nighttime videos that can add a soft glow and fuzziness to some shots.  
These differences are also readily apparent in each phone's nighttime photos. Apple devices tend to pick up more of the lighter tones in their subjects, naturally brightening them up even further with automatic retouching. Light sources seem a small degree harsher and more visible in shots taken with the iPhone Night Mode camera, with starker lens flare. The iPhone 14 camera also seems likelier to pick up on artificial lighting, with some nighttime shots adopting a greenish hue. 
Conversely, the Night Mode Samsung offers is more nuanced, picking up on natural shadows and representing them accurately without losing depth and detail in darker shots. These shots also diffuse both natural and artificial light well, spreading it across the photo instead of increasing overall brightness to compensate. 
What you should try to remember is that Night Mode isn't perfect on any device, with natural limitations that keep both the Samsung Night Mode and the iPhone 14 alternative from taking perfect photos every single shoot. As Night Mode technology continues improving, we will see even better iterations in the future. 
Each smartphone represents an improvement over its predecessors. 
Though the differences between the Samsung and iPhone Night Mode cameras may seem small enough to the casual photographer, the Galaxy S23 marks a jump forward compared to the S22, much like the iPhone 14 is an improvement over the iPhone 13.
A few users prefer the S22 Ultra's crisper indoor photos but also note that its Night Mode camera tends to wash out skin tones as a result. The S23 Ultra appears less washed out while maintaining image quality for better overall nighttime hues. If you're coming to the S23 from an S22 or earlier model, you're sure to see an improvement in the general quality of nighttime photos. The S23 Ultra also handles nighttime zoom more effectively, though specific zoom options aren't available in the official Night Mode for any of the devices in the Galaxy family. 
For the iPhone 14 Pro, Apple released a lot of press concerning its Photonic Engine, claiming it would make photos look better than ever. To a degree, this is true, especially with how the 14 Pro captures crisp text and clearer backgrounds than the iPhone 13 Pro. However, much like the S23 Ultra, the iPhone 14 Pro isn't infallible, with the photo sometimes prioritizing contrast to the point where colors are overshadowed, muted, or too noisy. This often happens with shadows occurring over lighter colors, but other images appear clearer. 
Check out Gazelle for your next smartphone upgrade. 
Ultimately, your final device selection will come down to your preferences in photo quality, user interface, and other manufacturer-specific benefits. While the Night Mode camera Samsung provides takes rich, dramatic photos, it sometimes overexposes daytime imagery, which many users prioritize over nighttime photos. Of course, if you prefer using a phone's Night Mode to capture a concert or an evening out, the iPhone's version may not provide the color warmth you want. 
Whether you prefer the photos the S23 or iPhone 14's Night Mode takes, you can trust Gazelle when finding your next device. We offer refurbished and lightly used devices that we back with our extensive testing and quality assurance processes. When you know what phone you want next or need help picking out your next upgrade, look to Gazelle for the best deals.
Comments
comments