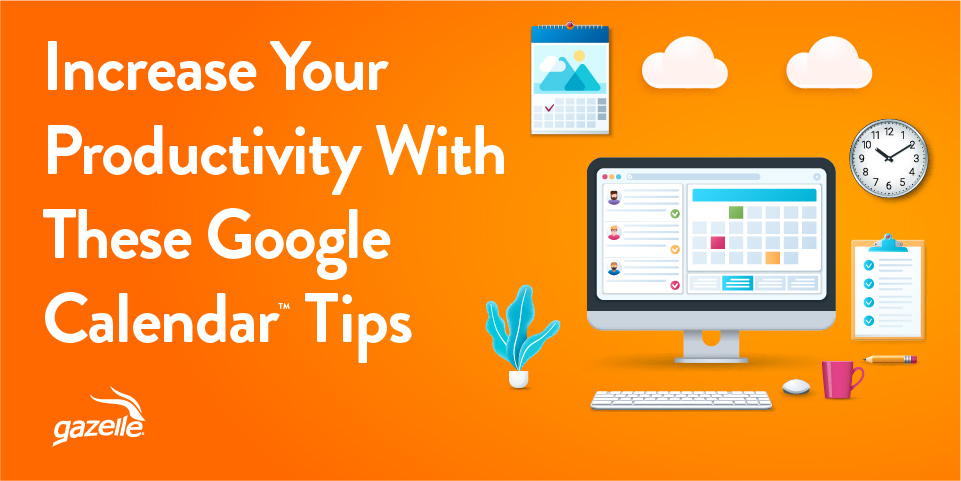 While Google Calendar is a widely used tool for scheduling, planning, and organizing, it comes packaged with many features that the average user may never try. Though the app's bread and butter may be simple events and reminders, it can also help you keep track of your agenda, quickly set tasks, and import holiday calendars that are a breeze to follow. 
Whether you're getting started with Google Calendar features for the first time on a new device, or you're looking to boost productivity, using a few of our favorite Google Calendar features and tips can help you improve efficiency and increase productivity while making the most of handy automation tools that keep you on schedule. 
Schedule group meetings and video calls. 
Google makes scheduling meetings from your calendar easier than many other platforms. Google Meets are an intuitive way to connect with others on video calls, whether you're reaching out to classmates for peer review or incorporating video chats to improve productivity in the workplace. 
Once you've created an event, click on it and navigate to "more options." This is where you'll get the chance to add conferencing, including Hangouts and Meets links that go out to anyone with an event invite. When you're done adding conferencing, you can start adding attendees and guests without leaving the Google Calendar app. 
If an event attendee is already within your contacts list, Google Calendar will autofill their email when you start typing it in the invite field. Otherwise, you'll have to manually add guests and confirm invites. Using Google's Hangout functionality is the best way to save time, especially if you don't want to pay for Zoom sessions that go beyond 40 minutes or you don't want to connect a third-party video conferencing app with your email and calendar. 
Set automatic reminders for tasks and events. 
While having a calendar that holds all of your classes, meetings, and upcoming events is helpful, it's also beneficial to get reminders, especially when you book something like a concert or a dinner reservation several months in advance. Luckily, Google Calendar features make it simple to set automatic reminders for any of your tasks or upcoming events. 
From any event or task's settings menu, you can navigate to event notifications and start to customize your reminders. For some events, you may want to set reminders an hour before. For a big vacation that requires you to miss classes or work, you can consider setting your reminder several days in advance to give you time to pack, plan, and organize. 
Quickly plan recurring events or extended calendar alerts. 
By dragging your cursor across your weekly or monthly view of the Google Calendar, you can quickly set up events or reminders that span several days all at once. This tip is incredibly helpful for blocking off study periods, setting up a weekly work schedule, or adding recurring tasks to your ongoing calendar. 
When you've set up an extended event, you can adjust it like any other calendar event or task. There are options to invite people, set reminders, add locations, and more. This is one of the best Google Calendar tips for students because it makes it easy to set up regular study periods or daily class times you want to track. The drag-and-drop functionality also benefits work productivity, especially when you're scheduling a time that you will be out of the office or out visiting an industry conference or event. 
Send yourself a regular agenda. 
Using your Google Calendar's automated email settings, you can plan it so the app sends you your daily itinerary at the start of each morning — or even the night before. If you're someone who benefits from looking at your entire day before diving into work, school assignments, or classes, you'll enjoy the agenda feature. 
Under the general settings menu, you'll spot an option listed as "Settings for my calendars." If you click that and go to "General Notifications," you'll find the option to set a schedule for your agenda. Using a daily agenda feature is one of the best productivity hacks if you're juggling a challenging class schedule, balancing school and work, or attending several meetings every week. 
Add holidays to your calendar view in a few simple steps. 
Using existing calendar views, you can keep track of national holidays and fill in the gaps with any additional days your school or workplace observes. When you log into Google Calendar, you can navigate to the three dots next to "My Calendar" and go to the "Settings & Sharing" option. 
Once you're here, you'll see an area to add a new calendar. When you click that, Google shows you several options, including religious and regional calendars. While the default in many areas is the Christian holiday calendar, Google offers one for every religion, which makes it easy to observe classmate and employee holidays. You can also filter by holidays in your specific country or region to add any to your calendar that may not fall under a religious category. 
Along these lines, you can easily view world clocks on your default Google Calendar. Using the world clock makes it easy to keep track of remote coworkers in different timezones, exchange students, or friends you met while studying abroad. 
View classmate and coworker schedules in a few quick clicks. 
If you're setting up a Google Calendar as part of a workspace with other members, it's easy to take a quick look at their schedules. By sharing classmate or coworker schedules, you can quickly find time to collaborate, meet over projects, or connect on questions and concerns. You can also see when your colleagues are busy or out of the office, so you don't contact them on those days. 
To view someone else's schedule in a shared workspace, look for the field on the left-hand side of the Calendar screen that says "Add Calendar." Then, start typing your classmate's school email or your coworker's professional email into the field. Unless the user has open permissions on their calendar and events, you'll have to request access and wait for the calendar owner to grant it. 
Keep your tasks separate from events and other calendar items. 
Google Calendar features aren't strictly for setting up events and meetings. You can also set reminders, recurring tasks, and to-do items. The app recognizes these as distinct options within the platform so you can quickly tell the difference between tasks, upcoming Google Meets or Zoom events, and your average calendar item. 
The task features within Google Calendar enable you to boost productivity by setting to-do lists, sub-tasks, and due dates. Of course, you can also set reminders for these, so you know when you have an upcoming task or milestone due date. 
Schedule breaks, downtime, and focus time. 
Technology makes it easier than ever to connect at all hours of the day. However, if your calendar reflects round-the-clock availability, it could lead you to overscheduling or overcommitting to plans, events, and meetings. At best, this can create scheduling conflicts. At worst, it can lead to burnout and unhappiness. 
Though it's not necessarily a productivity hack, one of the best Google Calendar tips and tricks for students and workers alike is to build break time, study time, or focus time into your day. Set aside periods of different days where you need alone time to work or time away from meetings. You can increase productivity by taking regular breaks to refresh and reorganize if required. 
Sync your Google Calendar with your phone. 
Perhaps the best way to stay on top of your schedule is to always keep it with you. By downloading the Google Calendar app on an Android or Apple device, you can get alerts, notifications, reminders, and event invites sent directly to your smartphone. Plus, the calendar has enough smart settings to pause from refreshing or updating unless connected to WiFi, so you don't use up data. 
Though Google apps work exceptionally well with Android devices, iPhones allow you to import your Google Calendar directly into your iPhone calendar so you can see events, contacts, and emails at a quick glance. 
Make the most of your calendar with a device from Gazelle. 
Between scheduling downtime to help you optimize your workflow and using a smartphone app to set up video conferencing with classmates and coworkers, there's so much you can do with our Google Calendar hacks. Using a few handy tips can help you boost work productivity and school efficiency so you're making the most of your time. 
Google Calendar works best on compatible devices like laptops and smartphones. Having Google Calendar on your smartphone makes it a cinch to keep track of your schedule, plan meetings, and organize your days. When you're ready to maximize the benefits of this calendar application, you can reach out to Gazelle to find the perfect device upgrade to match. 
We have dozens of certified pre-owned smartphones, laptops, and other electronic devices that work with Google Calendar. Our devices pass a thorough 30-point inspection and come backed by our guarantee. Take a look at Gazelle's inventory today if you're ready to find your next device packed with productivity hacks.
Comments
comments