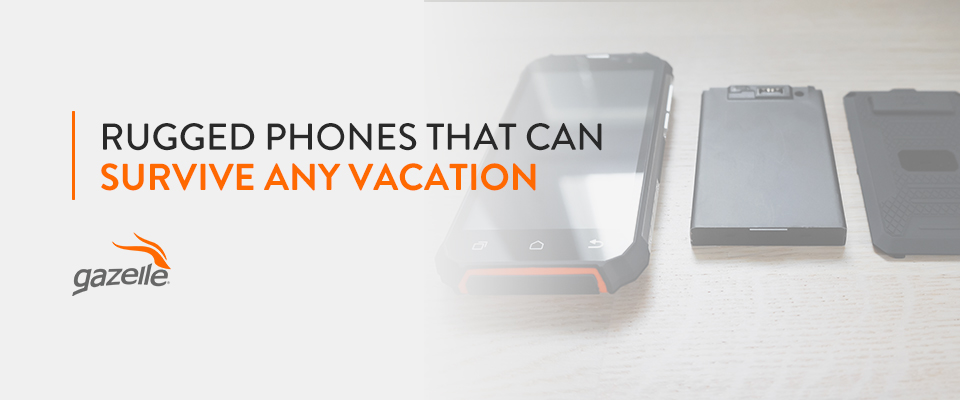 Whether you're getting ready for the road trip of a lifetime and you'd rather not break another smartphone, or you're investing in a new device for the first time in a few years and want something that's built to last, you've probably considered something like a rugged smartphone before. 
The nice thing is you don't necessarily need to purchase the toughest cell phones on the market to get the benefits of high-quality materials, shock resistance, and waterproofing. Even base models of the Samsung Galaxy and iPhone line of devices have enough features to make them more damage-resistant than older smartphones and other electronics. 
When you're ready to splurge on an upgrade or treat yourself to a renewed smartphone backed by a rigorous quality guarantee, there are a few things you should know about rugged phones, what makes a strong phone, and which are the toughest ones on the market right now.
What are some factors that go into making a rugged phone? 
Between drop tests and water resistance tests, manufacturers put a lot of time, energy, and research into ensuring even their flagship devices can withstand wear, tear, and the occasional splash. 
Modern phones typically have to pass drop ratings at around six feet, and most flagship devices come with some degree of water resistance, though proper waterproofing still doesn't exist. A rugged device should also resist other liquids, dirt, grime, and extreme temperatures. 
Many devices rely on materials like stainless steel, ceramic, and Gorilla Glass to create tough smartphones that can withstand everyday wear and tear alongside the occasional drop or bump. Some devices even come with built-in bumpers or rubber housings, though these are typically specialized devices that may miss out on some bells and whistles. 
What are the toughest cell phones on the market? 
There are entire lines of rugged phones, satellite phones, and tough smartphones on the market that sacrifice vital device features, style, and form to prioritize durability and functionality. While these are suitable devices for many demanding physical jobs and high-risk professions, the average smartphone user won't necessarily need a device classified as "rugged." 
So, outside of so-called "rugged smartphones," what are the toughest phones out there? Most often, they boil down to the two major manufacturers, Samsung and Apple. Modern iterations of both Samsung's Galaxy line and Apple's iPhone include added features and quality materials that lessen the severity of drops, scratches, and plunges. 
Each manufacturer even offers premium editions of their flagship devices—the + and Ultra lines for Samsung and the Pro and Max lines for Apple—that boost the form factor further and add some welcome toughness to already fairly durable devices. Of course, premium materials can mean premium pricing, so factor that in when you're budgeting for a new smartphone. 
Samsung Phone Durability
At first glance, there isn't much to distinguish different Galaxy models except for their size. However, premium models often incorporate premium materials, design features, and add-ons that can impact durability and drive up costs. Here are some of the differences between the existing Galaxy models. 
Galaxy S21: The Galaxy S21 is a durable phone with a strong build quality. It has a Gorilla Glass Victus display that is resistant to scratches and drops, and it is also water-resistant. Regarding drop tests, the Galaxy S21 often fares well, with most users reporting that it can survive a fall from a height of up to six feet without sustaining any significant damage. However, you should note that no phone is completely indestructible, and there is always the possibility of damage if you drop your phone from a high enough height or onto a sharp corner or hard surface. 
Galaxy S22: The Galaxy S22 is a durable phone with an Armor aluminum frame and Gorilla Glass Victus+ housing for a bright, crisp screen. It has an IP68 water resistance rating, so it can withstand being submerged in water up to 1.5 meters for up to 30 minutes. The S22 also uses a six-foot drop test, so it should be able to withstand a few bumps and bruises.
Galaxy S23: The Galaxy S23 is a durable phone made with Gorilla Glass Victus 2 on the front and back. It also has an IP68 water resistance rating. The Galaxy S23 typically holds up well in drop tests, though it's possible to crack the screen or damage the housing on a nasty drop. Even with a more rugged smartphone, you should invest in a suitable case and screen protector to maintain device longevity. 
As you can see, Samsung uses high-quality materials in its flagship lineup. But how do Samsung devices stack up against Apple's iPhone family competitors? 
iPhone Durability
While many of Apple's flagship devices rely on similar builds and materials, there are notable differences between the iPhone models. 
iPhone 12: The iPhone 12 is a durable phone. It has a tougher Ceramic Shield front cover than many entry-level smartphone covers. It also has an IP68 water resistance rating, meaning it can withstand being submerged in water up to six meters for up to 30 minutes, though this doesn't necessarily mean you should dunk your device when you're at the beach. 
iPhone 13: The iPhone 13 isn't a significant departure from the 12 because it uses a Ceramic Shield front cover and has an IP68 water resistance rating. Regarding drop tests, the iPhone 13 performs well and survives drops up to six feet onto concrete. However, a significant drop can still harm the phone. 
iPhone 14: The iPhone 14 is a durable phone, but it is not indestructible. It is made of glass and aluminum, both strong materials, but they can be broken if dropped or hit hard enough. The iPhone 14 also has a Ceramic Shield front cover, which is supposed to be more resistant to scratches and cracks than previous iPhone models. However, even with the Ceramic Shield, the iPhone 14 is still susceptible to damage if you don't handle it carefully or use a case and screen protector to cover your device. 
If you end up purchasing an Apple device, you'll get the benefit of high-end materials, though Pro and Max models have the advantage of stainless steel that gives devices an added bit of protection and a premium in-hand feel. 
Samsung Phone Water Resistance
Samsung Galaxy phones are water resistant but not waterproof. This means that they can withstand being splashed with water or being in light rain, but you shouldn't submerge your device for any reason, even if you're going on a tropical vacation and want to take the perfect underwater snapshot. Here are some tips to keep your Samsung Galaxy phone water-resistant:
Do not expose your phone to high-pressure water jets, such as from a hose or a waterfall. While a waterfall selfie may sound like the perfect photo-op, a broken phone quickly spoils a summer vacation. 

Do not clean your phone with water or any other liquid. If you need to clean your phone, you should use a soft cloth and gentle motions. 

If your phone gets wet, immediately dry it with a microfiber cloth or another soft fabric. Avoid using materials like shirts, which can be rough and scratch your phone screen or housing. 
If you are unsure whether your Samsung Galaxy phone is water resistant, it's better not to risk it. Some older models may not handle wetness all that well, and you don't want to lose important data.
iPhone Water Resistance
iPhone water resistance is a feature that has been available on iPhones since the iPhone 7. The iPhone 7 and later models are all water resistant to a depth of 1 meter for up to 30 minutes. This means you can use your iPhone in the rain or even keep it within arm's reach when swimming without worrying about water ruining your device, wiping your data, or impacting your screen.
However, it is important to note that water resistance is not guaranteed and, much like the Samsung Galaxy line of devices, isn't the same as waterproof. If you submerge your iPhone in water for too long or expose your device to intense water pressure, it can easily damage your phone. You should also avoid exposing your iPhone to salt water as it can cause the aluminum (or steel) housing to corrode and even rust, leaving you with an unsightly phone. 
If you are concerned about water damage to your iPhone, you can purchase a waterproof case. This will help protect your phone from water damage, even if you drop it in the water or submerge it for longer than recommended. 
Pick out the strongest smartphone at Gazelle. 
While there may not be such a thing as an unbreakable phone, you can still find a strong phone when you shop the certified pre-owned lineup at Gazelle. We use a 30-point inspection to ensure all of our devices pass our incredibly high standards. 
When you're ready to upgrade your device to one that's ready for the beach, a road trip, or a camping excursion, we're here to help. Contact Gazelle to learn more about the rugged phones available in our inventory or to get a fresh smartphone today.
Comments
comments