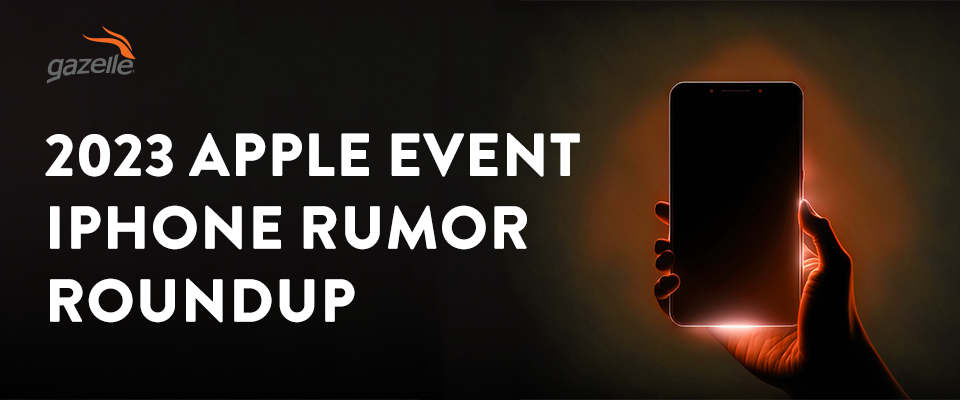 As it creeps ever closer to September, that can only mean one thing for tech enthusiasts: a new iPhone launch. Traditionally, Apple observes a September launch window for their flagship devices, and we have no reason to assume they'll switch things up for their 2023 release. While we await what Apple confirms for the iPhone 15's specs, features, and colors, we have plenty of rumors, leaks, and whispers to sift through. 
From base model and Pro bezel rumors to potential updates to the Dynamic Island and charging compatibility, here are a few things to look out for ahead of the rumored iPhone 15 launch in September 2023. 
Prepare for the switch from Lightning charging to USB-C. 
One area where Apple often falters is in charging compatibility. iPhones traditionally relied on proprietary Lightning chargers, part of the manufacturer's efforts to create a walled-off iPhone ecosystem. However, with shifting charging standards and regulations, the rumored iPhone 15 Pro and Max lines are reportedly jumping to USB-C with USB 3.2 support.
This means that users are liable to get much faster charging and data transfer speeds. In contrast, the rumored base iPhone 15 model will likely still support USB-C with a cap at USB 2.0 compatibility, much like the existing Lightning-based models. 
Thinner bezels are on the horizon. 
Apple has followed a fairly standard template for iPhone releases for a few years. While there have been cosmetic changes here and there, the manufacturer hasn't tinkered too much with bezels, shapes, and sizes outside of the standard differences between base and Pro models. 
As rumored by Apple Insider, the smartphone manufacturer is set to use new techniques to effectively shrink the display border from 2.2mm to 1.5mm, which may sound small but offers a notable increase in viewable screen size. We may see Apple attempt similar adjustments with its iPads depending on how this process works out. 
Expect camera improvements across the board. 
A new iPhone release naturally comes with camera improvements, enhancements, and adjustments. Previous iPhone models boast robust cameras but limited optical and digital zoom features, particularly when compared to Samsung's Galaxy lineup. However, Apple looks to remedy that with rumored iPhone 15, including potential enhanced zoom features on the Pro and Max models, which may release behind the base 15. 
However, there is one caveat to the improvements rumored for the Pro and Max lines: price hikes. Though the iPhone 14 didn't hit a significant price hike during its release window, rumored  iPhone 15 models likely will. 
A few miscellaneous rumors may or may not come true. 
Including alleged manufacturing delays due to underperforming LG screens, customizable action buttons, and a more repairable design, some of the upcoming iPhone 15 rumors remain to be seen. One of the most significant potential improvements is increased LiDAR Scanner capabilities for better AR and nighttime performance. Apple will also likely move to an e-SIM-only model for several more countries after it started doing so in the United States with the iPhone 14 release.
Get the newest iPhone models for a fraction of the price at Gazelle. 
Often, iPhone launches come with high price tags and a bit of sticker shock. If you want to get your hands on the rumored iPhone 15 after launch, consider trying a gently used and certified model from Gazelle. We stock dozens of different iPhones, Galaxy devices, and other electronics that pass our rigorous 30-point inspection process. 
Each device comes backed by our quality guarantee, and we want to ensure that you find a smartphone you'll love. Take a look at Gazelle's inventory today and learn more about our device renewal process and the upcoming iPhone 15 release.
Comments
comments