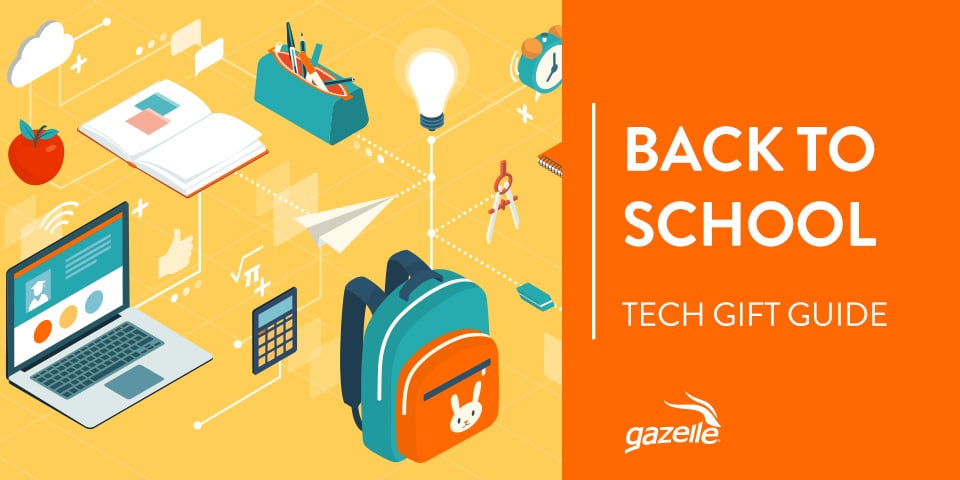 Back-to-school season is the perfect time to upgrade your devices and treat yourself to gadgets that can help you stay productive and efficient both in and out of the classroom. From some of Gazelle's top-sellers like the iPhone 14 Pro Max and the iPad Air 5 to wireless headphones like Galaxy Buds and Airpods, here are ten of our favorite back-to-school tech finds that are perfect for any student or teacher.
1. iPhone 11
If you're looking to upgrade your outdated smartphone without breaking the bank or you have to focus on other school supplies like pens, pencils, and notebooks, switching to a certified renewed iPhone 11 can help you save money and stay connected. You'll still get all of Apple's quality build design and robust OS without spending big bucks on the latest devices. 
2. Fitbit Inspire 3
When you're walking between buildings on your college campus or popping between classrooms at your high school, you're sure to rack up plenty of steps. Keep track of your overall activity and fitness progress with a smartwatch or fitness tracker like the Fitbit Inspire 3. It makes for a great back-to-school gift for anyone on your list. 
3. iPhone 14 Pro Max
In the mood for a tech splurge? If you want to stay within the iPhone family but want a newer device with some of Apple's finest bells and whistles, you could consider a gently used iPhone 14 Pro Max. Gazelle provides a rigorous 30-point inspection for all of our renewed devices, so you can rest assured you're getting a high-quality smartphone without the big ticket prices. 
4. Airpods or Galaxy Buds
Between listening to podcasts during a heads-down study session and jamming out to music on the way to and from class, wireless earbuds make for an excellent back-to-school accessory. Galaxy Buds offer the more traditional earbud experience, but Airpods pair seamlessly with Apple devices. 
5. iPad Air 5
Unlock increased productivity while maintaining ultimate portability when you invest in a certified pre-owned iPad Air 5 from Gazelle. The iPad Air 5 boasts the Apple M1 chip in several colors. Combine that with the device's 10.9" screen and rich colors, and you have a great tablet for working, studying, and relaxing. 
6. MagSafe Battery Pack
If you want on-the-go charging capabilities that aren't going to take up your entire backpack, you should invest in a power bank like the MagSafe Battery Pack. This device works best with Apple products, so it would pair naturally with the iPad Air 5 or a new iPhone to unlock extra hours of studying, streaming, or scrolling. 
7. JBL Charge 5
Portable speakers are great for students and teachers alike, whether playing music for the classroom, listening to songs while studying, or curating a playlist for your friends after school. Try a high-quality portable speaker if earbuds aren't your style. 
8. Logitech C920s Webcam
Stay connected, attend remote classes, and work on group projects with classmates when you invest in a reliable HD webcam. The Logitech C920s might not give you crystal-clear 4K resolution, but it provides HD video at a fraction of the price of a 4K webcam. 
9. Galaxy Z Fold4
Get in on one of the most unique and exciting tech trends when you opt for a Galaxy Z Fold4, a hybrid phone and tablet from Samsung. Folded, the device resembles your traditional smartphone. Unfold it, and you get double the screen space, making it great for streaming, reading notes, or playing games during downtime between classes. Gazelle offers the Z Fold4 certified renewed, which is much cheaper than retail.
10. Kindle Scribe
Read, write, journal, and stream from a Kindle Scribe. It takes the traditional e-book model and adds several exciting productivity features that make it a significant advantage in the classroom. Take notes, annotate books, and keep track of your place in texts to stay focused and on pace with your syllabus. 
Gazelle can help you find back-to-school deals. 
Whether you're looking for a smartphone, tablet, or laptop, you can save big this back-to-school season when you shop at Gazelle. Choose between dozens of certified renewed and inspected electronics that come with our seal of approval. To learn more about our exciting back-to-school finds, take a look at our inventory today.
Comments
comments