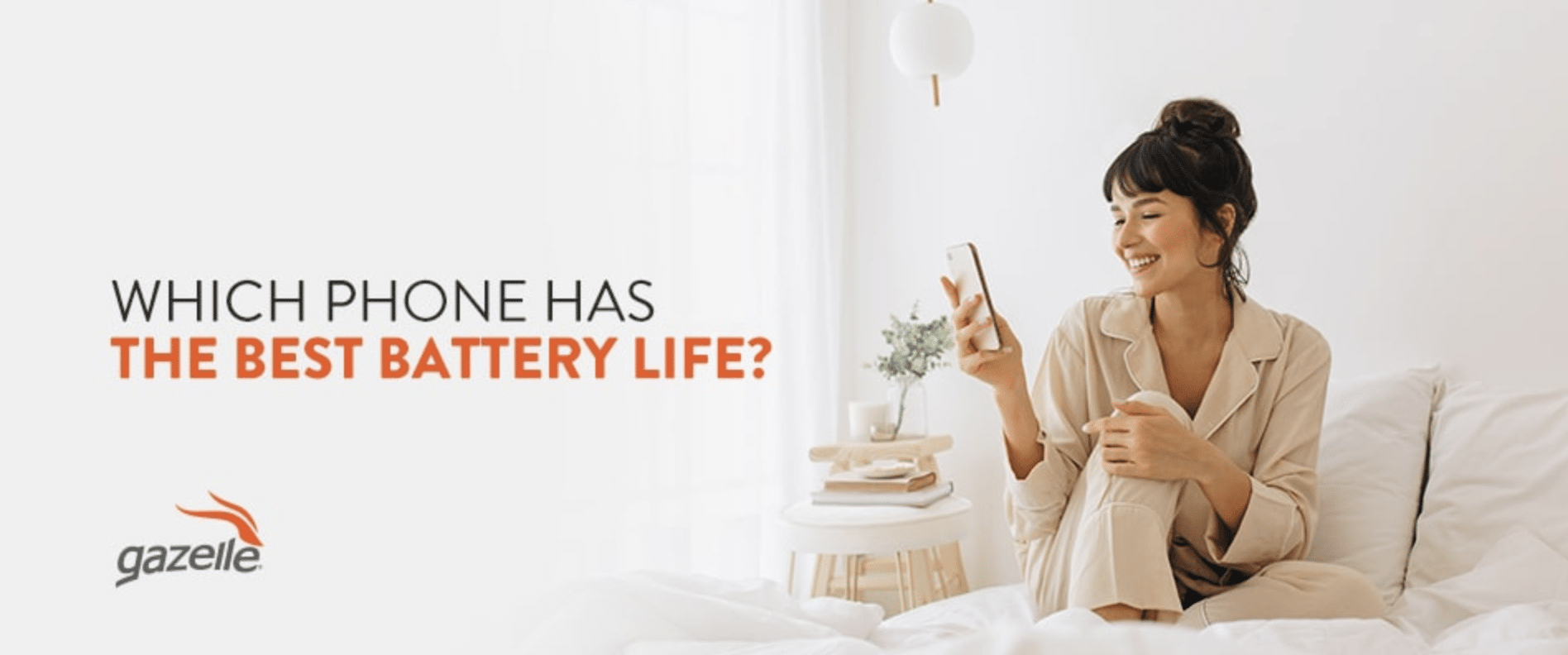 As phones get more advanced, all those flashy features call for more power and bigger batteries. It's a constant balancing act as manufacturers add new capabilities while making phones more efficient. Whether you're looking to spend $100 or $1,000, you can find a phone with a battery that meets your needs. To help you sift through the noise, we've put together a list of cell phones with the best battery life in 2023.
Factors That Affect Battery Life
Before we dive into which phones get the most battery life, there are a few things you should know about how we measure and discuss smartphone batteries. It's tough to say exactly how long any phone will last someone because there are tons of factors at play. While we can tell you the size of a phone battery in milliamp-hours (mAh), that value will mean something very different between devices, people and even environments.
Simply put, your mileage may vary. Below are some of the factors that can affect it.
1. Temperature and Age
Temperature and age are two elements that can bring down even the best phone batteries. Batteries are all about chemical reactions, and over time, these chemicals can break down and the reactions become less efficient. Heat is a major reason for that. Even if you keep your phone at room temperature its whole life, the electronics in the phone produce heat, which affects the chemicals in the battery.
Manufacturers often specify how many charge cycles a battery supports and offer data on your battery's health so you can see where you're at and whether it's time for a new one.
2. Hardware
Unsurprisingly, the kind of hardware your phone uses also affects how much juice it needs. Some components that can affect battery life include:
Displays: Your phone's display is one of the biggest culprits in reducing battery life. A huge, bright screen typically pulls more power than something smaller and dimmer. Characteristics that increase demand include size, brightness, resolution and refresh rate. Still, a phone with a large screen usually has more room for a bigger battery. You can often extend battery life by dimming your screen or reducing the refresh rate.
Processors: The processor underpins everything your phone does, and modern processors make a big difference in how long your phone's battery lasts. With every version, manufacturers learn to use power more efficiently and make the chips smaller, leaving room for bigger batteries.
External connections: When your phone gets a Wi-Fi or cellular signal, it uses certain hardware components that increase power demand. A common reason for a fast-draining battery is a phone that can't get a good signal. When there's no connection, your phone will keep trying to check for better signal strength, pulling more juice every time.
Camera: While a camera isn't particularly power-hungry, it's still an extra piece of hardware. Some of the processing from the software can also use more of your battery life.
Other hardware: Even small components like speakers or flashlights will slowly but surely reduce battery life.
3. Use Habits
How you use your phone affects how long it lasts in day-to-day use and the overall life span of the battery. Of course, if you play games all day long, your phone will die faster than if you let it sit idle. Some apps are more power-hungry than others, namely those that use demanding graphics, like games and photo apps, or those that frequently need to fetch data, like GPS or video streaming platforms.
Apps that run in the background, like music players or weather forecasts, will use some power. Still, they're well-optimized, so unless you run a lot at once, they shouldn't be much of an issue.
When it comes to long-term battery performance, how you charge your phone is significant. Batteries are complicated, but chemistry tells us to shoot for a sweet spot, about 20%-80%. If you always keep it plugged in or let it die every day, you're not doing your phone any favors. Most modern phones have smart charging tech to help you stay in that optimal range.
For example, Apple® iPhones can quickly charge up to 80%, then switch to trickle charging, which moves more slowly and is better for the battery. Many smartphones can also learn from your usage to optimize charging. If you leave your phone plugged in overnight, it might spread out the charge. Onboard power features are another reason smartphone manufacturers want you to use their official chargers. No-name brands might not have the same hardware required to run those optimized power tools.
10 Phones That Have Great Battery Life
Now that you know the nuances of smartphone batteries, we can dive into the best phones for battery life. Most phones on the market today tout "all-day battery life." For all the reasons we just went over, battery life can vary widely, and mAh capacity isn't a good measure of how long a phone will last.
All-day battery life is, as it sounds, a way to describe a phone that should last the average user the whole day or longer. It assumes you use a good mix of features, like some phone calls, some videos and some web browsing. As you explore the best smartphone for your needs, look beyond the mAh capacity and consider how many hours of use you can get. Manufacturer specs are usually pretty close, but you can also look at third-party tests for more details.
1. Apple® iPhone 14 Pro Max
First on our list is the latest and greatest from Apple. The iPhone 14 Pro Max is the largest option in the current lineup, meaning it has room for the biggest battery — almost. The iPhone 14 Plus slightly outperforms it in audio playback. Still, the 14 Pro Max delivers a whopping 95 hours of audio playback and up to 29 hours of video playback on a single charge.
Like most iPhones on this list, it offers MagSafe and wireless Qi charging. You can fast-charge the 14 Pro Max up to 50% in about 35 minutes.
All of that power goes toward some impressive features, such as:
An Always-On display: Even though the display is always on, Apple's technology makes it super energy-efficient, so it still shows you the basics without draining your battery.
ProMotion technology: This feature adapts your phone's refresh rate, which affects how smooth movements on your phone appear. Normally, high refresh rates kill the battery faster, but ProMotion brings it down to save power when you're not using it.
Dynamic Island: This one won't affect your battery much, but it's still a cool new addition to the iPhone 14 Pro models. The Dynamic Island surrounds the small pill-shaped cutout that houses the camera tech in your screen. The screen behind it changes its shape and contents based on what you're doing.
Satellite-based Emergency SOS: Apple's had Emergency SOS for a while, but you previously needed a cell signal for it to work. Now, it works via satellite. If you go off-grid, this tool can help get you out of a tricky situation.
As usual, the Pro Max sports the high-powered Pro camera system and a new processor. In 2022, that was the A16 Bionic chip for fast, battery-boosting performance. While it is the priciest of the iPhones, you can snag a used 14 Pro Max in the mid-$900 range.
2. Apple® iPhone 13 Pro
The iPhone 13 Pro still gives you Pro-level features and long battery life without the high price tag. This smartphone should provide up to 75 hours of audio playback and 22 hours of video playback. It won't have the Always-On display, Dynamic Island or satellite SOS of the 14 Pro Max, but it does offer ProMotion tech and the Pro camera system, with 12MP Main, Ultra Wide and Telephoto lenses. Plus, it's plenty fast with the A15 Bionic chip, released in 2021.
A used iPhone 13 Pro starts at under $500.
3. Samsung Galaxy S22 Ultra
If you're more of an Android fan, check out the Samsung Galaxy S22 Ultra and its big 6.8-inch screen. Despite a slim design, it packs in a big 5,000-mAh battery, which comes out to about 32 hours of talk time and 18 hours of video playback. It's one of the few smartphones available with a built-in stylus, and its camera truly shines with exceptional night photography and a 108-megapixel (MP) wide-angle camera. It even offers 10x optical zoom and 100x digital zoom to capture faraway scenes.
This Android smartphone supports super-fast charging and even offers Wireless PowerShare, which lets you use your phone to charge other devices. Another feature you won't find in iPhones is a fingerprint scanner embedded in the screen.
Get all of these high-performing features in a used Galaxy S22 Ultra starting at under $500.
4. Google Pixel 6 Pro
The Google Pixel 6 Pro is another big-screened device with a huge 6.7-inch display. It sports a 5,003-mAh battery which translates to about 34 hours of average battery life. However, the Pixel 6 Pro also has an Extreme Battery Saver mode, which Google says can stretch battery life up to 48 hours. Like the S22 Ultra, it has a battery-sharing feature and fast charging. You can even use fast wireless charging.
It also offers:
Adaptive refresh rates
A top-tier camera system with 50MP wide, 12MP ultrawide and 48MP telephoto cameras
The powerful Google Tensor processor
12 gigabytes (GB) of random access memory (RAM) to power intense apps like games
An always-on display
A fingerprint scanner
You can snag a used Google Pixel 6 Pro for over $600 off the retail price, starting at $289.99.
5. Apple® iPhone 13 Pro Max
The iPhone 13 Pro Max is about on par with the 14 Pro Max when it comes to battery life. Being from the year prior, it comes at a much lower price but with many of the same powerful features. You won't get some of the newer features like the Always-On display or the Dynamic Island, but you get ProMotion technology, a Pro-grade camera system and a speedy A15 Bionic chip.
If battery life is your biggest concern, the 13 Pro Max isn't much of a downgrade, with just one hour less of video playback. It offers 28 hours versus the 14 Pro Max's 29 hours, and a used iPhone 13 Pro Max starts at less than $700.
6. Samsung Galaxy S20 FE 5G
On a budget? The Galaxy S20 FE 5G packs a surprising amount of power at a low price point. Its 4,500-mAh battery offers about 15.5 hours of video playback and 33.5 hours of talk time. You can use super-fast charging, fast wireless charging and Wireless PowerShare. This 6.5-inch smartphone comes in many fun colors and offers an excellent camera system with stunning night mode photos and 30x Super Resolution Zoom.
Snag a used Galaxy S20 FE in the mid-$100 range for an impressive bang for your buck.
7. Apple® iPhone 14
The iPhone 14 may be small, but it offers plenty of battery life for most users, especially if it's on standby. You can expect up to 80 hours of audio and 20 hours of video playback, along with fast charging in 30 minutes, MagSafe and Qi wireless charging. In lieu of those flashy Pro features, you can expect to save big. Plus, you still get the fast A15 Bionic chip.
Prices for a used iPhone 14 start at under $700.
8. Samsung Galaxy Z Fold3
A big, bright screen doesn't mean sacrificing a long battery. The Galaxy Z Fold3 opens up like a book into a 7.6-inch screen, making it both portable and powerful. It even works with Samsung's S Pen. The 4,400-mAh battery lasted in tests for about 9.5 hours of web browsing and seven hours of video streaming. While that's a far cry from some of the other phones we've covered, it's not too shabby for such a big screen.
It may have retailed for over $1,000 originally, but you can get a used Galaxy Z Fold3 for under $500.
9. Apple® iPhone SE 3rd Generation
The iPhone SE is certainly not the longest-lasting phone on our list, but it's an affordable way to get the updated Apple experience in an all-day battery. A single charge can last up to 50 hours for audio playback and up to 15 hours for video playback. The SE has an older design, complete with a fingerprint-scanning home button, but it runs on the same processor as the standard iPhone 14 models and supports the latest operating system.
Like the other iPhones, the SE offers wireless charging and fast charging, but it doesn't support MagSafe accessories. Still, at a price point in the mid-$200s, a used iPhone SE is a steal.
10. Samsung Galaxy S21+ 5G
At the end of our list is the Galaxy S21+, with its 6.7-inch display and all-around solid performance. It has an impressive camera system, adaptive refresh rates and a 4,800-mAh battery. Samsung says that will give you up to 75 hours of audio playback.
You can grab a used S21+ 5G for just over $200.
Grab a Long-Lasting Smartphone for Less
If your smartphone battery just isn't cutting it, you may be ready for a new one. You can technically replace batteries, but it's usually more expensive than it's worth, especially considering the pace at which technology evolves. Whether you're a power user or just need something to last the day, Gazelle has plenty of options.
Choose from our selection of used smartphones and save big without the hassle of buying from strangers. We offer easy 30-day returns, financing options and transparent listings. Explore our used phones today to find one that will last you all day long and then some!
Comments
comments