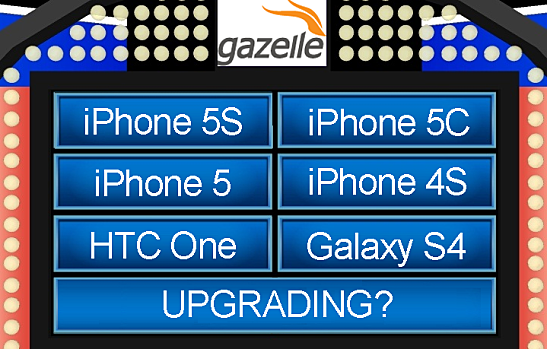 Over the past six years, each new iPhone Apple has unveiled seems to outshine the last. Whether it is an "S" type upgrade or a complete redesign, Apple fanatics will lineup for days to get their hands on the new model. Here at Gazelle we wanted to find out just who is upgrading to the latest iPhone, and for what reason. We all know that many of us just have to have the latest and greatest device in their pocket, but for some of us it is more than that. Things like specs, style, iPhone upgrade eligibility, and increased competition from Android can drastically impact one's decision when it comes iPhone upgrade time. Even the much anticipated new gold iPhone could cause many to upgrade early. So let's dive into the data and see just what our Gazelle customers are saying.
Of the 881 respondents Gazelle heard from in a recent survey about the upcoming iPhone launch, a clear majority (66%) say they don't think technology improves enough to warrant buying a new phone each year. However, an overwhelming 85% tell us they are likely or very likely to buy the new iPhone when it's available, regardless. iPhone users aren't just passionate, they're fanatic for Apple products. If Apple were to leverage this passion to other product categories (like an iWatch or Apple Television), the growth potential for the Cupertino giants could be staggering.
So what are the real reasons why consumers want to upgrade their iPhones? We pulled the top three reasons below.
The excitement of a new iPhone doesn't last long, with more than 70% of respondents telling us the appeal wears off within a year and 33.1% stating it wears off within the first few months. It seems like Apple does a great job of creating that initial hype around new products driving people to upgrade. Other brands such as HTC, Samsung, and Sony have had difficulty building the same kind of buzz around their devices at launch, even though they produce popular devices (HTC One, Galaxy S4, and Xperia Z).
Perhaps most telling is that consumers are still very much in a wait-and-see mode. There has been limited details on the actual features of the next iPhone. Traditionally with an "S" type upgrade we see bumped up internal specs such as faster processor, more RAM, and better camera. A groundbreaking feature such as Siri 2-years ago is still yet to be confirmed, although some think it could be a fingerprint scanner for security. It looks like we will also have a new low-cost iPhone model to consider, as well. Low-cost iPhone rumors point to a $400-$500 price point but there are not too many details on the actual features yet. The one thing we do know is that the iPhone is coming in September, and that it will cost less than the top model. So is the lower cost worth the upgrade? Here is what our survey tells us –
66.1% said they'd consider upgrading to the next iPhone
85.2% said they're likely to buy a low-cost version of a new iPhone
14.9% said they would not consider buying the low-cost model
So what about all those customers with broken iPhones out there? We all know someone who still uses an iPhone with a fully cracked screen. Almost half of respondents said the first thing they do when their phone breaks is try to get it fixed, then they'll try to get cash for it (about 20%).
When looking at our survey data, it is no surprise that nearly three quarters of the respondents stated they traded in their old device the last time they upgraded to a new one; this tends to happen primarily on a two-year basis (64.8%). Gazelle customers are incredibly tech savvy and know how to use that old device to help fund their new purchase. So make sure you lock in your trade today, so you are well prepared come iPhone time in September. Our Gazelle 30-day price lock also means you can hold on to your old device until you have your new one in hand!
[cf]skyword_tracking_tag[/cf]
Comments
comments