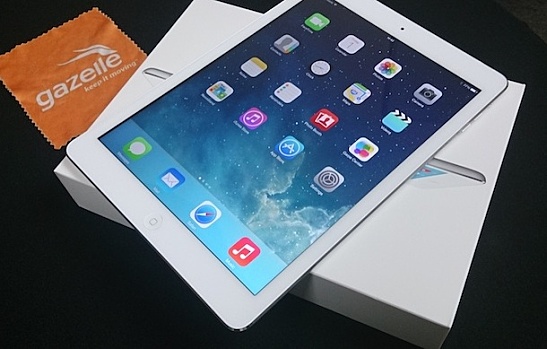 All the biggest tech news and rumors from the world of Apple and Android are discussed in this week's edition of "Last Week In Tech".
Apple News and Rumors:
Apple Q4 2013 earnings: 33.8M iPhones, 14.1M iPads, $37.5B revenue
Apple announcedduring its fourth quarter of 2013, it sold 33.8 million iPhones, beating Wall Street expectations of 31 million. It also sold 14.1 million iPads and garnered $37 billion in revenue.
Revenue: $37.5 billion
EPS: $8.26
iPhones: 33.8 million units
iPads: 14.1 million
Mac: 4.6 million units
Apple generated $37.5 billion of revenue and $7.5 billion in net profit, compared to $36 billion in revenue and $8.2 billion profit last year. International sales accounted for 60 percent of revenue, equaling what Apple reported in 2012.
Early iPad Air Reviews Look Promising

The first iPad Air reviews were published last week and they all say the new iPad is a winner. The world's top tech journalists are raving about the new Air, particularly the reduced size and weight of the new tablet. Walt Mossberg had this to say on the new tablet – "In a feat of design and engineering, Apple has slashed the iPad's weight by 28%, made it 20% thinner and 9% narrower, while increasing its speed and retaining the brilliant, 9.7-inch Retina display. 
6-Inch iPhone Coming September 2014?
Rumors are already pointing to a bigger iPhone 6 arriving in 2014. Apple is rumored to drop a 5-inch display with resolution of 1920×1080 pixels at about 440ppi (pixels per inch) density for its next generation of iPhone. The iPhone 6 is expected to be announced in September 2014, which follows a similar launch date for the two previous iPhone models, the 5 and 5S. With competing big screen devices like the Galaxy S4, HTC One and Sony Xperia Z, Apple will now perhaps look to release a phablet of their own.
Android News:
Google Nexus 5 With KitKat 4.4 Is Here

(image courtesy of Google)

Last Thursday, Google finally took the wraps off the new Nexus 5 smartphone, the company's latest flagship device, and Android KitKat 4.4, the latest version of the Android operating system. The LG-manufactured Nexus 5 features a 5-inch, 1080p display, a 2.3 GHz Snapdragon 800 processor and 2GB of RAM power the device, and this Nexus includes a host of connectivity features such as LTE, Bluetooth 4.0, Wi-Fi, and NFC. The Nexus 5 will run on AT&T, Sprint, and T-Mobile networks in North America. The device will retail for $399 for the 32GB version and $349 for 16GB. As for KitKat it will bring a new look and feel of the OS, including the Hangouts feature, which consolidates a host of powerful messaging features into one simple interface. 
Android Smartphone Shipments up 81% in Q3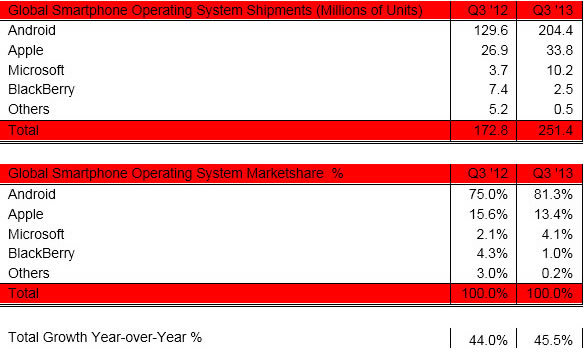 (image courtesy of Strategy Analystics)

A report from ABI Research signals that the smartphone penetration was 45.5% in the previous quarter, setting a new record. Android proved to be the market leader once again and increased it's share to 81.3% while it's rival, Apple's iOS, slightly dropped to 13.4% from 15.6% despite the gain in shipments. Windows Phone took third with 4.1%, followed by the ever struggling BlackBerry which only grabbed 1% in Q3.
[cf]skyword_tracking_tag[/cf]
Comments
comments