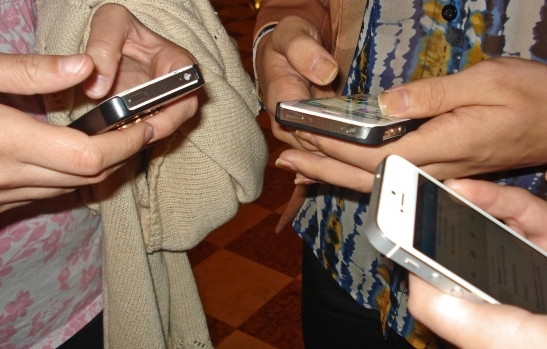 Could the days of minimalist brushed aluminum edges on iPhones and iPads be numbered? Apple recently was granted a patent for "electronic devices with sidewall displays," meaning that future versions of the iPhone could use the edges of the phone for additional display space.
Sidewall display technology is just the latest answer to the great challenge of the mobility era: making the absolute most of handheld devices. In stepping up to that challenge, Apple may be hoping to give its future iOS devices a leg up over competitors.
Looking for a Competitive Edge
As Don Reisinger reports at CNET, the U.S. Patent and Trademark Office granted Apple a patent last week for "electronic devices with sidewall displays." The technology allows flexible displays, including OLEDs (organic light-emitting diodes), to fold over the edges of a device.
Sidewall display technology is not just for phones: according to the patent, possible devices using this technology include "a laptop computer, a tablet computer, a somewhat smaller device such as a wristwatch device, pendant device, or other wearable or miniature device, a cellular telephone, a media player, etc."
Apple is not alone in looking for ways to expand its displays: Samsung and LG are currently offering devices with some roundness to their screens. Samsung's Galaxy Round and LG's G Flex both have a contoured body with a curved face, intended to fit easier in the hand and provide a richer media-viewing experience. However, neither folds the display around the edge of the device, which Apple's new patent could potentially support.
Apple has not yet responded to media questions about its plans for this technology. As Reisinger notes, companies routinely patent innovations that come out of their labs, but not all of these new technologies end up applied to devices. On the other hand, sidewall display technology is a natural extension of what Apple did to launch the modern mobility era.
Mobile Devices and the Form Factor Challenge
The original iPhone revolutionized smartphone design by moving keypad controls into the onscreen experience, making the handset's whole front face available for apps. Sidewall display technology promises to take this revolution to the next level.
So how might future iPhone versions get the most out of an edge display? The most straightforward use is as a handy place to display the time and other basic information when the front face is being used for something else, such as displaying a photo or video. Count on app designers to come up with new and surprising uses, though, including gesture actions specifically designed to bring up the side display.
How do you think Apple should utilize this new technology?
Image courtesy of morgueFile
[cf]skyword_tracking_tag[/cf]
Comments
comments