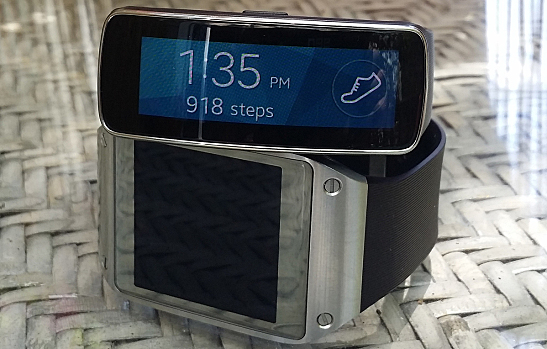 Samsung's new Gear Fit was selected as the "Best Mobile Device" at this year's MWC 2014 event, and for good reason. The device has much going for it on paper. It sports a Super AMOLED display and stylish form factor, yet fitness is the clear focus of the Gear Fit, with functions like a heart rate monitor and a step counter.
However, reviews of the Samsung Gear Fit have not been positive. The Verge says, "The perfect fitness tracker and smartwatch combination is a great dream to have, but in the case of the Gear Fit, it's still but a dream." Their final score for the device was just above average.
It's true that the step counter and heart rate monitor can be inaccurate with unforgivable frequency. The display window is also a bit cramped, so it can be a chore to view long messages, notifications, and e-mails in horizontal or vertical modes. Still, a choice system update could at least address the data collection inaccuracies.
With those hurdles aside, here are the five best features of the new Samsung Galaxy Gear Fit.
1. Awesome Display
The Samsung Gear Fit uses a Super AMOLED that is nothing short of stunning, the first curved screen of its kind. The color saturation, sharpness, and clarity are fantastic—a vast improvement over the original Gear. The Gear Fit screen specifications tally in at 1.84 inches with a resolution of 432 x 128 pixels.
2. Superior Design and Form Factor
The original Galaxy Gear devices were an appealing first attempt for the company's wearable smart devices, but users were unimpressed by their overly bulky look and the visually jarring protruding camera lens. The Gear Fit is a different animal, with a slimmer, curvier face that better blends into the wristband. Finally, the clasp has been simplified for easier fastening to one's wrist.
3. Comfort
The Gear Fit weighs in at a mere 27 grams. This, coupled with a reduced watch face size, makes it immensely more comfortable than the original Gear. It's easy for users to forget they are wearing the Gear Fit; such is not the case with the hefty Gear. Additionally, one need not worry about accidentally pressing the power button, which was an annoyance on the original.
4. Remote Control
The original Gear also featured remote functions for media playback and viewing notifications as a sort of conduit, bridging the gap between you and your phone. While this is not new for the Fit, it is super handy and fun. It's a liberating feature, especially for those of us using the stylish but bloated Samsung Galaxy Note 3. While located within Bluetooth range, wearers can use the Galaxy Fit to remotely control media apps like Pandora or view e-mails, texts, and other notifications that are received on your Samsung smartphone.
5. Enhanced Motion Sensing
The Gear Fit also wakes up slightly quicker than the original Galaxy Gear. You still have to fully raise your arm with the classic "I'm checking my watch" motion, but the motion sense recognition is noticeably improved.
An incredible amount time was spent improving all that Samsung's original Galaxy Gear had to offer. The Gear Fit is a better device hands down. It has its shortcomings, so fitness-minded users may want to hold off until the heart rate and step counter issues are ironed out. However, the Galaxy Gear Fit is a fun, stylish device that can strategically unshackle users from their heftier Samsung smartphones.
If you have a Galaxy Gear Fit, how is it working for you? Have you made use of the fitness functionality yet?
Image courtesy of Shawn Sanders
[cf]skyword_tracking_tag[/cf]
Comments
comments