The Apple iPhone and Samsung Galaxy might be the two most popular and recognizable phones in the world, but the Google Pixel has been quietly climbing the charts as the fastest-growing U.S. smartphone brand with the release of the Pixel 3a, Pixel 4 and Pixel 4a. Though Google has ceased production on the Pixel 3a and Pixel 4 to prepare for new releases — including the recent Pixel 4a — you can still find these models through used phone retailers and stores with remaining inventory.
What's so special about the Google Pixel line? Maybe it's the simple, modern design or availability of powerful mid-range options. Some might prefer the easy integration with existing Google Assistant devices and accounts. No matter your reason for choosing a Pixel, you have a handful of truly great options to choose from. Let's review whether you should buy a used Pixel 3a, Pixel 4 or Pixel 4a, and how these three phones differ.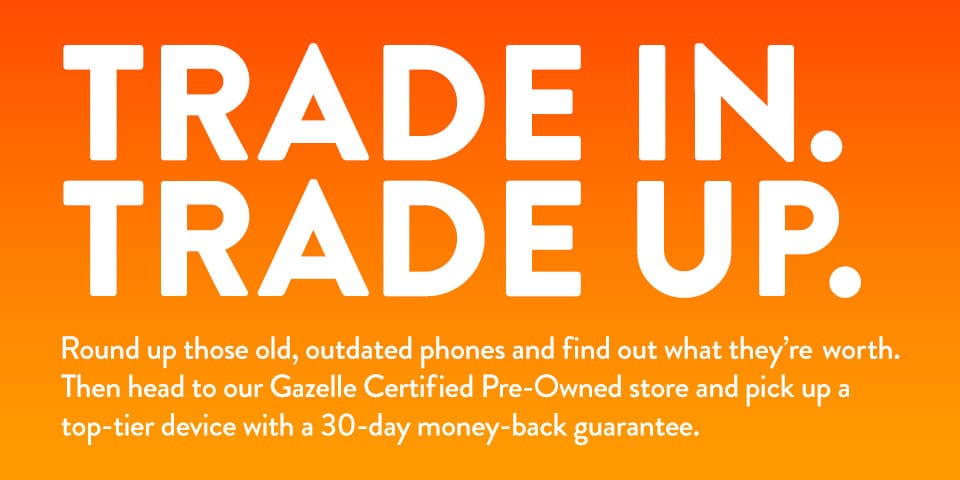 Google Pixel 3a: The Fan-Favorite Mid-Range
The initial release of the Pixel 3a was met with overwhelmingly positive reviews, thanks to its affordability and powerful performance. Let's take a closer look at why it became so many people's new favorite phone.
Pixel 3a specs are as follows:
Height: 6.0 inches
Width: 2.8 inches
Depth: 0.3 inch
Display: 5.6 inches
Weight: 5.19 ounces
The Pixel 3a has a 2220-by-1080 pixel full high definition OLED resolution for a crisp, colorful picture. OLED displays are known for their brighter, more vivid colors and better refresh rates compared to traditional phone screens.
Performance
The Pixel 3a runs on Qualcomm Snapdragon 670, which has a faster CPU, better graphics rendering and quicker download speeds than earlier processors. It also lends the phone AI capabilities. The operating system at the time of launch was Android 9.0 Pie, but Google includes a minimum of three-year operating system updates for Pixel phones. Although the battery is not wireless-charging capable, you can hook it up to a fast charger. The phone uses a single NanoSIM, 4 GB of RAM and has 64 GB of internal storage space available.
In addition to the always-on display, ambient light sensor and call screening abilities, enjoy the following features with the Pixel 3a:
Pixel Imprint: In place of a face unlock feature, the 3a has Pixel Imprint, a fingerprint sensor located on the back of the device for comfortable access.
Now Playing: Now Playing is an interesting addition for music lovers. Whenever your Pixel senses music playing nearby, it will display the song title and artist on your screen and track the information for later viewing.
Active Edge: Active Edge lets users physically squeeze the sides of the phone as a shortcut for things like silencing calls and alerting Google Assistant.
Perhaps the largest selling point for many Pixel 3a users is that the device comes with a built-in audio jack for headphones, something that is growing increasingly rare in the smartphone world.
Design
The Pixel 3a has a two-tone matte polycarbonate body with slight glossing on the back of the device. Though it looks similar to the Pixel 3, the bezel is slightly thicker. Choose from three color configurations — classic black, sleek white with an orange power button or a light purple with a bright green power button. The screen is protected with Dragontrail Glass and is not water-resistant.
Camera
For the low price, many users were surprised to find such an exciting camera on the Pixel 3a. It's particularly good at low-light photography, thanks to Google's Night Sight mode. Night Sight enables users to take pictures at night, in foggy conditions, in early morning light — any low-light setting that is typically difficult to capture with a mobile camera. You can also play around with built-in things like Time Lapse and Photobooth Mode.
Front camera: The 8 MP front camera has an 84-degree field of view and fixed focus with ƒ/2.0 aperture. It can record 1080, 720 and 480-pixel videos at 30 fps.
Rear camera: The rear camera is more powerful than the front, with a 76-degree 12.2 MP dual-pixel lens with ƒ/1.8 aperture, autofocus and image stabilization. Record 1080-pixel videos at 30, 60 and 120 fps, 720-pixel videos at 30, 60 and 240 fps, and 4K videos at 30 fps.

Google Pixel 4: The Elite Choice
When Google released the Pixel 4, they released something that could easily fill an iPhone or Galaxy-shaped hole in the user's life, with impressive specs and a sleek appearance. Though they discontinued the Pixel 4 after only a year to make room for newer models, it's still a great phone for anyone seeking something new and fresh in a sea of similar devices.
Here are the Pixel 4 specs:
Height: 5.7 inches
Width: 2.7 inches
Depth: 0.3 inch
Display: 5.7 inches
Weight: 5.7 ounces
Similar to the Pixel 3a, the Pixel 4 has a full high definition OLED resolution.
Performance
The Pixel 4 runs on Qualcomm Snapdragon 855, a significant boost from the 3a processor. There are 6 GB of RAM and either 64 GB or 128 GB of internal storage space, as well as a single Nano-SIM and eSIM card. Enjoy the freedom of choosing between 18W fast charging or wireless charging.
In addition to the always-on display, ambient light sensor, Active Edge and Now Playing, the Pixel 4 also features:
Motion Sense: Motion Sense is a hands-free feature that lets you use your face to make digital payments and allows your phone to detect when you're moving to unlock it — which you can do by simply looking at the screen.
Smooth Display: Smooth Display is the name Google's given to its exceptionally smooth display and resolution.
Call Screen: Built-in Call Screen allows Pixel 4 users to filter out robocalls and telemarketing calls automatically.
One thing to note if you buy a Pixel 4a is the lack of headphone jack. You can still pair your favorite wired headphones with your device if you buy an adapter.
Design
Unlike the 3a, Pixel 4 is made out of a tough aluminum frame with dust and water protection, matte coating and a polished finish on the back. Choose either a simple black or clean white body, and enjoy the advanced protection of Corning Gorilla Glass 5, which is said to withstand most drops, even from heights.
Camera
Without a doubt, one of the biggest selling points for the Pixel 4 is the dual rear cameras that provide better angles and photo quality, as well as a strong portrait mode. Google opted for telephoto lenses inside of wide-angle, which is better for zooming. Enjoy Google's Night Sight feature, as well as HDR Plus, which helps you get a great picture every time.
Front camera: The 8 MP front camera with ƒ/2.0 aperture boasts a 90-degree field of view with fixed focus and shoots 1080-pixel videos at 30 fps.
Rear cameras: The first rear camera has 16 MP and ƒ/2.4 aperture with autofocus, image stabilization and a 52-degree field of view. Videos shoot in 1080 pixels at 30, 60 or 120 fps, 720 pixels at 240 fps, and 4K at 30 fps. This pairs well with the second rear camera, which has 12.2 MP, ƒ/1.7 aperture and a 77-degree line of sight.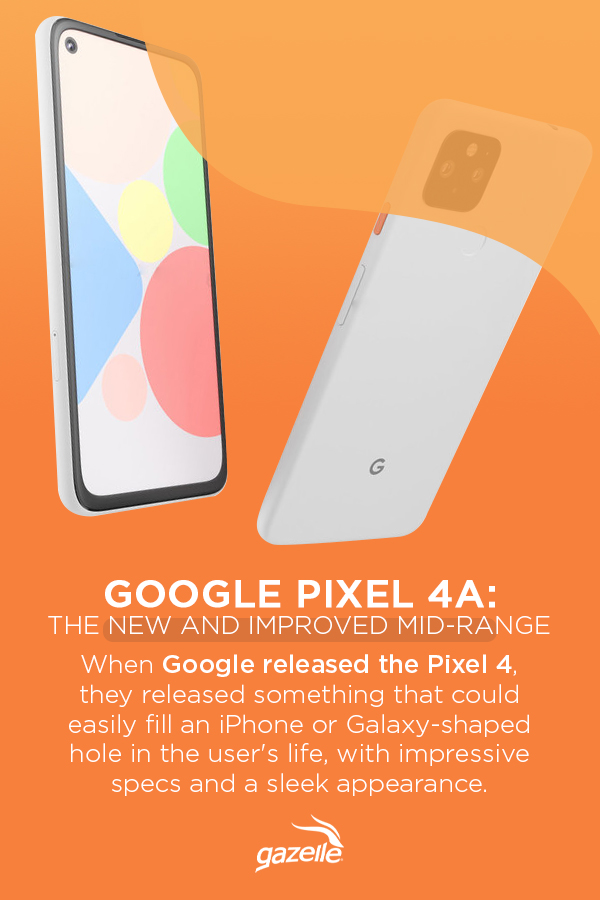 Google Pixel 4a: The New and Improved Mid-Range
The Pixel 4a is Google's latest release, and the only mid-range phone they currently offer. It's comparable to the 3a and more affordable from the start, with slightly increased performance specs and a sleeker design. Compared to the 4, the 4a is more budget-friendly with better-than-average specs for the price.
The specs for the Pixel 4a include:
Height: 5.7 inches
Width: 2.7 inches
Depth: 0.3 inch
Display: 5.8 inches
Weight: 5.04 ounces
The Pixel 4a has a 1080-by-2340 pixel, full high definition OLED resolution, a small step up from the Pixel 3a. When you consider a Pixel 4a vs. a Pixel 4, the 4a has fewer options and less powerful performance but better battery life. It's also more affordable than the 4. Pixel 4a vs. 3a comes down to having all the latest technology and features and a more powerful Snapdragon processor with fast charging capabilities.
Performance
The 4a runs on 6 GB of RAM and 128 GB of internal storage, as well as a single Nano-SIM and eSIM. The processor is Qualcomm Snapdragon 730G, which is optimized for a superior mobile gaming experience — a special feature for a mid-range phone. It's running on the latest Android 10 system. Although the 4a reverts to cord-only charging, it brings back the built-in headphone jack that the Pixel 4 lacks.
Live Caption enables users to access on-screen captioning for calls and podcasts, as well as some third-party apps. This is in addition to many of the previously mentioned capabilities, such as:
Always-on display.
Now Playing.
Ambient light sensing.
Pixel Imprint.
Noise suppression.
Call Screen.
Design
The Pixel 4a's body is made out of the same polycarbonate construction as the 3a, but with ultra-strong Corning Gorilla Glass 3 protection. Although the 4a is only available in black, users will enjoy the thinner bezel that the Pixel 3a and Pixel 4 did not have. Unlike the Pixel 4, this phone is not water-resistant.
Camera
With the Pixel 4a, users still get Google's Night Sight low-light photography feature, as well as impressive front and rear cameras for a mid-range model.
Front camera: The front camera is 8 MP with a fixed focus, 84-degree sightline and ƒ/2.0 aperture. It shoots 1080-pixel, 720-pixel and 480-pixel videos, each at 30 fps.
Rear camera: The rear camera offers a little more power with 12.2 MP dual-pixel phase detection, image stabilization, ƒ/1.7 aperture and 77-degree field of view. Videos shoot in 1080-pixel at 30, 60 and 120 fps. 720-pixel videos record at 30, 60 and 240 fps. 4K video brings you in at 30 fps.
Which One Is Right for You?
The decision to buy a Pixel 4a, Pixel 4 or Pixel 3a comes down to what you want out of a smartphone and your budget. The two mid-range models, the 3a and 4a, have lower price tags than most Pixel 4 models. The Pixel 4 is a more high-end option, with additional features and better performance. The Pixel 4 is water-resistant and more robust than it's mid-range counterparts, but the Pixel 3a and 4a can still hold up against minor scratches and drops.
To summarize, the Pixel 3a is a great fit for anyone who wants:
An affordable mid-range phone with a decent camera and performance.
More than one color option to choose from.
4K video recording.
A built-in headphone jack.
The Pixel 4 is the top-of-the-line selection, for those who enjoy:
Top-performing specs and speed.
Powerful mobile photography and 4K video with dual-lens capability.
Dust and water protection.
A strong, protective Gorilla Glass 5 screen.
A sleek aluminum body.
Hands-free Motion Sense.
Wireless charging.
Finally, the Pixel 4a is the perfect choice for someone who needs:
The latest technology and processing power.
An affordable device that does not compromise performance.
A fresh, modern appearance in timeless black with thinner bezels.
A built-in headphone jack.
A superior mobile gaming experience.
Better-than-average photographs and 4K videos.
Each of these three models has a stunning OLED display, Google Night Sight, a front and rear camera, fast Snapdragon processing, a fingerprint sensor on the back and seamless integration with Google's other devices, including Google Assistant. Whichever you choose, you'll quickly learn why Google's line of Pixel phones is growing increasingly popular.


Shop Google Pixel Phones at Gazelle
With a strong lineup of mid-range and top-tier choices — and plenty more to come, including the recently announced Pixel 5 — Google Pixel has become a leading contender in the smartphone arena. No matter which model you prefer, you can buy a used Pixel 4, Pixel 4a and Pixel 3 at Gazelle.
At Gazelle, we are passionate about minimizing unnecessary phone waste in landfills. That's why we offer a vast inventory of fair-, good- and excellent-rated used phones that you can buy. What does this mean for you? Lower prices, extensive options and that positive feeling you get when you know you're making a difference in the world around you. We are also one of the only places you can still shop discontinued models, like the Pixel 3a and Pixel 4. Our used phones are backed by a 30-day return policy and Gazelle certified guarantee — all with no contract required. You can also take advantage of our trade-in feature, which allows you to sell your old device to us and get paid via Amazon Gift Card, PayPal or check.Explore our website to learn more and find your new phone today!
Comments
comments