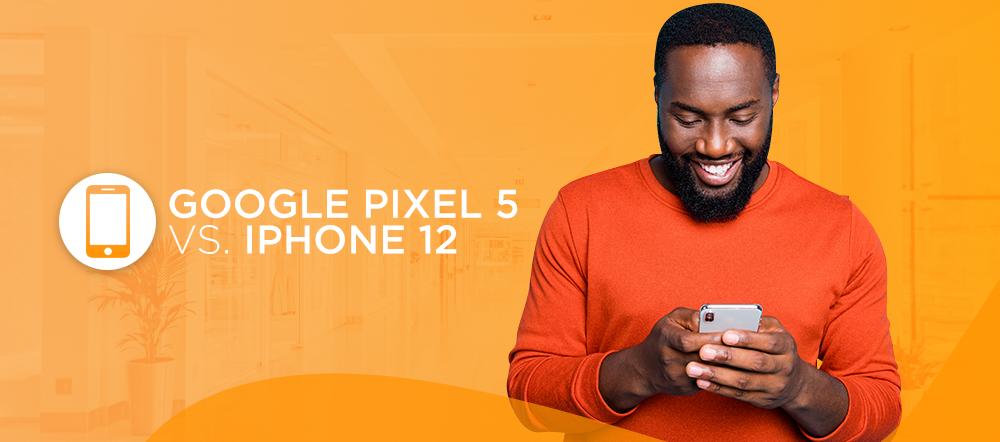 As 2020 winds to an end, top phone manufacturers — including Google and Apple — have focused on putting out fun and exciting devices with more emphasis on connectivity and practicality. This is the case with Apple's autumn 2020 release of the iPhone 12 and iPhone 12 Mini and Google's Pixel 5, which debuted on October 15.
When it comes to the Pixel 5 vs. iPhone 12, you'll find that, despite slightly different executions, these flagships aren't so different from one another. Each boasts impressive cameras with multiple lenses, attractive yet durable designs and plenty of integrated features. For many prospective buyers, the decision will likely come down to brand loyalty or trying something new.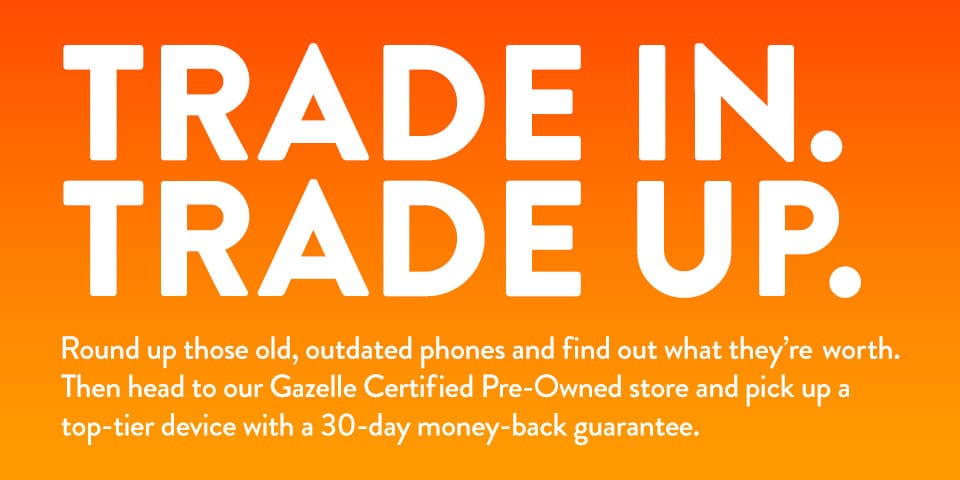 Android vs. iOS
The battle of the fall debut rests on the shoulders of the great debate — is Android or iOS the superior cellular operating system? Despite their numerous similarities, few questions are as divisive among tech enthusiasts. The average consumer will find something to love about either one.
Android 11
The first Android device hit shelves in 2008, about a year after iPhone debuted its first iOS device. When you pair this longevity with Google's history of being a tech giant, the Pixel has always been positioned for success. Consumers praise Pixel devices for their ease of use, customization and quality cameras. They also love the lack of bloatware and compatibility with services like Google Fi. The Pixel 5 will ship with Android 11, and Google promises at least three years of continuous updates.
Android 11 is more usable and relevant than ever before. Top features include:
The ability to manage all conversations from multiple apps in a single location.
Built-in screen recording with mic integration.
Smarter predictive responses in messages.
App suggestions based on your habits and routines.
A more streamlined voice control interface.
The ability to connect and control other smart devices around your home.
Picture-in-picture viewing with a resizable window.
Enhanced security and permissions, including a permissions reset function.
A convenient Bedtime Mode and Do Not Disturb option.
The ability to set a separate "work profile" on company devices.
Scheduled dark mode for your device.
iOS 14
Few brands have built up as much loyalty and as passionate a fanbase as Apple, and that's largely due to iOS. It combines fun and innovation with a vast integration with Apple's extensive lineup of devices that span home security, appliances, tablets, desktop computers, TVs and watches. Apple makes it easy to live a connected life.
Apple's newest powerhouse is iOS 14, and both new and returning Apple fans will love the following additions:
A redesigned widget and home screen set-up that includes different size options and more viewable information without entering each app.
The ability to stack and curate apps based on frequency of use.
A combined call location that filters incoming calls from your device, FaceTime and third-party apps.
Picture-in-picture viewing, including FaceTime.
Streamlined messaging, with the ability to pin conversations, tag someone in a message and respond with in-line replies during group chats.
Playful Memojis and added stickers.
An improved Apple Maps system that includes bicycle lanes and electric vehicle routing.
Local guides with recommendations and tips based on your location.
Improved translation features, including a new conversation mode.
"Home Status," which lets your phone prepare your home devices for you.
More straightforward language and permissions surrounding privacy.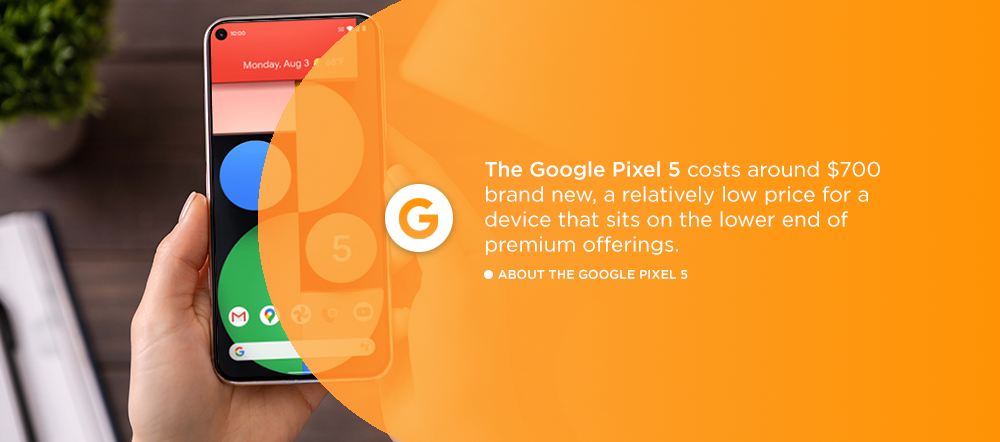 About the Google Pixel 5
The Google Pixel 5 costs around $700 brand new, a relatively low price for a device that sits on the lower end of premium offerings. It is the follow-up to the Pixel 4, Pixel 4 XL and Pixel 4a.
Design
Google made it easy to choose this time by launching a device with only two color options — black or sage green. While the black offering is a classic, understated look, the sage green is a subtle pop of color that adds a nice variety to their lineup of devices. Both colors come in a matte finish with a reflective logo and power button as accents.
The device is constructed out of dense, 100% recycled aluminum and a tough Gorilla Glass 6 cover from Corning. Returning Pixel users will love the addition of IP68 dust and water resistance and the Pixel's returning Titan M chip for security. Unlock your device with Pixel Imprint, which you'll find mounted on the back.
Dimensions are as follows:
Height: 5.7 inches
Width: 2.8 inches
Display: 6 inches
Thickness: 0.3 inches
Weight: 5.33 ounces
Expect a crisp, colorful OLED display with Always-On, Now Playing and a smooth display up to 90Hz.
Camera
The Pixel 5 brings stunning photo capture with returning settings, like the ability to take better pictures in low-light conditions with Night Sight. Additional features include fan-favorites like the recently released Cinematic Pan setting, Live HDR+ and Portrait Light. Lenses deliver up to a 7x digital zoom with both electronic and optical image stabilization.
Rear camera one: The first rear lens is a 12.2 MP dual-pixel camera with pixel phase detection and autofocus and a 77-degree field of view.
Rear camera two: The second lens offers a bit more power, with an ultra-wide 16 MP camera with a 107-degree field of view.
Front camera: The front-facing Pixel 5 camera is 8 MP equipped with a fixed-focus lens and an 83-degree field of view.
For video, expect a range depending on the direction you're shooting. Rear video shoots 1080p footage at 20, 60, 120 and 240 frames per second (fps) or 4K at 30 or 60 fps. The front camera shoots 1080p at 30 fps. The device is also equipped with three microphones and noise suppression for audio input.
Performance
If you had a recent Pixel device, you're probably familiar with the battery life — or lack thereof. Despite the overhaul of interactive features and enhanced usability, the Pixel 4 and similar devices lost battery quickly. Google rectified this with the Pixel 5, plugging a 4,000 mAh battery into new devices. Charge with either the 18W fast charger or use wireless charging. Extreme Battery Saver mode can even prolong your device's life for up to 48 hours. The Pixel 5 also has reverse wireless charging for other wireless devices.
One of the biggest differences from the iPhone 12 is that the Pixel 5 is launching with only one storage option — 128 GB — though you will see an improved RAM at 8 GB instead of the previous 6 GB on other Pixel devices.
The Pixel 5 has a Qualcomm Snapdragon 765G processor, a slight step back from previous models, but still a fast processor for regular phone users. The Pixel 5 runs on LTE, 5G mmWave or 5G Sub-6, depending on your carrier, plan and available coverage.
Features
Though the Pixel 5 focuses primarily on simplicity and ease-of-use, there are some fun features users will enjoy:
Google Cast: Google Cast lets you share your phone's screen with compatible devices, like your smart TV or laptop.
Google Assistant: Google Assistant is a digital helper that can keep your schedule organized, answer questions, set timers and alarms and keep you up-to-date on the news.
Gaming with Stadia: The Pixel 5 is built for casual to moderate gaming, including integration with Stadia, Google's gaming platform that lets you stream games to an existing screen.
Google One: The Pixel 5 ships with a limited-time trial of Google One, a subscription service that lets Google automatically store and backup your images, files and information on the cloud.
Despite these features, don't expect to find a telephoto lens or Face Unlock like some previous Pixel devices had. These features were likely scrapped to keep costs low while still remaining 5G compatible. As per the new norm, there is also no audio jack.

About the iPhone 12
Apple is slated to release four iPhone 12 variations — the standard 12 model, the iPhone 12 Mini, the iPhone 12 Pro and the iPhone 12 Pro Max. The Pro and Pro Max are premium offerings, sitting several hundred dollars higher than the other two models. For a fair comparison, we'll look at only two of Apple's new iPhones — the iPhone 12 and iPhone 12 Mini — since they have similar price points and features as the Google Pixel 5.
Design
Both the iPhone 12 standard and Mini come in black, white, red, green and blue, with an angular, edged design and thin bezels. Each is made of aluminum with a glossy back and matte finish on the sides. Instead of Gorilla Glass, like other industry-leading devices use, Apple worked with Corning to develop Ceramic Shield, a type of protective covering they say is four times less likely to shatter when dropped than previous iPhone models.
Dimensions for the standard iPhone 12 are:
Height: 5.78 inches
Width: 2.82 inches
Thickness: 0.29 inches
Display: 6.1 inches
Weight: 5.78 ounces
Apple is touting the Mini as the smallest and lightest 5G phone on the market, with:
Height: 5.18 inches
Width: 2.53 inches
Thickness: 0.29 inches
Display: 5.4 inches
Weight: 4.76 ounces
Both devices have True Tone and Wide Color for a colorful, striking display that pairs with the OLED display.
Camera
Like the Pixel 5, the iPhone 12 and iPhone 12 Mini have two rear lenses and a front-facing camera for endless portrait and photography options. A few notable features for these new devices include Dolby Vision, Deep Fusion and Smart HDR 3. Dolby Vision offers a high-quality HDR recording format for advanced video recording, while Deep Fusion adds more clarity and sharpness to images. Smart HDR 3 is a built-in system that works to bring pictures to a professional level, including subject focus and light balance.
Rear camera one: The Wide lens is a 12 MP camera with optical image stabilization and 100% focus pixels.
Rear camera two: The Ultra Wide lens is also 12 MP but with a 120-degree field of view and lens correction.
Front camera: The front TrueDepth camera is 12 MP and includes portrait effects and both Animoji and Memoji features.
Video recording: In addition to the previously mentioned Dolby Vision, your iPhone 12 will shoot 4K or 1080p video. 4K records at 24, 30 or 60 fps, with 1080p HD at 30 or 60 fps. You can also shoot 720p videos at 30 fps. Video recording includes Slo-mo video support for some footage, continuous autofocus and audio zoom. Edit finished products in iMovie for ultimate convenience.
Camera settings include Telephoto, Raw, Night Portrait, Natural, Studio, Stage, Mono, Panorama and others, in addition to advanced red-eye correction and digital zoom up to 5x. Play videos back and enjoy Dolby Atmos sound and spatial audio.
Performance
The iPhone 12 includes the lightning-fast A14 Bionic Chip processing system, which allows for seamless scrolling and video streaming. Choose from multiple storage options, including a 64 GB, 128 GB or 256 GB device. Each phone can operate on LTE, as well as 5G Sub-6 and 5G mmWave, depending on your network coverage.
Battery life, though long-lasting, is not quite up to the Pixel 5. The iPhone 12 has a 2,815 mAh battery, while the Mini's battery is smaller yet. However, when not using 5G, your phone will revert to LTE mode to conserve energy. Each phone will charge wirelessly, even with a MagSafe case, but if you want the advertised 50% charge in half an hour, you'll have to invest in a 20W charging cord since they aren't sending one in the box.
Features
Before we dive into the iPhone 12's extensive array of features, let's talk about what it doesn't have. Like the Pixel 5, you won't find an audio jack on the device. Apple is also omitting chargers and earbuds from the all new iPhone 12 orders, so you'll need to invest in a pair of wireless buds if you haven't already. As far as the charger goes, most iPhone 12 users will likely already own an iPhone device. Your same charging cord should work, but you'll have to upgrade to the 20W fast charger if you want the advertised charging speeds.
Onto the good stuff — iPhone 12 is packed full of fun and usable features, including:
MagSafe: When you pair your iPhone 12 with a MagSafe case, you can click and attach magnetic cardholders and accessories without jeopardizing your card's usability. MagSafe also uses 100% recycled elements.
FaceID: The iPhone 12 sees the return of Apple's Face ID, an advanced unlocking option that allows for hands-free unlocking, a feature absent from the Pixel 5.
AirPlay: AirPlay is similar to the Pixel's Google Cast feature, allowing you to share your device media to a nearby screen or speaker.
AR Quick Look: AR Quick Look brings augmented reality to your pocket, with the ability to view 3D content in real-time.
Apple compatibility: The iPhone 12 is compatible with other Apple services, including Apple Pay and the Apple Card.
Siri: Apple's digital assistant, Siri, is available to assist with time management, alarms, news, location-based reminders and more.
Though this isn't a comprehensive list, the iPhone 12 is an excellent option for the user who values versatility, options and integration.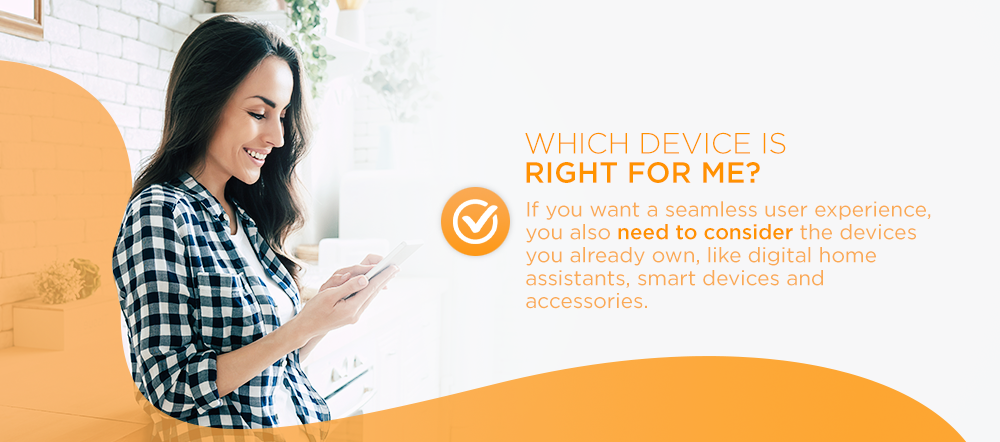 Which Device Is Right for Me?
The Google Pixel 5, the new iPhone 12 and iPhone 12 Mini offer impressive specs at similar prices. It all comes down to what you want and need out of a phone and what brand you're most excited to partner with. The Pixel 5 promises a long-lasting battery, improved security and privacy features and a straightforward interface. The iPhone 12 boasts fast speeds, improved durability and a slew of fun features. If you want a seamless user experience, you also need to consider the devices you already own, like digital home assistants, smart devices and accessories.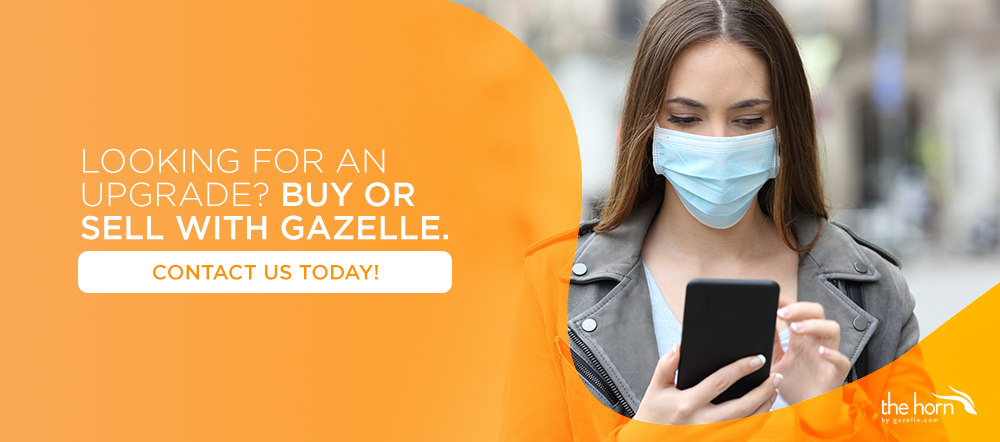 Looking for an Upgrade? Buy With Gazelle.
Whether you're looking for a top-tier phone for affordable prices, Gazelle can help. We offer a large inventory of Gazelle Certified pre-owned smartphones from top manufacturers. We inspect each device thoroughly for appearance and performance and list it for an affordable price, offering you a contract-free phone compatible with your carrier of choice. All phones come with a 30-day return policy.
Learn more about Gazelle's smartphone buy options, and find your next device today!
Comments
comments