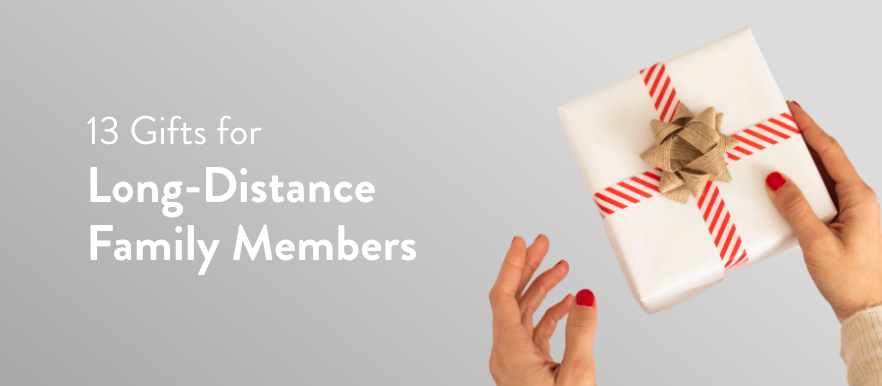 For many people, having a long-distance family or loved ones can be challenging, but it's especially bittersweet during the holidays and special occasions. Whether your family lives across the state, country or the globe, you may struggle to think of gifts to send your loved ones throughout the year as reminders of your love.
With this gift guide, you can fulfill your holiday shopping or find the perfect just-because gift. No matter the distance, your family will feel the love with presents that help you stay connected. Here are 13 gifts for a long-distance family that are sure to make them feel at home.
1. Touch Lamps or Messengers
Keeping in contact with your long-distance family doesn't just have to be through handwritten letters, texts or phone calls, although they are just as fun. You can buy a gift for your loved ones that allows them to let you know when you are on their mind. An example of this gift would be touch lamps, which come as a set.
These lamps are usually connected by Wi-Fi and enable your lamp to glow or light up when your family members touch theirs, letting you know they miss you. These touch lamps are a gentle, physical reminder of your family that keeps you thinking of them no matter how far apart you are. Other gifts work in a similar way to touch lamps, such as matching bracelets that light up, send vibrations or send virtual messages to your loved ones when they touch or activate them.
With any of these items, you will feel connected to your long-distance family as you, literally, stay in touch.
2. Photo Albums
Family photos are a wonderful way to immortalize memories and holidays. Photo albums are entirely customizable and available in many different formats. You can buy your family member a physical photo album with printed photos they can take out, update or rearrange. You can also purchase a digital photo album, where you can keep your loved one in touch with your favorite memories together.
A digital photo album is a great way for your loved one to see a constant slideshow of your best family photos, making them feel closer to you no matter their location. Some digital photo albums connect to your cell phone, allowing you to send new pictures and videos to the recipient in real time. These are excellent long-distance family gifts because they constantly update special moments from across the country.
Your family can put the photo album in their living room, kitchen or dining area and get instant pictures. While this is a fitting holiday gift, it's also perfect for use all year round as your loved ones can view their favorite photos over and over again.
3. Long-Distance Mugs or Candles
You really can't go wrong with common gifts everyone likes. Consider practical and thoughtful gifts that remind your loved ones of you or your home. Gift your family member with a mug with your city or state printed on the side. This gift can serve as a way for your long-distance family to think of you every time they drink their coffee in the morning. A similar gift idea would be a custom candle that has familiar smells from your hometown.
Your personalized candle can incorporate smells of a campfire, beach or other scents that remind you of home. You can choose popular holiday and Christmas candle scents that bring a cozy feel. You can also find a website that will print a picture of your family and add it to the candle's outside or mug along with any quote or message you choose.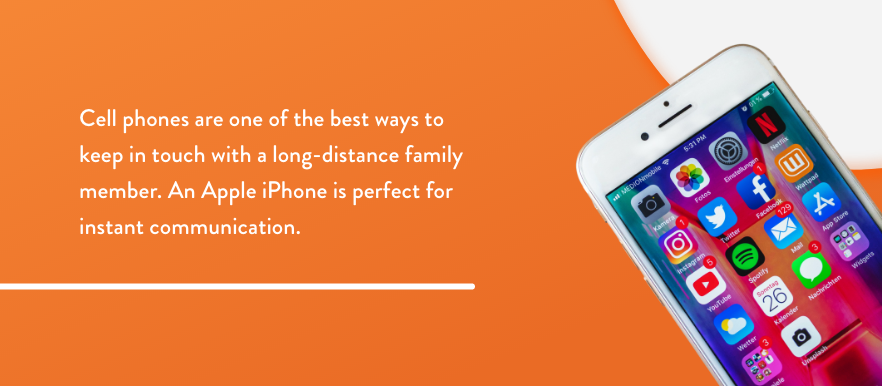 4. iPhones
Cell phones are one of the best ways to keep in touch with a long-distance family member. An Apple iPhone is perfect for instant communication. With an iPhone, you can share photos in a family album, create reminders for virtual get-togethers and stay easily organized with your family's schedules. You can find pre-owned iPhones in various colors and storage capacities that are also carrier compatible.
When you buy a used iPhone, you will save money while getting the newest updates and features your loved ones deserve. iPhones allow you and your loved ones to text, email, post on social media, FaceTime and have other types of communication right at your fingertips. An iPhone is a versatile tech gift that any family member can use.
Some of the latest refurbished models you can purchase include:
These mobile devices have many other convenient capabilities that will let your family enjoy entertaining music, movies, books and games while improving connection and communication.


5. Family Wall Art or Decor
Any gift you can give to your family member that showcases how loved they are will be a heartwarming present. You can buy or make custom wall art or personal decor to easily represent the bond you share. These gifts could include customized keychains, prints or signs that represent the state or country your loved ones are in to always have reminders of family in their house. Physical items in your family member's home with a personal touch from you will always keep them feeling close.
You can also create a personalized family map that labels where each person is located with their picture or name engraved. Personal home items are visual expressions of family moments, milestones and mottos that represent your unique family connection. If you are shopping for a family member who is often picky about their gifts, you can create something truly magical and one of a kind that fits their interests and style.
6. Recordable or Voice Memo Gifts
Recordable gifts allow you to create a custom voice memo that can be replayed. This is a wonderful gift idea that will surprise your loved ones when they press a button and instantly hear your heartfelt message. If you want to send something small, you can choose a holiday greeting card with a voice memo sending well wishes. If you want to send something your family members can keep forever, you can choose a larger voice recorder in the shape of a heart or a Christmas ornament.
You can also gift a personalized storybook that includes pictures of every family member and where they are located. You can finalize your storybook with a voice recording that expresses your love. For the kids in your family, you can record a message in a stuffed animal or plush toy so they can always carry your voice around.
7. Time Zone Gifts
Gifts that show multiple time zones are beneficial for loved ones who live across the country or in a different area of the world. Communicating with family members while they are in different times zones can be difficult. Your family may struggle to constantly research what time it is in your location before giving you a call or attempting to video chat. Your loved ones may also wish to call you during the day but not want to disturb you in a meeting you mentioned you had in the afternoon.
With a physical time zone reminder, it will be easy for your loved one to check the time and ensure they aren't calling you in the middle of the night or during your work hours. These time zone gifts can come in many variations, including watches or wall clocks.
Many of these items have multiple time zones next to each other so you can keep track of your numerous family members all over the world. You can find fitting time zone items to give to your loved ones that will keep them from performing frustrating calculations to determine the time in your area.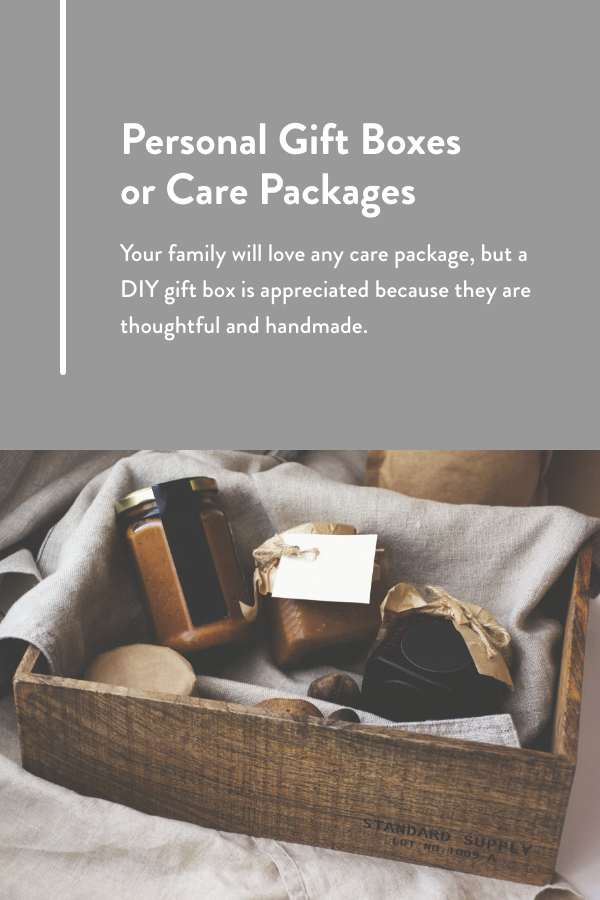 8. Personal Gift Boxes or Care Packages
You can really go all out with customization when sending a gift box to your long-distance family. You can buy these gift boxes online, set up a subscription process or make them yourself. Your family will love any care package, but a DIY gift box is appreciated because they are thoughtful and handmade. For this gift idea, you can compile a box of your family's favorite items or any other small gifts you think they might enjoy. Some of these items may include:
Snacks
Drinks
Candy
Coffee
Blankets
Mugs
Journals
Cookies
Ornaments
This is a perfect present for sending a socially distanced care package to a loved one who's sick or simply needs a cheerful surprise during the holidays. You can fill their gift box, basket or package with comforting items, such as tea or fuzzy socks. When sending these care packages, you can also include a holiday or birthday card and a family photo your long-distance family will cherish.
9. MacBooks
Laptops are popular gifts that are certain to impress any loved one. A premium Apple MacBook is an ideal gift for your family members who want to stay connected but enjoy a larger device than a phone. If you find that a MacBook is a perfect gift for multiple members of your family, you can purchase used MacBooks for a better price that fits your budget. On a MacBook, anyone can use FaceTime, messenger and social media to interact with their family.
When you purchase a pre-owned MacBook, you can also set it up with any apps or icons your loved one may need before gifting it to them. This will ensure that anyone not familiar with electronics will have everything they need within a few clicks. Luckily, the MacBook is easy to use, so your family will feel comfortable using it to connect with you through text, video chat or email updates.
Various models of refurbished MacBooks on the market include:
Tech gifts are truly the most valuable presents for long-distance family. Buying these laptops at a more affordable price also saves you money and enables you to give a gift that helps improve your family communication.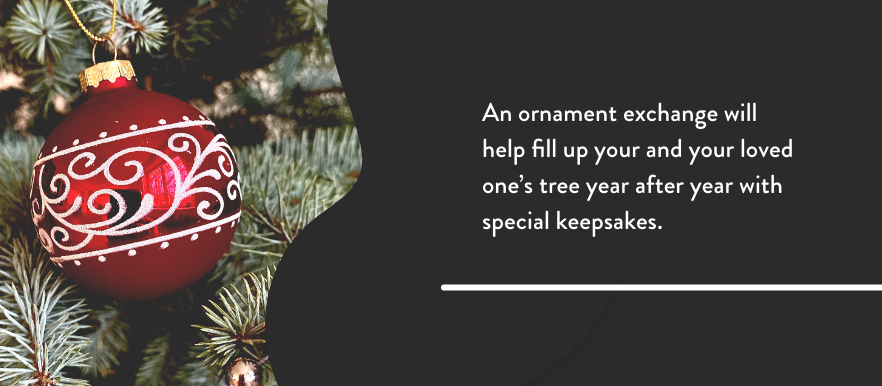 10. Ornament Exchange
Nothing is more exciting than decorating your home for the holidays. But it may make you miss your long-distance family as you gather around the tree to get it ready for the Christmas season. Luckily, you can include your long-distance loved ones in this practice by starting an ornament exchange.
An ornament exchange will help fill up your and your loved one's tree year after year with special keepsakes. This gift idea also enables you to keep all of your family members involved in your yearly customs.
You can pick out the perfect ornament that reminds you of them to send their way. You can also make the ornaments yourself for a handmade touch to start this new family tradition. This is an ideal gift for family members that prefer to give or receive sentimental items. Ornament exchanges also encourage creating new memories with your family and developing traditions even across distances.
11. Electronic Accessories
You can purchase so many gifts for your loved one that make it easier to stay connected through their electronics. For example, a mount or stand for an iPhone, iPad or MacBook is a perfect gift so your family members can prop up their electronics while video chatting with you. These accessories are an excellent addition to simplifying virtual family dinners, holidays, special occasions or streaming a night of movies together.
Any gifts that can help make your time spent together better, even if it's on opposite sides of the world, are worth considering for holidays, birthdays or just-because gifts. Other long-distance family tech gifts that can enhance their communication experience include:
Instant portable photo printer for easy keepsakes
Wireless earbuds or noise-canceling headphones to communicate in public spaces
Magnetic laptop stand
With endless choices, you can find the ideal gift for your family that adds convenience to your distanced chats and gatherings.
12. Local Gifts
Sending your family members any gift that reminds them of their hometown or their family's location is sure to fill them with delight. This could include memorabilia from your favorite local coffee shop, restaurant or sports team. Any small mementos from around your city, like a postcard or popular candy, will make your loved one feel right at home. You may want to send them a bunch of little gifts that instantly bring back fond memories for them.
Ideally, one of the best local gifts you can purchase is a plane ticket for your family to visit you. However, if you have a large family, that can add up, so you can purchase items from your local businesses instead. Shopping from stores in your area is a sure way to find unique gifts that will let your family reminisce about nostalgic times in their hometown.
13. iPads
An iPad is one of the best long-distance family gadgets. Other than making phone calls, you can do practically any other function on the iPad available on the iPhone or MacBook. This touchscreen tablet is perfect for the younger ones in your family who enjoy watching videos online or having their favorite cartoons on during breakfast. Holding long-distance virtual happy hours or chatting along with each other while watching your favorite movies with an iPad can keep your family connected.
iPads are especially useful for travel. They are slightly more lightweight than a MacBook but have a bigger screen than an iPhone. iPad features will allow your family to read on planes or use a visual GPS when driving to visit you. Some of the most popular pre-owned iPad models you can purchase are: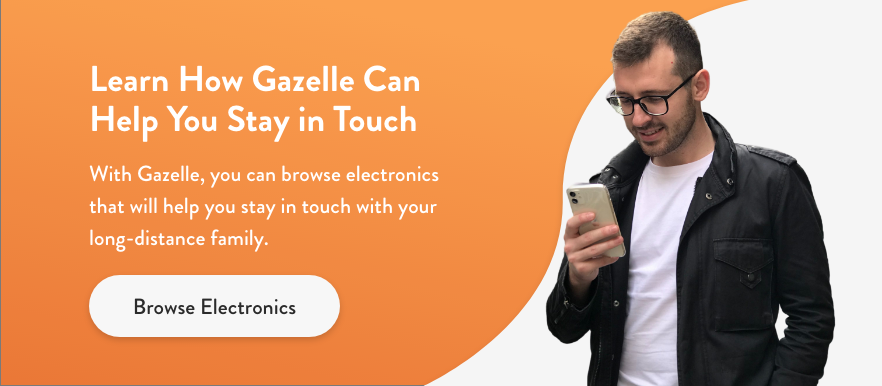 There is nothing better than staying connected with those you love most. With Gazelle, you can browse electronics that will help you stay in touch with your long-distance family. We offer many different types of cell phones, laptops and tablets so you can find the perfect one to gift to someone special. In addition to our affordable prices, we also offer financing options to eligible customers to make your decision even easier.
Gazelle is also proud to provide honest pricing, secure payments and fast shipping to our customers looking for a pre-owned device. We know you will be pleased with our electronics, thanks to Gazelle's guarantee for quality devices through our inspection process. We also offer a 30-day return policy to ensure your experience is satisfactory. Browse our popular products or contact us today to see how we can assist you with your gift shopping.
Comments
comments