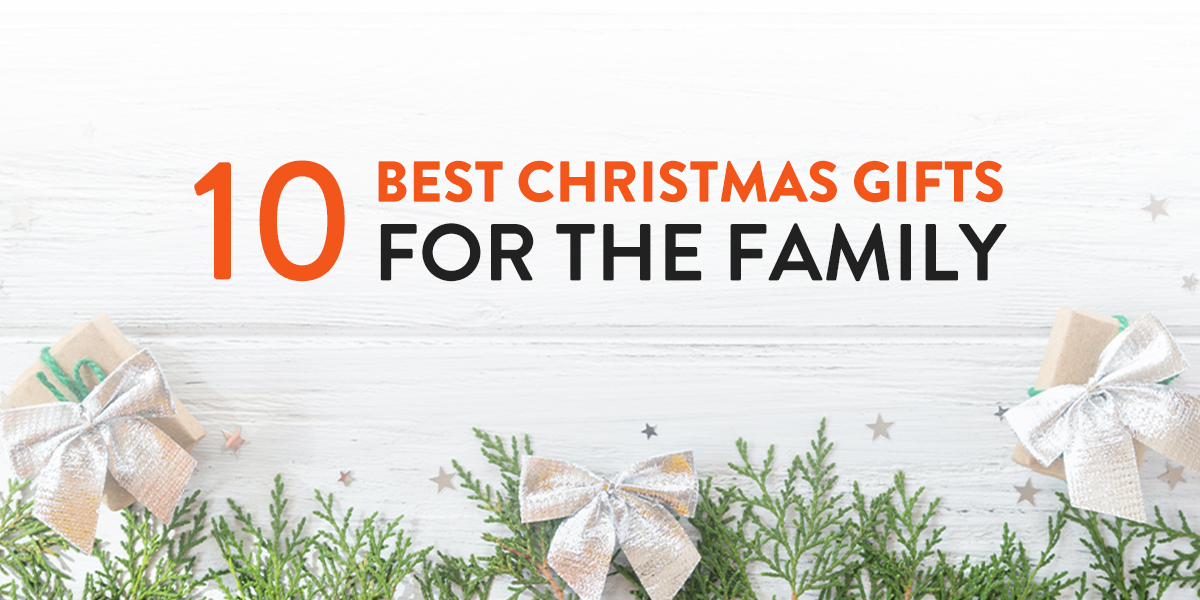 Spending time together during Christmas is great for making new memories and feeling grateful for each other. Exchanging thoughtful gifts on Christmas day is a wonderful opportunity to show your family that you care about picking out something perfect for them. Seeing your family members' faces fill with delight when opening their present is priceless. However, many people struggle with what gifts to buy that will provide that magical sensation.
Christmas shopping often gets delayed or disorganized because of busy schedules. Almost 56% of people complete their holiday shopping in the week before Christmas. Choosing what presents are best for your family can be effortless with the right gift guides. Whether you are looking for thoughtful, custom gifts or the best tech Christmas gifts for the family, making the right decision is simple with these options. Here are the 10 best Christmas gifts for the family that anyone is sure to love.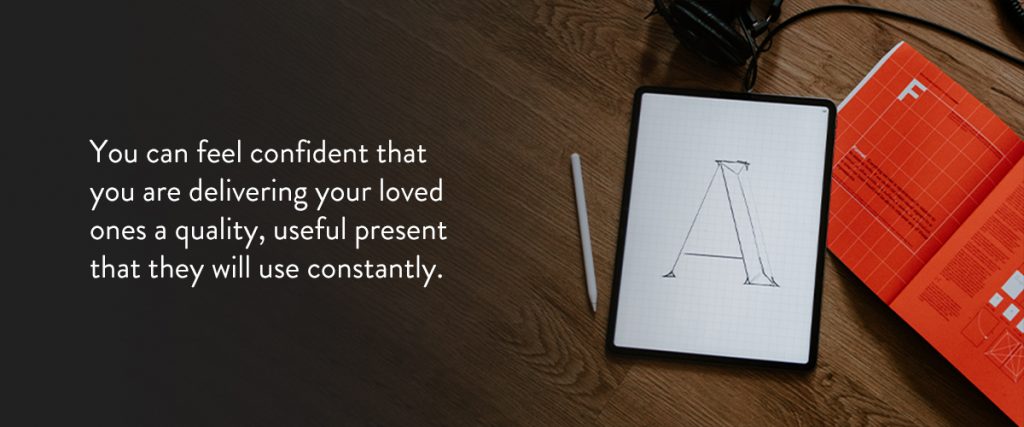 1. iPads
Electronic tablets, such as iPads, are great gifts for nearly any age because of their versatility. Kids can play games, watch cartoons and even do homework on their iPads, while adults can shop online, use social media, send emails, surf the web and pay bills. iPads are also lightweight, easy to use and portable, allowing access to music, movies and books from any location. With the ability to download an endless amount of apps that offer just about anything you could need, this would be a great Christmas gift.
An iPad typically holds a long battery life, which is beneficial on days when your family member may need to use it to follow holiday recipes for baking endlessly in the kitchen. Consider buying a used iPad at a more affordable price to ensure you stay within your Christmas budget this year. Some popular pre-owned iPad models currently available include:
This gift idea is an excellent choice for any family member. You can feel confident that you are delivering your loved ones a quality, useful present that they will use constantly.
2. Cookware and Kitchen Accessories
Families often spend a lot of time in their kitchens, especially during the holiday season. Whether you are baking cookies, making eggnog, crafting a holiday cocktail or roasting a Christmas ham, there are so many fun memories made in this space. Cookware and kitchen accessories would be a fantastic option for family members who love to cook, bake, drink coffee or create new recipes. Some items that fall under these categories might include:
Espresso or coffee machine
Dutch oven or nonstick pan
Cocktail-making set
Blender
Recipe books
Air fryer
Engraved cutting board
Baking dishes
Personalized cookie cutters
Stand mixer
Any of these gifts would be perfect for adults in your family looking for a kitchen upgrade, or teenagers that are discovering how to cook. It might also be helpful to consider their favorite food and drinks, as you might be able to locate the perfect accessory that enhances their go-to meal. These gift ideas are especially beneficial for families who like to spend time cooking together or making traditional meals.
3. Custom Gifts
Custom gifts are perfect for you if you love to pick out presents that leave a personal touch. Personalized family Christmas gifts are an easy way to make anyone feel special. These heartfelt gifts express effort and thoughtfulness to your loved ones. Luckily, it is incredibly easy to find websites that will customize pretty much any item you could imagine. You can upload a family photo and have it printed on a blanket or get a portrait of your loved one transformed into a canvas painting.
Custom gifts are fitting for any member of your family. They are entirely tailor-made, ensuring the recipient will always be surprised to receive them. Your loved one will appreciate the unique details and feel special because you thought of their specific interests. The opportunities are truly limitless with customization, but the most popular items include:
Mugs
T-shirts
Watches
Phone Cases
Sweaters
Jewelry
Water bottles
Family or pet portraits
Home decor
Blankets and bags
Candles
Customizing an item to present as a gift to your family member is sure to bring a smile to their face. They will cherish and appreciate their personalized gift for years to come.
4. iPhones
Smartphones are convenient and portable — and they're practically a necessity to navigate the world today. Apple iPhones are a great gift for teenagers, adults or seniors in your family who need a phone or an upgrade from their old one. Phones are essential for keeping families connected, checking a loved one's location, sending pictures and sharing updates.
Additionally, iPhones offer many of the same features that iPads do, as these cell phones can go on the internet, text, call, send emails, access social media and banking apps and buy items online. iPhones also have access to many apps that would help meet your loved one's needs. Purchasing an iPhone for a family member will definitely excite them because there are so many possibilities with this device.
Buying an iPhone doesn't have to be expensive, either. Many refurbished, pre-owned iPhones are available in various models, including some of the latest ones, such as:
The newer iPhone models are also dust and water-resistant and have advanced security with Face ID. The latest versions also have enhanced video and camera quality as well as a larger screen for streaming. These are great tech Christmas gift ideas for the family that offer versatility and maintain communication with your loved ones.
5. Exercise Equipment
Physical exercise is a part of many people's lives. As people begin to work from home more, they also began to exercise from home to practice social distancing. One survey stated that 64% of people have been more interested in at-home exercise and fitness options since the pandemic. In particular, exercise bikes, treadmills and other related equipment have become popular for their convenience for at-home exercise.
During the holidays, it's no secret that many people like to travel, relax with their families and, most importantly, eat a lot of great food. During this season, exercise may take a back seat as families prioritize making memories and resting during their vacation time from work and school. However, there will be more time for daily runs, afternoon yoga and cycling on stationary bikes once the holidays are over.
Gifting exercise equipment or accessories is perfect for your family members who love to stay active or start their fitness journey. Here are some fitness accessories that would make great family gifts:
Exercise bikes
Resistance bands
Running sneakers
Wireless earbuds
Yoga mats
Workout clothes
Adjustable dumbbells
Foam rollers
Fitness watches
Wearable ankle or wrist weights
Exercise accessories are a perfect gift for any member of your family. Whether your loved one enjoys sports, evening walks around the neighborhood, stretching or weight-training, there are plenty of options to choose from.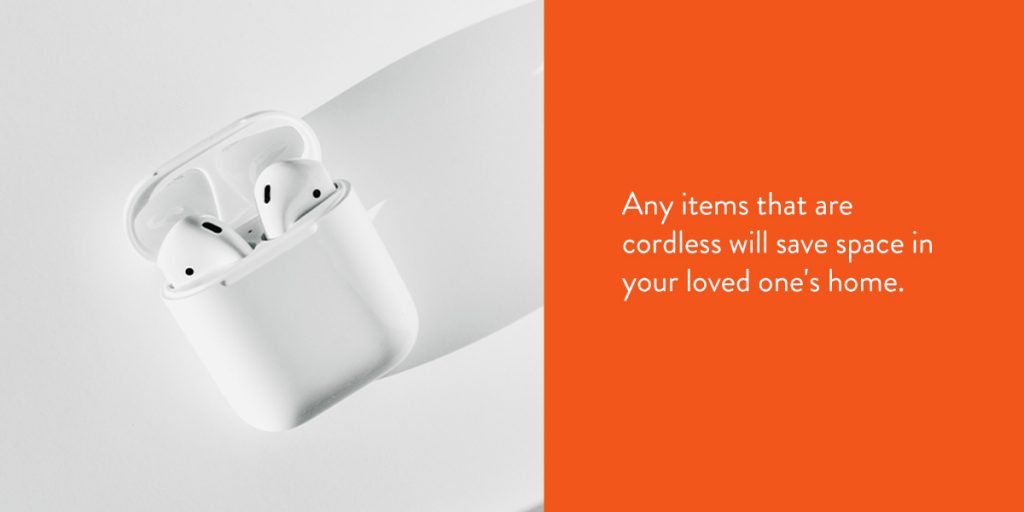 6. Wireless Accessories
Mobile media consumption and technology have advanced rapidly over the last few decades. These digital advances have dramatically impacted how we live and communicate with each other. Wireless accessories, such as cordless headphones, are especially convenient, making many functions faster, easier and better. These are a great gift option to provide your loved ones with a great tool to enhance their daily activities.
Wireless family gift ideas include a broad range of items, such as:
Bluetooth headphones or earbuds
Portable speakers
Video game console controllers
Photo printers
Phone chargers
Karaoke machine and microphones
Bluetooth video doorbell systems
These gift options would be ideal for anyone in your family who loves to play games, watch movies, listen to their favorite albums or simply wishes to improve their home gadgets. Any items that are cordless will save space in your loved one's home. Additionally, Bluetooth or Wi-Fi features that connect automatically will be easy for anyone to install and use. This holiday season, give your family members a gift they can always enjoy that complements the tech or mobile devices they already own.
7. Galaxy Phones
While iPhones are a coveted Christmas gift, Samsung Galaxy phones are just as exciting. Android devices allow for customizable features and multitasking, as well as the same amount of storage space that iPhones offer. This gift would be an excellent option for any loved one who needs a new phone but prefers the advanced display and AR technology.
Newer Galaxy models also offer wireless charging and power-sharing, allowing your loved ones to charge others' cell phones if needed. Additionally, the latest versions of the Galaxy phones offer a larger screen for easy viewing and enable up to 28 hours of battery life. Purchasing a pre-owned Galaxy cell phone can save you money on this gift.
Any of these Samsung Galaxy cell phones will be sure to impress your family members. Some of the newest available models include:
It's always beneficial to save money when holiday gift shopping. With a used phone, you can get the same updated features for your loved one at a fraction of the price.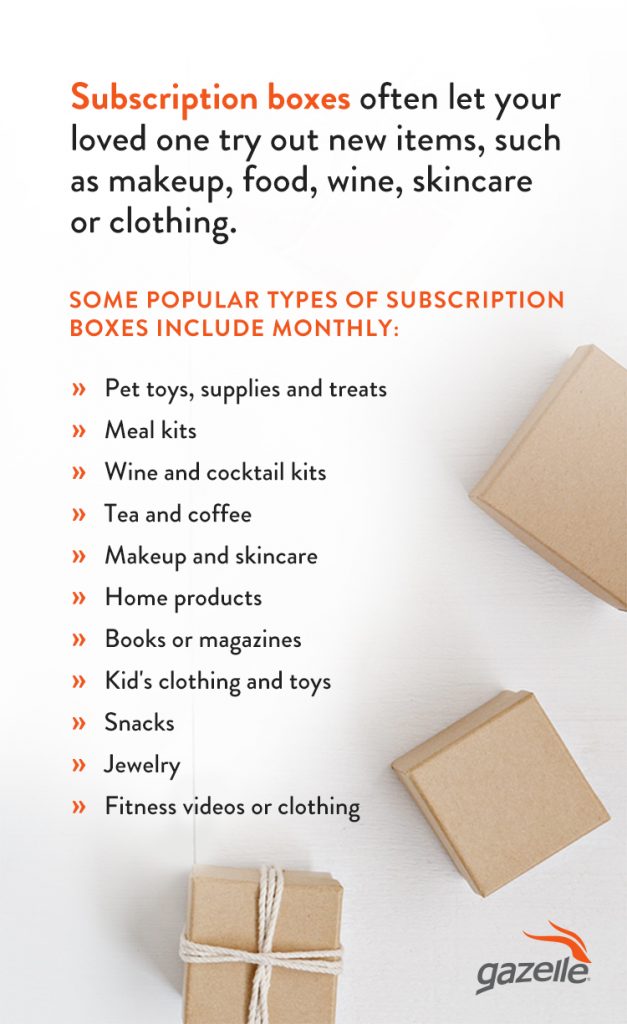 8. Subscriptions
If you are shopping for a family member who is notoriously picky or hard to surprise, consider a subscription box. These boxes are customizable, and there's one to fit the interest of any member of the family. A subscription box is a gift that keeps on giving — literally. Your loved one will receive something every month depending on what package you choose for them. This is a delightful gift option that can last all year.
Your family member will look forward to getting their next package in the mail and think of you when they receive this thoughtful gift each month. Subscription boxes often let your loved one try out new items, such as makeup, food, wine, skincare or clothing. Some popular types of subscription boxes include monthly:
Pet toys, supplies and treats
Meal kits
Wine and cocktail kits
Tea and coffee
Makeup and skincare
Home products
Books or magazines
Kid's clothing and toys
Snacks
Jewelry
Fitness videos or clothing
There are so many possibilities when giving subscription boxes as a gift for a family member. You can feel confident in this choice and provide the recipient with trendy gifts that will keep them consistently surprised. These boxes come at many different price points, so you can find the perfect option that fits your budget.
9. Family Games and Activities
The holidays are about spending time with those you love the most. This year, you can purchase a gift that will bring joy and create experiences for the Christmas season. Encourage family bonding and making memories by gifting activities or board games that involve the entire family. These entertaining games will ensure that even the youngest and oldest members of the family can participate and cherish the fun.
Some examples of these family games include:
Bowling set
Lawn jenga
Bingo
Virtual reality video games
Board games
Puzzles
Trivia or quiz games
Ice cream maker
Snowcone machine
Card or party games
Your family member can use any of these gifts all year round, or you can opt for Christmas versions to create a yearly family tradition. With these holiday gifts, you can provide endless opportunities for joyful occasions. If you are looking for Christmas presents to give to several members of your family, a set or kit that allows them to interact together might be the best option. Smaller gifts, like card games or mini puzzles, would also be perfect as a stocking stuffer.
10. Laptops
Laptops are a wonderful gift to give to any family member. Like most technological devices, laptops are especially versatile and can provide many practical and entertaining functions. For editing videos, writing documents and storing data, Apple MacBooks are a superior option. MacBooks are portable and have a long battery life, which makes them just as convenient as iPads with more processing power. If you have an iPhone and MacBook, you can since your data across all your devices.
A laptop is a perfect gift for streaming shows and movies, with higher speed and a wider screen. For students, these laptops are a valuable addition to studying, taking notes, creating presentations and researching. MacBooks are especially beneficial for those who need to consistently process files or work on several tasks at once. These laptops also come in different storage sizes, which is great for artists who need to store lots of photos, videos or music.
Save money this Christmas with a used MacBook that is fully inspected for quality and performance. Some popular pre-owned Macbook models include the MacBook Air and the MacBook Pro.
Apple MacBooks will certainly impress any of your family members as they can use them for so many different things. MacBooks are also capable of syncing with other Apple devices to improve sharing documents, photos and other data.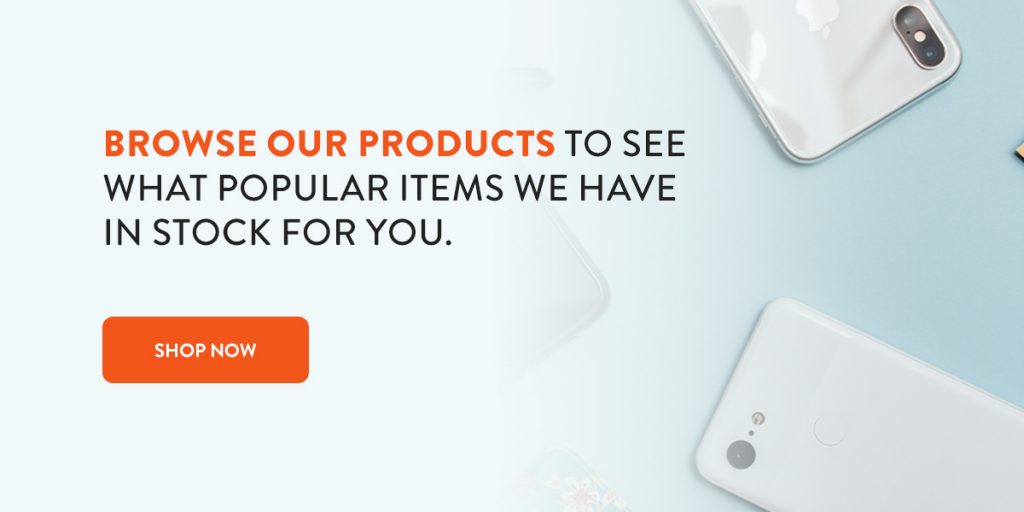 Browse Gazelle's Gift Options
When starting your holiday shopping, you can find the perfect Christmas gifts for the family with Gazelle. Tech gifts are extremely versatile and sure to satisfy the needs of any loved one. With Gazelle's options, you can gift valuable, functional devices for a better price. Our website is transparent, safe and secure, and with our 30-day return policy, you can be confident in your purchase for your family member.
We carry many different pre-owned devices in various models, storage capacities, conditions and prices. All of our refurbished electronics are also carrier compatible. You can work within your budget and find the greatest gift option for someone special this Christmas. Purchasing a used cell phone, tablet or laptop will also help contribute to a more eco-friendly world.
Gazelle offers financing options to our qualified customers to provide more convenience and flexibility all year round. Contact us today or browse our products to see what popular items we have in stock for you.

Comments
comments