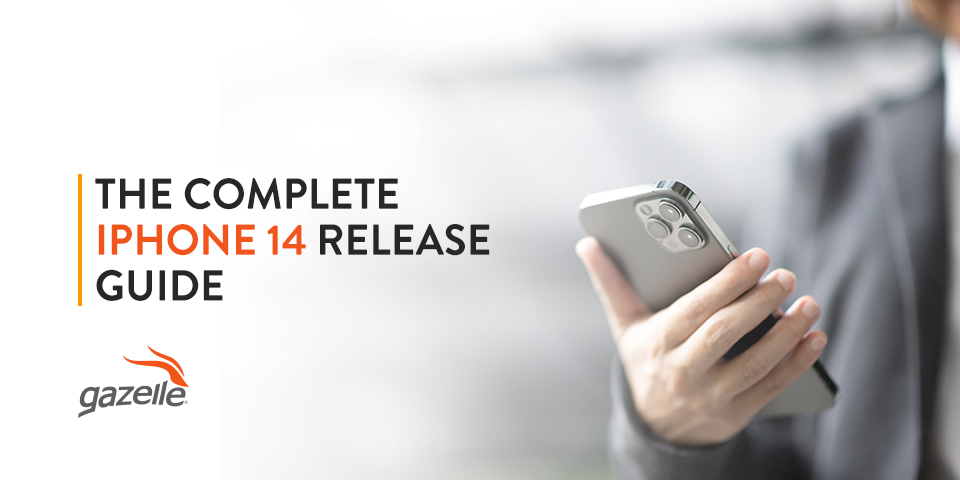 With less than a month before the eagerly awaited Apple® iPhone 14 rumored release, we think it's high time to tell you what you can expect. Apple has all but perfected their physical designs, so we should get a similar look, but under the hood, rumors point to a host of interesting features. From a 48MP camera to a no-notch display, the iPhone 14 is shaping up to be an exciting generation. To prepare for the new release, we've compiled the top iPhone 14 rumors with some of the potential new features we can start looking forward to.
The Rumored iPhone 14 Lineup
The new iPhones should look similar to the current options we have for the iPhone 13, which has the standard iPhone 13, iPhone 13 Mini, iPhone 13 Pro and iPhone 13 Pro Max. The new lineup will have one important exception, as Apple is supposedly swapping the Mini for a new 14 Max. Since the Mini model wasn't all that popular, the Max option should offer a larger size without asking customers to fork over top-dollar for the Pro Max version.
Other than that, we can probably expect similar offerings — a standard phone with the basics or a Pro model with all the bells and whistles, including better cameras and display tech.
We've seen some conflicting rumors about what colors will be available, but potential Apple iPhone 14 colors include blue, black, white, red and purple for the standard models and purple, silver, graphite and possibly gold for the Pro models. We might also see green or even rose gold in the mix.
iPhone 14 Release Date and Price
Apple has a fairly predictable release schedule, so it's highly likely they'll announce the iPhone 14 in early September. Predictions point to an event Apple is hosting on Sept. 7, with sales starting shortly after on Sept. 16.
The iPhone 13 starts at $799, and the iPhone 14 prices are expected to start there as well. The iPhone 14 Max should sit in between the standard phone and the Pro at about $899. At first, rumors suggested that the Pro models would cost more than the previous generation's, putting the Pro and Pro Max at starting prices of $1,099 and $1,199, respectively. However, recent leaks have suggested a possible 15% price hike across the board.
iPhone 14 Features
Although the standard models aren't getting a huge revamp, the Pro Max should get some impressive new features. Here's what we know so far.
Design
Unsurprisingly, the iPhone 14 design should look pretty close to the iPhone 13 lineup with a sleek, flat-edged body design. We'll probably get a thicker phone overall, with a semi-glossy glass back and round volume buttons. A few changes that we might see in the design include:
A larger camera bump: At first, rumors suggested a thinner camera bump, or the height difference between the lenses and the back of the phone. Now, it looks like it will actually be a little thicker, at least on the Pro models, to hold a better lens.
A titanium alloy chassis: iPhones have traditionally used stainless steel or aluminum in the phone bodies, but we might see a stronger, more scratch-resistant option with titanium alloy.
A new cooling system: To keep up with the competition, Apple might be using a new vapor chamber thermal system to keep the phone cooler and offset the effects of upgraded specs. This technology uses a tiny network of chambers filled with liquid that evaporates and condenses to evenly distribute heat throughout the system and pull it away from the heat-producing chipsets. Some phones already use this feature, and some people expect Apple to add it with the newest lineup.
Display
The iPhone 14 display should get some big changes, starting with Apple's first move away from the notch.
So far, Apple has housed the front camera and Face ID sensors in a small notch that dips down from the top of the screen. Now, we're looking at a less-obtrusive design that puts these components in a smaller element — most likely, a circle next to a pill-shaped cutout in a similar location. This new design would only be used in the Pro and Pro Max, leaving the typical notch design for the standard models.
Another major development is the potential for an always-on display. This would also be unique to the Pro and Pro Max models, but it would allow certain types of data and widgets, like weather and calendars, to remain on the lock screen without needing to wake up your phone. It uses a low refresh rate to keep battery life long and helps keep pace with some of the top features Android phones already have.
The 14 and 14 Pro screen sizes should be around 6.1 inches on the diagonal, with the Max and Pro Max models coming in at about 6.7 inches. The Pro models will likely receive a 120Hz refresh rate — which affects how smooth the screen movement appears — but there's no such luck for the standard models, which will likely get 60Hz refresh rates.
There were some talks of an in-screen Touch ID element, which would be hidden underneath the screen and allow you to use your fingerprint to unlock the phone, like some older iPhones and the SE models do. However, it looks more and more like Apple is going all-in on Face ID and will not be including this feature in the iPhone 14.
Camera
Apple usually prefers to focus on image processing power rather than hardware, but this year, we're expecting the first increase in megapixels that we've seen in a long time. If you want this upgrade, you'll likely have to spring for a Pro or Pro Max. On those models, we should see a 48MP main camera capable of recording 8K video, which is a considerable bump from the 12MP camera on the iPhone 13.
Still, megapixels aren't everything, and one leaker has suggested that the 14 setup might underperform in low light compared to the iPhone 13 cameras. Still, the software still has plenty of time for development, which is where Apple can implement features like pixel binning. Pixel binning involves grouping pixels together to function as one. It's a complex process, but it would mean that the camera could use pixel binning to achieve higher-quality photos in low light and switch to regular photos in optimal lighting conditions.
As for the other cameras, we expect Apple to follow the same pattern as it did for the iPhone 13 lineup, giving Pro models a triple-lens system and sticking with dual lenses for the standard models. The iPhone 13 Pro and Pro Max have Telephoto, Wide and Ultra Wide camera systems, and it's likely we'll see those on the iPhone 14 Pro and Pro Max. The standard models nix the Telephoto lens.
Some other features we might see go to the front camera, which hasn't gotten much of an upgrade since the iPhone 11. These new features could include autofocus, additional elements and a wider f/1.9 aperture. These should be available for both the standard and Pro models.
Specs
The iPhone 14 series could get some kind of chip upgrade. The iPhone 13 lineup has an A15 Bionic chip, so we're expecting either an A16 or an A15 Bionic to potentially give the 14 series a speed boost. Some rumors initially suggested they would be moving to faster 4nm or even 3nm technology, but it looks like Apple will be sticking to a 5nm chip.
Even if Apple sticks with the A15, some other performance boosts are likely on the docket.
Some of the new specs we could see in the iPhone 14 include:
While these might be modest updates individually, they could pack a pretty big punch together.
Battery and Power
Last but not least is how Apple will approach the battery life. As usual, we expect most phones to get a slight upgrade in battery capacity, except for the Pro Max, which might have a negligible downgrade.
Here's what the rumor mill has to tell us:
iPhone 14 Mini/Max: The Mini is likely being replaced with the Max, which has more room for a bigger battery, so it's not surprising that we're expecting a bump in battery life. The iPhone 14 Max may have a 4,325mAh battery, while the iPhone 13 mini has just a 2,406mAh battery. This capacity would give the Max the largest battery out of the entire lineup.
iPhone 14: The standard phone could get a slight increase from 3,227mAh in the 13 to 3,279mAh for the 14. For reference, the iPhone 13 offers about 75 hours of audio playback and 19 hours of video playback.
iPhone 14 Pro: The Pro model should have a decent bump from 3,095mAh to 3,200mAh. The 13 Pro currently gets up to 75 hours of audio playback and about 22 hours of video playback.
iPhone 14 Pro Max: Lastly, the Pro Max may get just a small decrease from 4,352mAh to 4,323mAh, perhaps to make room for the beefed-up camera system. The 13 Pro Max offers up to 28 hours of video playback and a whopping 95 hours of audio playback for reference.
These numbers are just looking at capacity, but since software plays a big role in battery life, we'll have to wait for real-world tests to tell us how long these phones will really last.
Another major change we might see is the potential addition of a 30W charger, a significant increase from the iPhone 13, which can be charged at a maximum speed of 20W. The 30W charger would enable faster charging — an area in which Apple products have traditionally lagged. Considering that competitors have been offering faster charging speeds for years, it's a good time for an improvement in this area.
Finally, we can't finish a summary of the iPhone without discussing the charging port. The European Union has officially announced plans to require USB-C ports for phones, tablets and cameras, so many have been wondering if Apple will make the switch this year. Ultimately, there isn't much evidence pointing in this direction, and we're still expecting lightning chargers with the iPhone 14. The iPhone 15 will likely get USB-C, but we've got some time before then.
Get Ready for the iPhone 14 Release With Gazelle
Sold on the iPhone 14? Us too — but don't forget about your current phone when it's time to switch.
Whether your phone is on its last leg or you're just ready for something new, we can help you make the most of it and put that money toward the new iPhone. At Gazelle, we make it easy to buy and sell used devices. You don't need to deal with sketchy people, figure out the right price or worry about getting a bad device. We offer straightforward, trustworthy listings and a 30-day return policy if it's not the right fit.
With the 14 coming out, the iPhone 13 lineup could drop in price on both the new and used markets. We have plenty of iPhone 13 devices available so you can save big now, or you can come back later for a used iPhone 14! To see how your used device can help fund a new iPhone, get your offer in just a few minutes!
Comments
comments