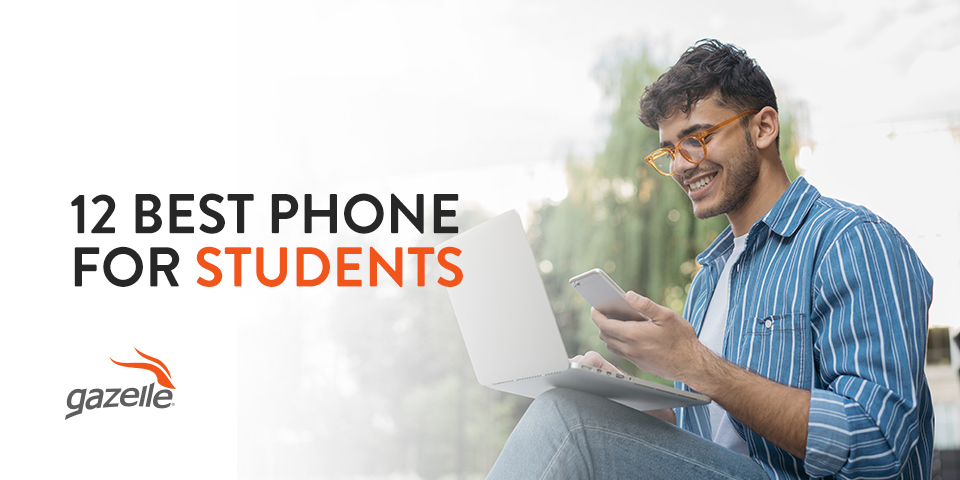 Whether you are a student looking for a new phone or buying a device for a student in your life, the right model will depend on a few different factors. You should consider everything from the price point to the size, and you'll need to understand how the phone will be useful for academic settings. We are sharing different models from the leading brands to help make your buying decision a little easier.
Check out our picks for the best cell phone for students and some key considerations for finding the right model!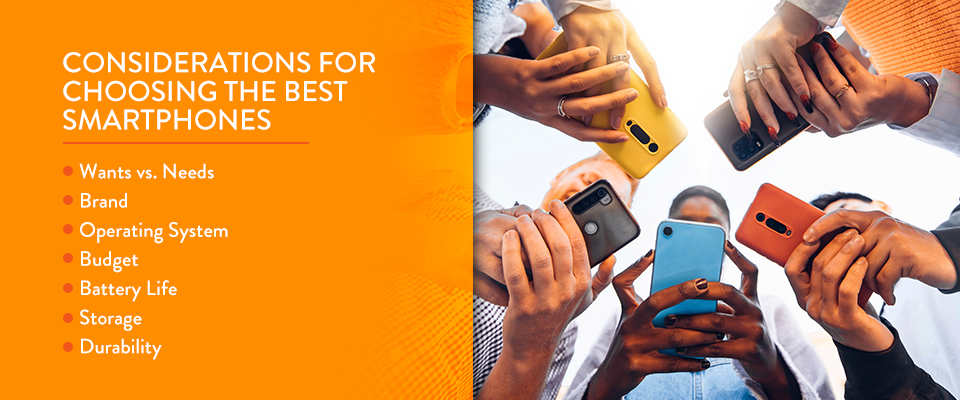 Considerations for Choosing the Best Smartphones
The following are key factors to consider when choosing a new phone for a student:
Wants vs. Needs
Evaluate your or your student's needs. While choosing a new device based on features such as color and how new the model is may be enticing, these are generally part of the 'wants' category. Focus instead on the 'needs' and ask yourself how the phone will come in handy for schoolwork.
Will the student need to connect with classmates for homework help or parents for after-school pickup? Will they need to use the phone's internet access for studying purposes? Consider all your most pressing needs.
Brand
Another important consideration is the phone manufacturer. Before buying, consider what other tech you or the student in your life has. The top smartphone brands include:
Samsung Galaxy
Apple iPhone
Google Pixel
If the student already uses tech from a certain brand, they are probably familiar with how the operating system works and may be able to link their devices to each other. For example, a student who already has an iPad could connect their Apple ID to a new iPhone and enjoy having data or work conveniently cross over between the two devices.
Operating System
When choosing the best phone, be sure to compare Android versus iOS operating systems. Consider the student's familiarity with the interface and its ease of use.
The operating system will also determine what kind of apps the user can download. If the user needs specific applications for schoolwork, choose a device that can accommodate these needs.
Budget
The price point is an important factor. Costs will depend on a few characteristics, such as:
Model
Storage capacity
Cameras
Features
Whether you are a student or buying one, you don't have to spend a lot of money to get a great device. You can save a lot by buying a used smartphone instead of something brand new.
Battery Life
Be sure to look into battery life before buying a new smartphone. Some students leave for class in the morning and don't return until the evening. They'll need a device with great battery life to make it through the day without dying.
For students who use their phones throughout the day, spending a little extra on a model with an exceptionally long-lasting battery may be worth it.
Storage
Consider different storage options when choosing a smartphone. Again, the right storage capacity will depend on how the student will use the device. For example, if a high school student will use their phone for a videography class, they may need more gigabytes than someone who just needs to call their parents for pickup after practice.
Durability
Durability is an important factor because smartphones are an investment. Consider if you or the student you're buying for needs certain features like water resistance or a shatterproof screen.
Different models vary in durability, so you may also want to purchase a case for additional protection against accidents.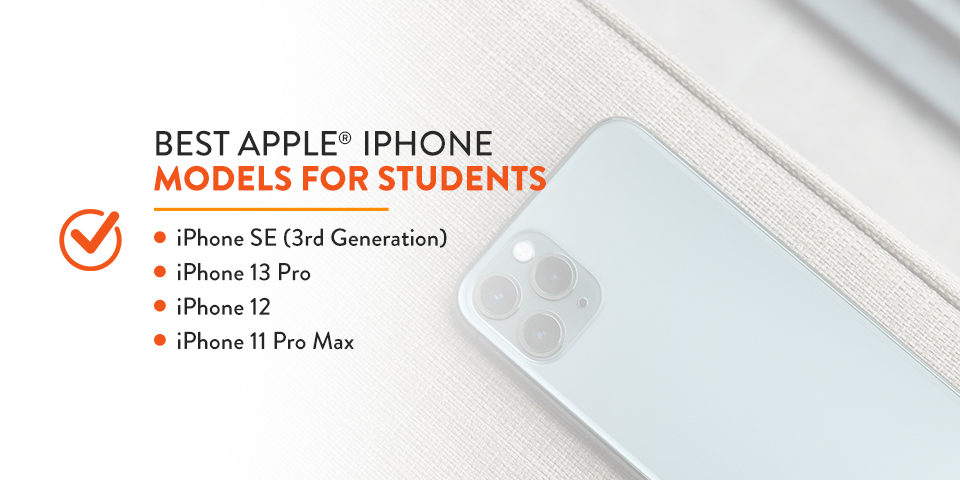 Best Apple® iPhone Models for Students
Apple® iPhones are great cell phones for students. They have so many unique and useful features. From monitoring screen time to jumping on a FaceTime call with friends for a study session, these smartphones have lots of advantages for those in school.
Check out our picks for the best iPhones for students:
iPhone SE (3rd Generation)
The Apple® iPhone SE (3rd Generation) is an awesome choice for younger students. It has basic features, such as:
A single wide lens camera
A FaceTime HD camera
15 hours of video playback
Touch ID
The SE is compact with a 4.7-inch Retina HD display. The battery life for these iPhones is shorter than other devices, so they would work best for a student that doesn't need to work on their phone throughout the day.
Since these models do not have the extra bells and whistles, they are generally at a lower price point than other options. They are available in three color options, including:
iPhone 13 Pro
The Apple® iPhone 13 Pro is one of the best phones for students who plan to use their device for various school-related activities. These models feature a 6.1-inch Super Retina XDR display and an impressive battery life with up to 22 hours of video playback. You can find the 13 Pro in these colors:
Alpine Green
Silver
Gold
Graphite
Sierra Blue
The 13 Pro is especially durable and made with a ceramic shield front and a surgical-grade stainless steel body. It is water resistant for up to 30 minutes in 6 meters of water and comes with these storage options:
128 gigabytes
256 gigabytes
512 gigabytes
1 terabyte
Students that need to record videos and take pictures will benefit from the iPhone 13 Pro because of its advanced cameras. The rear features the following lenses:
Because this model has extensive features and is one of the newest iPhones on the market, it will have a higher price point.
iPhone 12
If you're looking for a middle-of-the-road smartphone for a student, the Apple® iPhone 12 could be a perfect choice. It has a 6.1-inch Super Retina XDR display and up to 17 hours of video playback.
iPhone 12 models are available in the following colors:
Purple
Blue
Green
Red
White
Black
With both a wide and ultra-wide lens camera, these models are suitable for some photography and videography needs. Finding the right amount of storage is easy because iPhone 12 options include:
64 gigabytes
128 gigabytes
256 gigabytes
The iPhone 12 has a moderate price point and is suitable for students who need some but not all advanced features.
iPhone 11 Pro Max
If you are searching for a smartphone that offers tremendous performance without a huge price tag, consider the Apple® iPhone 11 Pro Max. These models have an especially large, 6.5-inch Super Retina XDR display. They are compatible with 4G LTE cellular and feature three cameras with the following lenses:
With up to 20 hours of video playback, these devices are perfect for students who need their phones all day long.
Color options for the iPhone 11 Pro Max include:
Midnight Green
Silver
Space Gray
Gold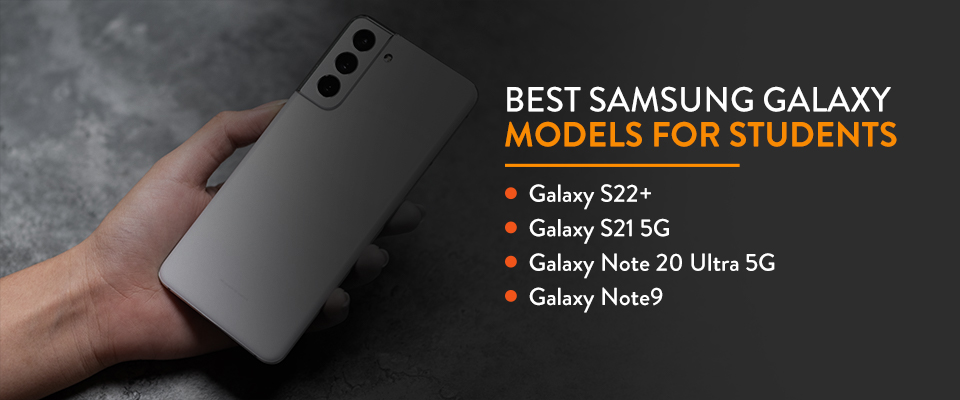 Best Samsung Galaxy Models for Students
While searching for the best smartphone for individuals in school, consider our picks for the top Samsung smartphones for students:
Galaxy S22+
The Samsung Galaxy S22+ is one of the best android phones for students looking for a newer device with great features. You can decide between 128 gigabytes and 256 gigabytes of storage and enjoy three impressive rear cameras, including the following lenses:
50-megapixel Wide
12-megapixel Ultra-wide
10-megapixel Tele 2x Optical
Students can get a lot out of the S22+. The screen on this model is larger than any iPhone with a 6.6-inch display which can come in handy while studying online or reading an e-book. With its 4,500 mAh¹ battery, these devices can easily last throughout the school day.
The Galaxy S22+ is available in eight different colors, including:
Pink Gold
Phantom Black
Phantom White
Green
Graphite
Cream
Violet
Sky Blue
Galaxy S21 5G
Students who need a fast-performing phone should consider the Samsung Galaxy S21 5G. Though this model has a slightly shorter battery life than the Galaxy S22+, its speed makes up for it. You can choose from the following color choices:
Phantom Gray
Phantom White
Phantom Violet
Phantom Pink
The Galaxy S21 5G features a 10-megapixel selfie camera and the following three rear lenses:
12-megapixel Wide
12-megapixel Ultra-wide
64-megapixel Tele 2x Optical
These devices also support 8k video recording and Space Zoom, perfect for students who need to record videos for projects or extracurricular activities. They have a vivid 6.2-inch Infinity-O Dynamic AMOLED 2X display with a built-in Eye Comfort Shield to help combat blue light for individuals who spend a lot of time on their phones.
Galaxy Note 20 Ultra 5G
College students looking for massive storage options and fast processing can benefit from the Samsung Galaxy Note 20 Ultra 5G. These devices are available with 128 gigabytes or 512 gigabytes of storage and are compatible with both 4G LTE and 5G cellular. You can find them in the following color options:
Mystic Bronze
Mystic Black
Mystic White
The Note 20 Ultra 5G is a special smartphone. It features a 6.9-inch Infinity-O Quad HD+ Dynamic AMOLED 2X edge display. They come with a Bluetooth stylus for taking important notes while studying or remotely controlling different apps. With one rear camera, this device is more useful for researching and reading than for capturing photos and videos.
Galaxy Note9
If you are in the market for a cheaper model that accommodates note-taking, then the Samsung Galaxy Note9 may be a suitable option. The Bluetooth stylus lets users control apps remotely, and these phones are available in playful colors, including:
Midnight Black
Ocean Blue
Lavender Purple
Metallic Copper
Cloud Silver
Galaxy Note9 devices are a great budget-friendly option that delivers on performance. The 6.4-inch Quad HD+ Super AMOLED display makes jotting down notes and reading online material easy. They have a single 12-megapixel rear camera and an 8-megapixel front selfie camera with scene optimizer technology for better-colored photos and videos.
Best Google Pixel Models for Students
Google's Pixel series features impressive cameras and battery life, making them ideal for individuals in college or high school. Explore our top picks for the best Google Pixel models for students:
Pixel 6
The Google Pixel 6 features an impressive 6.4-inch display and Google's first-ever processor named Tensor. These devices are known for their speed and camera capabilities. Its 4,614 mAh battery supports hours of use throughout the school day.
If you are looking for an especially durable phone, the Pixel 6 features Corning® Gorilla® Glass Victus™ cover glass, making them perfect for students on the go. Google also adds a fingerprint-resistant coating and features to combat water and dust.
You can choose from either 128 gigabytes or 256 gigabytes of storage. The Titan M2 security coprocessor adds extra protection for the user's personal information and data. Students who store a lot of documents will appreciate the security.
These models feature two rear cameras, a 50-megapixel wide lens and a 12-megapixel ultra-wide lens. The Pixel 6 is available in the following colors:
Stormy Black
Kinda Coral
Sorta Seafoam
Pixel 4a
With its 5.8-inch display, the Google Pixel 4a is the smallest of the Pixel family. You can find it with 128 gigabytes of storage and enjoy unlimited Google Photos storage, making this model ideal for students who need to save photos of study material and notes.
The Pixel 4a has a single 12.2-megapixel dual-pixel rear camera with:
Night Sight
Top Shot
Portrait Mode
Super Res Zoom
Live HDR+
These models are available in blue or black. This simple yet impressive smartphone is perfect for the student that needs only the essential features.
Pixel 5
The Google Pixel 5 is a great phone for students because it is relatively inexpensive and compatible with 5G cellular. You can choose between 32 gigabytes or 128 gigabytes of storage, depending on how much space will be necessary to store important schoolwork or documents.
These models are available in two colors, Just Black or Sorta Sage. They feature a middle-of-the-road 4,080 mAh battery that can support use throughout the school day. The Pixel 5 has both an ultra-wide and a wide-angle rear lens to support a range of photography needs.
Pixel 4 XL
If you're looking for a smartphone with a large screen and advanced features, the Google Pixel 4 XL might be ideal. These models have a 6.3-inch display for reading study materials or e-books. The two rear cameras include a telephoto lens and a wide-angle lens.
You can choose from the following colors for the Pixel 4 XL:
Black
Clearly White
Just Black
Oh So Orange
White
These devices are available with either 64 gigabytes or 128 gigabytes of storage. They are durable and feature scratch-resistant glass and a dustproof frame for added durability.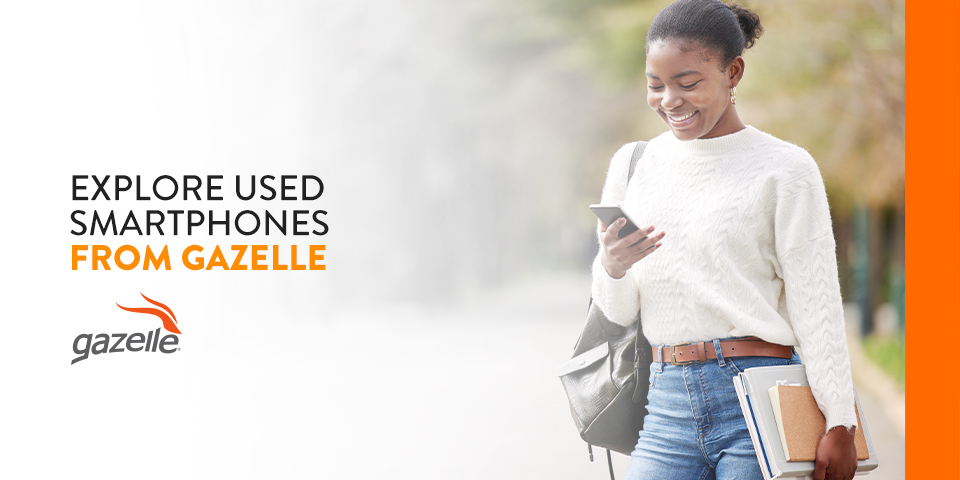 Explore Used Smartphones From Gazelle
If you're looking to buy a smartphone, turn to Gazelle. We have a wide selection of used phones, so you can get all the features you want without overspending. You can depend on us for honest pricing.
We quality-inspect every device to ensure it is ready for use. Plus, you can feel good knowing you are making an environmentally-friendly decision by picking a used device instead of a brand new one. Gazelle offers a 30-day return policy, and you never have to worry about contracts or hidden fees. We make your shopping process easy with fast payments and free shipping.
Do you want to learn more? Shop used phones from Gazelle or contact us today!
Comments
comments