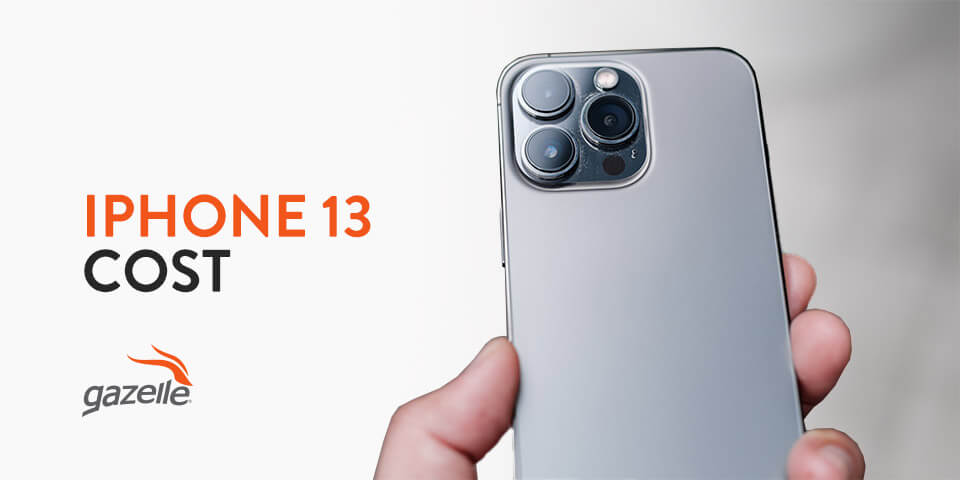 After the release of the iPhone 14, the iPhone 13 dropped in price. It's now an excellent choice for anyone looking to grab a modern iPhone at a more affordable cost. Apple hasn't made many drastic changes in the last few years, instead opting for minor upgrades, so you can still get industry-leading features at a lower cost by going back a model.
The iPhone 13 added more storage, a brighter display, a processor upgrade and a few nice camera features to the iPhone collection. It offers all the features you expect from Apple, like 5G support, MagSafe and wireless charging, Apple Pay, Face ID, IP68 water resistance and stellar photo processing technology.
Let's explore iPhone 13 prices and what you get for your money.
How Much Does the iPhone 13 Cost?
Following tradition, Apple dropped the iPhone 13 by $100 after releasing the next model, so the lineup now starts at $599. The 13 comes in the same varieties as the iPhone 12, so you can grab a smaller iPhone 13 mini, the standard iPhone 13 or the powered-up iPhone 13 Pro or Pro Max. Apple no longer sells the iPhone 13 Pro models, so you'll have to buy from a reputable reseller if you want one of those. 
iPhone 13 mini
The 13 mini packs the full iPhone experience into a smaller package. It has a 5.4-inch display and all the typical iPhone features, like a dual-camera system, a gorgeous OLED display and the A15 Bionic chip. The minis are available in pink, blue, midnight, starlight, green and (PRODUCT) RED.
The iPhone 13 mini price point starts at $599 for 128GB of storage. You can also bump up to 256GB of storage for $699 or 512GB for $899 retail. Alternatively, you can snag a used iPhone 13 mini starting at less than $500.
iPhone 13
Moving up to the standard iPhone 13 will net you a 6.1-inch display and up to 19 hours of video playback — two hours more than the mini. Otherwise, the specs are virtually the same as those on the mini. A new iPhone 13 is priced at $699, but you can snag one used for about $500-$600. If buying new, the 13 retails for $799 for 256GB of storage and $999 for 512GB of storage. It's available in the same colors as the 13 mini.
iPhone 13 Pro
The iPhone 13 Pro is the same size as the 13, but it packs in a Pro camera system with a Telephoto lens for up to a 6x optical zoom range. It offers up to 22 hours of video playback and is made of stainless steel rather than aluminum. The Pro models also add ProMotion technology, which can create a buttery smooth viewing experience. With the Pro models, Apple Night mode portraits, Macro photography and Apple ProRAW and ProRes recording options.
iPhone 13 Pro prices start at about $600-$700 on the used market. Of course, higher storage options will increase the price. You can choose from 128GB, 246GB, 512GB and 1TB storage options. Colors include Alpine Green, silver, gold, graphite and Sierra Blue.
iPhone 13 Pro Max
Last up is the iPhone 13 Pro Max. It offers almost the same specs as the 13 Pro but with a 6.7-inch screen and up to 28 hours of video playback. A used 13 Pro Max price will typically start at under $800. Storage options again include 128GB, 246GB, 512GB and 1TB.
Which iPhone 13 Should I Buy?
The right iPhone for you depends on many different factors. Here are some aspects to consider when choosing an iPhone 13 model:
Size: The iPhone 13 mini seems to be the last one that Apple will manufacture, so if you like the idea of a small phone, you may want to snag this one. Otherwise, the 6.1-inch and 6.7-inch displays seem to be sticking around.
Camera system: The Pro and Pro Max offer better camera systems, so smartphone photographers may opt for one of these models. The standard options will still give you exceptional photos. The average user likely won't be disappointed with them.
Storage: If you want a lot of internal storage, you'll need to pay a little more for it. The Pro models are the only ones with the 1TB option.
Colors: The standard and Pro models come in slightly different color sets, so you might need to opt for one or the other if you're looking for a specific color.
Battery life: The iPhone 13 Pro Max has the most battery life out of all of these phones, with a whopping 28 hours of playback. That's 11 hours more than the mini offers. Consider whether you need your phone to last all day or if you can handle topping it up in the middle of the day.
Display: The display of the 13 is slightly brighter and adds ProMotion technology. If you want this adaptive refresh rate, which is popular with people who like to game on their phones, you need to get a Pro model.
Price: Your budget will also play a role in which phone is right for you. The Pro Max is great, but it isn't cheap. On the other hand, the mini is more affordable, but it doesn't have all the bells and whistles. Find the balance of functionality and cost that fits your needs.
If the iPhone 13 doesn't seem just right, you might also consider the iPhone 12 or the iPhone 14. The 14 added some features like satellite-based safety features, a stabilized Action mode for video and the Dynamic Island tool that adapts to show more information about whatever you're doing. The standard iPhone 14 models even use the same A15 Bionic chip as the 13, although the Pro models move up to an A16 Bionic.
Another option is the iPhone 12, which is very similar. The battery life is just a little lower, and it uses an A14 Bionic chip. The storage options are halved, so you can choose from 64GB, 128GB and 256GB devices. The camera system has a less-sophisticated stabilization mechanism and lacks Photographic Styles and Cinematic mode.
Remember that you can also trade in your old device to offset the price of a new iPhone. Whichever route you go, make sure you buy from a reputable reseller.
Shop Used iPhone 13 Devices With Gazelle
At Gazelle, we've made it simple to buy used devices, no matter which iPhone you're looking for. With honest, accurate listings and a 30-day return policy, you can confidently buy a used iPhone 13 online. We even put some phones through a 30-point inspection to be Gazelle Certified.
Our devices are contract-free and guaranteed to be compatible with their specified carriers. Explore our used iPhone 13 devices and other used iPhones to get the Apple experience at a lower price.
Comments
comments