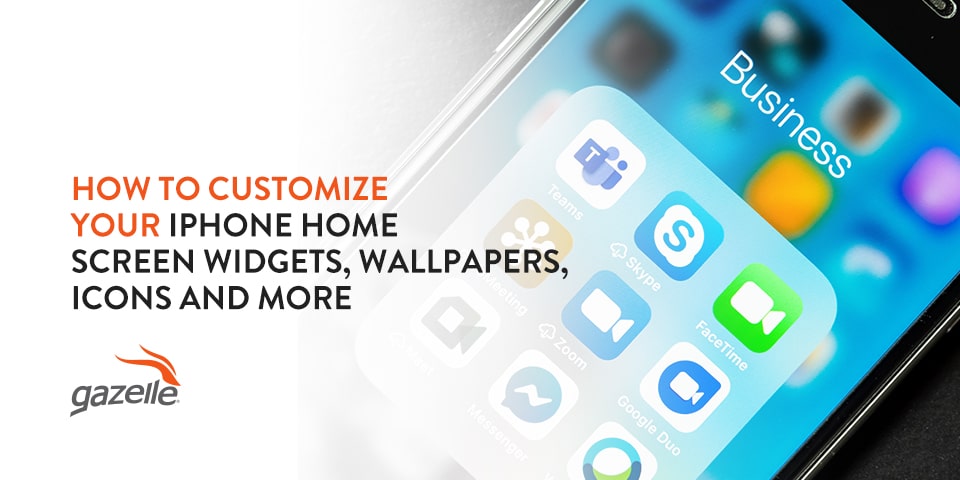 ew customization options are making boring cell phones a thing of the past. Technology is more customizable than ever, with Apple® iPhones coming in as some of the most customizable devices on the market. From a wide range of iPhone colors to customizing your iPhone home screen, Apple has made personalization a key feature of the newer iPhone lineups.
Whether you want to improve your focus while on your iPhone or make your phone an extension of your personal aesthetic, iPhones give you options. If you want to personalize your iPhone's home screen, this guide provides all you need to know. Find tips on customizing your iPhone widgets, wallpaper and more, plus iPhone home screen ideas to get your creativity flowing!
Benefits of Customizing Your iPhone's Home Screen
Customizing your iPhone home screen layout can have several benefits, from higher productivity to nailing that iPhone aesthetic. Here are a few reasons to make your iPhone home screen totally yours:
Better Productivity
Whether you use your iPhone for work or want to stay focused on specific tasks like checking the forecast or your email, personalizing your home and lock screens can help. Personalizing your iPhone's home screen with custom widgets and unique app icons can encourage you to be more productive every time you use your phone.
The iPhone customization options let users add widgets to their lock screen and home screen that pull data from their top apps, like the calendar or weather app. You can stay productive by keeping a range of information at the top of your screen, including stocks, reminders, fitness stats and more.
Better Organization
iPhone home screen customization also lets you organize your device how you want it. Maybe the default lock screen arrangement doesn't give you ready access to the information you need most or the home screen's setup feels clunky. Whatever your reason, you can rearrange your iPhone's apps and widgets however you like to keep your information organized.
Better Aesthetic
Increase your iPhone's home screen organization and make it aesthetically pleasing? That's a win-win. iPhones provide users with a ton of aesthetic customization options, from iPhone aesthetic wallpaper options to alternative icons for your most-used apps.
You can decorate your home screen and lock screens with a vast selection of colors, wallpapers and emojis. Users can add a photo shuffle, customize photos with tints or get a live, animated view of the weather in their area. With custom app icons and widgets galore, you can create a look that represents your style.
How to Customize Your iPhone's Lock Screen
Your lock screen is the place to start customizing your iPhone background. If your device operates on iOS 16, you can do a lot to personalize your iPhone's lock screen, including changing the clock font and color, updating the lock screen wallpaper and swapping out widgets. You can also create multiple lock screens and switch between them.
Here's how to customize the iPhone background on your lock screen:
1. Create a New iPhone Lock Screen
To personalize your iPhone's lock screen, begin by creating a different lock screen than your existing default screen. Follow these steps to add a new lock screen and start customizing:
Unlock your phone and long-press the lock screen, or swipe down from the top of the screen to access the lock screen.
Tap the blue Plus icon or swipe left until you reach a blank screen with Add New at the top, then tap the blue Plus icon.
2. Select Wallpaper
Choose from any of the following wallpaper option icons at the top of the screen:
Photo: Select a single image as your lock screen background and crop it or add filters.
Photo shuffle: This option creates a dynamic carousel of photos that changes throughout the day.
Emoji: Select up to six emojis that will display in a pattern on your lock screen.
Astronomy: You can set your lock screen as a satellite-generated view of the Earth, moon or entire solar system.
Color: Select a color from a color picker and choose a gradient or solid.
3. Change Clock Font and Color
The next step is to customize the clock on your lock screen with these steps:
Tap Customize at the bottom of the screen you want to personalize.
Select Lock Screen.
Press on the clock.
Choose from eight fonts.
Select a color from the options or color picker.
4. Add Widgets
You can also customize which five widgets to display on your lock screen:
Tap Customize beneath the lock screen.
Select Lock Screen.
Press the Add Widgets square.
You will see a selection of widgets you can add, including:
World clocks
Weather
Email
Phone battery
Calendar events
Fitness stats
Google Maps information like frequent trips
Home information like climate or lights
Once you select a widget, press and hold to see its configuration options. Add the widgets you want and finalize your selection by pressing the X in the upper right side of the menu.
How to Customize Your iPhone's Wallpaper
With your iPhone's lock screen customized to your liking, it's time to tackle the home screen. The standard iPhone home screen is a grid of your installed apps. Users with iOS 15 could hide apps, schedule times for the wallpaper to change and set a dark or light theme. The new iOS 16 provides all of those options and more.
By default, iOS 16 automatically matches your home screen to your lock screen after you customize it. If you want to create a separate home screen look or use an older iOS version, taking a few simple steps will give you the options you want.
Here's how to change the home screen on an iPhone:
1. Select Wallpaper
iPhone users can design their home screen so their wallpaper matches their apps and widgets to create an overall unique aesthetic. Whether you're looking for iPhone aesthetic wallpaper to spice up your home screen on iOS 16 or need iOS 14 home screen ideas, there are thousands of aesthetic wallpapers to suit your tastes.
Here are a few iOS home screen ideas to jumpstart your brainstorming process:
Dark theme
Pastels
Minimalist
Cloud aesthetic
Nature theme
Monochrome
Geometric
Seasonal
Floral theme
2. Set Wallpaper
You have to take different steps to change your iPhone's wallpaper, depending on which iOS version your device is running. To pick a home screen wallpaper for an iPhone using iOS 16, follow these steps:
Navigate to Settings.
Tap on Wallpaper.
Select Customize beneath the home screen image you want to customize.
Pick from a solid color, gradient or photo from your Photos app.
Older iOS versions Here's how to customize your iOS 14 or iOS 15 home screen with new wallpaper:
Go to Settings.
Scroll down to Wallpaper.
Select Choose a New Wallpaper.
Pick from the list of dynamic or still images at the top of the screen, or choose one of your own images.
Tap Set and Set Home Screen.
2. Choose a Focused Home Screen
With the help of Apple's Focus tools, you can also select a focused home screen that removes apps and widgets not associated with that Focus. Here's how to customize your home screen to a specific Focus:
Navigate to Settings.
Scroll down to Focus.
Select a Focus like Personal, Sleep or Work.
Tap Choose under the home screen image.
Either create a new home screen page with apps designed for your Focus or select an existing page.
How to Customize iPhone Widgets
Now that your iPhone home screen is personalized, you can customize widgets to change your home screen's appearance even more. Widgets are a helpful addition to your iPhone home screen that displays useful information from your apps in a more accessible and visually pleasing way.
Here's how to customize widgets on your iPhone:
1. Add Common Widgets
Many apps include built-in widgets you can use on your home screen. Pre-installed apps with widgets include Calendar, Books, Photos, Game Center and Notes.
To access these widgets, you need to:
Long press on a blank space on the home screen.
Tap the Plus in the upper corner of the screen.
Scroll through the available widgets or use the search bar to look for a specific one.
Tap the widget you want to add and scroll through the options.
Select Add Widget at the bottom of the screen.
Drag the widget to reposition it on your screen.
2. Create a Custom Smart Stack
Apple also has a signature widget called Smart Stack that combines multiple widgets. A neat Smart Stack feature is that it can present different widgets throughout the day based on your iPhone use.
To customize your Smart Stack, follow these steps:
Press and hold a blank space on the home screen.
Tap the Plus at the top of the screen.
Tap Smart Stack.
Scroll through the widget options.
Select Add Widget at the bottom of the screen.
Tap the widget once it appears on your home screen to customize which widgets it displays.
Scroll down through the options and drag widgets to reposition them, or tap the Minus at the upper left to delete them.
3. Download a Widget Customization App
The Apple App Store has dozens of widget apps to add even more personalization to your widgets. Adding customized widgets on iPhone is easy, with hundreds of styles and colors to pick from that fit a variety of aesthetics.
A few popular widget customization apps include Widgetsmith and Color Widgets. These apps offer many home screen ideas for iOS 14, 15 and 16. Users can edit premade widgets or create custom ones using their own photos and app data. Change themes, fonts and border colors and customize widget sizes for the perfect look.
How to Customize iPhone App Icons
Personalizing apps lets you change default app icons to more unique versions with a color and style that better suits your preferences. Customizing app icons is available in iOS 14 and later and involves creating a shortcut to the app with a different image.
Here's how to change app icons to customize your iPhone home screen:
1. Remove Apps
Before you create customized app icons, you should reduce the apps already on your phone. Removing apps streamlines the customization process and keeps your home screen from looking cluttered.
To delete an app:
Press and hold an app to enter wiggle mode.
Tap Remove App.
Select Delete App.
You can also send specific apps to your iPhone's App Library to hide them from the home screen:
Press and hold the app icon you want to hide until the screen enters wiggle mode.
Tap the Minus at the upper left of the app icon.
Select Remove from Home Screen.
2. Select App Icons
Select or create images for your new app icons. You might already have photos or images in Photos, or you can buy and download an app icon pack from digital creators online. There are also free icons from apps like Color Widgets that match the available wallpapers. Look through thousands of options to stick with an aesthetic theme or use a photo you took.
3. Create Shortcuts
Once you have the images downloaded you want to use for your app icons, use the Shortcuts app to set your images. Here's how to customize your iPhone home screen with your apps:
Open the Shortcuts app.
Tap the Plus in the upper corner.
Select Add Action.
Search for Open App in the text field of the pop-up menu.
Tap Open App.
Select Choose.
Search for the app you want to give a new icon.
Tap on the app.
Press the three dots in the upper right corner.
Choose Add to Home Screen.
Tap the icon beside the shortcut name field.
Select Choose Photo from the drop-down menu.
Choose your replacement image.
Select the shortcut name field and rename the app.
Tap Add.
Press Done.
Return to the home screen and move the old app icon to your App Library.
After taking these steps, you now have a shortcut for the app. Remember that using a shortcut means you'll be directed to the shortcut before it opens the app. If you want to change all your app icons, repeat the process for each.
Browse Used Phones From Gazelle
Customization options for the iPhone home screen are nearly endless. Create a unique home screen with matching themed wallpaper and app icons and increase your productivity with widgets for your most-used apps. With so many personalization options, iPhone users can give their home screen a completely custom look. Upgrading your phone or iOS system opens up even more options to personalize your lock screen with widgets, colors and fonts not available in older iOS versions.
If you need an upgraded iPhone with the newest features and tricks, shop with Gazelle. As a reputable seller, we aim to offer a no-hassle, no-strings-attached experience. Our Gazelle Certified products, 30-day return policy, fair pricing and secure website give you transparent listings and peace of mind. Browse compatible iPhone models from our selection today!
Comments
comments